List Price: $19.97 [Buy now and save at Amazon]
---
Beautifully simple and heartfelt. Warner Bros. has released MGM's 1940 Waterloo Bridge, the hyper-romantic remake of the earlier 1931 filmed version (both of which were based on Robert E. Sherwood's same-named play). Featuring Vivien Leigh in her much-touted follow-up to Gone With the Wind, and assisted by MGM heartthrob Robert Taylor in his one of his best performances, Waterloo Bridge's story of a doomed war-time love affair is so unabashedly tender towards its characters - despite the underlying grimness of their ultimate fates - that it might appear hopelessly naïve or whitewashed (due to Production Code edicts) to younger viewers in our now far-more cynical, suspicious, dismissive pop culture. But taken within context - and providing you actually have a heart - I can't imagine this superior tearjerker not provoking some sniffles among the ladies (and some steadied chins among the men).
London, England on the brink, in 1939. As Colonel Roy Cronin (Robert Taylor) crosses Waterloo Bridge one last time before embarking for overseas duty, he fingers a good-luck charm given to him by a long-lost love, and remembers back to happier, and sadder, days. On that same bridge, back during a WWI air raid, Roy, then a young captain in the Rendleshire Fusiliers, meets Myra (Vivien Leigh), a ballet dancer visiting London on a tour with her dance company. Taking shelter from the bombing, Roy and Myra shows signs of being instantly attracted to each other, but "matter-of-fact" Myra doesn't put much stock in anything happening with "romantic" Roy. Still, obviously moved by their encounter, she gives him her good-luck charm when they part, since Myra believes that Roy will be shipping out to France that night. However, at her evening performance, she spies Roy (he managed a pass), who gets a note to Myra through Myra's plucky girlfriend Kitty (Virginia Field), to meet him for dinner. Despite the objections of ballet master Madame Olga Kirowa (Maria Ouspenskaya), who tells Myra that "war is no excuse for indecorum," Myra agrees to meet Roy at the Candlelight Club, where, despite Myra's continued reserve, they kiss...and fall in love.
Sure that Roy will now be gone out of her life for good, Myra is delighted when Roy shows up the next morning outside her rainy window, having managed a 48-hour pass. Despite Madame's threat of dismissal if anyone is late for a performance, Myra goes to Roy - who floors her with his plans for the day: marriage. In a daze, and yet in love, she agrees, and after Roy has secured approval by his military superior, his uncle the Duke (C. Aubrey Smith), the pair go to the nearest church - only to find that the law stipulates no marriage ceremonies after 3:00pm. Their honeymoon thwarted, the couple plan to marry the next day, but Roy's pass is canceled that night, and Myra only just manages to get a glimpse of Roy as he leaves Waterloo Station. Late for her performance, she's fired (while Kitty lays into Madame and quits herself), with the two girls finding it next to impossible to survive in war-torn London. Kitty falls back on becoming a prostitute, while Myra anticipates meeting Roy's mother, Lady Margaret Cronin (Lucile Watson). However, a chance spotting of Roy's death notice in the newspaper stuns Myra into a stupor, and she's unable and unwilling to mention Roy's death to his concerned mother, who thinks Myra is spurning her offers of friendship. Soon, out of grief and poverty, Myra, too, takes up prostitution, sure that life offers nothing further for her...until Roy suddenly returns alive and well from the war.
SPOILERS ALERT!
Shot with that anonymous, square gracefulness that served director Mervyn Le Roy so well in his best glossy MGM outings, such as Blossoms in the Dust, the superior Random Harvest (which is quite similar in structure and tone to Waterloo Bridge), Madame Curie, and Quo Vadis, Waterloo Bridge at times almost looks like a silent film, with a resolute left/right POV visual schematic, and silhouetted and shimmering back-lit close-ups that linger for moments on our photogenic pair (the expert, dewy lensing by Joseph Ruttenberg is a key element to the film's success). And that "squareness" of approach is perfectly suited to this simple yet tragic love story, where the emotions played out on the character's faces are the key points of information and interest, frankly. I've never read the source play, nor have I seen James Whale's original 1931 screen version starring Mae Clarke and Douglass Montgomery (although I did see the third screen incarnation, Gaby, from 1956 starring Leslie Caron and John Kerr), so I can't speak to what has been softened or eliminated from Sherwood's work. But certainly, the fact that no one comes close to actually coming right out and saying what, exactly, Kitty and Myra are up to - when we know perfectly well they're prostitutes - is a pretty good indication that some kind of amelioration was attempted with the play.
I suppose such obvious palliations of the events in the story will engender commentary on Hollywood's squeamishness at this point in its history with showing the seamier side of reality, but within the confines of the rigid Code requirements, I found an unexpected air of permissiveness concerning Myra's choice to become a prostitute. While the absolute "right-and-wrong" moral center of the film is represented by Madame Olga, who flat-out tells future "camp follower" Myra that she "should be in another profession" if she only wants officers and parties in her life (a character that ironically, is the film's most intransient and offensive), the rest of the characters are intimated to be far more tolerant of life's realities than one might expect in a 1940 film from stalwart MGM. Certainly Kitty knows the ropes prior to her streetwalking time (perhaps due to her previous incarnation as a "chorus girl" - when such a profession was thought to be little different than a prostitute), asking Roy to "take it easy" with Myra, because she's "just a sweet kid." Later, Kitty will defend her taking to the streets as the only means of survival Myra and she had ("It's good to live...even this way"), with her bitter lament about the person who invented the phrase, "the easiest way to make a living was obviously not a woman," making it into the film intact.
The expected stereotypical actions of Roy's very proper mother and his uncle - at least to our accepted generalizations about films from this period - would be that they would not only turn up their noses at "commoner" Myra (particularly since she was a "dancer"), but actively throw her out on her ear had they discovered her secret life, are also suspect here in Waterloo Bridge. Roy's uncle is quite obviously delighted with Roy's prospective new bride - sight unseen (Roy leaves Myra in the taxi while he enters military headquarters to speak with the Duke). Not only does he not care that Myra hasn't been presented at court (a question asked by Roy's immediate superior), he states he doesn't side with "correct marriages" among the aristocracy. Evidently worldly, he opines warmly, "You know, Roy...I like dancers!" when he learns of Myra's profession. And once Myra is rescued by Roy and brought to his ancestral home, the Duke makes a point of dancing with her in front of his peers - people he dismisses for their "limited social ideas." He even makes a joke about Myra having a "racier" past, and what good sport that would be were it true (little does he know). Only the Duke's talk of his pride in his and Roy's regiment - and the generational pull as well as the responsibilities of honor that go along with being a member of that regiment - put fear in Myra's heart (certainly the prospect of bumping into an old john could eventually happen, with word spreading, resulting in Roy's humiliation and failed career).
Roy's mother, Lady Margaret, also proves far more accepting of Myra than we would expect within a film like this from 1940, not only proving herself to be gracious and kind during their first meeting, where she feels that Myra has snubbed her (even while leaving, she leaves the door still open for future friendship, because she loves her son so much), but upon their next meeting at her home, she embraces Myra, calling her her "daughter," bearing her no grudge. During their final confrontation scene, when she discovers Myra's past profession (which is alluded to in a most vague manner), she still doesn't close the door on Myra, expressing sympathy and regret for her, and imploring her not to make a hasty decision to leave Roy, but to wait until morning before deciding. Would a mother suggest such a thing with a former prostitute about to marry into her gentried family, if she was an intolerant, moralistic snob? She only acquiesces to Myra's demand not to tell Roy about her reasons for leaving when she sees how upset Myra is, and how determined she is to leave: to spare Roy any potential damage. Some may find Myra's decision to leave idealistically, unrealistically selfless, but I suspect that reaction might be influenced by today's selfish society, where putting someone else's happiness above one's own, isn't only viewed as suspicious, but also as positively unnatural (such is one of many continuing, debilitating after-effects of the "Me" generation influence).
And certainly Roy doesn't seem to care about Myra's past - a past which becomes abundantly apparent to him as Kitty makes it clear what Myra was up to as Kitty and Roy search all the seedy dives and hangouts of the hookers of London when she disappears. His manner only suggests finding her and reversing her decision - why would he want her back, knowing she was "damaged goods" as the saying went back then, if Roy conformed to how we think most "upright" male characters would have behaved in such a situation in 1940 Hollywood? Myra's suicide at the end of the film would seem to point to the ultimate imposition of the Production Code on Waterloo Bridge, since, according to the Code, "sympathy of the audience should never be thrown to the side of crime, wrongdoing, evil or sin." Even though we may be allowed to feel sympathy for Myra's wrongdoing - the Code did allow such sympathy for the transgressor, but not the act - her "sin" had to be punished with her suicide (but wasn't that a Code violation, as well?).
But if you take what happens to Myra at the end of Waterloo Bridge as the completion of the symmetry of this tragic love story, her suicide feels less arbitrary and forced - and far more inevitable, almost mystical in its careless cruelty. After all, her end is foreshadowed in her very first meeting with Roy, who pulls her out of the path of an on-coming wagon as she's trying to retrieve her good-luck charm. Having given the charm back to Roy before their final parting, her fate is sealed. Waterloo Bridge is filled with such tragic coincidences (which of course up the sob factor of the piece, as they should). Roy and Myra come this close to getting married, save for time and arcane bureaucracy intervening (the 3:00pm marriage rule), as well as his pass being canceled at the last moment and Myra missing a proper send-off with Roy because of a dearth of taxis and incorrect directions to the wrong platform. A common yet tragic mistake listing Roy as dead in the papers starts Myra's downward spiral, leading to prostitution, with her first proposition by a john happening on Waterloo Bridge, right where she meet Roy for the first time. The inevitability of doom hangs over the picture, giving the romance an understated but tragic weight that Le Roy gracefully exploits. For none of that coincidental tragedy would work if we didn't buy the lead characters falling in love. And Le Roy lays on the romantic atmosphere in an assured manner (and it certainly helps that Leigh is luminously expressive in her close-ups, while Taylor shows more animation here than one would expect from his usual performances). The couples' first date at the Candlelight Club is probably the best remembered romantic set piece in the film, a justly celebrated sequence where Taylor and Leigh waltz to Auld Lang Syne as the lights are dimmed and candles illuminate the dance floor. As the couples move about, the band plays its final number, with musicians bowing out one by one, dousing their candles as they leave. Taylor and Leigh, in almost total silhouette, stop and kiss, and it's a beautiful moment - the kind that used to be taken for granted in Hollywood films - a heavy-duty swoon moment that should move even the most cynical, blasé viewer out there. That, first and foremost, is Waterloo Bridge's goal, and it succeeds: quietly, beautifully, memorably.
The DVD:
The Video:
Waterloo Bridge is presented in a nearly flawless 1.33:1 full screen black and white transfer, with minimal grain and deep, velvety blacks (an occasional scratch or dirt speck do appear, but they're negligible). Contrast is balanced, while the image is sharp and clear. No compression issues (and although I always love the original poster artwork that Warners uses for their library titles' DVD covers, the back of the hardshell box features colorized stills from the film, which might prompt some buyers to skip this title, thinking it's been tinkered with).
The Audio:
English and French mono audio tracks are included for Waterloo Bridge, and they're quite good, with appropriate loudness levels, and minimal hiss. Subtitles include English, French, Japanese and Thai.
The Extras:
The only extra included for Waterloo Bridge is the original trailer. A pity for this classic.
Final Thoughts:
One of the truly great classical Hollywood tearjerkers is the beautifully quiet, tragic Waterloo Bridge. Vivien Leigh, fresh off her triumph in Gone With the Wind, is luminously lovely and sad, while Robert Taylor was never better as the life-loving officer who falls for Leigh at first sight. Straightforward melodrama not condescended to, with equal parts romance and tragedy combined for a heavy swoon effect. I highly, highly recommend the hushed, gentle, lovely Waterloo Bridge.
---
Paul Mavis is an internationally published film and television historian, a member of the Online Film Critics Society, and the author of The Espionage Filmography.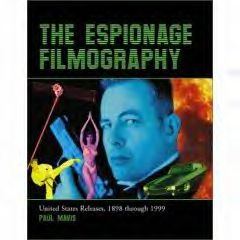 ---
C O N T E N T

---
V I D E O

---
A U D I O

---
E X T R A S

---
R E P L A Y

---
A D V I C E
Highly Recommended
---
E - M A I L
this review to a friend
Sponsored Links
Sponsored Links