Warner Bros. Archive Collection: Private Lives
List Price: $19.99 [Buy now and save at Wbshop]
---
In a break with my standard format that will no doubt please a few readers out there, I won't be writing a multi-paragraph review of M-G-M's 1931 romantic comedy, Private Lives, starring Robert Montgomery and Norma Shearer...in this review of M-G-M's 1931 romantic comedy, Private Lives. It's not that Private Lives isn't still delightful, holding up surprisingly well for an Americanized Noel Coward play from 78 years ago. Nor that Shearer and Montgomery shine together, nor that director Sidney Franklin does some of his best work, too, keeping the film going at a sprightly, witty pace. All of that is true, and the movie is worthy of a nice, big, fat review.
But the aesthetic qualities of the movie included on this DVD are somewhat beside the point, because Private Lives is the first (and so far only) title sent to us by Warner Bros. from their Warner Bros. Archive Collection, a new "on-demand," direct mail order service for consumers of hard-to-find "library" titles. All of these titles (I believe so far, WB is offering 157 of them on their webpage) are debuting on DVD for the first time, although many of them have already appeared on VHS and laserdisc. Additional titles will be added each month. Warners is advertising this service as a breakthrough for collectors looking for films that haven't shown up on disc yet...with the unspoken implication that they very well may not have shown up on disc at all if it weren't for this service (I understand that digital downloads of the titles are also available, at a reduced price). In other words, many of these titles might be deemed "marginal" in context to consumer demand if you compare them to newer, more mainstream Hollywood hits. One may assume that WB, concerned with slowing sales of DVDs of this type (older Hollywood films of various quality, appealing to an older collector demographic), have decided that instead of printing up thousands of units of a particular title and sending them out to Targets and Best Buys all over the country in a crap-shoot throw-of-the-dice to see if they'll sell, have instead taken those titles and reserved them online, burning copies on-demand for those collectors who really want them.
And in theory, that sounds like a great idea...if the quality is there. Because after all, DVD technology's original selling point was its quantum leap in audio and video fidelity over videotape. So if these Warner Bros. Archive Collection titles are at least the equal of most new DVD releases in terms of their A/V quality (and we consumers have become accustomed to most major studio releases featuring quality transfers), the on-demand concept should be a natural. Of course, DVD collectors also want extras - at the very least a measly trailer is (barely) acceptable - but if none are included, and the A/V is optimal (including getting the proper aspect ratio correct, and providing an anamorphic transfer if the title was shot in widescreen), allowances will probably be made...particularly if the title has little chance of seeing the light of day on a Best Buy shelf or on Amazon.com. Even packaging is probably negotiable. As long as we can store the disc safely, we'll accept a cheap hardshell package and basic artwork and be done with it...as long as we can watch the best available quality transfer of that title.
And maybe that's what Warner Bros. Archive Collection is all about; maybe this service does fulfill those most basic requirements. However, I can't write that with any certainty because we've only received one copy of a 78-year-old black and white film presented in 1.33:1 format which features at best, VHS quality audio and video. Private Lives looks fairly rough here. If I had to guess, I'd say this transfer is taken directly from the video master that was used for the title's earlier VHS release (we even see that old, odd-looking "Turner" company logo that was used for their VHS releases - do they even use that logo anymore?). Whatever print was used for the transfer was in spotty condition to begin with, with numerous scratches, dirt, changeover cues and other screen anomalies present, with an alternately dismally dark or burned-out contrasty picture that reminded me at times of a public domain VHS copy. The image is woefully soft in most places, while loss of fine detail (in fact, gross detail, if you will, in anything but a tight close-up) is painfully evident. Compression artifacting wasn't an issue. The audio is equally troublesome, with tinny, squelchy passages that are sometimes indecipherable, while hiss is persistent and pointed (and of course, there are no subtitles or close-captions). The menu offers a play-only option, with "chapter stops" that are measured in ten-minute intervals of the film. I tried the film on all of my players, including my computer, and it played without problems. The disc itself comes in a serviceable hardcase shell with artwork that mimics most wraparounds found on Warner DVDs (although mine was irregularly cut and thus off-kilter in its plastic sleeve). The two illustrating photos from the film appear to be screen grabs.
And that's what twenty bucks gets you. Before I comment further on that particular point, allow me to digress just a moment and tell you that today I went to Big Lots! to paw through their $3 discount DVD bins, and I found Warners' 2006 two-disc special edition of Ryan's Daughter - a disc set I bought for over $20 bucks when it first came out. Sure, it now had an ugly notch cut in the back of its case, but it was the same release, with a pristine transfer from its 70mm elements and chock-full of extras, sitting there waiting for anyone to pick it up who had three bucks to blow. And they had about ten copies of it, as well as a whole slew of other great vintage and newer major studio releases that originally retailed for well over $20. My point is that consumers are rapidly getting used to paying less and less for standard DVDs (particularly now with Blu-Ray), so $20 is starting to look like the "top end" price for a single movie title on standard DVD. And for that double sawbuck, most consumers expect at the very minimum, optimal picture and sound quality, along with a modicum of attractive extras.
And you get none of that with Warner Bros. Archive Collection's Private Lives.
Now, maybe the other films in their collection do deliver the A/V goods. It would have been nice to compare some of the newer titles shot in widescreen to see how those are handled. They could very well be perfectly acceptable transfers, and worth the twenty bucks for collectors who want those hard-to-find movies. But again, I can't write that for certain until we see more examples of the Warner Bros. Archive Collection titles. I only have Private Lives to go by, and it is not worth $20.
Final Thoughts:
I can't truly judge the new online "on-demand" Warner Bros. Archive Collection of library titles because we've only received one movie here at DVDTalk: 1931's Private Lives. Perhaps that wasn't the best title to send over as a sample of this new service, either, particularly since the transfer utilized looks and sounds about on par with your old VHS version of the film. If other titles in the collection make use of quality prints and masters, and optimal transfers, terrific. We'll be the first to sign on (I'm dying to see Jack Webb's The D.I. since I wore out my VHS copy of it). But until we have more to look at, we can only go by this Private Lives screener, and to put it succinctly, it's distinctly lacking on all fronts. I can't recommend buying or even renting Private Lives; you can probably find a VHS copy of it at your local library, and it won't cost you a dime...and it won't look any different than this DVD, either. As for the Warner Bros. Archive Collection as a whole, the jury is still out.
---
Paul Mavis is an internationally published film and television historian, a member of the Online Film Critics Society, and the author of The Espionage Filmography.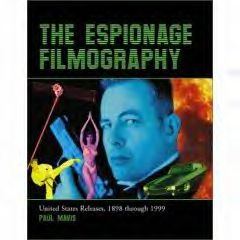 Sponsored Links
Sponsored Links