Pup Named Scooby-Doo: Complete 2nd, 3rd & 4th Seasons, A
List Price: $19.98 [Buy now and save at Amazon]
---
"There's a mystery in town, so call the coolest pup around!"
The Series
Don't make fun, but when I was a kid I always rooted for the Scooby Doobies on Laff-A-Lympics, my favorite cartoon series when I was growing up. In addition to captain Scooby, the team had Scooby-Dum, Hong Kong Phooey and Captain Caveman...I mean, c'mon! How could you not cheer from the couch?! (Plus, they had Babu, one of the sporting world's earliest "out" athletes, proving the show was way ahead of its time.) Did I actually think the outcome was undetermined before each show? I hope not (hey, I was 5!), but I was always disappointed when my boys and girls in blue failed to bring home the gold.
The Yogi Yahooeys had nothing on the Doobies, and the Really Rottens were just a one-dog show (even though that canine was previously a good guy): Mumbly, while he was no Muttley, was still a hoot. The late, great Don Messick voiced both of those wheezing dogs as well as Scooby, a character he was still bringing to life in the 1990s for A Pup Named Scooby-Doo--the last series where he voiced the icon. The half-hour program ran from 1988 to 1991, and this two-disc set collects the "17" episodes (about 22 minutes each) that comprised the second, third and fourth seasons. (While there are 17 titles, there are actually 14 full-sized episodes: "Night of the Boogey Biker" and "Dawn of the Spooky Shuttle Scare" are bunched together, as are "The Wrath of Waitro", "Catcher on the Sly" and "The Ghost of Mrs. Shushman")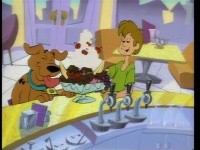 The show cast the five main characters from Scooby-Doo, Where Are You! as kids, taking a cuter approach to the tried-and-true template. Pup took a modern approach to its stories but still managed to flavor the show with influences from the '50s and '60s influences (when the gang would have actually grown up). The Great Dane is joined by pals Reddy, Raphne, Relma and right-hand man Raggy, who collectively charge 25 cents a day (plus snack expenses!) for their services at the Scooby-Doo Detective Agency (located in their pimped-out tree house).
Parents need not worry--the cases and the culprits won't scare the youngins' too much (Monster House, this ain't!). How can you not love Chickenstein ("Now I've got you eggs-actly where I want you!"), a hockey-playing snail ("Time for a slapshot!") and the Haunted Hairpiece (think a yellow version of the big red monster in need of a permanananint from Bugs Bunny)? It's also nice that the intro encourages kids to try and help solve the crime; there's usually one visual clue that's easy to miss, but it's fun to at least try and guess along with the gang.
The formula is pretty standard: The kids stumble into a crime or monster--or are hired to find a criminal or missing object. Suspects are presented and the gang gets spooked (their eyes constantly jumping off their faces, a tilt of the hat to some animation icons), eventually distracting the bad guys by masquerading as something else (doctors, waiters, fortune tellers, groupies, Italian barbers/bakers...).
That leads to a chase around the 16-minute mark, a catchy original song built around the episode's bad guy--and featuring inserts of the gang dancing (like they're in some hip '60s variety show). It all culminates with the capture, where Velma unmasks the culprit and explains the crime--quickly followed by some variation of the villain's lament ("And I would have gotten away with it, if it weren't for...") and the final line where Scooby is set up to howl his own name.
The fourth wall is constantly broken (Shaggy and the others frequently ask for the chase music to start), including a newscaster who occasionally shows up with a special announcement for viewers ("The frightful reaction you are about to see is performed by professionals. Do not try this at home! Thank you."). Some of the episodes also surprisingly stray from the formula a little, like when Velma gets framed in "The Computer Walks Among Us."
The five friends all have their well-established personalities going full force: a pre-pot Shaggy (voiced by Casey Kasem) usually prefaces his sentences with "like", as in "Like, it must be a clue!", "Like, it was a gray and rainy day..." and "Like, stop calling me Raggy!" He also says "No jive!" a lot and gets a lot of screen time with his pup. As usual, the two are fond of food, with Scooby Snacks usually required to lure the pooch and his super sniffer into peril (the dog's pleasure-filled triple moans of "Mmmmm!" are guaranteed to make you raff). Scooby also gets spooked easily, and constantly laughs at jokes he doesn't get.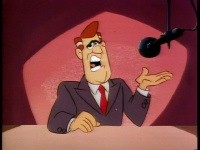 Freddie thinks he's in charge, but he's a blond bimbo all the way ("You're the really dumb guy who believes in ghosts!"). When he isn't reading his favorite tabloid (The National Exaggerator), he's busy being forgetful, accusing nemesis Red Herring of every crime and letting his wild imagine concoct hard-to-believe stories that bore his friends ("News alert! When Freddie starts to talk too much, do what I do and catch up on your reading!").
Daphne (voiced by a young Kellie Martin, who went on to success with Life Goes On and ER) is the well-to-do daughter of rich parents, the stylish redhead always decked in pink and purple. Like Scully on The X-Files, she's a firm non-believer who isn't always as scared as her pals. When she isn't bemoaning someone's lack of fashion sense ("She seems efficient...even if she does wear tacky lipstick!" and "Nothing's scarier than a bad hairdo!" are just a few of her observations), she's calling on her butler Jenkins (or his backup Dawson) to do her dirty work: "Jenkins...be scared for me, would you?" ("Right away, Miss Blake.")
For me, Freddie and Daphne are kind of a drag--the materialistic Daphne in particular complains a little too much, a mean girl in waiting. This show is all about Shag, Scoob and Velma, the tiny nerd with the giant spectacles, oversized socks, an odd interest in wrestling and a briefcase full of gadgets--including her trusty computer (don't you just love the dot-matrix printer paper?!). While the little brainiac doesn't get quite as many lines as her more fashionable co-stars, she quietly steals the show by being smart and adorable (I like to think there's a little Velma in Lisa Simpson). Her frenetically moving feet--and the accompanying twinkle toes sound effect--never get old, and when Velma says "Jinkies!", you listen.
As for the quality, Hanna-Barbera was never known for its strong visuals--the company can't hold a candle to Warner Bros., and many decry the studio for cheapening animation. Regardless of your opinion, Pup was a marked visual improvement over the majority of cartoons that built the studio's name. This show was developed by Tom Ruegger, who left HB to re-start Warner Bros. Animation after Season 1 in 1989 (the studio took over production of the Scooby character in 2001). So Pup has the look and feel that Warner helped popularize with its productions--starting in 1990 with Tiny Toon Adventures (although the Pup were still sloppy at times, misspelling their star as "Scooby-Do" on a sign in "Dog Gone Scooby"...what the?!).
Pup isn't going to please the grown-ups as much as the kids, but there are still a few random gags and puns that managed to make me smile even today, like the mopping kayak, lettuce on a stick and a bit where the kids--trying to distract a rock-n-roll ghost--pose as groupies: "Like, will you autograph these barbells, this desk and this anchor for us, too?" (Ditto the gifts they give to the Were-Dog: "Let's see...here's a baseball glove, a brick wall and a meteor!"). We also get to see Scooby's Swedish mom ("Scoobert!") and his siblings--Skippy, Ruby and Howdy.
See, you're smiling! And just wait till you hear the opening jingle, another catchy tune that will have you singing along. I love it just as much now as I did when I watched the show as a kid (wait...I watched Saturday morning cartoons when I was 15? I was sooooo cool!). It's that kind of infectious energy that helps sell the show, thanks to none other that that playful pooch, the one and only pup named (take it, Scoob!)...
"Scooby-Dooby Doo!"
The DVD
Video:
Presented in its original full-frame format, Pup is rough but decent enough to get the job done. No clean-up has been done, so the lines aren't crisp and the colors aren't as sharp (or corrected) as they could be. There's some specks, noise, flicker and occasional image shaking, but it's all forgivable and won't detract too much from the experience.
Audio:
Just a mono track, but there are no major issues with it--this is modest yet pleasant audio experience. Subtitles come in English and French.
Extras:
The bonus episode is "Party Arty" from the 2006 series Shaggy & Scooby-Doo Get a Clue! (22:44). Featuring a totally different animation style, no Don Messick, no Casey Kasem, no Velma, no Freddie and no Daphne, it's got zero charm--and is a huge letdown from all the fun Pup episodes. Trailers round out the disappointing extras.
Final Thoughts:
It sure ain't SpongeBob, but how many cartoons are? While A Pup Named Scooby-Doo doesn't have much crossover appeal for adults, this 2-disc set will still make some old-timers smile. And if I've learned anything from my young niece and nephew, it's that Scooby-Doo is a guaranteed pleaser. And guess what? He's even cuter in puppy form! Mixing innocent mystery with boneheaded bad guys, catchy songs, groovy dances and comedic chases (why mess with a winning formula?), this series is fast and fun. "So come on, it's mystery time...you can help us solve the crime!" Recommended.

---
C O N T E N T

---
V I D E O

---
A U D I O

---
E X T R A S

---
R E P L A Y

---
A D V I C E
Recommended
---
E - M A I L
this review to a friend
Sponsored Links
Sponsored Links