The Film:
---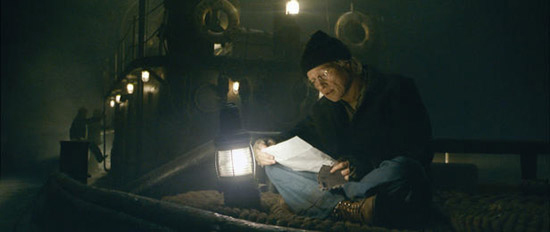 Production/Film Stills in this review -- Paramount Pictures



If anyone doubts whether modern directors are still magicians of their craft, they need to only look into David Fincher's The Curious Case of Benjamin Button to find their answer. Obviously a labor of love and a major technical juggling act, this film adaptation of F. Scott Fitzgerald's 1921 short story combines shifting through multiple settings, mastery of intricate computer-generated effects, painstaking editing, sumptuous color timing in its visual design, and a wealth of aging effects that likely took Brad Pitt and Cate Blanchett's time in the make-up chair to the high hundreds -- maybe even thousands. Yet, you can't really see all of these elements in plain sight, as everything comes together into a beautifully fantastical love story with an odd yet magical charm about its grace.

When peering into Benjamin Button, a grand tale narrated from a daughter (Julia Ormond) to her mother (Cate Blanchett) on her death bed, it's harder to see Fincher's directorial hand than in his other recent works. Though wholly feasible to pinpoint the likes of The Game and Se7en sprinkled into his take on the Zodiac Killer, it's even harder to make out these dashes of influence within his Academy Award-winning picture, a humorous and poetic allegory on time's preciousness seen through the eyes of Benjamin, a man aging in reverse. Quite simply, it's because everything comes together into something cohesive and organic, a piece of work that strays away from direct style and motive and into a marriage of cinematic wonder.

It's an imaginative tale, that's for certain. Set across an 80-year span starting on the eve of World War One's end, baby Benjamin (Brad Pitt) was left on a doorstep of a crowded nursing home with $18 tucked in his swaddling clothes from his father, Thomas (Jason Flemyng) of Button's Buttons. He would soon learn that arthritis and inelastic skin would be built into his youngest years, keeping him grounded and squeaking in his wheelchair while other children galloped around freely. Taken in by Queenie (Taraji P. Henson), a sweet caregiver with a wealth of love, he would be brought up in seamless fashion as another seemingly finite entity in the calm and accepting nursing home. But we're taken through his bizarre lifestyle that would leave him crippled yet plugging along through his first real job as a boat hand on The Chelsea and during his first sexual encounters, building slowly and carefully into an age of appreciation for the rejuvenated life he's been given during his later years. Though it all seems to circulate around his peculiar relationship with Daisy (Blanchett), a ginger-haired girl he befriends at a young age, it's a story more centered on the ways in which he interacts with the people he stumbles across in his life rather than a blatant tale of whimsical love.

Loosely adapted from Fitzgerald's story by writer Eric Roth of Forrest Gump fame, it's clear that Benjamin Button shares quite a few similarities to Robert Zemeckis' picture on a textual level; a different sort of boy, crippled at a young age, lives out a tale worth telling as he barrels through his first mundane job, a bloody trollop through wartime, and several rewarding yet fleeting personal relationships along the way that would shape his life. However, there's an wealth of magic behind Benjamin's ailment, along with the parallels drawn between age, death, and "carpe diem", that ring exceedingly true. Instead of historical tomfoolery, Benjamin steers clear of the public eye -- painting into a romantic tale that we, in the eyes and mind of Daisy, dive into ourselves with personal reflection and evolution through self-molding gratification behind its emotive drive. Ben's life might be a little like a box of chocolates, but it's an assortment that exists on a much more personal and soul-searching level.






Fincher's work with all the subtle fantasy resonating within Benjamin Button is astounding, coming together in a way that makes us forget that we're watching a story far eschewed from biological comprehension. He makes us believe, not in the story's feasibility but in its capacity to resonate despite its unrealistic anchor. This is due in large part to the magnificent Academy-award winning visual effects and make-up work, elements that guide away from flashiness in order to build cohesiveness instead of flexing muscle as a pure exercise of technological gravitas. More importantly, the Fight Club director once again adds little pinches of the full emotional spectrum, something that might've come across as dour or bleak in other concoctions of the same story. Here, he keeps Ben's story insightful, warm, and humorous from start to finish, with a touch of the peculiar and disheartening just to keep the cynic in Fincher satisfied. Benjamin Button's a complete package, a collective effort welded together with precision and care, that operates like a well-oiled machine because of the way each cinematic element clicks into place alongside the next.

It's in the connection that we build with Benjamin himself, however, that makes The Curious Case of Benjamin Button a winning film, due in large to Brad Pitt's surprisingly poignant performance. Though he's fit the charismatic mold well in other roles, like his turns as the semi-flamboyant Tyler Durden in Fight Club and the blunt-headed Detective Mills in Se7en, he's only really delivered a true out-of-the-box performance on two occasions in my eyes: in a surprisingly effective projection as the twitchy Jeffrey Goines in Twelve Monkeys, and in his absurdly mumbling performance in Snatch. That is, until he paired up with Fincher for their third collaboration. Pitt's Benjamin Button wears a very simple yet appealing magnetism, one filled with appreciation in his eyes and a simple grin on his face ever-showing that he's keeping a secret. Oddly enough, the fact that Brad Pitt has, himself, become an enduring figure in pop culture's eyes works in favor of the seemingly ageless Benjamin. Pitt molds with the role brilliantly, and it shows as he transitions fluidly between ages throughout this two-and-a-half hour fairy tale.

The rest of Fincher's cast shape around Benjamin, building personality and natural emotionality around the peculiar character. Cate Blanchett nails down the part as the fleeting muse, showing her acting prowess at Daisy's many stages through life with exceptional grace. All of the actresses that cover Daisy's younger ages support Blanchett's direction well, especially Elle Fanning as the vibrant girl that ignites curiosity and glee in Benjamin. Then, there's Taraji P. Henson, one of my favorite supporting actress in the business right now. After becoming one of the best and most energetic parts of Craig Brewer's Hustle and Flow, she takes on a different kind of sass in Benjamin Button -- and she's simply splendid, giving a fluid candor to her and Benjamin's time on-screen. Her initial acceptance of Benjamin gets the gears started for Fincher's whimsical delivery of a restrained, complacent vision of the "carpe diem" mentality, and it never lets up.

Everything comes down to flow in Benjamin Button -- very supple, indulgent, yet schmaltz-aware flow that dodges obvious heartstring-pulling by going in more repute and affective directions. Fincher takes Fitzgerald's darkly humorous and poignant story and makes it resonate, blooming with beauty, peculiarity, and a sense of appreciation for life that left me awestruck. A lot of people wonder what they'd do differently if they had the chance to live young again; The Curious Case of Benjamin Button, though fantasy-based and reliant on Brad Pitt's charisma, becomes a stirring portrait of the decisions one man makes as he approaches rejuvenation with a world of battered, well-aged experience behind him. It's beautiful to behold, both aesthetically and emotionally, and easily one of 2008's most enjoyable films.


The Blu-ray:

---






Criterion and Paramount have linked up to release The Curious Case of Benjamin Button as spine #476 of the prestigious Criterion Collection, deeming it Fincher's return to the label since the Laserdisc days. However, it's a little different from other Criterion releases; instead of in a digipack or the newly-fangled clear Criterion Blu-ray cases, it comes in a standard, two-disc blue case with a part matte, part glossy slipcover slid over the presentation. Inside, each of the discs are black and gray, while a small Chapter Listing booklet slides over the second disc. Inside the booklet is an essay entitled "The Man Who Watched the Hours Go By" by critic Kent Jones -- a smaller amount of text-based material from the label accustomed to 40-50 page booklets.


Video and Audio:

---
Presented in its theatrically distributed aspect ratio of 2.4:1 within a stellar 1080p AVC encode that pushes upwards of 36-38 Mbps and simmers at around 28 Mbps during some darker scenes, Benjamin Button is a visual experience that shouldn't be missed in high-definition. Largely shot in digital high-definition on Fincher's choice Viper FilmStream camera and Sony's F23 camera, along with a handful of scenes on 35mm stock, it's to be expected that this would be a knockout of a visual presentation since it's pulled directly from the source. Still, when pondering exactly what to say about the image -- something normally pretty easy to ramble on about -- the word "flawless" just kept popping into my mind. Color, sharpness, inky shading rendering, dimensionality ... it all looks absolutely striking, even tangible in more than a handful of sequences.

Detail everywhere, from clothing and wood grains to rolling waterdrops down skin textures and the weave of a screen door, pop off of the screen with immense detail. The color timing that switches between a broad scattering of sepia tones to lightly desaturated elements (like the beautiful bike-riding sequences late in the film) support an intense level of color accuracy and solidity. It's also a strikingly achievement in dimensionality, poising the depth of field achieved in the cinematography to awe-inspiring levels. More importantly, The Curious Case of Benjamin Button looks almost exactly the way it did in the theaters in this Blu-ray image -- maybe a pinch better. Free of post-release noise reduction and edge enhancement, it's simply a splendid, stunner of a visual treatment that deserves recognition as one of the best Blu-ray images to date.

It would take quite an audio track to support this visual achievement, which Benjamin Button also nails down with its outstanding DTS HD Master Audio track. Once again, it sounds exactly as it did in the theater -- maybe with an ounce more clarity. There are a few sequences where the dialogue is a little harder to hear than others (an early conversation between Benjamin and the globe-trotting pygmy Ngunda Oti (Rampai Mohadi) comes to mind), which is carried over into the audio treatment. Outside of that, we're working with a fluidly dimensional, highly accurate sound experience that pushes both ends of the spectrum in at least a handful of occasions. The lower-frequency channel gets tested during the explosive war-based sequence, top-shelf distortion is tested with an opera singer's blistering high notes, and mid-range bass and tonality receive a workout through assorted door slams, car crashes, and general sound ambiance. And, wouldn't you know it, everything pours out with incredible breath -- especially in the rear channels, which are balanced to near-perfect precision with the fronts. Criterion and Paramount really knocked this sound treatment out of the park.

Subtitles are available in English and English SDH as per normal Criterion standards, but also in French and Spanish tracks -- along with French and Spanish Dolby Digital 5.1 dubs, as well. These inclusions show the widespread nature of this release.


Special Features:

---
Commentary with David Fincher:
David Fincher is very intelligent, coy, and film-minded in his commentaries, which carries over to his Benjamin Button track in a mix of dry jokes and insightful quips about the assembly of the picture. He discusses many of the elements that will be discussed later in the film regarding effects and performance content, but he addresses tone a bit more in his commentary than he does throughout the supplements on Disc 2. He discusses utilization/difficulties behind extras, shooting timetables, musical cues and focus problems interfering with actor performances. Discussion also steers towards interesting minor tidbits, like the use of an orange DNR sticker on a clipboard, the removal of a masturbation sequence from the script's drafts, and dealing with the frizziness of Cate's red wig in the New Orleans' heat. It's a down key track, but very interesting and properly spaced with content.

On Disc 2:

Looking at the supplemental disc made available with Benjamin Button via the front-loaded menu, you might be inclined to believe that there's not an awful lot going on. All that's listed is a couple of Trailers (all in HD), some Stills Galleries (Art Direction, Costume, Storyboards, Production Stills), and a Subtitle selection menu that offers English, French, and Spanish language options. The topmost option, however, expands out into one of the densest, exhaustive special features able to be encountered in the realm of home entertainment:

The Curious Birth of Benjamin Button:
Selecting the "Play All" option of The Curious Birth of Benjamin Button activates an interconnected string of supplemental pieces, ones that stretch a grand total of nearly three hours -- 2:55:24, to be exact. Within this featurette, we're taken through the entire history of The Curious Case of Benjamin Button, all through "trimesters". For reference, every single one of the filmed featurettes are encoded in rather high bitrate AVC encodes -- and they all look extremely good, though the source material dictates their clarity and sharpness. Each segment showcases only negligible clips of footage from the film, interwoven with Criterion-style candidness with direct interviews with the likes of director David Fincher, Brad Pitt, Cate Blanchett, Taraji P. Henson, Eric Roth, cast, crew, producers, set designers, almost every face you could imagine attached to the film.

The First Trimester focuses on the pre-production and development of Benjamin Button, stretching back to the late '80s, early '90s in its discussion. Director David Fincher starts out with a Preface (3:08) to his involvement with the picture, a nice introduction that interconnects the entire "birth" layout of this special feature, which is followed by the lengthier Development and Pre-production (28:56) segment. In this section, we're taken through the early days when Spielberg was showing interest in piecing together an adaptation of F. Scott Fitzgerald's short story, along with early attachment from David Fincher himself. It then cycles through the timeline that stretches through several other writers and directors' involvement with the film, along with the actors that expressed early interest in the film. Once it takes shape and outlines the process of how Fincher and Eric Roth both came on board, it outlines how they diverted their concentrations from Baltimore to New Orleans.

Under the First Trimester branch, we've also got a Tech Scouts (12:23) featurette that showcases the process of cherry-picking locations for specific shots, along with an additional Storyboard Gallery and Art Direction Gallery to sift through. These are not included with the "Play All" function.


The Second Trimester allows concentration to fall completely on the assembly of the film's 126-days of principal photography. Segmented into two halves, labeled Production: Part 1 (26:15) and Part 2 (29:03), we're completely engulfed in literally every facet of shooting the core shots within the film. This consists of outlining Fincher's meticulous methods of direction, how they filmed the body doubles for Brad Pitt's earlier years, Taraji P. Henson's relationships with each of the several Ben Buttons, and every production element in between. They discuss how they found the focal house -- one abandoned during Katrina, with an owner that had to be flagged down in Texas -- how they incorporated explosives and point-by-point methods to the war sequences, and the assembly of The Chelsea for the core sequences.

Under the Second Trimester Branch, we've also got a Costume Design(7:38) piece that strings together costume concept art with discussion from the crew, as well as a full-blown Costume Gallery. These are also not included with the "Play All" function.

The Third Trimester, however, is where the true magic surrounding the film receives focus. Separated into several categories, we're taken through the arduous post-production process through Benjamin Button. Some might say that this series of featurettes will steal some of the whimsy out of the film's completeness as a narrative, but it only worked to solidify my appreciation for its overall achievement as a work of state-of-the-art cinema.

The Visual Effects series outlines Performance Capturing (7:43) for each of the characters that needed as such, which would obviously lead into the lead character's focus. Benjamin (16:55) zeroes in on some rather candid footage of Brad Pitt during the entire process: adorned in an awkward, workout-machine like device and with little green dots speckled onto his ever-recognizable visage, the insight into his capturing is exquisite -- and frightening, especially when the tangible face plaster casts and prosthetics find their way on-screen. As impressive as seeing how the Digital Domain filmmakers super-imposed Pitt onto little blue-hooded actors, the Youthenization (6:21) piece was even more remarkable. One of the most memorable sequences in the entire film is when we're shows Benjamin Button in the body of a near-teenager late in the film. As a filmgoer, my presumptions naturally led to the magic of lighting and make-up as the culprits, but instead I was left enchanted by digital developer Lola's capacity to smooth and shape facial features -- something that, apparently, is exercised incognito in many, many other films (live-motion touch-up artists). Finally, we're taken through atmospheric pieces that outline how the film's appearance comes to fruition -- segmented into The Chelsea (8:48) to outline water composition and movement, and Simulated World (12:52) for the ways in which they composed sets in odd locations to mirror those emphasized in the picture.

Aside from the visual effects, the Third Trimester also covers the Sound portions of Benjamin Button -- an equally important element to the visual design. Sound Design (16:06) takes us through the ways in which the New Orleans locations are given their ambience. IT also showcases the timeline in how Brad Pitt was digitized and un-digitized for his vocal styling. Most impressive and unawares to myself, however, is the fact that Cate Blanchett voices every single concoction of Daisy in the film -- from her youngest self to, obviously, her older years. Rounding out the sound portions of the third branch is Desplat's Instrumentation (14:53), which takes us behind the scenes with Fincher and Desplat as they piece piece together and fine tune the score for the film. Alexandre Desplat is shown conducting and behind the mixing table, along with filtering and funneling the details from Fincher on tone and form. He discusses a quote about "function and fiction" which I especially liked.

Birth: As to be expected, we make out way to the wrap of Benjamin Button -- the fruition of all this hard labor. However, this portion is merely a bookshelf to hold up the rest of material within the disc. It concludes with an earnest, reflective piece revolving around the film's Premiere (4:20), along with tacking on some Production Stills at the end -- which are, you guessed it, not included in the "Play All" function.


Final Thoughts:

---
As a testament to the potency of growing older and appreciating one's time on earth, The Curious Case of Benjamin Button hits all the right chords without reaching too far into the sappy potential that this smooth, non-aggressive love story could've possibly embodied. Bringing together the beauty of New Orleans, the magic of modern cinematic magic tricks, and a basket full of stellar performances from all involved, director David Fincher has managed to pull off the impossible -- to make a science-fiction based story about a man aging in reverse transform into an earnest, believable narrative. He also earns our trust and concentration, selling the outlandish concept in a way that remains touching and cerebral throughout its phenomenally-paced two-and-a-half hour span. With Brad Pitt and Cate Blanchett behind the film's introspection on the true nature of love and death, it's a dynamic that leaves viewers bewildered in its conscientious splendor.

Even if Benjamin Button wasn't your cup of tea, this Criterion/Paramount Blu-ray presentation of the film is still a marvel of the technology. Combining top-shelf audio and video achievement with a phenomenally dense array of supplements that reveal, literally, almost EVERY trick underneath director Fincher's sleeve for his story, this is a package well worth the entry price. Some might look at the supplements like revealing a magician's tricks in a way that ruins the show, but many other cinematic aficionados will relish in seeing exactly how a director gathered together a broad array of technologies, visual tricks, and budget constraints into a truly cohesive presentation. Still, The Curious Case of Benjamin Button -- nominated for thirteen (13) Academy Awards, winning three (3) of them -- is an astounding Blu-ray presentation of an enchanting film, one that deserves DVDTalk's Collector's Series marker for both the outstanding fantasy-based film and the digital/supplemental qualities that lay underneath.



---
Thomas Spurlin, Staff Reviewer -- DVDTalk Reviews | Personal Blog/Site
---
Sponsored Links
DVD Blowouts
Sponsored Links