RiffTrax: The Little Shop of Horrors
List Price: $9.95 [Buy now and save at Amazon]
---
Legend Films has released RiffTrax: The Little Shop of Horrors, the latest release of this public domain title for Legend, featuring a newly recorded commentary/goof-on track by Mystery Science Theater 3000's Mike Nelson, Kevin Murphy and Bill Corbett. Apparently, Legend has released this title twice before -an early colorized version, and a 2006 release featuring a new colorized transfer and a restored black & white transfer. The 2006 version had a commentary by Mike Nelson alone; this new trio commentary apparently was recorded this year. Legend and Rifftrax have decided not to include the colorized version for this release, and you can choose to watch the film with or without the RiffTrax commentary.
Considering we already have two excellent reviews of The Little Shop of Horrors here at DVDTalk (Glenn Erickson and Bill Gibron) - in fact, they're reviews of the 2006 Legend release described above - I don't think it's really necessary to go into too much detail or discussion of the film itself. After all, don't most film fans already know this one by heart? Gravis Mushnick's L.A. "skid row" florist shop is wilting in the heat, what with oddball customers like Mrs. Siddie Shiva (Leola Wendorff), who has a seemingly inexhaustible supply of relatives who drop dead but very little money to pay for any flowers, and Burson Fouch (Dick Miller), who comes to sample Mushnick's fare...for digestive purposes. Although Mushnick's helper Audrey Fulquard (Jackie Josesph) is a bright spot on his miniscule staff, no-goodnik Seymour Krelborn (Jonathan Haze) is a disaster. Constantly falling down, or mutilating flowers in an effort to even them up for a vase, Seymour the schmuck is an accident inevitably waiting to happen. However, at the suggestion of Mr. Fouch, Mushnick allows Seymour to bring in a strange little plant he's been cultivating at home, in the hopes of driving business to his failing florist shop. Only...the plant doesn't seem to be thriving too well; Seymour has tried everything he knows to make it healthy, but nothing works. Nothing, that is, until he accidentally drips blood into it - something "Audrey, Jr." likes very much.
SPOILERS ALERT!
If you were a kid watching movies on your crappy black & white TV back in the early seventies, you couldn't get away from director Roger Corman's The Little Shop of Horrors. Seemingly on constant rotation to Saturday afternoon (Sir Graves Ghastly in my part of the country) or late night horror shows (The Ghoul!), every hilarious Borscht Belt line delivery by Mushnick's Mel Welles, or hysterically funny whining screams by Audrey, Jr. ("Shut up, and BRING ON THE FOOD!", voiced by Little Shop's screenwriter, Charles B. Griffith), have been permanently ingrained in the brains of guys from my generation. Corman, whether by design or by happenstance, delivered a horror/comedy film incorporating an intoxicating mixture of odd editing rhythms, broad ethnic humor, isolated scare moments (the chopped-off foot being fed into Audrey, Jr. is probably the shot that scared little kids the most), and most importantly, the bizarre "sick humor" that had flourished in beatnik coffee houses and on college campuses, and which by 1960 was becoming well-established in the main popular culture. It's such a funny little movie, both totally incompetent (in its scare tactics) and brazenly assured (in its comedy), that one winds up feeling a sense of endearment towards it, particularly when repeated viewings reveal nuances that get funnier and funnier each time the film unspools.
I mention this because, obviously, I think The Little Shop of Horrors is a very funny movie. And that unfortunately brings me to this RiffTrax version. Now, before you jump to any conclusions, I proudly state that I am a MSTie from way back, and that the notion of "goof-on" commentary tracks for any films - classic or grade-Z - is one I have absolutely no problem with as a movie reviewer. After all, one of the reasons MST3K proved such a hit with viewers was because it aped what a lot of us were already doing at home: yelling out shit at the TV. The basic kernel of the show's concept wasn't new - local TV movie and cartoon show hosts would often shout out stuff during the running of their films, even "entering into" the screen, as well, with chroma key effects. And at its peak, MST3K was knocking out one hysterically funny show after another (I'll admit I preferred Joel to Mike...but I still think he's good). So don't send any emails giving me a bunch of guff about how I don't understand the show, or that I'm not a true fan of the concept, and all that other b.s.. I like the concept. I don't think it hurts films or their legacies, and I actually think the RiffTrax idea of downloading these commentaries for many more kinds of movies (not just the obvious targets of obscure or notorious trash) is a novel and fun one. So don't bring on the hate.
However...you better be goddamned funny if you put this stuff down on tape. Particularly if the film you're ripping-on is already hilarious...and that brings us back to this disc of The Little Shop of Horrors. For the concept to work with a comedy like The Little Shop of Horrors, at the very least, the jokes that Mike, Kevin and Bill have to come up with should be on par - or better - than the ones they're denigrating. And frankly, that just doesn't happen here. There are very funny lines here, to be sure. The notorious dentist's office sequence, featuring John Shaner and a young Jack Nicholson prompts probably the commentary's best line: "Government-run health care: day one," while jabs like, "I'm Dick Miller - I've been in more crap than corn," "I'm being robbed by Albert Speer" (when Charles B. Griffith makes his uncredited appearance), "Olive Oyl's most sensitive role" (comparing Jackie Joseph's appearance), and the hilarious "tire joke" flip-out during the final chase sequence, score big laughs. Those jokes work well, and they're memorable. But those were the only ones I found worthy of jotting down in the "hit" column, while the rest were largely "miss." Long, tedious set-ups for jokes about bears (oddly comparing Mel Welles' acting style), jokes referencing Gallagher and Oprah (yawn), calling Woody Woodpecker annoying (that's the point), and a politically-correct reference to Shylock (which is really looney tunes) were only some of the bombs that litter this commentary. Even worse, the group actually calls-out the film on several occasions, in particular knocking the dentist office sequence, saying it's not worth the final pay-off of Nicholson showing all his teeth drilled out (all comedy is subjective, of course, but I haven't found anyone who doesn't find this sequence funny).
Maybe it was an off-day. As I stated before, I'm a fan of these writers/performers' work, and anyone can come up short on an assignment. But that doesn't justify buying this disc, particularly when the DVD's main selling point (considering all the previous releases of this title) is this new commentary track. And if that doesn't cut it, there's really no point in getting RiffTrax: The Little Shop of Horrors.
The DVD:
The Video:
No matter what player I tried (from my main high-end player to my computer to my laptop), the full-screen, 1.33:1 black & white transfer of RiffTrax: The Little Shop of Horrors suffered from noticeable, distracting interlacing jaggies (could this have anything to do with the original DivX ripping of the title? Not sure, but all my players are DivX compatible). The transfer itself looked very, very clean (I would assume it's the restored transfer from 2006), but something happened during the authoring of it, because most of the time, it looked as if I was watching the film through one of those wind-up, jeweled-screen toy TVs.
The Audio:
The English 2.0 stereo audio track is adequate for the job, with all dialogue (and smarting-off) heard cleanly and clearly. No subtitles or close-captions are available, though.
The Extras:
It's debatable if the RiffTrax commentary itself is the extra (although it's really the only point of this disc), so the only other "extra" you might count is the option to watch the film with or without that RiffTrax. Nothing else.
Final Thoughts:
The RiffTrax just isn't funny enough to justify this disc. The movie itself is already hilarious, so your smartassing-around better be up to snuff. I'm a fan of the concept of MST3K and RiffTrax, as well as of the team assembled here to give forth their goofs. But a handful of notable one-liners do not a RiffTrax make. And without a funny commentary track, what's the point of getting the disc - particularly when the transfer is problematic? Skip RiffTrax: The Little Shop of Horrors.
---
Paul Mavis is an internationally published film and television historian, a member of the Online Film Critics Society, and the author of The Espionage Filmography.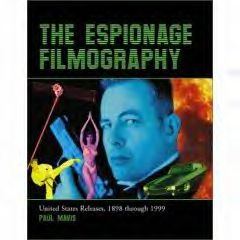 Sponsored Links
Sponsored Links