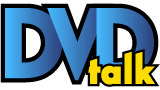 List Price: $39.95 [Buy now and save at Amazon]
---
The Movie:
So now that I've seen Paul Blart: Mall Cop, I can say I've seen two movies about mall security men recently (I caught the Seth Rogen film Observe and Report in movie theaters), and I think it's safe to say that Hollywood has mined enough gold from that vein that they possibly could, using performers who seem to be on virtual opposite sides of the comedy spectrum (Blart's Kevin James the more family friendly, while Rogen works a little bit blue). Both films have a main character who is an underachiever at life, wanting to do more but never seemingly pulling off a success. Observe was dark in its humor, but now after seeing Blart, I've got to find a lead pipe to smash my brains with.
Blart is written by James and Nick Bakay (Sabrina, the Teenage Witch), and Steve Carr (Daddy Day Care) directs. Paul Blart is a guy who's a little overweight, raising his daughter as best as he can while they both live with his mother and he works at the mall. He tries to become a New Jersey State Trooper, but his hypoglycemia is a hindrance from being on the force, hence the mall security job, which he takes very seriously. And for whatever reason, he appears to be the only one taking it seriously. He makes friends with the mall employees, and has a small crush on one of them, a kiosk worker named Amy (Jayma Mays, Eric Movie). When a security trainee named Veck (Kier O'Donnell, Wedding Crashers) tricks everyone and winds up being a criminal mastermind who wants to rob the mall, that's when things get haywire.
Now I will admit, there are moments in Paul Blart that I laughed at because of their intent. Principally among those are James' physical attempts for laughs. He does things with a certain physical flair not seen by fat guys since Chris Farley, but you can see the hang dog look in his face that disarms any sort of worry that he might hurt himself. Any dumb thing he does he seems to get a pass on because, well, he's kind of dumb-looking, if you get my drift. Second are the parallel story intentions to Die Hard, which are kind of cute. For a second.
Then things just get drawn out and boring. Paul Blart's been bullied and downtrodden all his life, a movie like this expects to see the main character elevate his status in life somehow, the only question is just how far he gets to go. And James can only run into things and get hit with other things before it just isn't funny. O'Donnell is hardly a convincing antagonist, because he didn't seem that smart to begin with, plus I couldn't get the whole image of him in Wedding Crashers out of my mind. The other thing is the story, which goes from Die Hard to Die Hard 2 within the span of five minutes, making me feel like if I disliked the film before, I sure wasn't going to like it now. The fact that James is surrounded by people who aren't remotely funny either (one looks like David Boreanaz if he got into the plutonium supply) doesn't help matters.
Yet sadly enough, Paul Blart was the first film to gross more than $100 million in 2009, and I would presume a second, presumably titled Paul Blart State Trooper, will follow. I do take solace in knowing that the late winter of January and February is when the cinematic dreck gets dumped, but please, America, go rent a movie next time to stop things like this from happening again.
The Blu-ray Disc:
Video:
Paul Blart is presented in 1.85:1 widescreen 1080p high definition, and Columbia/Sony uses the AVC MPEG-4 for its release. I was taken aback by how much detail is in the film. You see it when Paul is having dinner with his daughter and mother, and the fabric in the mother's sweater really stands out. Flesh tones are accurately reproduced without concern, and the print is as good as it can look for a film that was released four months ago. Even at 1.85:1, there's a multidimensional look to the image that shows that the production values are almost better than the finished film, but any way you slice it, Paul Blart looks mighty good on Blu-ray.
Sound:
The Dolby TrueHD 5.1 surround track is also a bit of a surprise. Speaker panning for effects like Blart's Segway from the left to right channels is evident and sounds solid, and dialogue requires little in the way of user adjustment. One scene where Blart and a villain falling from a high height into a ball pit even provided a slight subwoofer punch to it. Dialogue is strong and doesn't require any user adjustment; you can set it and forget it. The overall soundtrack was quietly immersive and effective, and for a family comedy, doesn't sound shabby in the least.
Extras:
James and producer Todd Garner team up for a commentary (which isn't listed on the back of the case, but is a nice bonus). James tends to be jokey during the track, which I kind of expected, while Garner absorbs the comedic hit and talks about some of the production aspects of the feature. It's hardly a revelatory track by any means, but the fact that James took the time to do a commentary for the film is commendable. Next are 10 deleted scenes (12:30) which highlight more of James' physical talents, but otherwise are forgettable scenes in various unfinished post-production form. Eleven featurettes of varying length follow, and they address the film, the crew and some of the on-set hijinks. They also cover some bloopers and casting decisions (anytime the crew says that the villains should be "X Gamers", you know you're in for an underwhelming experience. Seriously, these guys act like they've fallen off skateboards and bicycles onto concrete. You can play them separately or together (49:50). Eight trailers for Sony films are next, and the disc has BD-Live content on it, which allows the user to send text messages to other "friend" users while the movie plays. As of this writing, the content is not live yet, though a demo which can be downloaded explains it all. A second disc with the film's digital copy for portable MP3 device is the only other thing.
Final Thoughts:
Whether or not you like Paul Blart: Mall Cop depends on your demographic. If you're over 40 or have kids, then you might like it. If you're under 40 or generally like some pretty twisted humor, Observe may be the better option. Nonetheless, Blart starts out decently enough, but gets really slow and stupid really quick. Technically the disc is better than I was expecting, and there's enough supplemental material that makes the disc not completely horrible. It's worth a family rental if, you have one.
Sponsored Links
Sponsored Links