MGM // Unrated // May 12, 2009
List Price: $14.98 [Buy now and save at Amazon]
---
Revisionist as hell, sure. But ultimately, to what end? Fox has released Doc, a grimy, anti-heroic 1971 re-telling of the Doc Holliday/Wyatt Earp relationship, and their legendary showdown with the Clanton gang in Tombstone, Arizona. Directed by Frank Perry, written by Pete Hamill, and starring Stacy Keach as Doc, Faye Dunaway as Doc's whore, Katie Elder, and Harris Yulin as Wyatt Earp, Doc attempts to upturn every cinematic cliche ever applied to the remarkably resilient Tombstone story, forgetting in the process that unrelieved dourness makes for some pretty slow and pretentious filmmaking - particularly in the Old West. Fox delivers another substandard disc release here, not even bothering to offer tired DVD reviewers a resting stop of a menu.
Stumbling into a filthy Mexican cantina a few days' ride from Tombstone, an equally scruffy Doc Holliday (Keach) decides he wants to play a hand of poker with mouthy Ike Clanton (Michael Witney). The stake? His whore, Katie Elder (Dunaway). Naturally, Doc wins (with a measly pair of tens), and decides to clean up her up with a bath - something that makes the career whore Katie fall immediately in love with the tender-hearted Doc. Riding into Tombstone, Doc tells Katie it's the end of the line for them ("Where I go, I go alone,") as he sets out to hook up with Marshall Wyatt Earp (Yulin). Earp, intent on winning the town's election for sheriff so he can make a lot of money through corruption and graft, wants Doc to run the gambling side of things in Tombstone once he wins the election. Doc is slightly taken aback at Wyatt's naked venality, but agrees. The only problem is Wyatt's unflinching hatred for the Clanton gang - a hatred that Doc refuses to share, going so far as to befriend Ike's nephew, The Kid (Denver John Collins), acting as his surrogate father and even teaching The Kid how to shoot. Wyatt feels betrayed not only by Doc's friendship with The Kid (that friendship has the potential to screw up a double-cross Wyatt is planning), but also Doc's renewed relationship with Katie, whom Doc takes off "the line" after realizing he's lonely in town and wants her back. Of course, all these various relationships come to fruition at the final deadly gunfight at the O.K. Corral.
SPOILERS ALERT!
By 1971, the relatively straight, big-scale studio Western was a dying if not outright dead genre, reduced to only a handful or less appearances a year on the studio rosters. The gradual transformation of the genre in the 50s and 60s from an action-filled yet dramatically simplistic form to an increasingly interior, psychological experience, along with the arrival of the stylistic challenge of the popular Italian spaghetti westerns, left little room for the kind of basic oaters that fueled the genre for decades prior. And once the parodies started to feed off the genre corpse (Cat Ballou, Butch Cassidy and the Sundance Kid), violent revisionism, encouraged by the politics of the time, was the next logical step in filmmakers' dissection of the form. Films like The Wild Bunch, Little Big Man, and Soldier Blue attempted to blow the Western structure apart in as violent a fashion as possible, satisfying not only the need to expand the limitations of the genre, but to also to figuratively blow apart the form in the manner of the violent counterculture milieu in which they were conceived. Doc certainly fits into this category of post-modern western, seeking to totally debunk the cinematic mythos surrounding one of the most beloved subjects of the traditional western: the partnership of deadly-but-honorable lawman and gunfighter, Wyatt Earp and Doc Holliday, and their celebrated feud with the Clanton gang.
I'm no expert on the historical accuracy of Doc or any other cinematic depiction of the legendary "gunfight at the O.K. Corral," for that matter, but the "facts" of any such historic encounter are about the last thing that's important in the making of movies - particularly in the western genre. Myth and storytelling and symbolism are the stock and trade of the oaters; historically factual details just get in the way. So I don't particularly care if Doc is inaccurate to the historical record. It's not trying to be a documentary. Nor do I care that it's deliberately anti-traditional, anti-heroic, and revisionist in nature. Those qualities could have made Doc fun and interesting, had they some kind of solid underpinning to their implementation. What problems I do have with Doc lie with its inability to transcend its ultra-realistic revisionism beyond mere posturing: debunking in Doc is obsessive and detailed, but ultimately it becomes its own end, with no discernable point made by that deconstruction.
Doc has revisionism to spare. In this screen incarnation, the stalwart Marshal Earp is hardly the upstanding model of frontier justice and clean living that prior to 1971 we had come to expect in a western (with the exception of John Sturges' muted twisting of the legendary heroes in 1967's Hour of the Gun). Here, Wyatt is a cold-blooded, Nixonian politician who doles out smarmy, unconvincing platitudes about making Tombstone a better place to live for families, all the while plotting and scheming to take over the town and bleed it dry. He's a weakling who gets his ass thoroughly kicked by Ike Clanton, and who vows revenge against him not only to assuage his bruised ego, but to also cover up his crooked deal with Ike, wherein Ike delivers Johnny Ringo (Fred Dennis) to him for the recent gold robbery, with Ike keeping the reward money and Wyatt getting the credit...and winning the election for town sheriff. The Clanton gang is constantly referred to as "bad men" and "troublemakers," but director Perry and screenwriter Hamill deliberately refuse to show them committing any crimes here. In fact, Ike often seems the soul of logic in comparison to the ruthless, unhinged Earp, openly dismissive of Earp's hypocrisy concerning law and order in Tombstone. At the final gun battle at the O.K. Corral, Ike still tries to avert bloodshed at the end, screaming he wants to talk to Earp, who ignores him and starts blasting with his shotguns. As for our "hero," Doc Holliday, the defining characteristics of this historical figure are kept - his coughing fits due to consumption, his refined Southern background, his previous profession as a dentist, his courtliness to women - while new twists are added, including an addiction to opium, and a new-found sense of mortality that severely effects his relationship with Wyatt. Doc, realizing that his life is empty and on short time, declares he's tired of killing of any kind, refusing to take Wyatt's fight with the Clantons as his own. He's in love with any life, even The Kid's, whom he takes under his wing and teaches how to shoot, just like a father would with his son. He declares he wants to leave something behind in his empty life, and he cries into his beer, with an uncomprehending Wyatt staring at him in disbelief. The time-honored notion in the movies that Wyatt and Doc are inseparable friends who rally to each other's side regardless of the cause, is thoroughly trashed here. Wyatt is a stone-cold, weasely killer looking to make a buck by slaughtering his competition, and Doc is a moody, mooning depressive, half in love with his whore girlfriend, while wondering what else there is to life besides killing.
And all of that would be fine...if Doc was a better film. But director Frank Perry guides Doc in such a slow, self-important, fatuous manner that all the realistic grime and dirt and phony-tough dialogue in the world can't hide the fact that Doc is thematically and stylistically a mess. In an effort to make everything in the film the opposite of most traditional westerns, it succeeds in becoming nothing more than a series of largely unconnected scenes that want us to applaud them for their admittedly minor tweakings of the genre. If Doc truly wanted to be revisionist, why did it give us one of the biggest cliches of any movie genre: Faye Dunaway's hooker with a heart of gold? What is Dunaway doing in this film, anyway? She lets the director put dirt on her face and fix her up with an unsightly gold tooth, but she's still shot in several glamorous still shots, her too-thoroughly familiar character work here never inhabiting the time period (the best example of the ridiculous lengths Doc goes to upend audience expectations happens when we see Katie carrying Doc over the threshold of their little cottage). Yulin, a terrific stage actor, isn't asked to do much here except go all bug-eyed whenever he sees Doc with someone else, or when he's trying to act tough, creating the smallest and most uninteresting Wyatt Earp I've ever seen on the screen. Keach, another fine actor underappreciated today, is directed in a most curious manner here. Often staring wall-eyed into the camera as if he's channeling future inmate Jack Nicholson - post-lobotomy - in Cuckoo's Nest, Keach moves in such an exaggeratedly stiff and slow manner (in an effort, I guess, to approximate spare, lean Western-ness), one fears for the status of his vertebrae, not his opponents. I can understand the portrayal of the traditional inarticulate Western gunfighter (hey! I thought Doc was supposed to be anti-traditional?), but inscrutableness, unrelenting and dour to the point of suicide, doesn't breed curiosity in an audience, but eventually boredom and disinterest. One constantly asks in Doc: who the hell cares about these people?
Director Perry and screenwriter Hamil (barring some post-production hatchet job by the studio that rendered Doc seriously diffused and disjointed) can't seem to get any kind of rhythm going here, with scenes dropped in out of nowhere, with zero context and worse, no payoff after they're abruptly ended. Watching Doc, I was reminded of Perry's later, more famous collaboration with Dunaway, 1981's ghoul-fest, Mommie Dearest, which bears a remarkable resemblance structurally to Doc, fearturing the same kind of non-sequitur visual equivalent of scenes coming and going without rhyme or reason; too bad Doc doesn't have the compensating, entertaining grotesqueries that amped up that camp classic. Unresolved, barely suggested thematic elements pop up now and then, such as Doc's opium habit or the curious insert shots of Doc looking...romantically jealous of Doc anytime he's with pretty Katie or young, good-looking The Kid, but if they were explored more thoroughly in a first cut of the film, they're only hinted at here. Worse, substantive plot lines that should require even a basic stab by the screenwriter and the director explaining their intentions, are utterly ignored, such as Doc's inexplicable resumption of his relationship with Katie...and his subsequent dumping of her to go to the shoot-out (as for the supposed "shock" ending of Doc shooting The Kid, after an hour and a half of this unmotivated mess, that moment comes off more comical than anything else). And if you're looking for the answers in the dialogue, don't bother. All you'll find there are instance after instance of supposedly hard-boiled dialogue that's meant to sound "period realistic," but which just winds up sounding decidedly movie-fake and cute (I don't know what's more embarrassing: Keach unconvincingly calling Kate, "Bitch," like it's her nickname, as in a chipper, "Hi, Bitch!" or the two of them discussing beans and farting two years before Mel Brooks raised that particular universal conversation to an art form). In the end, Doc tries way too hard to be hard and unconventional and revisionist, all the while forgetting to accomplish what should have been its first job: making an entertaining western.
The DVD:
The Video:
As with the Fox release of Time Limit I reviewed, this disc contains no menus whatsoever. You put it in and it starts. Not even a scenes selection menu. Chapter stops are every 10 minutes, so good luck finding a particular scene. As for the anamorphically-enhanced, 1.85:1 widescreen image, this transfer suffers from a way too dark, too grainy image that's barely tolerable on a big monitor (lots of break up in the dark scenes). Print damage is evident, and the colors are grungy (although I would suspect that's part of the original look of the film). It looks better on a small tube monitor, but who the hell wants that today?
The Audio:
The Dolby Digital English 1.0 mono audio track is merely serviceable; all dialogue is heard, but there's not much else to recommend in this boring mono track. Close-captions are available.
The Extras:
Are there extras available here, hidden somewhere? Don't know - no menus. I doubt it.
Final Thoughts:
In an effort to be ultra-realistic while breaking every convention associated with the thoroughly romanticized legend of Doc Holliday and Wyatt Earp, Doc forgot a few things along the way - like how to be entertaining, how to offer up characters we care about (or at least ones that pique our interest or intrigue us), or even how to string a series of scenes together to present a movie that makes logical and emotional sense. The good actors are defeated by this wonky approach, and what pleasures there might have been in the grimy art work is defeated by this substandard Fox release. Western fans and completists will want to take a look at Doc with a rental, but most audiences can safely steer clear of this pretentious claptrap.
---
Paul Mavis is an internationally published film and television historian, a member of the Online Film Critics Society, and the author of The Espionage Filmography.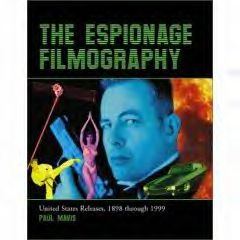 Sponsored Links
Sponsored Links