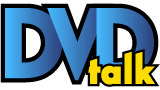 Fox // R // April 21, 2009
List Price: $39.99 [Buy now and save at Amazon]
---
The Movie:
Notorious tells the inarguably compelling story of Christopher Wallace, a mountain of a man who gained worldwide success as rapper Notorious B.I.G. when he was barely out of his teens, and was dead by the time he was 24. He was shot to death in a drive-by hit that seemed the logical extension of the lifestyle he represented, even if it wasn't the lifestyle that he was living.
That dichotomy is one of the more fascinating elements of his life, and one that goes back to his childhood; he was raised by a loving single mother and attended good schools, but was drawn to the danger (and rewards) of slinging drugs. His relationships with women were similarly complicated--he was abandoned by his father and raised by a strong, independent woman, but after his success made him desirable to the opposite sex, he frequently treated the women in his life as objects and all but abandoned his own first child.
The unfortunate news is that the complex psychology of Christopher Wallace barely gets lip service in Notorious, which abandons depth in favor of the standard, paint-by-numbers beats of the musical biopic. The music is infectious and the performances are skillful, but the screenplay and direction are so predictable that the film feels like it was assembled from a Mad Libs book.
Rapper Jamal Woolard (in his screen debut) plays "Biggie" from age 17 on (Wallace's own son, Christopher Jordan Wallace, plays him as a young boy), capably embodying his charisma and presence, even if his voice is a little higher-pitched than Biggie's. Some of his best moments come in the portrayal of his close relationship with mother Voletta (Angela Bassett); their scenes are mostly grounded and believable, though poor Bassett gets saddled with the lion's share of the corniest dialogue. In spite of her positive influence, Christopher can't resist the urge to make some paper selling crack on the corner; he first sees writing and performing rhymes as a hobby, a diversion, rather than a source of honest income. That said, he clearly has a gift, and an early scene where he takes on a neighborhood rhyming rival transcends its inevitability (is it legal to make a hip-hop movie that doesn't have at least one "battle" scene?) and serves as an effective illustration of how unique and comparatively sophisticated his style was. It's a rare moment where director George Tillman Jr. and screenwriters Reggie Rock Bythewood and Cheo Hodari Coker show instead of tell, letting us see Biggie finding his voice and glimpsing his future instead of saying he did so in another of the script's clumsy voice-overs.
Christopher eventually gets popped and does some time, spending much of his incarceration sharpening his lyrical skills, and when he makes it out, a demo tape ends up the hands of Sean "Puffy" Combs, played by Derek Luke in a passable if uninspired performance. Luke doesn't look a bit like Combs (though he does have his odd dancing down pat), but more distressingly, the role is just dull as toast; Combs is credited as an executive producer on the project, but that's no excuse for to turn his character into a blandly supportive saint, mouthing inane inspirational slogans like some sort of a hip-hop Leo Buscalia.
Combs is on his way out at Uptown Records, but promises Biggie that he'll be an anchor act for his new label. On the way to that moment, Biggie and his street-hustling partner get popped on a weapons charge; a powerful scene follows, wherein the buddy takes the fall for Biggie's gun so that his boy can stay out of jail and follow up on his music opportunities. That's about the last moment of real surprise in the second act, as the rapper's rise to fame is accompanied by the expected indulgences and vices--in this case, the large man's love for the fairer sex, at first in the guise of neighborhood girl-turned-performer Lil' Kim (well-played by Naturi Naughton, who nails Kim's sexiness, fragility, and vocal quality) and then with singer Faith Evans (Antonique Smith), who he marries and promptly fools around on while he's out on the road. Smith and Woolard have nice chemistry, but we've seen all of these scenes (and heard these lines--"I don't even know who you are anymore!") a thousand times before. That said, I liked how the screenplay works Kim and Evans' song performances into the fabric of their love triangle storyline.
If the script follows a too tried-and-true formula with regards to Biggie's rise to the top and excesses of success, it does manage to get a storytelling charge by tracking the splintering of his friendship with Tupac (Anthony Mackie) and how it escalated into the East Coast/West Coast beef that, either directly or indirectly, led to both of their demises. That's a story we haven't seen before (aside from in Nick Broomfield's excellent Biggie and Tupac), and it is a fascinating one, lending some much-needed momentum to the third act--though we probably could have done with at least one or two fewer scenes of Biggie getting his life back on track right before his untimely death (the fact that he ties up every single loose end feels too damned nice and neat to be entirely convincing).
Tillman's direction is pretty pedestrian--some of the individual shots are stylish, but the assembly of the scenes and the overall narrative lacks any real punch or surprise. The concert scenes have a nice energy, however, and Woolard is a real find, easily carrying the entire film on his broad shoulders. It's a shame he didn't have a less predictable picture to carry. It may just be that all musical biographies are bound to follow the same playbook (unless they're an oddball mindfuck like I'm Not There), but that's not enough of a reason for Notorious to hammer its clichés as hard as it does.
The Blu-ray Disc:
Notorious is being released in a two-disc edition for Blu, with the film and special features on a 50GB Blu-ray disc and a digital copy for portable devices on the second dic. Two versions of the film are offered: the theatrical cut (which runs about 123 minutes) and the "extended director's cut" (clocking in about six minutes longer).
Video:
The film's 2.35:1 images are brought to vivid 1080p life via the MPEG-4 AVC codec. The bright colors of the Brooklyn streets pop from the frame, while the darkness and shadows of the clubs and concerts are deep and full. Skin tones are natural and grain levels are appropriate. Overall, a very solid transfer.
Audio:
The English 5.1 DTS-HD MA lossless mix is also top-notch. The surround channels are active throughout, particularly in studio, club, and street scenes, while dialogue and effects are crystal clear. But the highlight of this track, as it should be in a hip-hop movie, is the low end. The heavy bass of Biggie's tracks give the subwoofer a workout, and the combination of the deep, rumbling bass and the crowd cheers in the rear speakers make the concert scenes particularly immersive.
Subtitles are available in English, French, and Spanish.
Extras:
The healthy selection of bonus features start off with a pair of Audio Commentaries supplementing only the theatrical cut of the movie. The first is with director George Tillman, Jr., screenwriters Reggie Rock Blythewood and Cheo Hodari Coker, and editor Dirk Westervelt. It's a fairly informative and interesting track, with plenty of discussion of the filmmaking process and the choices made at the screenwriting stage. The second track focuses on the film's relationship to the real story by offering commentary by Voletta Wallace and Biggie's managers Wayne Barrow and Mark Pitts (all three are producers on the film as well). There's not exactly a wealth of penetrating information here, but it is a good-natured conversation and it's always nice to hear from Ms. Wallace, who remains a fascinating figure.
"Behind the Scenes: The Making of Notorious" (27:22) is a detailed look at the creation of the picture, from the extensive casting process to the involvement of Biggie's family and friends to the on-set operations (down to the props and costumes). "I've Got A Story To Tell: The Lyrics of Biggie Smalls" (9:32) focuses his music and personality, interspersing clips of the film with testimonials from friends and enthusiasts. "Notorious Thugs: Casting The Film" (9:06) covers, via interviews and audition footage, the casting of the supporting players with the input of many of the people they portrayed. "Biggie Boot Camp" (6:49), narrated by director Tillman, shows the extensive process of training the actors (particularly first-timer Woolard) to inhabit their iconic roles. Much of the featurette material can also be accessed during the film, via the picture-in-picture "BonusView: Life After Death- Making Notorious" feature.
"Anatomy of a B.I.G. Performance" (5:15) is one of the stronger featurettes, detailing the shooting of the concert scenes, with comparison footage of real performances. "Party & Bullshit" (3:44) is an uncut view of one of those performances--it's in rough shape (complete with tape glitches), but it's pretty remarkable nonetheless. "The B.I.G. Three-Sixty" is a viewer-controlled virtual tour of the corner of Wilshire and Fairfax, where Biggie was murdered, with the option of brief video clips explaining various points on the scene. It's a pretty morbid inclusion, but an interesting one. Ten Deleted Scenes follow (12:16 total), though some are merely extended versions or minor transition scenes; the filmmakers also apparently experimented with a parallel timeline of the night of Biggie's death (intercut with the main narrative) but wisely booted it.


Finally, a bonus for BD-Live viewers: "The Music," a feature which offers up song credits and trivia during the film and allows viewers to create playlists of the songs heard there, which can then be purchased through iTunes. It's a fairly clever use of BD-Live technology for this music-heavy film.
Final Thoughts:
There's no question that Christopher "Notorious B.I.G." Wallace's story is a compelling one, a kind of hip-hop Horatio Alger tale of a young man who made it big by telling the kind of stories that he knew from firsthand experience. But Notorious suffers from the familiarity of the story's broad strokes; it feels assembled from spare parts, squandering the opportunity to weave a real and complex narrative in favor of the usual rags-to-riches, mo-money-mo-problems template. The Blu-ray's technical presentation is high-caliber, some of the performances are inspired, and the music is energetic, but we ultimately don't learn much about Christopher Wallace here that we didn't already know from his songs.
Jason lives in New York. He holds an MA in Cultural Reporting and Criticism from NYU.
Sponsored Links
Sponsored Links