Image // Unrated // June 16, 2009
List Price: $19.98 [Buy now and save at Amazon]
---
"For that joke, you should only drop dead."
Image Entertainment has re-released What's Up, Tiger Lily?, the hit-and-miss (mostly hit) Japanese spy spoof re-dubbed by Woody Allen in 1966. Apparently, this is the exact same transfer used in the previous Image disc release (right down to the same limited extras and the Easter Egg in the main menu), so double-dipping shouldn't be necessary. Woody Allen fans and completists will be the best bet for this silly, occasionally engaging romp.
Considering the deliberately cut-and-paste nature of the film after Allen and later Henry G. Saperstein got through chopping it up to fit the jokes, only a brief plot summary for What's Up, Tiger Lily? is needed (well...not really needed, since it's all about the frequently ridiculous and nonsensical one-liners, anyway). "Loveable rogue" and secret agent Phil Moskowitz (Tatsuya Mihashi, the "Japanese Cary Grant") is on the trail of the "world's greatest egg salad recipe." Stolen from the Grand Exalted High Macher of Graspar (Tetsu Nakamura) and his newly-formed country (the entire population is packed away in crates, awaiting a spot on the map), Moskowitz's assignment is to steal the recipe back from Shepherd Wong (Tadao Nakamaru), a gangleader and pimp who plans to use the recipe for extortion purposes. To help Moskowitz, a crack back-up team is assembled: sister agents Terri Yaki (Mie Hama) and Suki Yaki (Akiko Wakabayashi, looking unbelievably alluring). Phil knows Suki, since he boosted her out of prison (and tried to make love to her back at his apartment), but he wants to get to know Terri better, as well, so they split off, looking for the recipe. Unfortunately, they're kidnaped and almost tortured by silky, sinister gangster Wing Fat (Susumu Kurobe), who agrees to join forces with Phil and his team to get the recipe back from Wong.
SPOILERS ALERT!
Always a welcomed favorite back on 1970s syndicated TV when its concept seemed so different and fresh, it was interesting for me to re-visit What's Up, Tiger Lily? after many, many years (and seeing it for the first time in its proper aspect ratio). Trying to track down the origins of this curious but money-making project, I encountered seemingly as many accounts of how the film came to be made (and unmade) as there apparently are different versions floating around of the two films from which it was fashioned (a special thanks here for DVDTalk's foreign correspondent, Stuart Galbraith IV, for the helpful cast and credits info). Years ago, whenever I read articles or interviews mentioning Allen or What's Up, Tiger Lily?, the line always seemed to suggest that Woody Allen initiated the film as his first venture into feature films. Of course, that's not the case; he was sought out - either by American International Picture's James H. Nicholson and Samuel Z. Arkoff, or UPA's Henry G. Saperstein - as a "gun for hire" to salvage a Japanese spy film that wasn't working as a dubbed import to America.
John Baxter's biography of Allen, published in 1998, details the chaotic nature of the project - even if Baxter himself gets understandably mixed up with some of the shady details surround the film's production. According to Baxter, Allen, then the hottest stand-up comic in America, was approached in 1965 by producer Saperstein (who had bought up the famed UPA animation studios, of Mr. Magoo and The Pink Panther fame) to salvage a Toho studio spy flick, Kokusai himitsu keisatus - Kagi no kagi (International Secret Police - Key of Keys, the fourth film in the Bond-like International Secret Police series), that Saperstein had bought with the intention of capitalizing on the James Bond craze. Much like the Italian gladiator films that AIP would cheaply buy and then re-dub for big profits, Saperstein hoped to do the same with Kagi no kagi. However, according to Baxter, the Toho English-dubbed version of the film was received with hoots and hollars and plenty of catcalls during a limited run in a New York art house theatre (confusingly, I've also read accounts which stated AIP acquired the film and their dub of Kagi no kagi was the culprit). According to Baxter, Saperstein, taking a page from competitor animator Jay Ward, decided to rip-off Ward's Fractured Flickers and turn Kagi no kagi into a one-hour TV comedy special, with Allen overdubbing the film's soundtrack with his own dialogue and story (contrary to some reports, including Allen's own assertion in the film during his on-screen segment, this wasn't the first time this was attempted, Fractured Flickers notwithstanding; many foreign dubbed films, particularly the largely action-oriented, exploitation fare, frequently had their plots jettisoned for new English versions).
According to Baxter, Allen was paid $66,000 for the job (nowhere, though, have I found anyone detailing exactly what Allen did with the film itself - cutting it, rearranging it - other than the new script and perhaps dubbing in some of the voices himself). Holed up in a Manhattan hotel room with colleagues Frank Buxton, Lenny Maxwell, and Mickey Rose, Allen watched and re-watched the film many times over, eventually fashioning a script and one-liners for his new plot (a feat accomplished at the same time he was performing every night at the Americana Hotel in New York). And that, supposedly, was the end of his assignment. Prior to the film's release in late 1966, Allen discovered that Saperstein had abandoned the idea of selling Allen's one-hour version of What's Up, Tiger Lily? to television (a title Allen hated, meant to capitalize on Allen's previous film success, What's New, Pussycat?). Instead, Saperstein padded out Allen's cut to 80 minutes with a naughty new animated title sequence featuring a cartoon Woody Allen and the nude leads (courtesy of Jimmy Murakami and the UPA facilities), some jarring inserts of the rock band The Lovin' Spoonful (who, eventually we learn in the film, are supposed to be playing at the same club where Phil and Terri are tied up), as well quite a bit of footage (some re-dubbed with comedy lines; some left in Japanese, such as the opening pre-credit sequence) from the third film in the International Secret Police series, Kokusai himitsu keisatus - Kayaku no taru (International Secret Police - Keg of Gunpowder) - all without the knowledge or approval of Allen. Apparently, he immediately filed an injunction against the film, but dropped it when the film went on to considerable box office. Subsequent cuts of the film have appeared on television and on home video (the original television version had an alternate audio track, with cleaned-up jokes, which is included as an extra on this disc, while the home video version was apparently edited again, as well).
So who knows exactly what version of What's Up, Tiger Lily? we're really seeing on this disc? More importantly, since this particular version has apparently already been released by Image in exactly the same transfer, why not try and score different versions of the film for a bonus - or even better, put out the original International Secret Police films on which What's Up, Tiger Lily? is based (from what I can tell, they've never been made available here in the States)? They look at least as funny as Allen's efforts here. Still, judging what is here, What's Up, Tiger Lily? is more-often-than-not amusing (would it have been funnier had Allen's original, shorter version prevailed - who knows?).
What's Up, Tiger Lily? really tapped into that fully-flowering segment of American wise-ass humor of Mad Magazine and all the "sick jokes" of the 1950s and 60s college campuses where half the joke was being hip enough to understand that the other half of the joke didn't know it was being joked about - an attitude that dominates much of the supercilious comedy that comes out of American films and TV shows today (degraded further to the point now where the mere mention of a pop culture reference point is considered joke enough and therefore brilliant, without the need for any true accompanying wit). I would imagine What's Up, Tiger Lily? seemed quite fresh and weird to 1966 audiences who may have been used to the silly sounding-but-"serious" dubbings for all those gladiator and mythical superhero imports, but who weren't expecting a self-referencing audio track that used its own subject - dubbed foreign films - as the basis for its goofy jokes. Now of course, the novelty of a film like What's Up, Tiger Lily? is necessarily blunted by shows like MST3K and its seemingly endless permutations. Lots of people used to goof on movies in the privacy of their own homes, but now it's an acknowledged, accepted lesser form of "artistic expression," if you will (and more importantly, a money-making endeavor). In other words: it's old hat. When I sat down to watch What's Up, Tiger Lily? with my older son, and explained the concept of the film, his summer vacation-fogged brain generalized, "Seen it," as he bolted from the room.
Which leaves the jokes, I guess, as the main reason for catching the film. And at about a 60/40 ratio, they're pretty good. I confess that several times I backed up the scene of Phil ogling Suki through the key hole as she bathed, the over-emphatic, grotesquely-building insane babbling coming from Phil striking me as hysterically funny. Phil's invectives of "Saracen pig! Spartan dog! Take this! And this! Roman cow! Russian snake! Spanish fly! Talk, Anglo-Saxon hun! Turkish Taffy!" as he beats his various foes, is funny in and of itself, but also a sly commentary on the sound design of the dubbed gladiator films What's Up, Tiger Lily? is aping. The prison warden interrupting his own warnings about the futility of Terri's escape with the weather report is vintage Allen wackiness, while the back-and-forth calling between "Suki!" "Phil!" in the bowels of the ship is really priceless. And any time the marvelous Louise Lasser (the new Mrs. Woody Allen during the dubbing of the film) is on, her perfect timing and deadpan delivery is a delight (when she asks to go to the bathroom during the climactic safe-cracking scene, and enthusiastically asks if her sister wants to go with her, that's about as good as What's Up, Tiger Lily? gets). When What's Up, Tiger Lily? doesn't work is when it stays bound to the actual physical realities of the characters moving their mouths. There's a surprising amount of dead air at times during the film because the characters on screen aren't talking - a liability that no one on Allen's team appeared to understand, nor bridge by thinking outside the confines of strict overdubbing rules (match the dub with the movements of the actors' mouths). And of course, as with any venture like this, not every joke is going to score, and there are more than a fair share of clunkers here (like...every time The Lovin' Spoonful shows up). Still, on average, you'll laugh more than not watching What's Up, Tiger Lily?, and that, ultimately, is the yardstick by which any comedy should be judged.
The DVDs

The Video
What's Up, Tiger Lily? is presented in its original aspect ratio, 2.35:1, in an anamorphically-enhanced transfer. Colors for the most part are nicely-rendered (I did notice some smudgy or slightly shifted scenes here and there), while the image is agreeably sharp (fine grain is evident, but expected). Scratches and dirt are noticeable at times, but nothing heavy or distracting, while compression issues - very minor ones - were more noticeable the higher up I went in monitors (some edge enhancement and occasional jaggies with the reds). Overall, though, considering how I saw this film when I was a kid (crappy pan-and-scan), it's a welcome transfer.
The Audio
The Dolby Digital English mono audio track is merely adequate, but you'll hear all the goofy dialogue clear enough here. Hiss is detected, but it's not a deal-breaker. There are no close-captions or subtitles available.
The Extras
As an extra, you can listen to either the so-called original theatrical audio track of Allen's re-dub (with additional Saperstein post-Allen dubbing), or the alternate TV version, which boasts lamer, tamer jokes. There's an audio comparison chapter, as well, that lets you directly compare scenes with both audio tracks. There are a considerable number of these comparisons on the menu, so I'm wondering if they encompass the entire whitewash for TV. It's possible, considering most of the jokes are pretty tame, even for TV back then. There's also a text filmography for Allen.
Final Comments
More often than not, What's Up, Tiger Lily? still gets laughs more than forty years after its comedy re-dub concept has become old hat, so that's nothing to sneeze at here. At one point in the film, when Phil goes to receive his assignment, a young, smiling man comes out and says, "Would the owner of the rickshaw with license plate number 406, please remove it. Your coolie has a hernia." And it looks so much like a theatre manager coming out to make an announcement to the audience, that you're taken aback for a moment at the perfect absurdity of the shot and the accompanying gag. That kind of inspired hilarity happens at least a half a dozen more times in What's Up, Tiger Lily?, and they're enough to carry over some of the clunkers that don't work. Fans of Woody Allen who may have forgotten this early incarnation of the "Allen as intellectual horn dog" persona will probably enjoy this the most - and all those sexy, slightly perverse girlie and fetish magazine snaps of Mie Hama and particularly Akiko Wakabayashi (yowza!) don't hurt, either. I recommend What's Up, Tiger Lily?.
---
Paul Mavis is an internationally published film and television historian, a member of the Online Film Critics Society, and the author of The Espionage Filmography.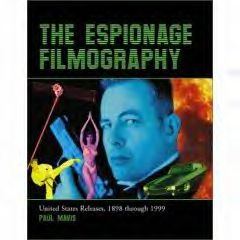 ---
C O N T E N T

---
V I D E O

---
A U D I O

---
E X T R A S

---
R E P L A Y

---
A D V I C E
Recommended
---
E - M A I L
this review to a friend
Sponsored Links
Sponsored Links