MPI Home Video has gathered up three of their previous country music DVD releases and re-packaged them as The Queens of Country: Loretta Lynn, Dolly Parton, Patsy Cline, featuring vintage television appearances by these superstars of country music. Viewers who already own MPI's Loretta Lynn: Songs of Inspiration, Dolly Parton: Dolly & Friends, or Patsy Cline: Sweet Dreams Still - The Anthology won't need to double dip here because they're the exact same discs used in those previous releases (oddly, only one of the Dolly & Friends discs is included here). There are drawbacks to these compilations of video clips from the early televised appearances of these country music icons, but those considerations fall by the wayside when you hear some of the stunning renditions captured here by these masters of the genre.
I won't waste a lot of time discussing the obvious merits of the singers included on The Queens of Country: Loretta Lynn, Dolly Parton, Patsy Cline because, quite frankly, what could I add to an evaluation of them as artists? I'm not a music historian, nor do I regularly write reviews about music DVDs; that's really not my forte. I'm just a flat-out fan of all three, and I've heard their music on phonograph records (ask your grandparents), the radio, and on TV since I was a boy. These vintage television performances - specifically Lynn's and Parton's, since Cline's clips were before my time - evoked a surprisingly strong nostalgic reaction from me. I always loved the syndicated country music shows like The Wilburn Brothers Show or Dolly & Friends that might pop up unexpectedly on my local Sunday afternoon line-up (and of course, Hee Haw), shows which exposed me to a form of music I could only hear on the sly inbetween my brothers' seemingly constant Led Zeppelin and Grateful Dead marathons. There's a primitive simplicity to these straight-ahead videotaped recordings - performed live by the singers, with minimal, almost non-existent production values - that brings back what television felt like when I was a kid, better than almost anything from that period. With their heavy reliance on immobile cameras and tight, tight close-ups, these relatively crude videotapes also allow the viewer to connect more fully with the performer and their song. Today, all the fancy production bells and whistles are employed to distract the viewer from the fact that most of these new singers can't really sing (American Idol is the most obvious and unintentionally hilarious example). But here, there's no hiding from the camera and the solitary microphone when Loretta Lynn steps out and hits an incredibly powerful string of notes on Where No One Stands Alone. She's there; she's singing live, and it's up to her and her alone to hit the notes and connect with the audience.
Patsy Cline: Sweet Dreams Still - The Anthology is, of the three, the one compilation that most resembles the traditional music documentary format. Hosted by country music historian Robert K. Oermann, this compilation features 11 complete Cline performances from various television country music and variety shows from the mid-50s to the early 60s. The songs included are A Church, A Courtroom And Then Goodbye, Come On In, I've Loved and Lost Again, Walkin' After Midnight, Lovesick Blues, How Can I Face Tomorrow, I Fall to Pieces, San Antonio Rose, Crazy, She's Got You, and So Wrong. Each song clip is first introed by Oermann, who gives some background on the piece (as well as his verdict on the aesthetic worth of the song and Cline's performance); Oermann bookends the doc with a brief rundown of the singer's life, and her tragic death in a plane crash in 1963. As a bonus, additional video clips of Cline performing Three Cigarettes in An Ashtray, Let it Snow (with Ferlin Husky), I Saw the Light (with Ernest Tubb, Little Jimmy Dickens...and Tony Bennett???), alternate versions of Come On In and Walkin' After Midnight, and Let's Go to Church (a duet with either Slim Wilson or Joe Sattery - the doc misidentifies the same singer, from two different clips, with both names). There's also a two-minute interview from 2005 with Cline's widower, Charlie Dick (with Lorianne Crook).
Patsy Cline: Sweet Dreams Still - The Anthology is problematic obviously not because of the music - Cline is...sublime, and my favorite female singer - but because of the lapses in the doc's production. Idiotically, the compilation refuses to identify the sources and dates of many of these black and white video clips. While some are labeled, such as Cline's performance of I've Loved and Lost Again on the syndicated Los Angeles country variety show, Ranch Party, most of the clips are mysteriously anonymous. After we've heard Oermann go on and on about a particular song, a chroma key flashes on the screen unnecessarily identifying the song again...but not the show or the date. What's the point of that? Why have all of Oermann's info on Cline and the song, and not take the simple step of telling us when she sang it and what show that clip comes from - particularly when the point of the compilation is the novelty of seeing Cline's early TV performances? What a colossal mistake on such a basic requirement for a documentary. Not helping matters is Oermann himself. His flowery, overemphatic, overemotional delivery I would imagine is a matter of taste, but to keep repeating that Cline "owns" a particular song is repetitive and clichéd (and worse, in this case, wrong: Cline is my favorite female singer, but she no more "owns" Hank Williams' Lovesick Blues or Bob Wills' San Antonio Rose than I do). I found him irritating after about three intros, but unfortunately, one can not navigate away from him on the disc menu. If you want to hear Patsy, you have to hear Oermann first.
I've already written about the Dolly Parton: Dolly & Friends 2-disc set, so you can click here to read that review. I'm not sure why MPI decided to include only the first disc of that set here (space? music clearance?), but seeing that "Disc One" printed on the DVD is going to upset some buyers of The Queens of Country: Loretta Lynn, Dolly Parton, Patsy Cline who may feel they're getting shortchanged when they fail to see "Disc 2."
Finally, Loretta Lynn: Songs of Inspiration features clips - although you wouldn't know it unless you read the back of the DVD case - from her regular appearances on The Wilburn Brothers Show. The compilation just "begins" with Lynn's first song, giving no context for the clips. And like the Patsy Cline doc, none of these songs are dated, either. Teddy and Doyle Wilburn were successful singers and song publishers whose syndicated show regularly featured Lynn until 1971. The songs featured here are all gospel numbers, and they include How Great Thou Art, He's Got the Whole World In His Hands, I'd Rather Have Jesus, Where No One Stands Alone, In the Sweet By and By (with The Wilburn Brothers, Grandpa Jones and Harold Morrison), Ten Thousand Angels, The Old Rugged Cross, Everybody Wants to Go To Heaven, Precious Memories (with The Wilburn Brothers), I'm Getting Ready To Go, If I Could Hear My Mother Pray Again, Peace in the Valley, When They Ring Those Golden Bells, Put Your Hand in the Hand, If You Miss Heaven, Standing Room Only, Who Says God is Dead, The Third Man, Oh, Come, Angel Band, I Believe, and In the Garden.
Again, dating these clips would seem to be "Documentary Filmmaking 101," but apparently, this wasn't a concern for the producers of this disc. However, that's the only fault I can find here in this splendid collection of gospel numbers by The First Lady of Country, Miss Loretta Lynn. I'm more familiar with Lynn's swankier honky tonk angel and popular, driving feminist ballads, so these gospel numbers were a welcome new experience. Singing with a simple directness, Lynn's connection to her material is obvious (Lynn's beautiful, concentrated face is fascinating to watch in those tight close-up), and her evocative, powerful phrasing is quite effective. I'm not normally a big fan of gospel music, but these video clips have a plaintive, unvarnished sound (almost all begin with that ever-present steel guitar) that perfectly matches the intent of the songs. A wonderful surprise, Loretta Lynn: Songs of Inspiration is my favorite of the discs included here on The Queens of Country: Loretta Lynn, Dolly Parton, Patsy Cline collection.
The DVDs
The Video
For the fullframe, 1.33:1 transfers of The Queens of Country: Loretta Lynn, Dolly Parton, Patsy Cline collection, the source materials used are of varying quality. Some of Cline's kinescopes are rough, as would be expected, while others look as if their source materials were unblemished 35mm prints. Parton's and Lynn's clips were all originally shot on videotape, so they exhibit the visual characteristics you'd expect from videography from that period: a slight softness to the picture, some flaring, a bit of video noise from time to time, and the occasional brief glitch. As for the transfers themselves, compression issues are slight (I noticed some interfacing and moiré effects, but only briefly throughout the three discs).
The Audio
Unfortunately, the Dolby Digital English 2.0 split mono audio track accurately reflects the original television broadcasts of these shows - too bad these couldn't have been remastered. Again, as with the video, one should expect to hear various anomalies with the sound (variable levels, some hiss, squelchy highs) that are present in the source material, and not the fault of the transfers. There are no close-captions or subtitles available.
The Extras
Other than those bonus features described above, there are no extras for The Queens of Country: Loretta Lynn, Dolly Parton, Patsy Cline.
Final Comments
If you already own the MPI country discs Loretta Lynn: Songs of Inspiration, Dolly Parton: Dolly & Friends, or Patsy Cline: Sweet Dreams Still - The Anthology, you won't need to purchase The Queens of Country: Loretta Lynn, Dolly Parton, Patsy Cline, an interesting re-packaging of those earlier discs. The compilations aren't without their flaws - particularly the Cline and Lynn clips that are not identified or dated - but once you hear those amazing voices, you'll tune out the blather and forget the video's shortcomings. I recommend The Queens of Country: Loretta Lynn, Dolly Parton, Patsy Cline.
---
Paul Mavis is an internationally published film and television historian, a member of the Online Film Critics Society, and the author of The Espionage Filmography.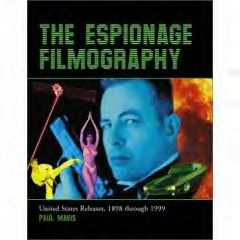 ---