Florence Nightingale (1985)
List Price: $14.94 [Buy now and save at Amazon]
---
A quiet, reserved, effective telefilm. Sony has released Florence Nightingale, the 1985 made-for-TV movie starring Jaclyn Smith as the vaunted "Lady with the Lamp," the pioneering proto-feminist whose tireless, selfless efforts during the Crimean War ushered in the age of modern nursing. Shored up by a solid cast of British pros, Smith, the 1980's undisputed "Queen of the Miniseries," acquits herself nicely here in this lengthy look at the Victorian icon.
It is England in the early 1840s - "Dickens' England," according to narrator Richard Monckton Milnes (Timothy Dalton) - a time of only two classes: the fabulously wealthy or the very poor. As a member of the aristocratic gentry, young Florence Nightingale's (Jaclyn Smith) life has been predetermined by tradition: she is to marry a suitable man of her class and become a mother. Any personal ambitions she may possess should be ignored as she pursues this singular goal. But the intelligent, headstrong Florence has other ideas for her life than the ones dreamed of by her parents, status-conscious Fanny Nightingale (Claire Bloom) and supportive William Nightingale (Jeremy Brett). She wants to learn. She wants to pursue a life of service to those less fortunate than herself as a result of a "calling" she's had since God spoke to her when she was 17. After visiting a public "hospital" in Middlesex, and being moved by the ghastly conditions there, she decides to become a nurse, a situation that horrifies her mother and bewilders her father (particularly when nurses - who weren't medically trained and who came exclusively from the lowest social orders - were considered nothing more than common harlots). She decides to attend the Kaiserswerth Institute in Germany (where more advanced theories in nutrition and hygiene were being taught to nuns), a decision that devastates Richard Milnes, who has courted Florence, and who has asked for her hand in marriage.
Returning to England, Florence is introduced to the influential politician, Sidney Herbert (Peter McEnery), who, taken with Florence's stated aims to help improve hospital conditions, helps her get an interview for the position of Superintendent of Nursing for the Harley Street Hospital for Gentlewomen. Despite the disapproval of the governing committee for her stated aims in improving health care at the primitive hospital, she is awarded the position. There at the hospital, she begins to put her theories concerning hygiene and good mental health into practice, even though she comes up against resistence to her new methods by the staff, particularly the stern, imposing Nurse Davis (Carol Gillies). During this time of intense activity for Florence, Richard becomes further impatient for an answer to his repeated marriage proposals, to which Florence finally issues a definitive, "No." She states she has passions just as Richard does, but if she decides to satisfy them, she'll do so outside of marriage. Florence's greatest test of courage comes with the outbreak of the Crimean War. Hearing of the devastation awaiting the men not just on the fields of battle but within the horrific "wards" of the barracks-turned-military hospital in Scutari, Turkey, Florence decides to take 40 untrained nurses with her to help in any way she can, despite the intransigent prejudices of commanding officers such as Dr. Hall (Jeremy Child), who oversees all the military hospitals for Her Majesty's Army. The arrival of sympathetic doctor - and potential lover - Dr. Sutherland (Stephen Chase) to Scutari further burdens Florence's precarious emotional and physical well-being.
SPOILERS ALERT!
Quite frankly, I didn't know what to expect when I sat down to watch this 1985 TV biopic. The supporting cast certainly sounded intriguing, and who doesn't adore the lush, limpid, stunning Jaclyn Smith? But while Smith's talents perfectly fit the television medium, and she proved her facility (and popularity) with big-budget TV projects and miniseries time and time again in the 80s and 90s, I wondered how she would fare with a film obviously patterned on the more literate, upscale products of British serial TV, such as the phenomenally successful Brideshead Revisited (which had been a ratings smash on PBS just a few years prior). And while some viewers may feel that a British actress would have been a better fit for a character so quintessentially English, it's highly doubtful ABC would have committed major dollars and a three-hour block of time on their prime-time schedule for a story about the birth of modern nursing in the 1850s, with a heroine who rejects almost all romantic advances, had the bankable Smith not been headlining the project. I can't speak with any authority as to Florence Nightingale's historical accuracy (a cursory background check seemed to gibe fairly closely with the script's highpoints), but the character's resistance (as written here) to engaging in the more familiar romantic conventions of biopic docudramas must have also driven ABC to find a sure-fire star as a safety net for this unconventional project.
And since this particular movie succeeds or fails largely on the efforts of the lead actress (Smith is in every scene of the 140-minute film), it's appropriate to discuss Smith's portrayal right up front. The most literate script, the finest supporting cast, and the most sensitive, imaginative director in the world couldn't make Florence Nightingale work if Suzanne Somers was cast as Flo. Add to that the fact that the lead character is "iconic" in the truest sense of that word (her very name is used to this day as shorthand to convey the accomplishments of her philosophy), and you have a fairly daunting challenge for a TV actress still best known in 1985 for palling around with two other gorgeous women on a bubble-gum action series. It is slightly disconcerting at first to listen to Smith try and master a convincing English accent. It comes and goes throughout the film, but that isn't the problem with it. The problem is that it's more...careful than it is believable, and soon, you recognize that carefulness in Smith's overall portrayal, as well. It's as if she's hoping soft enunciation and proper posture will hide that fact that she's not nearly as technically proficient as her better-trained English cast. And almost immediately, we start to feel she's in over her head. Her initial scene with Dalton (soon to debut as Bond that year; he's both feline and bored at the same time here) has some awkward exchanges, and an early sequence where Florence soothes a severely burned peasant is made up of some truly hilarious (unintentionally, of course) reaction shots. But a curious thing begins to happen about a half hour into the movie: Smith starts to grow along with the part. Intriguingly, Smith's technical inexperience (nowhere in her bio did I read she actually studied acting) among these rigorously-trained Brits actually begins to work to her character's advantage. Smith is a naturally likeable performer (men like her cool sexuality and devastating looks, and yet women aren't threatened by that attraction; they enjoy her inherent ladylike demeanor), so we're pulling for her to succeed among her vaunted company...just as we begin to pull for Florence in the story. Sincerity goes a long way in a film like this, and one can see that quality in Smith's performance. By the final hour of the film, Smith is quietly dominating the film with an honest performance that surprised me (her near-death scene with Chase, where he asks her to let him love her, shows Smith naked vulnerability - something I hadn't seen with this usually reserved beauty).
As for Florence Nightingale's script, it's well-constructed and plays fast, despite the film's run time. Scriptwriters Ivan Moffat and Rose Leiman Goldemberg, by necessity (considering the conventions of the genre), have included as many scenes as possible that get across Florence's ambivalence about marriage and love. I understand there are conflicting theories about Nightingale's views on marriage, celibacy, and even her sexuality, but Florence Nightingale keeps all of that slightly vague, chalking up her reluctance to marry anyone to her fear that such an arrangement would mean an end to her "curse of devotion." The film ever-so-slightly implies she was Sutherland's lover, but it makes it clear that Nightingale feared these desires. Those viewers looking for a typical miniseries "bodice-ripper" in Florence Nightingale will be sorely disappointed, but there is a constant atmosphere of reserved, repressed love and sexuality that is faithfully (and some might say, romantically) maintained. The script is far more explicit in its exploration of how widely Nightingale skirted the traditions of her gender and class. In carefully structured scenes, Florence Nightingale shows the progression Nightingale made from curious dilettante, to genuinely moved student, to brave doer of good deeds on a scale of self-actualization hard to imagine today (the film states that 2,000 men literally died in her arms during the conflict of 1855). Facing resistence from almost every corner of society, Nightingale bucked not only her disapproving parents, but suitors, her own class of people, the medical profession, and the British Army, to achieve a strictly selfless goal: to help the unfortunate through the implementation of more rigorously scientific medical procedures. The film has many powerful scenes of how nightmarishly primitive and even openly hostile to the patient medicine was as practiced then (the blowhard Dr. Hall, denying a soldier chloroform because it's much better to "hear a man bawl lustily" to his grave, than to sink silently into it), with the final sequence in the abominable Scutari hospital gruesomely memorable.
A top-flight cast and crew back up Smith here in Florence Nightingale. Jeremy Brett has the most fun as the observant father who slyly appreciates the change in his wife's acceptance of their daughter's activities...once they make the papers. Timothy West makes a nice appearance as journalist William Russell of The Times (the film admirably skirts the whole sidebar of mythmaking that was present in the media during her lifetime). And Stephen Chase has good chemistry with Smith (he seems to be acting with her while Dalton seems to be acting at her). Brian Cox makes a strong impression during a brief bit as a harried doctor at Scutari, while Carol Gillies probably leaves the strongest mark as the enigmatic Nurse Davis. High-powered personnel behind the scenes include lensing by Jack Hildyard (The Bridge on the River Kwai, Summertime), production design by Harry Pottle (You Only Live Twice, Murder by Decree), and music by Stanley Myers (No Way to Treat a Lady, The Deer Hunter). Director Daryl Duke may not have the opportunities for visual sweep as he did with his previous miniseries blockbuster, The Thorn Birds (Florence Nightingale isn't that kind of story), but his approach of keeping the settings claustrophobic (small rooms or disgusting wards where Florence constantly battles ignorance and prejudice) and the pace steady focuses us more on the story rather than the expected spectacle for this type of genre. And what a fascinating story it is.
The DVD

The Video
Presented in its original 1.33:1 full-frame format, the transfer for Florence Nightingale is very good, with generally correct color values, a minimum of grain, a sharpish picture, and no compression issues to speak of. There are occasions of minor scratches, dirt and other screen anomalies, but they are infrequent and not distracting.
The Audio
The Dolby Digital English mono audio track is adequate for the job here (almost entirely dialogue), so directional effects aren't a concern. Hiss is at a minimum, and no distortion was noted. Close-captions are available.
The DVD
Unfortunately, there are no extras for Florence Nightingale.
The DVD
I was surprised at how much I enjoyed the quiet, steady Florence Nightingale. Made for ABC in 1985, star Jaclyn Smith isn't the first actress one might think of when casting an American knock-off of the British historical docudrama genre. But after a shaky start, she grows into the role, and her sincere, honest portrayal (against a cast of technically proficient British pros) goes a long way towards making the film a success. A terrific introduction to Nightingale's life and the impact she had not only on modern nursing but on the eventual emancipation of women, Florence Nightingale is solid dramatic fare. I recommend Florence Nightingale.
---
Paul Mavis is an internationally published film and television historian, a member of the Online Film Critics Society, and the author of The Espionage Filmography.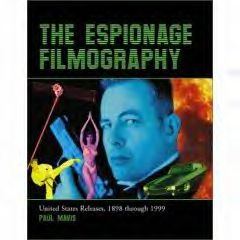 ---
C O N T E N T

---
V I D E O

---
A U D I O

---
E X T R A S

---
R E P L A Y

---
A D V I C E
Recommended
---
E - M A I L
this review to a friend
Sponsored Links
Sponsored Links