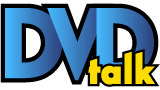 Merlin and the Book of Beasts
List Price: $19.97 [Buy now and save at Amazon]
---
The Tagline:
THE DARKEST KNIGHTS OF ALL


The Movie:



Casting James Callis as the legendary magician Merlin was perhaps the best decision made in Merlin and the Book of Beasts, yet another in a long line of Sci-Fi Channel (whoops, make that "SyFy" now) films repurposed on DVD by a home video distributor (Anchor Bay, in this case). Callis is best known for playing the off-kilter Baltar in Ronald Moore's critically successful re-imagining of Battlestar Galactica. And in this movie, he channels that character's wild-eyed looks successfully while grunting his way through his dialogue with a bedraggled appearance suitable for the oft-used character of yore.


And that's pretty much all the inspiration this movie has. Like many SyFy films, Merlin and the Book of Beasts falters primarily due to its low budget. In fact, it's reminiscent of a similar Anchor Bay release earlier this year, Cyclops, in its silliness, intentional or otherwise.


In any case, Merlin and the Book of Beasts begins with an intro that sets up the tone of the movie, for better or for worse. King Arthur and the Knights of the Round Table have been vanquished, and the evil Arkadian kills off an entire medieval village with, I'm not kidding you, a swarm of CG killer butterflies he's animated out of the titular mystical tome, the Book of Beasts. Yes, the young magician Arkadian certainly is evil - he must be because he's wearing black and laughing maniacally.


Who can stop this evil threat?


Well, it's up to a motley quintet led by Avlynn, the daughter of King Arthur. Avlynn, by the way, is played by Laura Harris, who a long time ago, made a memorable splash in the now-cult flick The Faculty as the high school teen from way out of town. Harris has been quite likeable primarily in television roles since, but she's about a decade too old for this part as a coming-of-age daughter, and her wig is rather laughable. Joining Avlynn are Galahad, the last remaining Arthurian knight, Lysanor, Galahad's son, and Tristan, who the movie imagines as the son of another legendary couple, Tristan and Isolde.


Oh, and of course, Merlin rounds out the quintet. Together, the five characters run into all sorts of clumsily-animated menaces like the Gorgons brought to life by Arkadian out of the Book of Beasts until the six characters finally have their inevitable showdown at the remains of the Round Table.


And there you have it: another 90+ minute fantasy film timed just right so that SyFy can add its requisite commercials for a 2 hour time block in its schedule. Like most movies of its ilk, Merlin and the Book of Beasts is watchable but little more. The effects work is dodgy, the dialogue and performances perfunctory, and the goings-on laughable at times. Add to that a synth score that's remarkably too aggressive for its own good.


Credit goes to Callis for trying - and Battlestar Galactica fans may get a kick out of seeing his performance - but this is otherwise just too low budget to warrant anything more than a Rent It recommendation.


The DVD


Video:



Anchor Bay gives Merlin and the Book of Beasts an anamorphic widescreen presentation with a 1.78:1 aspect ratio. The image quality is certainly respectable for such a low budget production, with strong colors and fair details.


Sound:



The lone audio track is an English language Dolby Digital 5.1 Surround affair. While the mix itself isn't particularly dynamic, dialogue, ambient sound, and the synth score are all strong and clear. Optional subtitles in English for the deaf and hearing impaired are also available.



Extras:



A trailer for Dead Space: Downfall precedes the main menu. No link for it appears in the menu system; however, Behind the Scenes of Merlin and the Book of Beasts (10:29) is available in the Extras menu. It's a typical DVD featurette, with short comments from the cast and crew edited together with footage of the film's shooting. This is hardly in-depth material, but since films like this usually come on "bare bones"-style home video releases, it's good to see an extra at all (and it is presented in anamorphic widescreen).



Final Thoughts:




James Callis is well-cast as Merlin, but that's about all that separates Merlin and the Book of Beasts from its SyFy cable channel brethren. Laura Harris is miscast, and just about everything else reflects its low budget roots. Rent it, but only if you're curious.



---------
Sponsored Links
Sponsored Links