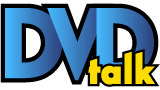 Image // Unrated // October 6, 2009
List Price: $24.98 [Buy now and save at Amazon]
---
The Movie:
Hey kids, like dinosaurs? Probably, yep. Kids have always dug dinosaurs, plenty of adults dig dinosaurs too. They're strangely fascinating, these creatures, monsters even, that existed long before we were on this planet. The fact that there's so much we don't know about them even still is probably part of their allure, but I think a really big part of why people are interested in dinosaurs is the same reason they're interested in sharks - they're just cool.
Dinosaurs Alive! may look like a Jurassic Park type action film based on its cover art, what with the leering T-Rex jumping out at us, but it is in fact a documentary that mixes up CGI footage that, well, brings the dinosaurs to life, and bits that follow around a team of paleontologists as they go about their digs and do their research. Those hoping for none stop dinosaur action may be left a little disappointed but stick with this one, because even if it isn't all too exciting all too often, it's at least very interesting.


At just over forty minutes in length, Dinosaurs Alive! can't hope to be as comprehensive as adult viewers would probably want it to be, making this a good choice for kids as the brief running time keeps it easy to digest and the computer graphics definitely lend the whole thing some visual appeal. As we follow the two paleontologists and their team of university students to various locations from China to the Southwestern United States, we learn about the different species of dinosaurs that lived in these various areas and then get a chance to see what these scientists believe these creatures would have looked and acted had they not been extinct for ages.
The whole package is narrated by none other than Michael Douglas, a fine actor to be sure but not the most charismatic or regal sounding of narrators. David Attenborough hasn't got anything to worry about, as Douglas spouts off facts with all the enthusiasm of someone reading the phone book. This can't dumb down the 'cool' factor that we get from the beautifully rendered recreation footage, where the dinosaurs do their thing across a very real landscape. Some of this material is pretty awe inspiring and it probably would have been a real treat to see this projected in 3-D, which is how it was originally meant to be seen in museum theaters around the country (and sadly not how it's seen here).
The focus, and the real 'meat on the bones' of this feature, lies with the segments that follow the scientists. It's here that we learn about dinosaurs, their habits, their existence and what not. The CGI footage delivers the 'wow' factor needed to keep a kids audience at bay but doesn't offer up much in the way of substance. This results in somewhat of an uneven feel to the picture, almost as if it wants to be a hard science documentary but knows that it needs a hook to lure in the viewers. Given that its original place of exhibition was the various museums around the country this is understandable but it doesn't necessarily translate so well to the home viewing experience, where more substance could have gone a long way towards improving this movie.
Regardless, dinosaurs remain cool and even if adult viewers are going to wish that this delivered more, there's enough here that makes it worth checking out. It moves along at a very quick pace and doesn't waste a second of its running time and it looks fantastic from start to finish. It's not the be all end all of dinosaur documentaries but it's not bad either and younger viewers will likely appreciate it all the more.
The DVD

Video:


Dinosaurs Alive! is presented in a very strong 1.78.1 1080p anamorphic widescreen VC-1/MPEG 4 presentation. Since this feature was shot for IMAX presentation before it hit Blu-ray, you'd expect a pretty colorful and detailed presentation and that's just what Image delivers here. Taken straight from the 65mm negative, the image is clean, colorful and very detailed without any print damage to note and only some minor contrast blooming. Some minor edge enhancement can be spotted here and there but if you're not looking for it you're probably not going to notice it as it's fairly subtle. Print damage is a non-issue and there's a lot of texture here, particularly when the cameras are showing off close ups of the various dinosaur skeletons and artifacts. The CGI recreations are sometimes a bit hokey looking but otherwise the image here is very good, though it would have been nice to see the 3-D version included for those who wanted it.
Sound:
English, French and Spanish language 48Khz/24-bit DTS-HD 5.1 Surround Sound mixes are included here though sadly without any subtitle options. Clarity is good, and your subwoofer will stand up and take notice any time one of the dinosaurs decides to howl or scream as the low end here is surprisingly strong. Surround usage is good, with the rear channels providing some welcome background and ambient noise and the narration, which is a little dry in spots, is at least clear and concise and very easy to follow and understand. It's not likely you're going to pull this one out to show off the home theater system but it definitely sounds better than you'd probably expect it to.
Extras:
The main supplement on this disc is a twenty-seven minute Making Of Dinosaurs Alive featurette. Presented in 1080i HD, it's a fairly interesting piece in that it goes into some specifics on what is involved in shooting for the IMAX format and how it differs from shooting a more traditional film. There's a lot of good location footage in here as well as a fair bit of time spent exploring how computer technology helped recreate the dinosaurs for this feature. Interesting stuff.
Rounding out the extras is a brief ten question trivia quiz, a Meet The Creatures bit that provides some statistics and information on each of the dinosaurs featured in the movie, and some high definition trailers for a few other Image/IMAX Blu-ray releases. Menus and chapter stops are also included.
Final Thoughts:
While not quite as exciting as the cover art might lead you to believe, Dinosaurs Alive! is still interesting and, dare I say it, cool enough that those with an interest in paleontology ought to give it a look. The feature itself is definitely on the short side but the audio and video quality is quite good and the making of documentary adds some value. Recommended for dinosaur enthusiasts, a solid rental for everyone else.
Ian lives in NYC with his wife where he writes for DVD Talk, runs Rock! Shock! Pop!. He likes NYC a lot, even if it is expensive and loud.
Sponsored Links
Sponsored Links