Mouseker-hey, Mouseker-hi, Mouseker-ho!
Mouseker-ready, Mouseker-set, here we go!
You're a thinkin' and a solvin' work it through-er,
Mouseker-me, Mouseker-you, Mousekerdoer!
Having created longer "movie" length episodes of the sensational Disney Channel pre-school series, Mickey Mouse Clubhouse, movies that centered around Christmas, Easter, and Halloween, Disney now looks to literature for inspiration with their latest movie, Disney's Mickey Mouse Clubhouse: Mickey's Adventures in Wonderland, loosely based on the Lewis Carroll classic, Alice in Wonderland (as well as on Disney's own animated version of that classic tale). Anyone who has already seen either the series or these "movies" (they're twice as long as the series episodes, but still under an hour, for those pre-school attention spans) knows what a class-act the Mickey Mouse Clubhouse is, and this latest offering keeps up the high standards of colorful, imaginative Disney animation, along with some potent educational tools artfully inserted into the fun. Increasing the opportunities for fun and learning, Disney's Mickey Mouse Clubhouse: Mickey's Adventures in Wonderland can also be viewed with two levels of "Adventure Mode," an entertaining extra that lets young viewers interact more closely with the movie. And as an additional bonus, an extra episode of Mickey Mouse Clubhouse is included.
Mickey has a visitor at his Clubhouse. It's Donald, and he's brought over Daisy's birthday gift to show to Mickey. It's a cuckoo clock, and Mickey shows Donald how it works. But naturally, Donald becomes overexcited at seeing little Cuckoo come out at 3:00 o'clock, so he shakes and shakes the clock and breaks it, with little Cuckoo flying the coop. Spotting Cuckoo up on the Clubhouse slide, Mickey and Donald think they have him now, but suddenly, the slide continues down into the earth - along with Cuckoo. Now it's up to the boys to chase him in upside-down Wonderland, using their Mouseketools along the way to solve puzzles and help the various people they meet - including Goofy Hatter, Tweedle Chip and Tweedle Dale, Queen Clarabelle, and Pete the Cat - so they can return at 6:00 o'clock for Daisy's surprise birthday party.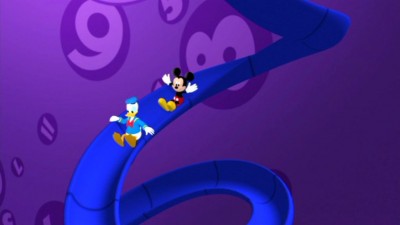 I've written several times about previous Mickey Mouse Clubhouse discs, and even though I now only have one (!) pre-schooler left at home, the series is still a big hit with her, as are the special movies. As I've written before, this series is quite adept at integrating counting skills, spatial placement skills, shape and pattern recognition, and problem solving and conflict resolution tools within the narrative to achieve a smooth mix of entertainment and enrichment...something you don't often see in other pre-school offerings. With the aid of the Mousekedoer Mouseketools, Mickey solves problems; a good example here is when Mickey meets Tweedle Chip and Tweedle Dale (always fun to see Chip 'n' Dale again), and agrees to help them get a group of nuts that are far too high for them to reach. Mickey asks the young viewer to look over the Mouseketools he has, and decide which one is the best tool for the job (in this case, it's the bouncy shoes). That may not sound like anything special, but when a three-year-old successfully solves a little puzzle like that, and looks over at you for approval, delighted clapping her hands and smiling ear-to-ear, that's a small but special moment for a parent and child to share.
Importantly, Mickey is always talking directly to the little viewers, encouraging them to participate in that friendly manner of his that is so appealing. Disney's Mickey Mouse Clubhouse: Mickey's Adventures in Wonderland takes its cue from Alice in Wonderland, giving the digital animators a chance to reference Disney's own Alice in Wonderland animated feature in fun, knowing ways (Pete works very well as the alternative to the disappearing Cheshire Cat, as does Goofy as The Mad Hatter). Watching this on a large widescreen monitor with my daughter (thankfully, Disney is presenting this film anamorphically), I was especially pleased with the agreeably large-scale set pieces, with their surrealistic designs and bold use of color. For a kid's cartoon, animated relatively cheaply with CGI, it's a great-looking movie, with a stylized design that really pops off the screen. There are plenty of kids shows on television that are entertaining, as well as ones that are genuinely educational...but surprisingly few that are both. Disney's Mickey Mouse Clubhouse: Mickey's Adventures in Wonderland scores on both points, and your little pre-schooler (or even kindergartner or first-grader), will no doubt enjoy watching it over and over again (and you might not mind it once or twice, either).
The DVD:
The Video:
Since it's all digitally produced, Disney's Mickey Mouse Clubhouse: Mickey's Adventures in Wonderland is presented in a pristine, anamorphically enhanced 1.78:1, "Family Friendly" widescreen video image (I'm curious as to why Disney labels their widescreen DVDs this way). It looks sensational.
The Audio:
The Dolby Digital English 2.0 stereo track has some enjoyable separation effects from time to time (mostly when someone calls out a name from outside the frame); otherwise, it's mostly located right up front, and it's pristine, as well. French and Spanish language tracks are also available, and English subtitles (as well as close-captioning) are also included.
The Extras:
As a bonus feature, there's an episode of the regular Mickey Mouse Clubhouse, called Goofy Goes Goofy. Shown in 1.33:1 full-screen, and clocking in at 23 minutes, it's a cute episode where Goofy multiples after getting Professor Von Drake's gooey-goo all over himself. Even better, there's an option to watch the main feature with "Adventure Mode," which is an interactive feature (utilizing your TV remote), where viewers are asked additional questions throughout the course of the movie. A special menu pops up on the screen, the movie freezes, and your child is prompted to answer a question with the remote (it's very simple, and each time, they repeat the instructions so they won't get lost). Mode 1 is for ages 2 - 3, and Mode 2 is for ages 4 - 6. It's a great bonus, one my daughter enjoyed quite a bit (especially when she finally was able to touch my remotes).
Final Thoughts:
Another winner from the Mickey Mouse Clubhouse series. Disney's Mickey Mouse Clubhouse: Mickey's Adventures in Wonderland takes its lead from Alice in Wonderland, and it's a fun, fast-paced adventure that your young child will no doubt enjoy. Plenty of chances to learn something about colors, shapes, numbers and even telling time, while the bonus feature "Adventure Mode" offers even more questions for the little viewers. I highly recommend Disney's Mickey Mouse Clubhouse: Mickey's Adventures in Wonderland.
---
Paul Mavis is an internationally published film and television historian, a member of the Online Film Critics Society, and the author of The Espionage Filmography.