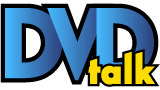 List Price: $59.98 [Buy now and save at Amazon]
---
The Show

Released just last year in Japan, Blassreiter is the latest effort from Gonzo and the newest release by FUNimation. Presented as a boxed set containing the first 12 out of 24 episodes, Blassreiter: The Complete Series, Part 1 was something I wasn't expecting. I knew very little about the show going into it and the only knowledge I had was that Gonzo was involved and the cover looked pretty cool. Needless to say the hype machine about this show was very quiet, but is that necessarily a bad thing? Sometimes there are sleeper hits that fly under the radar, and dare I say, this is a fine example of that.


Blassreiter takes place a decent ways into the future, though the specific time period is not disclosed. Technology has advanced to a certain degree and there's a lot of emphasis on motorcycle racing. Sometimes it seems as though a two-wheeler is the preferred source of transportation, though cars are still around (even though they don't fly). One of the most notable differences about this world is showcased right at the very beginning when a dead woman's body comes back to life in the form of a cybernetic zombie.


Known as Amalgams, or Demoniacs, these zombies are terrifying sights to behold. When a corpse is brought back to the world in this form they go on a destructive rampage, demonstrating fierce power and killing indiscriminately. The Demoniacs not only have the ability to withstand multiple attacks, but can also combine with technological objects and things in the environment. For instance, at one point you see a Demoniac lose its legs and fall, only to meld with a car and drive off. These aspects make them tricky bastards to kill and naturally humanity has a hard time with it. There is a special group known as the XAT that rushes to the frontline to combat these creatures, but even they have a hard time. The rules of this game change in the first episode of Blassreiter when we're introduced to a new type of Amalgam.


It's a more or less peaceful day at a race track until a Demoniac appears and starts slaughtering racers and spectators. It's a nightmare to be sure, but just before one racer, Gerd, is about to be killed, another Amalgam shows up and kills the rampaging Demoniac. A short time later we meet up with Gerd again in the hospital. He's been paralyzed and will never race again. His career and life are both washed up and it's safe to say that he has nothing to look forward to. That's when a beautiful doctor with green hair named Beatrice shows up and offers him a special pill that will cure him. Naturally with no other prospects Gerd takes the drug and his life changes forever. He becomes an Amalgam, but he's something different than the deceased ones because he retains his humanity.


We soon learn that Gerd has become like the black rider who saved him. He's something else, something better, and it would seem that he has taken an evolutionary step for both humans and Amalgams. The XAT doesn't care what he is, however, and they consider him to be dangerous even though he's only killed other Amalgams. They try to contain him and one of his old friends, Hermann, actually winds up watching over him. In addition to Hermann, there's another XAT member named Amanda and her younger brother Malik who also get involved. Soon enough, one thing leads to another and we learn more about the black rider, who goes by the name Joseph, and see other humans turned into Amalgams.


There were quite a few twists and plenty of surprises in store for you with these episodes, so I will leave out the spoilers for those. What I will say is that Blassreiter was a very pleasant surprise in these first 12 episodes. The plot is richly layered, the characters are extremely well-developed, and there are plenty of strings that connect everything and everyone. There's a sense of mystery that also builds as the show progresses and I definitely felt myself being drawn in more and more as each episode unfolded. Watching this show was almost like pealing back layers of an onion; every time you thought you were done with one part, there was another just waiting to be discovered and it was even deeper.


The show's art direction is also pretty slick. The character designs are quite detailed and original, and the world is utterly fascinating at times. Some of the CGI effects don't quite mesh with everything else, and there are times where the animations aren't up to snuff, but all in all this is a sharp looking series. It's also worth mentioning that the action is pretty dynamic and definitely gets the blood pumping.


Blassreiter is a fascinating show that gets better as it moves forward. You really get the sense that it's building up to something and there's a great deal of continuity. If you're looking for a new action series to add to your collection, consider this one highly recommended.

The DVD
---
Video

Blassreiter hits DVD with a 1.78:1 aspect ratio and has been enhanced for anamorphic playback. Gonzo is known for producing quality looking shows, and I must say that their latest is no exception. This one in particular is sharp as a tack and you won't find a single bit of grain or compression artifacts anywhere in this transfer. Kudos to FUNimation for pulling that one off! I do have to say that during some of the scenes that heavily use CGI there are some moments where aliasing is prevalent, but they aren't too distracting thankfully. All in all this is a great looking series that truly stands out and makes an impact.

Audio

In addition to some great looking picture quality, the audio for Blassreiter is quite solid as well. The Japanese and English language tracks are both presented with 5.1 output for that extra oomph. I found both surround tracks to be nicely immersive, and there was a decent presence on the soundstage for both. Considering this is a show with plenty of action it was a welcome, robust presentation. Even the bass gets a nice workout at times with all the explosions, guns, and Demoniac weapons all over the place.

Extras

For bonus features, this first part of Blassreiter comes with trailers, clean animations, and some promotional videos for the series. There is also an audio commentary for the 12th episode here. This commentary is pretty lively and fun to watch, even though it's not entirely informative about the production of the series.

Final Thoughts

If you're looking for a new action series, Blassreiter is definitely something to add to your list. The show is packed with action, features some slick a/v quality, and offers a plot that is multi-layered and fascinating. Once I started watching the first disc I couldn't stop until the second one was finished. Bring on the second installment! Highly Recommended
---
Check out more of my reviews here. Head on over to my anime blog as well for random musings and reviews of anime, manga, and stuff from Japan!
---
C O N T E N T

---
V I D E O

---
A U D I O

---
E X T R A S

---
R E P L A Y

---
A D V I C E
Highly Recommended
---
E - M A I L
this review to a friend
Sponsored Links
Sponsored Links