Edge of Darkness: The Complete BBC Series
List Price: $34.98 [Buy now and save at Amazon]
---
Well, maybe they'll let Mel Gibson turn into a tree in the remake. Entertaining when it sticks to shadowy government and corporate espionage, but often quite silly when it gets all preachy and mystical with its anti-nuke, pro-green Earth message, the original 1985 BBC miniseries, Edge of Darkness, has now been released for the first time on a two-disc set by BBC Video. Starring Bob Peck (in an overrated performance, frankly) as the tortured, grief-stricken copper looking to solve his daughter's murder - before stumbling onto a worldwide nuke-related conspiracy - Edge of Darkness does have some terrific supporting turns (particularly Joe Don Baker as a witty Texas CIA agent), an agreeable sense of scale to its plot, and atmosphere to spare. But seriously: talking ghosts and people turning into flowers?
Yorkshire police detective Ronald Craven (Bob Peck) has just had his leash tightened. Called in by his superior, Harold Ross (John Woodvine), Craven listens to an entreaty to turn off his voter fraud enquiry into coal miner union boss, James Godbolt (Jack Watson)...by Godbolt himself. It seems a strike is eminent, and Craven's poking around will only stir the pot. Craven agrees not to go to Blackpool, but he's not giving up his investigation. Picking up his Communist scientist/environmental activist daughter Emma (Joanne Whalley) at college (she calls people "comrade" and "sister," and has Russian propaganda posters on her bedroom walls), in the car ride back, widower Craven reveals a rather unsettling (to the viewer) closeness with his daughter...a closeness that drives him almost to madness when she's inexplicably killed by a shotgun blast as they enter their home. The killer shouts that "Craven" is a murderer, and naturally, Craven's superior, Ross, believes that Emma wasn't the intended victim. The killer must have been one of the hundreds of criminals Craven had put away in the slammer; perhaps even someone associated with the IRA, since Craven played a dirty little role in the crackdown of the northern rebellion in the early 70s.
But baffling little clues begin to pop up that indicate a section of Emma's life had branched off into dangerous waters - perhaps she was the intended target of the mysterious gunman. Why did she have a box labeled "GAIA" in her drawer, containing maps, a Geiger counter...and an Egyptian .45 caliber automatic? Why do mysterious government spies Pendleton (Charles Kay) and Harcourt (Ian McNeice) insist that Emma was a terrorist, intent on stealing plutonium at the Northmoor nuclear power plant? Why does boisterous, enigmatic Texas CIA agent Darius Jedburgh (Joe Don Baker), take such a kindly interest in Craven's personal investigation into the death of his daughter...while calling her a terrorist, as well? And what, exactly, is down in those mine shafts beneath Northmoor? Is plutonium being illegally stored there? Why does Bennett (Hugh Fraser) of International Irradiated Fuels (which owns Northmoor) seem threatened by Craven's investigation - a situation that warrants attention from powerful American nuclear financier/wizard, Jerry Grogan (Kenneth Nelson), of the Fusion Corporation of Kansas (shades of The Wizard of Oz), who wants to buy IIF? Finding out the answers to these questions could be deadly to Craven. And to planet Earth.
MAJOR PLOT SPOILERS!
I've heard and read about Edge of Darkness many times over the years, well aware of its heavyweight reputation and its status as a classic of British television drama, so I came to this first-ever disc release with much anticipation. However, as the miniseries unspooled, and I kept waiting for something to happen that was original enough, or startling enough, or thought-provoking enough, to warrant such consistent high praise, I couldn't help but wonder what, exactly, was causing so much mad panic for this full-scale but compromised political thriller. Perhaps Edge of Darkness has such a serious reputation as a U.K. classic because its politics so closely matched those of most of its reviewers and critics. It's the kind of political film - in this case during the conservative Margaret Thatcher era in Britain - that liberal critics and viewers love to huddle up and shudder over, somehow always finding such cinematic revelations of political and corporate corruption as heinous and shocking (as if those things only happen during the conservatives' watches). Films from this genre usually generate at the very least nods for good intentions (again, due to similar political aims between critics and filmmakers) because we're rarely presented with alternative viewpoints. After all, conspiracy films (or indeed, any genre of film) that orient from a liberal political viewpoint are usually labeled by like-minded reviewers and pundits (and they far, far outnumber conservative movie and TV critics) as "serious," "absorbing," "timely," and thoroughly justified in their so-called abilities to make the masses "think," while the few conservative-oriented action or suspense films are dismissed and jeered as "simplistic," "reactionary," "paranoid," "hyperbolic" - or just plain ignorant (just look at the decades-long retro-vilification towards the politics of many films from Hollywood's golden age that celebrated what used to be called traditional American values). Edge of Darkness, hitting all the leftist political hot buttons - anti-nuke, anti-conservative Thatcher, pro-socialist, pro-green Earth, all wrapped up in an over-the-top, melodramatic murder mystery/espionage actioner - couldn't help but score a thumbs up from the choir being preached to here.
Leaving aside the politics for a moment (because I'm not going to convince you, and you're not going to convince me), when the mini stays on the shadowy world of modern-day espionage, where spies happily work out in the open (because who can touch them?), and where everyone knows everyone else's game, Edge of Darkness is quite entertaining and successful. Of particular interest are the characters Pendleton and Harcourt, the public school bred bullies/spies who play at espionage with an oblivious, blank exercise of carte blanche power that makes them simultaneously hilarious and frightening. Glimpses of their world, where half-truths become entangled in a myriad of cross-plots, and where a blasé acceptance of their own existence outside any façade of laws and justice that the average Joe might think applies to them, make for the best scenes in Edge of Darkness, putting the viewer off time and again as one laughs at their jokes and put-downs, and wonders just how many Pendletons and Harcourts there are out there. Tying in these two amusing characters with the equally fascinating rendition by Joe Don Baker (a seriously undervalued performer who strayed into exploitation too often, to the detriment of his career) of Texas CIA agent/gladhander Darious Jedburgh, the middle section of Edge of Darkness takes on an almost LeCarre and Greene feel - filtered through a hefty dose of whimsy - that I found refreshing. Unfortunately, all that lightness is for naught as the dour, predictable subplots of Craven searching for his daughter's killer, and the hunt for the source of illegal plutonium (and the easy-to-guess denouement as to who was behind all these nuclear shenanigans), obliterate the one genuinely fresh aspect of the film. Even before you have a "hero" for a film like Edge of Darkness (and of course, Craven's "hero" is psychologically wounded and flawed, as all heroes, by dictates of the cliché, must be in the later-half of the 20th century), you have to have potent villains, but Edge of Darkness fluffs that important point, giving us Bennett and Grogan. Drawn rather fuzzily (lots of menacing stares, but that's about it), the vacuum created by these forces that Craven has to fight against gives the second half of the mini an increasingly purposeless feel, particularly at the end when the pint-sized Guns of Navarone team of Craven, Jedburgh, and Godbolt (jesus, those ponderous, obvious names-as-symbols) swing into action. Bennett and Grogan retaliate, but those scenes feel like nothing more than generic action scenes because we don't really know or understand the villains' motives other than from placard signposts we suss out ourselves ("GREED," "POWER," "CORRUPTION").
As for the fulcrum of the entire mini - Craven's relationship with his daughter and his quest to find her killer(s) - it fails to offer much originality...while providing a distinct subtext that I found extremely off-putting. Just what is scripter Troy Kennedy Martin hinting at with the sexualized nature of Craven and Emma's relationship? Director Martin Campbell shoots their scenes together as if they were lovers, not father and daughter. Their first scene together, driving home from college, plays exactly like a gentle lover's spat, with Whalley gently caressing Peck as she annoys him with her talk of her lover. Later, after Emma is killed and her, um...ghost keeps appearing, guiding Craven in his investigation (cripes), there's a scene where Craven gets obviously agitated when his daughter describes how good her lover was (she even calls him jealous). Other moments take on increasing meaning as they pile up, including a shot of ghost-Emma as a little child, asking Craven to sleep with her, or ghost-Emma dressed up in a sexy nurse's uniform, walking slowly towards a dreaming Craven, touching him before he wakes up with a start. Or even the moment when the inexplicable Clemmy character, played by Zoe Wanamaker, laughs about the play she and Craven are going to see (an action used as cover for Craven's breaking into the MI6 computer). He asks what the play's about, and she smiles, "Incest," which gets a smile from him, too. Why is that funny to Craven? Most startling though (and a moment that might cancel out viewers' sympathy for Craven when they see it), was his inexplicable desire to kiss her vibrator, in loving close-up, as he sorts through her things immediately after her death. Now, I can see a father kissing a picture of his dead daughter or maybe even her pillow as he buries his head in tears and grief...but her vibrator, for chrissakes? Maybe I'm missing something, but can someone please explain to me why a father would ever do such a thing, even in a moment of extreme grief (and please, do explain on the forum for this review, so everyone can read your response)? How am I supposed to root for Craven to find his daughter's killers, when scripter Martin and director Campbell seem to consistently imply that Craven is sexually infatuated with his daughter? Not helping matters with garnering sympathy for the Craven character is Peck's overrated performance. In one of the bonus interviews included on this set, a fellow actor praises Peck's wide-eyed-staring-contest performance here as the most intense he's ever seen for TV. I found nothing "intense" about it; more often than not, I found it numbingly one-note. Peck doesn't have the most expressive face and eyes, and just merely goggling about, staring off into the distance and turning him mouth down into an almost comical frown, doesn't suggest a myriad of conflicting emotions and passions like grief and murderous revenge to the viewer, but severe catatonia mixed with perhaps, an acid stomach. Whenever Peck screams up at the skies, or rolls around on the floor in a fit, one can chalk it up to overacting (something Campbell should have toned down). But when Peck does his 24th scene where he gorps blankly off into space, one is tempted to snap one's fingers and remind the performer that there's a movie going on here.
Even sillier are the ghost-Emma scenes. As someone on the bonus feature says here, the original source of this dead character's words was to be the imagination of Craven, which would have played much better, to my mind (he's sick with grief - who wouldn't understand he's projecting his thoughts about his daughter into interior conversations?). But according to this person interviewed, director Martin Campbell filmed that first scene with the ghost-Emma as an actual ghost, actively interacting with Craven - a gimmicky device that inevitably leads to unintentionally funny moments. Seriously - she's going to communicate to him from beyond the grave...to let him know how to do the laundry (when she said, "Put it on cold wash," I hit the floor laughing). They even drag in a scene where Craven discusses this phenomenon with a shrink (a truly useless scene). A gimmick like a ghost guiding a character through a film is a tricky proposition, but it's been done to death, and just because Martin decided to include such a stunt in an espionage drama doesn't make the act unique or worthy in and of itself...especially when it's so clunkily executed here. Silly moments in Edge of Darkness aren't limited just to ghost-Emma. What's with Craven's narration (most of it about his dead wife and off-topic) that drops in for a bit, and then disappears? Since when do they transport a dead body from a crime scene to the coroners, in a swank coffin? Why didn't Craven stop his daughter from going to Northmoor when she clearly indicated that's what she was going to do (in one of the original scripts, Craven knew all along about Emma's involvement with the environmental action group, GAIA, implying he approved of her actions)? Who, exactly, is Clemmy (talk about a barely-drawn character), and why does she give her body to Craven at the drop of a hat, with no set-up for this arbitrary, Bondian moment? And what's with that solitary, magical phone line, still in service, down in the abandoned bunker (do you know quickly they shut off your phone if you don't pay the bill?)? Good thing someone answered that phone in the linen closet at 10 Downing Street (has to be one of the silliest deus ex machina I've seen in some time)? And does it get any more uncomfortable than when Craven admits in his narration that in a previous case, he used a "softer" method of interrogating a sex offender (who's now implicated in the conspiracy), going so far as to kiss him...with a later cut showing Craven nuzzling and kissing the guy's hand to get a name from him (we don't pay cops nearly enough)?
And then the myth nonsense is dragged in. Anyone who has seen a fair number of these types of murder mystery/detective shows, won't find any surprises here; the core of Edge of Darkness - the murder of Craven's daughter, is thoroughly familiar and predictable. Perhaps that's why the scripter felt the need to embellish the story with all that phony mysticism and myth-making analogies, to punch up the stock material. It's bad enough when we're frequently presented with the same old tired analogies between socialism and Western capitalism. For instance, when Craven and Jedburg descend below the reactor, they find an abandoned doomsday bunker, filled with dusty remnants of Western civilization (I get it, Mr. Martin). Later, when the team is being gassed in the mines (not unlike the countless deaths of miners through the ages, exposed to the dangerous conditions underground), the director keeps crosscutting to Harcourt and Pendleton, resplendent in their tuxs, loudly enjoying a gourmet meal (I GET it, Mr. Martin). I expected those kind of easy jibes after the first hour or so of Edge of Darkness, when I saw where it was obviously going. But once Martin started bringing in the myth-making, I didn't see envelope-pushing, I saw desperation (marrying two seemingly incongruous genre elements isn't in and of itself, worthy of praise; it has to work). It sounds like the project was pulled back from the deep end, anyway, when Peck and others in the show refused to allow Craven to...um...turn into a tree at the end of the show - a compromise that Martin still obviously dislikes, if his demeanor in the 2003 interview on this disc is any indication. If the bonus doc is accurate, it sounds like the script never really had a good ending worked out before, during and after production, anyway (someone on the doc said 17 endings were proposed), and as any filmmaker, critic, and average viewer knows: if you don't have an ending, you don't have a story. The compromise, having a screaming Peck ("Twiiiiiiiiiiiiiiiix!") "disappear," with black flowers magically appearing on that very spot (don't ask), is just as faux Bullfinchy, Josephy Campbelly, New Agey, Earth Dayey loony as having him turn into a tree. But it's also more gutless, since the filmmakers don't even have the strength of their own convictions, refusing to show, in real time, this magical transformation - and ridiculous story resolution - as indeed they planned to do with Craven turning into, I would imagine, one of the talking trees from The Wizard of Oz (that's no stupider a joke than theirs). The chaotic ending, with Jedburg thundering about despotism versus American ideals and clapping together two pieces of plutonium to kill gorgon Grogan (laughable special effects here), is a mess. Tracked down in Scotland, Jedburg and Craven talk...and talk...and talk about man versus nature, with Craven firmly coming down on the side of Earth always winning out (please christ if it will shut these two up), before Craven screams Emma's name ("Khaaaaaaaaaaaannnn!") and turns into a patch of black daisies. By this point, it was difficult to remember the few moments in Edge of Darkness that really worked.
The DVD:

The Video:
A terrible transfer. The full-screen, 1.33:1 transfer was taken from an inferior print, with faded colors and plenty of screen anomalies (dirt and scratches). The image is soft, with tons of video noise, while macro-blocking makes a mess of the frequent dark scenes (obviously, blacks don't hold). This looks like a VHS tape. Use as small a monitor as possible, if you watch this.
The Audio:
The Dolby Digital English split mono audio track is serviceable, with variable recording levels, but nothing too distracting. English subtitles are available.
The Extras:
There are several bonus features included on this two-disc set. On disc one, a clip from the TV show, Did You See...?, running 8:04, features three critics discussing the film -- they all love it (the host killed me, though, when he asked if all the "endless brooding shots of Peck" didn't "get to be too much?" Amen, dude). A clip from TV chat show, Breakfast Time, features an interview with Peck (6:47). Clips from The Broadcasting Press Guild Awards (6:01) and the BAFTA Awards (7:31) feature interviews with Peck and Baker (he runs down American TV...I take back what I said about you, Joe Don. Stay in England). You can also access the soundtrack only, if you wish (I know a lot of people swoon over Michael Kamen's and Eric Clapton's score here, but I found it repetitive and obvious). On disc two, an "alternate ending" for the final episode is included...but unless I'm blind, it looks exactly the same as the one in the main feature (please email me if you saw something different, and I'll amend the review). A doc on the film, Magnox - The Secrets of Edge of Darkness runs 35:00 (and pretty much spells out the silliness of the whole enterprise). There's also a photo gallery and again, you can isolate the music score, if you wish.
Final Thoughts:
I know I'm in the minority on this one. No one wanted to like this supposed TV classic from the U.K. more than I, however.... Had Edge of Darkness stuck to its witty examination of the shadowy world of immoral espionage and its complicity with the incestuous relationships between governmental and corporate shenanigans, it would have deserved the praise it's received. But a cliched, gloomy central core about a cop tracking down his lover's...I mean his daughter's murderer gunks up the works, with a one-note lead performance not adding a thing (unless you count some unintentional laughs). Joe Don Baker is the best thing here; too bad the film wasn't focused solely on his character, and the two marvelously funny, scary Brit agents played by Charles Kay and Ian McNeice (those actors and their characters could have had their own show they're so good). Strictly a rental for the curious...and that's pushing it.
---
Paul Mavis is an internationally published film and television historian, a member of the Online Film Critics Society, and the author of The Espionage Filmography.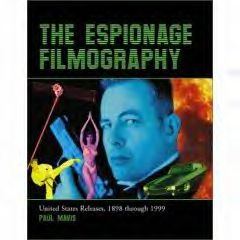 Sponsored Links
Sponsored Links