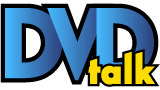 Kino // Unrated // November 10, 2009
List Price: $34.95 [Buy now and save at Amazon]
---
Reviewed by Glenn Erickson

We're accustomed to calling a movie a "classic" simply as a way to say that it has lasting value, that it will be remembered fondly and sought out after other pictures are forgotten. A picture like Buster Keaton's 1927 The General is even more than that. I laughed myself silly watching it as a teenager, did the same in college and still have the exact same reaction now. Apparently not one of Buster's more successful films -- probably because it was so expensive -- The General is simultaneously a slapstick comedy and a thrilling Civil War epic produced on a lavish scale. Entire armies are shown on the march and the biggest stunt is a locomotive wreck that wouldn't be topped until David Lean's The Bridge on the River Kwai thirty years later. Keaton outdoes even Jackie Chan for sheer bravado, leaping and jumping all over a moving railroad engine as if he were a cartoon character. Have you stood next to a railroad car lately? One false move could mangle Buster like a paper jam in an office printer. There are a couple of moments when he's "acting" out on the engine's cow catcher, when he seems unsure of his footing ...


Kino International's new Blu-ray of The General may be the oldest film yet released on the HD format, and the heightened resolution definitely adds to the experience. More on that below.


The story starts in 1861 in Marietta Georgia, a railroad mainline town between the North and the South. Johnny Gray (Buster Keaton) is crestfallen when the rebel recruiters turn him down, not realizing that the reason is because he's more valuable to the Confederacy as a railroad engineer. Then Union spy Anderson (Glen Cavender) and his raiders steal Johnny's beloved engine, The General, kidnapping his dream girl Annabelle Lee (Marion Mack) in the bargain. The meek but resourceful railroader gives chase and proves himself both clever and daring.


It's hard to encapsule Keaton's achievement in The General. It's a comedy farce that uses an epic Civil War background as a "straight man" to Buster's jokes. But the historical content is almost entirely accurate. Playful but level-headed, it makes war its subject without being cavalier about Union-Confederate differences. Officers and soldiers don't behave like buffoons; the scenes of commanders sending their men into battle aren't played for laughs. Keaton was known for dead-panning his character's personal reactions; here he dead-pans the comedy on a vastly bigger scale. One strategic military blunder results in a spectacular (real) train wreck, staged on a scale never before seen. We cut back to the officer staring blankly at his costly mistake, frozen at the sight of what he's done. It's funny, but situationally funny -- the actor doesn't undercut his character to get a laugh.


If 1927 audiences didn't react to these amazing scenes, it's possibly because Buster Keaton refused to stage them at a Keystone Kops level. The General only makes fun of the pretense of war, especially Johnny Gray's painful need to see himself as a glorious hero. He gets his wish and is transformed into a laughable stereotype of D.W. Griffith's "Little Colonel", already posing for a statue.


In its clarity and purity of action, The General is still superior to modern action films. The story is established in a handful of brief scenes. As soon as Johnny's train is stolen the show kicks into wall-to-wall action mode. Everything is organized around the difficult proposition of locomotives in motion, and full-scale trains are not the most trustworthy of props. The movie has an art director but was literally engineered by Keaton and his associates, inventing camera angles that made use of parallel tracks and clever camera mounts. Filmed on location in Oregon, it became an expensive labor of love.


The action is breathtaking because Keaton is in undeniable physical peril in at least half of the shots. Hanging onto a moving train is risky enough, but climbing all over it and leaping from car to car is much more dangerous than it looks. Sitting on the locomotive's cow catcher may look simple, but in reality it would seem far too easy to slip or snag a shoelace and be run over. Think of that when Buster maintains his characterization amid tons of deadly machinery in motion.


An example of the risk involved is seen when Buster sits on the drive arm of his locomotive, one of those horizontal rods connecting the wheels. A railyard worker eases the throttle, giving us the cute image of Keaton swinging up and down as the drive arm rotates. It looks easy, but accelerating an old engine like that from a dead stop is no easy task for the engineer. One time in three the wheels will spin and the drive arm go nuts. (We see it happen later in the show.) It's like letting out the clutch of a Ferrari in third gear -- you're either going to stall or peel rubber. I don't think I'm exaggerating. Keaton could very well have been ground into mincemeat. Nowadays it seems that nobody does anything more dangerous than climb stairs without a stunt double or CGI assistance. Everything in Keaton is REAL.


The General lets Keaton play 'trains' with real trains. The mechanically-oriented gags during the chase are breathtaking in their ingenuity. Not only do they make sense, they were all derived from the real historical locomotive chase from the Civil War. (Disney made a version in the late 50s with the North as the heroic side. Fess Parker played Anderson.) The destruction of telegraph cables and the sabotage of the rails are all real. The raiders carefully link their locomotive to the back of Buster's train ... and we truck to the right to see Buster foiling them by unlinking the last car. Buster is confronted with the impossibility of a box car appearing and then disappearing from the rails in front of his engine, unaware of the converging side tracks that take it off-line and then back on-line again. The technical layout and timing of some of the gags would tax a modern stunt coordinator. A rail cannon mounted on a moving train fires, and the impact of its shell is seen narrowly missing another moving train half a mile away, all in one shot. The General's big scale gags beat out later train-wreck epics like Frankenheimer's 1964 The Train. René Clement's La bataille du Rail is cleverly done but still not as impressive. Keaton's inspiration is felt even in the masterful "stolen train" sequence in Sam Peckinpah's The Wild Bunch. Peckinpah has William Holden give his locomotive a farewell salute as he sends it on an unmanned wild ride. Real Boys love trains.


Keaton and Bruckman's jibes at the military are light, but wryly stated. A dozen Yankee blowhards argue around a twisted track switch that has stalled their progress. The shouting officers create chaos until an ordinary railroad worker (a real man, in Keaton terms) solves the problem with one whack of a fire axe. There's no substitute for a working man who knows what he's doing.


Keaton's movies frequently used racist jokes, but none appear in The General. Johnny Gray instead generates laughs by kidding the stereotype of the helpless Southern Belle. Marion Mack is mussed up, thrown about like a sack of potatoes and knocked down by a water spout. Johnny constantly shows his exasperation at her judgment -- she jettisons a piece of fuel wood because it has an unsightly hole in it, for instance. Johnny finally throttles her, and then kisses her instead. Sure, it's primitive satire, but the perfect expression of Keaton's attitude toward romance.


Andrew Sarris once compared Keaton's cinematic genius favorably to Sam Fuller and Jean-Luc Godard. A cigar burns a hole in a tablecloth, giving Johnny Gray a cameo view of his lady love, now a prisoner. Both later directors echoed this effect (Fuller framing a woman down a gun-barrel) but Keaton's is the only use that is un-forced & natural. And he does it in the "frivolous" context of a silent comedy.

---

Kino's Blu-ray of The General discovers more detail in this eighty year-old masterpiece; the film's deep-focus B&W cinematography is sharp enough to gauge the quality of the costumes (which make Gone with the Wind's look phony) and to fully appreciate Keaton's amazing stunts. That really appears to be leading lady Marion Mack being dragged from one car to another on a real moving train -- and tied up as well. The elements are very well preserved and very clean. We notice a missing frame or two here and there, and a few scenes with fluctuating density, but otherwise there's little here to distract our attention from the storytelling.


The show comes with three separate tracks. Carl Davis conducts a full orchestra for a track produced in the 1980s while a second track is arranged and directed by Robert Israel. Lee Irwin is heard on a third organ score.


Kino's Bret Wood has come up with some very good extras. Personable museum spokesman Harper Harris gives us a tour of the actual historical train stolen in the famous Civil War incident, explaining not only a number of technical points about steam trains of the 1860s but also the actual chronology of the "Great Locomotive Chase" and Keaton's failed effort to film The General where the real chase took place. Author John Bengtson presents a featurette showing "then and now" comparisons of the film's Oregon locations.


A couple of minutes of an Oregon fan's home movies on the set of The General are present, as well as TV introductions by Gloria Swanson and Orson Welles. A final featurette is a montage of train gags from a number of Buster Keaton shorts and features. It includes, I believe, the shot where Buster is knocked down by the water from a train-stop flue, and smacks his head hard on the rails below. Reportedly, a doctor told Keaton later in his life that one of his neck vertebrae had been fractured, and he didn't even know it at the time.

---

On a scale of Excellent, Good, Fair, and Poor,
The General Blu-ray rates:

Movie: Excellent

Video: Excellent

Sound: Excellent

Supplements: Three music tracks, featurettes, home movies, celebrity introductions, train scene montage.

Packaging: Keep case

Reviewed: November 18, 2009

---
C O N T E N T

---
V I D E O

---
A U D I O

---
E X T R A S

---
R E P L A Y

---
A D V I C E
DVD Talk Collector Series
---
E - M A I L
this review to a friend
Sponsored Links
Sponsored Links