Mentalist: The Complete First Season, The
List Price: $59.98 [Buy now and save at Amazon]
---
"No badge. No gun...they don't even give me dental."
"Legal proof will be found, no doubt. But personally, I don't need it. I just like to know that I'm right."
An altogether disarming police procedural given effervescence by handsome Simon Baker's bemused, playful lead turn. Warner Bros. has released The Mentalist: The Complete First Season, a six-disc, 23-episode collection of the hit CBS crime show that debuted last year. Anyone who regularly reads my reviews (thank you, all six of you) knows I tend to view new network offerings with more than a healthy dose of skepticism, but I must say that The Mentalist completely won me over with its charming, almost fey approach to the standard police procedural genre. If the mysteries themselves aren't all that puzzling, we do have Baker's beguiling performance, along with a some good supporting players and some excellent California location work. I watch perhaps only a handful of network offerings on a regular basis, but I'll be eagerly waiting this week for the premiere of The Mentalist's second season.

Setting up the series, The Mentalist tells the rather tragic story of Patrick Jane (Simon Baker), a celebrity psychic who brags about occasionally helping out the police with difficult cases. Facilely and flippantly discussing the serial killer "Red John" on a television chat show, Jane returns to his posh home to discover his wife and young daughter slaughtered, with a taunt left by the killer blaming the murders on Jane's facetiousness in discussing "Red John's" crimes. Renouncing his con man-pose as a "psychic" (he doesn't believe in the supernatural), Jane now assumes his proper title as a mentalist, "someone who uses mental acuity, hypnosis and/or suggestion - a master manipulator of thoughts and behavior." And with this renunciation of his previously deceptive life, he now dedicates his talents to consultant work for the Serious Crimes Unit of the California Bureau of Investigation, a division of the State's Attorney General's office that deals with complex cases where the local authorities may not have the expertise to close them. His "superior" (even though Jane is not a bona fide law officer) is tough, smart looker Teresa Lisbon (Robin Tunney), who is forever scolding or roping in the fickle, unconventional Jane during his undeniably successful investigating (or perhaps more accurately: his instigating). Even though Jane functions technically as a consultant only, he may as well be heading up the solid team of experienced officers in the Serious Crimes Unit. Straight-faced, dead-pan Kimball Cho (Tim Kang), and big, good-natured Wayne Rigsby (Owain Yeoman), can be just as exasperated as Lisbon with Jane's antics, but they won't let official police procedures get in the way of results: Jane closes cases. Newcomer to the group, gorgeous, broad-shoulder stunner Grace Van Pelt (Amanda Righetti) is at odds with Jane's spiritual skepticism, but she too knows when something works, and Jane's crime-solving skills, honed by years of deceiving people with his mentalist powers, are formidable. Seen briefly now and then is the Serious Crimes Unit's overall supervisor, Virgil Minelli (Gregory Itzin), a grumpy force for conformity forever worried about appeasing superiors and disgruntled, powerful people offended by Jane's shenanigans.

SPOILERS ALERT!
Immersed as I am, usually, in vintage TV series, it takes a lot to jar me out of my black & white reveries to view something new from the networks and cable. For every The Office or Mad Men or Fringe (and don't forget The Soup) that gets and holds my attention, there are countless series premiering and then staying or going that don't manage to register more than a blip on my steady TV-watching radar. I had certainly heard about The Mentalist last year; friends told me it was a great show, and its strong ratings always caught my eye when reading the daily Nielsen run-downs (and I had watched one or two episodes of Baker's previous series The Guardian, and had enjoyed it). But just from a time factor alone, I probably wouldn't have caught The Mentalist on my own had this DVD set not come in the mail. Lucky it did, though, because I can't remember the last time I enjoyed a police procedural this much in its initial offering.
Perhaps it's more accurate to write I haven't enjoyed a character in a police procedural this much in a long time. Looking just at the bare-bones structure of The Mentalist, it doesn't differ too greatly from countless other detective series over the years. A crime occurs, the team shows up, Patrick Jane pulls some kind of prank, the team reassembles at their headquarters in Sacramento, they interview witnesses and suspects, and the killer is caught - usually after a team member almost buys it before they're rescued. And the identity of the killer isn't usually too hard to discern for the average mystery afficionado (even I figured out more than my fair share of puzzles here, and that never happens with me). As well, office romance provides the most noticeable subtext for the series as Grace and Rigsby act out a tentative dance of seduction that's mirrored, ever so obliquely, in Jane's and Lisbon's mutual attraction, as well. None of this is particularly original, although it is put over with a professional gloss and assuredness I appreciated. And as I wrote, the series is often very funny, with sharp, witty dialogue (Cho, superstitious of black magic, states that "if dark forces did exist, it stands to reason there'd be people who control them for their own ends," to which Jane replies, "They're called investment bankers"), and plenty of opportunities to spoof their own genre (my personal favorite was Bloodshot, where the writers turn Jane in James Franciscus' blind detective, Longstreet, with hilarious results).
What did come across as unique was the lead character of Patrick Jane, particularly in the question of how he goes about his personal mission: finding and killing the murderer of his family. Going the opposite route of Doctor Richard Kimble in The Fugitive, Jane goes off the deep end (we learn in flashback), being committed to a mental hospital after the murders. But he doesn't hit the road in solitary, existential angst, looking in vain for clues to the one-armed man, like Kimble. Instead, he returns to society, to work with the police as one of them, staving off personal boredom with his mirth-filled activities, laughing at usually "hands-off" subjects like Wicca witches and the whole phoney psychic and spiritualist industry, while hoping to get a lead on "Red John." Laid-back and smart-assed in tone, The Mentalist may channel The Fugitive's base motivation - Jane is "lost" until he finds his family's killer - but it executes this theme more in the manner of Stephen Frears' The Grifters: funny and cynical and game-playing corruptness. For such a potentially dark series (the opening episode has Jane returning to his home after a case is solved; it's devoid of furniture and he lays on a mattress in his wife's room, her blood still on the wall painted into a smiley face by "Red John"), The Mentalist is surprisingly light and sunny and frequently quite funny. And that's all down to the character created by producer Bruno Heller and actor Simon Baker.
A naughty child who knows he's the smartest kid in the room, one who flaunts that knowledge, and who wants to be congratulated for not only solving the puzzle but for also making fools out of everyone he encounters and bests, Heller's and Baker's Patrick Jane is an irresistible fantasy figure who combines rebellion with snotty game-playing one-upmanship. No wonder women in particular enjoy this character (a friend of mine - a grown woman, mind you - actually physically blushed when I mentioned this show and Simon Baker -- now that's an indication of the actor's allure). For women, not only is tousled-haired, cocky-grinned Baker catnip for personal fantasies, he's charming and seductive, to boot, but in a playful, non-threatening way (more cerebral than hormonal). And the kicker is not only does he actually listen to the women in the show, he already knows what and how they feel. To the filmmakers' credit, however, they never exactly spell out how or what Patrick Jane feels about others...or himself, for that matter. Is he openly contemptuous of the suspects and killers he interacts with? Is he amused by the absurdity of most people's pathetic attempts to hide their emotions and motives for what they do from a master mentalist like himself? Or is he just bored and looking for ways to amuse himself while trying to track down his family's killer? As viewers, we constantly guess. His powers of observation are seemingly equal to that greatest of deductive detectives, Sherlock Holmes, but outwardly - and that's an important qualifier - Patrick Jane performs with none of the cold, calculating cruelty and disdain that existed in Holmes' DNA. He can seem to be clueless and cavalier with the feelings of the victims' families when he asks inappropriate, mocking questions - sometimes even at their murder sites, with the bodies in full view (when Jane insults a local police officer over the dead body of a child - not exactly a notable comedic scenario - and the officer objects on the grounds of propriety, Jane looks over at the body and responds cooly, "He doesn't care how I talk to you."). But his team frequently laughs silently or rolls their eyes because they know he's doing all of that for a reason - his games, regardless of their ultimate purpose, always yield results.
Everything is a game for Jane, from goofing on a suspect in the interview room to disorient them (my favorite is when he carefully sniffs one suspect and asks, "Have we met before?"), to stopping a fleeing criminal (the filmmakers always make sure to show Jane laughing when he escapes certain bodily harm), to flirting with Lisbon and indeed all the other team members he seduces with his charm and skills. And that game-playing is what keeps us wondering about the character: what exactly, is Patrick Jane thinking and feeling? For the comedy to work, we have to have some kind of tension, and that obviously comes from Jane's backstory as well as from his superiors who constantly threaten to lower the boom on his role with the CBI -- as well as our wondering when he's finally going to go off the emotional deep end, as he almost does in the season finale (appropriately, the filmmakers keep the joking to a minimum in this episode where Jane gets close to nabbing "Red John."). His co-workers aren't dumb; they fully acknowledge Jane goes the long route in solving the crimes just so he can enjoy the phony, "childish drama" (as Cho puts it) of his game-playing. As I quoted above, crime-solving for actual justice comes second to playacting; he just wants to know he's right in what he has deduced. There's one interesting exchange in Flame Red with Lisbon where Jane says a suspect deserved to physically suffer in a fire for his crimes: "He deserves to suffer a little," Jane states, to which Lisbon responds, "Nobody deserves murder...Jane, we're officers of the law." Jane quite correctly counters, "You are. I don't care about the law. I care about justice. And justice says Machedo [the suspect] deserves to suffer." Lisbon, taken aback, says, "That's not justice, it's vengeance," to which Jane plainly replies, "What's the difference?" A viewer may take that exchange one way, but later, Jane convinces a suspect to confess by saying revenge is a poison - which impresses Lisbon to question Jane's original statement. But of course, Jane switchbacks and responds that his "revenge is poison" line was just that: a line delivered to get a response, as Jane laughs it off. What are we to believe, then, with Jane? He's a cold-blooded killer? He's a cynic? He's a superficial prankster? He's terribly wounded? He doesn't belive in any hocus-pocus mumbo-jumbo? He does believe...but he just won't admit it? Or, as his carny upbringing would suggest, he thinks everyone is a sucker? We just don't know, because in The Mentalist, it's all a game for Patrick Jane.
Here are the 23 episodes of the six-disc set, The Mentalist: The Complete First Season, as described on its episode list pamphlet:
DISC ONE
Pilot
A brutal double murder. A happy face drawn in blood. Everyone thinks Red John has struck again. Everyone except Patrick.
Red Hair and Silver Tape
A recipe with too much butter leads Patrick to the killer of a pretty redhead who worked at a Napa Valley restaurant.
Red Tide
The body of a drowned surfer washes up on a California beach. But the water in her lungs isn't from the sea.
Ladies in Red
"He's here." A wealthy investor vanishes from his San Francisco mansion - but Patrick insists he never left home.
DISC TWO
Redwood
After a woman is found stabbed to death, her best friend turns up bruised, disoriented and carrying a bloody knife.
Red Handed
A severed hand points Patrick to a big Vegas casino - and a big payday when Patrick hits the blackjack table.
Seeing Red
Takes one to know one. Patrick sets out to expose a professional psychic whose client met a suspicious death.
Thin Red Line
Just before a major meth dealer is set to face a jury, the star witness against him is found dead at a cheap motel.
DISC THREE
Flame Red
Former members of a National Guard unit have a lot in common: they're from the same town. And each dies in a fire.
Red Brick and Ivy
Did Patrick's ex-psychiatrist off her ex, a researcher who experimented on animals, or is an animal activist the culprit?
Red John's Friends
A convicted killer says he has info on Red John. Patrick wants to follow up; his bosses don't. So Patrick quits the CBI.
Red Rum
That old black magic. When an occult talisman is found near a dead teen's body, suspicion falls on the neighborhood witch.
DISC FOUR
Paint it Red
The oil tycoon? The forger? The curator? A painting worth $50 million provides many people a motive for murder.
Crimson Casanova
A self-described "woman whisperer" wakes up next to his murdered lover, then flees the crime scene...into the arms of a new mark.
Scarlett Fever
After a socialite is poisoned at a soiree, Patrick discovers her country club clique is hiding a lot more than murder.
Bloodshot
Temporarily blinded in an explosion, Patrick searches for the bomber using his other senses -- including his sense of humor.
DISC FIVE
Carnelian Inc.
It's raining dead guys. A sky-diving financial honcho lands splat right in front of Patrick.
Russet Potatoes
Hypnosis and homicide: an innocent schlub under the influence thinks the corpse he's lugging around is a sack of potatoes.
A Dozen Red Roses
In Hollywood, Patrick and the team come face to face with a faux Charlie Chaplin, a faux Marilyn -- and a real murderer.
Red Sauce
Golfing buddies. Patrick uses his skills on the links to befriend a crime boss who may have offed an FBI informant.
DISC SIX
Miss Red
Why is Patrick sure a dead CEO's psychiatrist girlfriend isn't really a doctor? For one thing, her handwriting is legible.
Blood Brothers
"I thought we'd start with a ghost story." At a wilderness school for troubled teens, Patrick spins a campfire tale to catch a killer.
Red John's Footsteps
A dead girl on the ground. A smiley face drawn in the sky. Is Red John starting a new killing spree -- or setting a trap for Patrick?
The DVDs
The Video
A seriously good-looking show, particularly with all those bucolic California locations. The Mentalist: The Complete First Season is presented in a sparkling clear, crisp, anamorphically enhanced 1.78:1 widescreen transfer that literally jumps off your big flatscreen monitor. Colors are delicately valued, and compression issues are non-existent (maybe just a little bit of edge enhancement). Considering all the old shows I watch, this looked amazing.
The Audio
The Dolby Digital Surround 5.1 English audio track is just as crisp and cleanly delineated as the video. Separation effects are understated but present, and no hiss is noticeable. Levels are appropriate. There's also a Portugese Dolby Surround Stereo track, as well. English, French, Spanish, Portuguese, Chinese, Korean and Thai subtitles, and English close-captions are available.
The Extras
On Pilot, Red John's Friends, and Red John's Footsteps all include very brief snippets of deleted scenes (only running maybe 30 seconds). Fairly useless. Much better is Evidence of a Hit Series, a 24-minute documentary, featuring the cast and creator Bruno Heller, discussing the series. It's pretty standard as these production documentaries go, but the cast is personable and well-spoken. Cracking the Crystal Ball: Mentalist vs. Psychic, running 18:11, looks at the question of whether or not mentalism, or psychic readings, are credible. It's an interesting back-and-forth, but I prefer the fictional battle in the actual series. There's also a 7 minute gag reel that's kind of funny, too (but the scripts are funnier). I would have thought at least one commentary track would be in order for this series -- a disappointment, that.
Final Thoughts
It takes a lot for me to become a sustained, loyal viewer of a new network TV series nowadays (mostly because so many are marginal, at best), but I'm a confirmed new fan of The Mentalist, a delightfully askew police procedural featuring a quirky, amusing turn by looker Simon Baker as smart-assed prankster mentalist Patrick Jane. The undercurrent of the show is quite serious...and that makes the comedy all the more potent. Clever, genuinely witty writing (a rarity in a television world that thinks Tina Fey is a genius), film-worthy production values, a talented supporting cast, and one of the most intriguing lead characters I've seen in any detective show makes The Mentalist definitely something to celebrate amidst the mediocrity of current network TV offerings. I'll be waiting for that second season premiere this week. I highly recommend the sensational The Mentalist: The Complete First Season.
---
Paul Mavis is an internationally published film and television historian, a member of the Online Film Critics Society, and the author of The Espionage Filmography.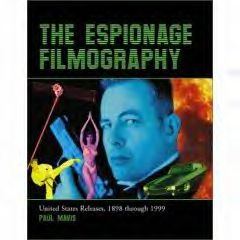 ---
C O N T E N T

---
V I D E O

---
A U D I O

---
E X T R A S

---
R E P L A Y

---
A D V I C E
Highly Recommended
---
E - M A I L
this review to a friend
Sponsored Links
Sponsored Links