Warner Bros. Archive Collection: The Our Gang Collection 5-Disc Set
List Price: $59.99 [Buy now and save at Wbshop]
---
I know they're not as good as the Hal Roach shorts. But there are pleasures to be found here in the Warner Archive Collection 5-disc set, The Our Gang Collection, which gathers together the final 52 M-G-M one-reelers of the iconic children's series, providing us with our last glances of Spanky, Alfalfa, Darla, Porky, Butch and Buckwheat as they leave childhood...while giving us an introduction to...um...the talents of young Robert Blake. Not nearly as bad as their reputation would have them be, these lesser Our Gang shorts still boast flawless M-G-M production values, some funny gags now and then, and a few final flashes of brilliance from the preternaturally talented tots. If you love the Hal Roach Our Gang shorts - and who doesn't - you can't not pick up The Our Gang Collection - just from a completist angle alone.
I'm not sure I can add anything to the scholarship of the Our Gang canon of literature by this point, particularly when the "bible" on the subject was written over thirty years ago by historians Leonard Maltin and Richard W. Bann (The Little Rascals: The Life and Times of Our Gang). Everything you could possibly want to know about the Our Gang comedies - which I knew through 70s syndicated TV runs as The Little Rascals - can be found in that immensely enjoyable book (admittedly, I'm biased, because that was the first serious movie book my parents every bought for their film-crazed son). So I'm not going to go over the backstory and production history of the series prior to the series' move to M-G-M, other than to write that it's an accepted fact among critics and devoted fans that the shorts included in this The Our Gang Collection fall short of the overall level of naturalism and comedic mastery producer Hal Roach achieved when he personally oversaw the series for his own studio between 1922 and 1938. Taking the central idea of showing children reacting naturally to comedic situations thought up by the best gag writers in Hollywood, Roach, through his laid-back "family atmosphere" studio which allowed the children to largely improvise their humorous reactions, created indelible comedic gems of two-and-one-reel shorts that made pop culture heroes out of performers like Ernie "Sunshine Sammy" Morrison, Allen "Farina" Hoskins, Mickey Daniels, Mary Kornman, Joe Cobb, Jean Darling, Robert "Wheezer" Hutchins, Mary Ann Jackson, Norman "Chubby" Chaney, Jackie Cooper, Dorothy DeBorba, Matthew "Stymie" Beard, George "Spanky" McFarland, Tommy "Butch" Bond, Dickie Moore, Scotty Beckett, William "Buckwheat" Thomas, Carl "Alfalfa" Switzer, Eugene "Porky" Lee, William "Froggy" Laughlin, and of course, Darla Hood. To people from my generation, those names (or at least their faces) are as recognizable as any other from our collective TV-saturated subconsciousness, due to the endless hours of syndicated repeats of The Little Rascals that played every day after school, from the late 50s all the way through the 70s. Through those repeats, viewers like myself were able to see for the last time the mass-transmission of shorts from that golden age of Hollywood slapstick comedy, an education that has spoiled many of us against today's pallid, forced, artificial attempts at contemporary knock-about comedy.
However "golden" that age may have seemed to the patrons who plunked down their nickels and dimes to see the Our Gang shorts, and importantly, no matter how idyllic and Utopian Hal Roach's approach to comedy may now seem to film scholars and historians who marvel at the results he achieved by simply letting the artist find the joke through skill and inspiration, that "golden age," like any age of moviemaking, was ultimately ruled first and last by the-then almighty Yankee buck. And by 1938, even though audiences still greeted Roach's Our Gang shorts with enthusiasm, it simply wasn't economically feasible for the producer to continue the series. The bigger studios' implementation of the "double feature" of an "A" and "B" movie on the same bill, was rapidly squeezing out the viability of short subjects - particularly for a smaller studio like Roach's. I emphasize this because so much of the negativity that goes after the later Our Gang shorts produced solely by M-G-M is framed as, "if only Roach had continued at the helm, the shorts would have maintained their quality." But as Roach was quoted in Maltin's and Bann's book, he would have had to discontinue the series anyway, buyer or not. So why not sell the series to M-G-M? They were already distributing Roach's shorts; they were familiar with the product, and the elevated production values at the fingertips of Hollywood's premiere movie studio, could only - it was thought - help keep the long-running series going.
Unfortunately, it was almost immediately apparent that this series and this studio weren't a good mix, particularly since M-G-M wasn't exactly known for its slapstick comedy sensibilities (the frenetic Marx Brothers would move to M-G-M, too, and while some think the sumptuous A Night at the Opera is their best film, most fans would prefer their earlier work at Paramount). A bigger studio like M-G-M meant an infinitely more complicated production organization, with more people involved in the smallest details of movie making - a structure that worked directly against the free-wheeling, improvisational style of Roach. Whereas the child performers at Roach's homey studio all admitted later that they couldn't tell the difference between playing behind and in front of the Roach cameras, no such idyllic notions occurred at the industrial factory M-G-M. Performers and personalities became "actors," and play and inspiration and improvisation became rigidly pasteurized out - the word-heavy scripts were rigidly adhered to, because anything less meant vast amounts of production overhead squandered. If little Spanky suddenly became spooked and cried in a Hal Roach short, it was left in as a found moment of inspired, naturalistic comedy. In the M-G-M shorts, little Robert Blake (a.k.a. Mickey Gubitosi) was told precisely when to cry (unconvincingly, I might add), and when to laugh, and when to gorp to the camera. What was left of the "Little Rascals" when they arrived at M-G-M, went from loose-limbed, free-wheeling practiced jokesters, to just one more carefully marshaled force in the M-G-M's mammoth moviemaking machine.
So...if these later M-G-M shorts are so obviously inferior, why then watch the 52 shorts included in the Warners Archive Collection set, The Our Gang Collection, particularly when so many of them receive such dismissive (and even vicious) treatment by fans and critics? Well, the best reason I can give is a simple one: just because they're not top-drawer Our Gang shorts, they still manage to entertain most of the time. They may not be laugh-out-loud funny like the Hal Roach-guided shorts (I rank dozens of those little masterpieces as some of the funniest films ever made - regardless of their length), and many may come across as cloying or downright annoying in their platitudes and moral messages (no doubt prescribed by studio head Louis B. Mayer, who saw his film slate as a chance to impart his dream vision of what America should be in terms of morality - the Andy Hardy are probably the best example of this). But taken on their own - and importantly, with the viewer putting the superior Roach shorts out of their mind - they still can mildly amuse from time to time, particularly when one of the talented performers gets off one of his trademark moves. The syndicated versions of The Little Rascals that were shown on afternoon TV jumbled up the shorts in no particular order; within a thirty minute episode, you might get a "Farina and Chubby," a classic "He-Man Women Haters Club" episode with Spanky and Alfalfa, and then a "Froggy and Mickey." As kids, we certainly didn't have any backstory on the series, but we knew the ones we liked, and we liked them for different reasons. My favorite "team" had always been the very brief grouping headed up by Jackie Cooper, with Farina, Chubby, Wheezer, Dorothy, Mary Ann, and of course, Pete the Pup (don't bring up Miss Crabtree - I'll faint dead away). But just because I found those the funniest, it didn't mean I turned off the show when the M-G-M lion roared at the opening of a Froggy or Mickey (and that lion did roar, even though I've read where the M-G-M logos were supposedly cut off for all syndicated showings...not on my TV, brother). I still watched these M-G-M shorts, and I still laughed, and they soon became, through repetition, as memorable as the classic Spankys and Alfalfas and Buckwheats and Farinas and Chubbys.
So watching these shorts today, it's important to remember that they were made with kids in mind - even if M-G-M seemed to be aiming for the adult audiences, too, with their constant sermonizing about the Our Gang members becoming honest, moral citizens. I'm lucky to have a handful of little kids around, and I invited them to watch this Warner Archive Collection with me. Now, while I sat there and laughed a few times inbetween the slow spots, recognizing instantly where M-G-M went "wrong" with the series (everything is too polished, too "rich" for lack of better word, too calcified, too homogenized), my kids adored them. And they've seen the older Hal Roach ones on a regular basis. While they may not have laughed as hard as they do for the frenetic Roach shorts, they did cotton to the more involved storylines of the M-G-Ms, and kids being kids, they simply enjoyed watching performers who looked like them, acting out these little comedies. We may view these later Our Gangs with an overly critical eye (rereading it after watching these shorts, I found Maltin's and Bann's book was at times vehemently overboard in its scorn for these admittedly minor but essentially innocuous shorts), but they liked them. And once I let go of the Roach baggage, I took the shorts for what they were. And some turned out to be quite fun. Men in Fright lets Carl "Alfalfa Switzer come to life in some great slapstick scenes where he's high on laughing gas (as well, the only time I've ever laughed at Leonard Landy - the jughead boy whose ears supposedly wiggled - was in this short, where he's shot in slow motion, enjoying the gas). Football Romeo may fit in more with L.B. Mayer's view of small-town America (the Our Gang seems suspiciously better-off financially, since Alfalfa lives in such a swell Andy Hardy-like house) rather than Roach's seemingly down-and-out Gang, but there are plenty of funny sight gags to keep the pace going. Alfalfa's Aunt has some more amusing slo-mo moments in this mild chiller, while Tiny Troubles reminded me instantly of Baby Finster from that Bugs Bunny cartoon. Clown Princes has one of my favorite moments with Alfalfa singing The Man on the Flying Trapeze (with an elaborate elevated camera shot that I'm not sure Roach could have improved on). Joy Scouts, despite Maltin's scorn, has some nice-sized gags at the end of this camping trip-gone-wrong, while Dog Daze has a beautiful final shot of the gang, laughing and happy as they tear down a hill in their new pedal car, which shows the gang at their most animated and loose. Auto Antics has a fun car race/chase (we always loved the ones where they made elaborate contraptions we wished we could have cobbled together), while Goin' Fishin' may be my favorite M-G-M short, where the gang is trying a board a double-decker bus to go fishing, but only succeeds in driving veteran comedic actor Paul Hurst totally insane as he tries to collect their fares. More than any other M-G-M short, Goin' Fishin' plays like a Roach short, where the simple central gag is extended to nerve-wracking perfection. The later shorts, featuring Froggy (whom I like - how can you not with that voice?) and Mickey (the less said the better) are very hit-and-miss, but they can bring a smile or two along the way, which pretty much sums up this collection. The Our Gang Collection isn't perfect; its shorts don't come close to rivaling the best of the earlier Roach Our Gang shorts, but as I wrote above, pleasures can be found here.
Here are the 52 M-G-M one-reelers included on the Warner Archive Collection, The Our Gang Collection. I've included run times, as well, for those Our Gang experts who may wish to discuss complete running times:
DISC ONE
The Little Ranger (1938)
10:42.
Party Fever (1938)
9:34.
Aladdin's Lantern (1938)
10:07.
Men in Fright (1938)
10:31.
Football Romeo (1938)
10:22.
Practical Jokers (1938)
8:36.
Alfalfa's Aunt (1939)
10:40.
Tiny Troubles (1939)
10:21.
Duel Personalities (1939)
9:53.
Clown Princes (1939)
10:33.
Cousin Wilbur (1939)
10:29.
DISC TWO
Joy Scouts (1939)
10:30.
Dog Daze (1939)
10:38.
Auto Antics (1939)
10:09.
Captain Spanky's Showboat (1939)
10:45.
Dad for a Day (1939)
10:50.
Time Out for Lessons (1939)
10:50.
Alfalfa's Double (1940)
10:44.
The Big Premiere (1940)
10:32.
All About Hash (1940)
10:51.
The New Pupil (1940)
10:51.
Bubbling Troubles (1940)
10:47.
DISC THREE
Good Bad Boys (1940)
10:56.
Waldo's Last Stand (1940)
10:42.
Goin' Fishin' (1940)
9:40.
Kiddie Kure (1940)
10:49.
Fightin' Fools (1941)
8:55.
Baby Blues (1941)
9:20.
Ye Olde Minstrels (1941)
10:51.
1-2-3 Go! (1941)
10:24.
Robot Wrecks (1941)
10:51.
Helping Hands (1941)
10:46.
Come Back, Miss Pipps (1941)
10:56.
DISC FOUR
Wedding Worries (1941)
10:53.
Melodies Old and New (1942)
10:56.
Going to Press (1942)
10:46.
Don't Lie! (1942)
10:48.
Surprised Parties (1942)
10:54.
Doin' Their Bit (1942)
10:57.
Rover's Big Chance (1942)
10:48.
Mighty Lak a Chance (1942)
9:41.
Unexpected Riches (1942)
10:54.
Benjamin Franklin, Jr. (1943)
10:56.
Family Troubles (1943)
10:56.
DISC FIVE
Calling All Kids (1943)
10:56.
Farm Hands (1943)
10:30.
Election Daze (1943)
10:08.
Little Miss Pinkerton (1943)
10:43.
Three Smart Guys (1943)
10:42.
Radio Bugs (1944)
10:53.
Dancing Romeo (1944)
10:53.
Tale of a Dog (1944)
10:50.
The DVDs
The Video
My previous experience with an older black and white Warner Archive Collection transfer was disappointing, but here, I was more than pleased with the results. Having watched these on television decades ago - and having them burned into my brain through repetition - I can categorically state these transfers look better than I've ever seen the Our Gang shorts. Screen anomalies such as scratches and dirt are present, but infrequent, and not at all distracting. For the most part, the tonal values are spot-on, with a pleasing gray scale, solid blacks, and excellent contrast. Image is sharp, and compression issues were negligible (some interlacing in the busier scenes). A good-looking set of transfers.
The Audio
The English mono audio tracks are adequate, but loudness levels fluctuate, which no doubt is down to the original materials selected for the transfers. Hiss is noticeable, but considering the age of these prints used, and the fact that there probably wasn't any clean-up done on the soundtracks, they're acceptable. No subtitles or close-captions are available.
The Extras
There are no extras for The Our Gang Collection.
Final Thoughts
They're no Hal Roach shorts, but they'll do now and then. The Warner Archive Collection's The Our Gang Collection may not knock the laughs out of the park, but enough passable "Little Rascals" shorts show up to keep you watching. And there's usually a couple of good reaction shots from Alfalfa or Buckwheat or Butch throughout the run. Any Our Gang (and/or Little Rascals) fan worth his or her salt will have to buy the Warner Archive Collection's The Our Gang Collection just to complete their home library collection. The transfers are quite good; these look better than I ever saw them on TV. One final note: on the back of the disc box, there's a disclaimer stating: "The Our Gang Collection is intended for the Adult Collector and is Not Suitable for Children." (their caps). I can't think of anything more ridiculous and insulting to put on the back of this box set than that pusillanimous warning. I recommend - particularly for children - the Warner Archive Collection's The Our Gang Collection.
---
Paul Mavis is an internationally published film and television historian, a member of the Online Film Critics Society, and the author of The Espionage Filmography.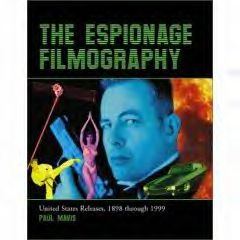 ---
C O N T E N T

---
V I D E O

---
A U D I O

---
E X T R A S

---
R E P L A Y

---
A D V I C E
Recommended
---
E - M A I L
this review to a friend
Sponsored Links
Sponsored Links