Tudors: The Complete Third Season, The
Showtime // Unrated // December 15, 2009
List Price: $42.99 [Buy now and save at Amazon]
---
Me thinks the humping has subsided somewhat, but the political and romantic intrigues are as thick as ever. Showtime and CBS DVD have released The Tudors: The Complete Third Season, a three-disc, eight-episode historically inaccurate romp through the age of England's most lusty, murderous king, Henry VIII. Pithy scripting by series creator Michael Hirst, top-notch production design and cinematography, and some excellent performances help, but one gets the feeling that the series has become somewhat rote in its jacked-up presentation of King Henry as a insatiable horn-dog, thirsting after wenches while frantically scrambling to find someone, anyone to give him a male heir to the throne. A purchase is going to depend on your familiarity with the previous seasons.
As I've written in several other television reviews of mine, it's difficult to miss a season of a series, and then try and give an overall projection of where the show is headed (or where it wound up) after jumping back into the fray. I reviewed the first season of The Tudors, and found it quite enjoyable, seeing the obvious conventions that creator Hirst successfully utilized from U.S. nighttime soaps like Dallas and Dynasty...with the added bonus of gore, nudity and simulated sex thrown in for the premium cable market (not at all unlike another The Tudors influence, The Sopranos). However, I wasn't assigned the second season to review, so I'm coming back to the series having missed quite a bit, including the whole Anne Boleyn segment, as well as the rise of Thomas Cromwell. As such, I can't be certain how the series transitioned to the feel that arises in this Third Season, but it does seem different than Season One.
Beginning on a strictly prurient note, the sex does seem to be toned down (I remember quite a bit more Reformational fumbling the first go-around). And while that's fine if the drama picks up the slack, I must say that part of the charge I got out of the first season of The Tudors was creator Hirst's efforts to make Henry VIII, whom we often picture in our minds from the physical caricatures we've seen in numerous biopics - barrel-shaped, lumbering, bearded - into some kind of Gen X rock star: whipcord thin, wiry, sinuous, and uncontrollable sensuous. This Henry VIII got more pleasure out of screwing than he did ruling, with his numerous royal assignations salaciously recorded for our base pleasures. The politics of sexual conquest still arch through this Third Season, but perhaps because the latter episodes focus on the here-frigid Anne of Cleves, we're presented with an increasingly sexually frustrated Henry, while lesser characters have to fill in as the agents of courtly corporal coupling. As a matter of fact, the answer to, "I wonder what the King is doing tonight?" comes up largely, "F*ck all," in most of the episodes here (a good example is Henry's first encounter with his slutty new mistress, Lady Ursula Misseldon, played to perfection by sexy Charlotte Salt. Just when it looks like our King is going to crown his latest submissive subject, the camera cuts away - now why on earth would it do that in The Tudors?).
I was also surprised at how Jonathan Rhys Meyers' King Henry had been reduced to not much more than a prop in a series of increasingly predictable scenes. King Henry is displeased with a minion or with another country or with a church edict. He slyly threatens someone, winks at a maid, moans to kind-hearted-but-tragically-flawed The 1st Duke of Suffolk Charles Brandon (Henry Cavill) or wicked assassin/whore master Sir Francis Bryan (Alan Van Sprang) about the state of his lovemaking, curses loudly, and finally storms out of the room. This happens repeatedly, to the point where I was starting to count how many minutes it would take Rhys Meyers to do his patented "Henry the VIII shtick" of leaning in and whispering a threat or a come-on into someone's ear (kind of like medieval David Caruso whipping off his sunglasses). I was impressed with Rhys Meyer's take on Henry during The Tudors First Season; it had passion and more than a fair share of humor to its madness, but by this point, it seems...terribly familiar. Even a bit of rambling and rolling on the floor when Henry, after losing Queen Jane, goes out of his head and will only speak to his Fool, Will Somers (David Bradley, in probably the series' best performance this entire season), feels weirdly forced and yet noncommittal at the same time. Surrounded by terrific performers in the seasons I've watched, Rhys Meyer commanded the center of attention that first time out, but by this point, his character seems almost like an afterthought for the frankly stronger subplots that fill up the episodes.
And chief among those subplots is the King's suppression of the Northern "Pilgrimage of Grace" rebellion in 1536. Led by Robert Aske (Gerard McSorley) and John Constable (Kevin Doyle), this initially peaceful rebellion against Henry's and specifically Lord Privy Seal Thomas Cromwell's (James Frain, excellent as the watchful, perpetually worried commoner-turned-statesman) harsh efforts to "reform" (eliminate) the Catholic Church's influence on the English people turns ugly when the well-meaning but naïve leaders believe the wily King's false promises about pardons and special Parliaments to hear the grievances of the loyal Catholic Northerners. Save for Constable, who fears just such subterfuge on the King's part, Aske and his followers, still lovers of the King, believe they've won, but soon discover Henry's true feelings when the King orders Charles Brandon to begin a heinous slaughter of innocent men, women and children in the region as an example to anyone in the future who threatens rebellion. Aske and Constable are tricked into coming to London, and they're tortured and executed (in a gruesome highlight for series, the filmmakers depict one of the 1500s' most popular forms of persuasion: a red-hot poker up the ass). Occurring during the first few episodes, the "Pilgrimage of Grace" subplot is quite powerful drama, particularly as enacted by the terrific McSorley and Doyle (McSorley is calm and authoritative; Doyle more spirited and ultimately, doomed), and it gives the series a chance to show what it might have been from the start if it had focused less on Henry's and everyone else's entertaining but ultimately limiting sexual obsessions, and more on history (although as everyone knows who's watched The Tudors, historical accuracy is routinely and outrageously ignored for dramatic purposes). Unfortunately, the rest of The Tudors' Third Season is less focused than this contained, dramatically satisfying segment (the situation with Henry's unhappy sexual relationship with Anne of Cleaves starts out strong, but then, if you'll forgive me, peters out), a situation not helped by the distinctly wandering attention paid to expanding and deepening that who should be the series' main focus: Henry.
Here are the 8 episodes of the three-disc set, The Tudors: The Complete Third Season:

DISC ONE

Episode 1

Days after Anne Boleyn's execution, Henry VIII weds a third time, to shy, demure noblewoman Jane Seymour - a union that he and his advisers pray will result in a male heir. Lady Ursula Missledon arrives at court to wait upon the new queen, and is soon mistress to Sir Francis Bryan. Lady Mary is threatened with death unless she submits to her father's authority and, under guidance from the Spanish ambassador, complies. A number of Catholics, once-loyal subjects, rebel in objection to Henry's crusade against Catholicism and the dissolution of the monasteries.

Episode 2

The rebellion now known as the Pilgrimage of Grace beings in earnest, with Henry dispatching Brandon to deal with the uprising. Bedridden due to the painful ulcerating of his jousting injury, Henry takes a new mistress, Lady Ursula Misseldon, in his frustration at the Queen's lack of pregnancy. Now reconciled with his daughter, Lady Mary, Queen Jane unveils the girl at court in a bid to see her restored to the succession.

Episode 3

Queen Jane and Lady Mary bring the toddler Lady Elizabeth to court, and Henry reconciles with at the Christmas Holiday. He also makes promises of pardons and redress of grievances to the leaders of the Pilgrimage of Grace, while making plans to bring them to heel for their insurrection, then using a further uprising as an excuse to have Charles Brandon put the leaders to death.
DISC TWO

Episode 4

The leaders of the Pilgrimage of Grace uprising are put to death, but Brandon is disturbed by the cruelly and mercilessness of the suppression; Henry celebrates the birth of a son but his joy is short-lived as Queen Jane dies within days.

Episode 5

Henry remains in seclusion while mourning the queen's death, an opportunity that enemies of the crown seize to murder several friends of the court; Cromwell is disturbed when Henry doesn't resist his new church's similarities to Catholicism.

Episode 6

Matchmaking begins in earnest as Cromwell schemes to secure the Reformation by marrying Henry to a Protestant wife - but the king's marital reputation precedes him; the condition of Henry's wounded leg turns life-threatening.
DISC THREE

Episode 7

War looms with France and Spain aligning against England with backing from Rome, so Henry agrees to a politically fortuitous marriage with Anne of Cleaves, a plain and unsophisticated German aristocrat he has never met.

Episode 8

Henry moves swiftly to annul his loveless marriage to Anne of Cleaves, and beds a new mistress, 17-year-old Katherine Howard; Princess Mary falls in love with Duke Philip of Bavaria; Cromwell's fall from favor is sudden and dramatic.
The DVD:

The Video:
Presented in an anamorphically enhanced, 1.78:1 widescreen transfer, The Tudors: The Complete Third Season looks terrific. Grain is not a factor, nor were compression issues present. The image is sharp, clean and beautifully modulated in the darker scenes, of which there are many (blacks hold their own, too). Visually, quite dishy.
The Audio:
There are a Dolby Digital English 5.1 Surround and 2.0 Surround audio tracks for The Tudors: The Complete Third Season. The 5.1 is especially impressive, with quite a bit of spatial separation to the back speakers, and absolutely clean audio - no hiss. There's a Spanish mono track available, too. Close-captions are available, as well.
The Extras:
There's a text The Tudors Timeline feature that gives names and dates to keep you up to speed on who's who, while the first two episodes of the Showtime series, United States of Tara are included, as well (no thanks). Additional bonus interviews with the cast are supposed to be available when the third disc is played on your computer, but all that came up was a title card and a "Coming Soon..." message for the P.C. extras - no matter what computer I tried it on (even a neighbor's just to be sure). Too bad.
Final Thoughts:
Too-familiar humpings at the Tudor house. I guess the novelty of seeing The Tudors' anachronistic take on Henry VIII has worn off a bit by this third season. Now, all I can see are the scenes that play the same, over and over again without variation, for Henry and his threats/seductions, and the better-but-scattershot subplots involving other characters - none of which have the benefit of being particularly historically accurate. It's entertaining in spurts, but overall, ones senses drift above all else. I'm recommending it for fans of the show, but everyone else should rent first.
---
Paul Mavis is an internationally published film and television historian, a member of the Online Film Critics Society, and the author of The Espionage Filmography.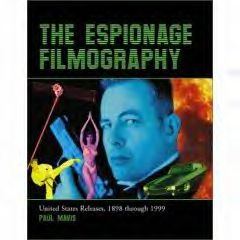 ---
C O N T E N T

---
V I D E O

---
A U D I O

---
E X T R A S

---
R E P L A Y

---
A D V I C E
Recommended
---
E - M A I L
this review to a friend
Sponsored Links
Sponsored Links