Warner Bros. Archive Collection: The Joe McDoakes Collection
List Price: $39.95 [Buy now and save at Wbshop]
---
Delightful. Warner Bros.' Archive Collection has released The Joe McDoakes Collection, a six-disc set which gathers together the entire series of 63 one-reel comedy shorts produced by writer/director Richard Bare, and starring co-writer George O'Hanlon (perhaps best known as the voice of animated spaceman, George Jetson). Never longer than ten minutes and some change, these Joe McDoakes shorts are sharp, focused and almost always consistently funny. And with this handy collection, it beats waiting around to catch the odd title here or there when they pop up on Turner Classic Movies.
As far as I know, I don't recall the Joe McDoakes shorts ever appearing on syndicated television when I was growing up; if they were packaged together, or if they were tacked on to other old-time comedy packages, they didn't play in my market. I first encountered them on TCM years ago, but I didn't know much about their backstory. Since The Joe McDoakes Collection comes from the Warner Archive Collection direct mail order site, there isn't anything in the way of a printed history on the disc box, or an extra pamphlet, or bonus features that discuss the series (the Archive Collection gives you the goods you want, but that's it - there's only a list of the short titles here). Looking up the series, it apparently started in 1942 as a student film exercise by instructor Richard Bare at the University of Southern California. The resulting silent film (with narration), So You Want to Give Up Smoking, was bought by Warner Bros. with a deal set in place for Bare to work at Warners producing similar titles featuring the McDoakes character. A second one-reeler, So You Think You Need Glasses, was produced in 1942, as well, before the series was halted due to cut-backs on short features during the war. It was resumed in 1945 with So You Think You're Allergic, and it continued for a healthy 60 more shorts until 1956, when Warners shut down their one-reeler division. Every one of the shorts was written and directed by Bare, while O'Hanlon was often given story credit (some sources state that O'Hanlon was actually an active but uncredited co-scripter, as well).
Being able to watch the progression of the Joe McDoakes series from beginning to end was a treat because, despite some entries here and there that missed the mark (So You Want to Be a Banker was the only short I actively disliked), overall, the series maintained a remarkable degree of comedic consistency over its fourteen years of production. If someone had never seen a Joe McDoakes short before, the opening title, So You Want to Give Up Smoking, might give the viewer pause since it's not particularly funny; it plays much more like a traditional educational short, complete with a rather straightforward presentation and lots and lots of statistical numbers to put the viewer to sleep. Had that short remained the template for the rest of the series...there wouldn't have been a rest of a series. The very next title, however, So You Think You Need Glasses, contains the first indications of where the series is going to end up, with some funny sight gags at an optometrist's office (a blind man with a dog is referred to as a "satisfied customer," while "The Blinker" had me laughing out loud). As the series progressed, and developed conventions of its own, the laughs became easier to plug in (a consistent laugh-getter is O'Hanlon's perfectly-timed glances to the camera - and audience - as if to say, "Can you believe this?"). The giant eight ball opening, with Joe doing a slow burn look as he pops up from behind it, becomes standard, while the smarmy, sly, soothing tones of narrator Art Gilmore walk Joe through his various domestic and work-related disasters (Gilmore's brilliant here, contributing greatly to the comedy in the first few shorts he's featured on - it's a shame when he's dropped relatively early on and the shorts go largely un-narrated). Joe's deliberately unattractive first Alice the Wife is replaced with pretty, funny Jane Harker, with the shorts eventually settling down to a largely domestic-focused comedy of errors (Harker would eventually be replaced by Bare's real life wife, sexy Phyllis Coates, of TV's The Adventures of Superman fame - she looks fab as a platinum blonde). Joe doesn't always have Alice; some shorts show him as a bachelor or they don't specify his marital status, but the majority of Joe McDoakes shorts revolve around married, suburban life - a choice that may have been made because of the seemingly endless comedic situations one can muster from the set-up, as well as the appeal to female audience members who must have gotten a kick out of seeing Joe consistently screw up in front of his disapproving wife.
And just like the Blondie programmers, that suburban domestic comedy atmosphere in Joe McDoakes feels just like the forerunners of the sitcoms that will soon flood American TV screens (Joe's little ten minute sketches would fit nicely in-between commercials for Hamm's Beer and Phillip's Milk of Magnesia). But the average Joe McDoakes isn't all homogenized sweetness and light. Quite often, a wild streak of fellow Warner Bros. alumni Looney Tunes humor shoots through the films, with big physical sight gags piled up one after another during the frenetic pacing. And TV's no-sex rule doesn't apply, either, as Joe McDoakes frequently provides some naughty-but-nice double entendres and knowing winks to then-popular sex jokes. In So You Want to Throw a Party, a game of "Post Office" is suggested...with everyone picking Alice to make a "delivery" (we have to guess what happens each time in the closet, but Alice keeps smoothing down her dress...). In So You Want to Wear the Pants, Bare gets off a couple of fun milkman jokes - one of the stock set-ups for sex jokes back when handsome milkmen made their rounds to houses filled with supposedly sex-starved wives (paternity is even fair game in Joe McDoakes - in So You Want to Know Your Relatives, a This is Your Life parody springs a small boy crying "Daddy!" out on stage with Joe, who immediately responds, "It's a lie!"). Quite a few sick jokes that would never make the TV censors' cuts find their way here, too. In So You Want to Be a Gladiator, Joe is spared a mauling when an attacking lion suddenly stops his charge and starts crying: he recognizes the cat gut strings on Joe's lire. In So You Want to Be a Paper Hanger, Joe becomes obsessed, in Poe-like fashion, with the human shape he's wallpapered to the wall...months ago (it's okay; it's only a salesman, not his neighbor Marvin). And in certainly one of my favorite throwaway gags I've seen in quite some time, in So You Want to Be a Bachelor, Joe's hasty wedding is set up, but not before his future mother-in-law demands that his future little sister-in-law spit out into her hand, a huge wad of caramels (watch the kid actress stifle an unbelieving smile as she really spits that huge thing out), which she eventually gets to chaw back again once everyone has passed around the unwanted glob. A classic moment of bad taste that would never show up on The Donna Reed Show (there's a great final joke in So You Want to Be Your Own Boss, where a sign in Joe's restaurant reads, "Our food not touched by human hands," with the camera panning down to show a gorilla washing the dishes - a gag Bare either stole from a Mad Magazine bit I fondly remember, or vice versa).
Clever parodies of film genres as well as other entertainment media such as radio and TV also make up quite a few of the best Joe McDoakes shorts. In So You Want to a Detective, film noir gets a pummeling in what looks like Tex Avery Meets The Lady in the Lake, complete with a roving POV camera-character (hilariously, the narrator, Gilmore), and a multitude of funny take-offs on the genre (my favorite is the immediate, furious pistol-whipping Joe receives from a gang of hoods...who eventually all pass out from the effort). In So You Want to Be On the Radio, Joe appears on Double Down or Drop Dead (classic), a show obviously fixed in favor of audience-favorites: returning veterans. In a parody of all those Dr. Kildare films, So You're Going to Have an Operation sees one of the doctors (the sublime Frank Nelson) ask, after an examination, if indeed Joe is a man, while one of the nurses takes a phone call during the operation...but only after she learns it's her boyfriend. Westerns get lassoed several times, with So You Want to Be a Cowboy getting big laughs when Hop-Skip-and-a-Jump McDoakes keeps skipping everywhere in-between manly throwing away countless gee-tars after singing a song. War movies (and Lassie) aren't safe, either, in one of the most perverse and hilarious Joe McDoakes: So You Love Your Dog. Faithful Dusty the collier accompanies Joe through two wars (and tries to get him killed by squealing to both the Germans and the Japanese), only to wind up in the gutter wherein Joe rescues his old pal. But civilian life doesn't agree with Dusty, who takes to getting drunk, hanging out in pool halls and bringing home bums to sleep it off at Joe's. He even helps a burglar rob Joe's house. The upending of one of the most beloved, traditional beliefs in Western civilization - man's best friend is dog - is viciously funny here. And perhaps most ironically, television - the medium that would eventually help kill off Joe McDoakes and the short subject industry - gets a funny drubbing in So You Want to Buy a Television Set, when Joe, after enduring the chaos of neighbors taking over his home to catch the latest beer commercial on TV, winds up at a showing of Warners' By the Light of the Silvery Moon. And apparently, movies were "better than ever," as the slogan went back then during those perilous times for the industry, as Joe effortless wins a new Ford and sits right down next to Doris Day and Gordon MacRae.
In addition to the witty, fast-paced scripts, one of the other bonuses with these Joe McDoakes shorts is seeing the terrific supporting comedy actors popping up with regularity. In addition to Harker and Choates, who were pretty and sexy as Joe's wife, Alice (I didn't care for short-termer Jane Frazee as Alice), regular Ted Stanhope is always a welcome sight when he screws up that pixie-ish face of his and launches into some spiel to see Joe a rotten used car or washing machine or camping equipment. The series suffered a tragic loss when toothy Clifton Young was killed in a tragic hotel fire he accidentally set; as Homer Hotbox, Joe's loudmouth, know-it-all/know-nothing friend, he's rapid-fire schmoozing with Joe, followed by a crazed, wide-mouth grin, really represented the series at its highest point. The second Great Gildersleeve, Willard Waterman, shows up about midway in the series for a few appearances, along with bald, smooth meanie, Fred Clark (even Arthur Q. Bryan, the voice of Elmer Fudd, appears now and then). Fritz Feld doesn't do his patented "Pop!" with a slap to his mouth, but he's still hilarious as a hyper-intense surgeon/doctor in several outings, while flat-out genius Frank Nelson ("Yeeeeeeeeeeeeeeeees?") consistently hits it out of the park with that look of pure, evil delight on his face while he waits for some poor boob to actually say something back to him. As for Rodney Bell as Joe's dopey next-door neighbor, Marvin, he's more childish than funny. But of course, the lion's share of the credit of the continued success of the series lies with George O'Hanlon. Combining an "everyman" look and demeanor, coupled with a soon-to-explode, frazzled irritation at the myriad number of forces in the world that look to continual screw him over, O'Hanlon maintains just enough of a hipster mumble going with his funny comebacks that we can then laugh at and with him. He's a subject of ridicule as Joe, but George still somehow manages to come off cool, with his eye for the various stacked broads that parade through the films (Hello, Joi Lansing!), his funny little quips, and his smart-assed looks into the camera. I don't know if moviegoers back then would have wanted to see a full-length movie featuring Joe McDoakes, but at a short, sweet ten minutes, he made a solid impression. And after 14 years and 63 one-reelers, O'Hanlon and Bare had to have tapped into something audiences enjoyed, over and over again.
Here are the 63 one-reel shorts in the The Joe McDoakes Collection:
DISC ONE
So You Want to Give Up Smoking

So You Think You Need Glasses

So You Think You're Allergic

So You Want to Play the Horses

So You Want to Keep Your Hair

So You Think You're a Nervous Wreck

So You're Going to Be a Father

So You Want to Be in Pictures

So You're Going on Vacation

So You Want to Be a Salesman

So You Want to Hold Your Wife
DISC TWO
So You Want an Apartment

So You Want to Be a Gambler

So You Want to Build a House

So You Want to Be a Detective

So You Want to Be in Politics

So You Want to Be On the Radio

So You Want to Be a Babysitter

So You Want to Be Popular

So You Want to Be a Muscle Man

So You're Having In-Law Trouble

So You Want to Get Rich Quick
DISC THREE
So You Want to Be an Actor

So You Want to Throw a Party

So You Think You're Not Guilty

So You Want to Hold Your Husband

So You Want to Move

So You Want a Raise

So You're Going to Have an Operation

So You Want to Be a Handyman

So You Want to Be a Cowboy

So You Want to Be a Paper Hanger

So You Want to Buy a Used Car
DISC FOUR
So You Want to Be a Bachelor

So You Want to Be a Plumber

So You Want to Get it Wholesale

So You Want to Enjoy Life

So You Want to Go to a Convention

So You Never Tell a Lie

So You're Going to the Dentist

So You Want to Wear the Pants

So You Want to Be a Musician

So You Want to Learn to Dance
DISC FIVE
So You Want to Buy a Television Set

So You Love Your Dog

So You Think You Can't Sleep

So You Want to Be an Heir

So You're Having Neighbor Trouble

So You Want to Be Your Own Boss

So You Want to Go to a Nightclub

So You Want to Be a Banker

So You're Taking in a Roomer

So You Want to Know Your Relatives

So You Don't Trust Your Wife
DISC SIX
So You Want to Be a Gladiator

So You Want to Be On a Jury

So You Want a Model Railroad

So You Want to Be a VP

So You Want to Be a Policeman

So You Think the Grass is Greener

So You Want to Be Pretty

So You Want to Play the Piano

So Your Wife Wants to Work
The DVDs

The Video

The full-screen, 1.33:1 black and white transfers for The Joe McDoakes Collection look as good as when they show up on TCM. Grain is obviously a factor, along with the requisite scratches and other screen anomalies, but overall, the presentation was more than acceptable. Only So You Never Tell a Lie looked subpar, with dark splotches running throughout the print. There's also an obvious jump cut of a second or two in So You Want to Buy a Television Set, where Marvin crosses the floor and misses a few feet. Gray scale is adequate, although the blacks were truly solid. Image is relatively sharp, and compression issues weren't too terribly noticeable.

The Audio

The Dolby Digital English mono audio track is adequate for the job. Hiss is present, but you'd expect that with these transfers, considering the Archive Collection doesn't invest a lot of money in cleaning up these mail-order releases. No subtitles or close-captions are available.

The Extras

There are zero extras for the bare-bones The Joe McDoakes Collection.

Final Thoughts

They hold up surprisingly well today. Warners' Archive Collection has done the right thing and collected all 63 one-reel shorts from the Richard Bare and George O'Hanlon Joe McDoakes series and released them in one handy set. It's bare bones, to be sure, but having all the McDoakes together is okey-doke with me. If it's truly funny, it's funny forever. I highly recommend The Joe McDoakes Collection, available from the on-line Warner Archive Collection website.
---
Paul Mavis is an internationally published film and television historian, a member of the Online Film Critics Society, and the author of The Espionage Filmography.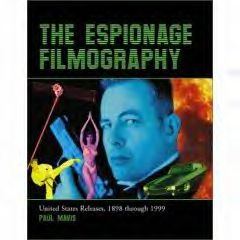 ---
C O N T E N T

---
V I D E O

---
A U D I O

---
E X T R A S

---
R E P L A Y

---
A D V I C E
Highly Recommended
---
E - M A I L
this review to a friend
Sponsored Links
Sponsored Links