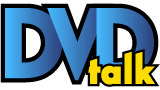 List Price: $19.97 [Buy now and save at Amazon]
---
The Tagline:
IN GOD'S NAME THEY PREY


The Movie:



Legendary horror filmmaker George Romero is cited on the back DVD cover art of Staunton Hill as claiming "this is as scary as it gets." The whiff you smell from that quote is the stale odor of nepotism. For you see, Staunton Hill is directed by Cameron Romero, George's son. George Romero should know better - the man who all but started the zombie genre with Night of the Living Dead has certainly made far scarier movies than this.


Staunton Hill has had its vocal critics this month since its release on home video by Anchor Bay Entertainment. A fellow DVD Talk reviewer, David Walker, for example, spared no choice words in his panning of the film here. Based upon what I read, I had braced myself for the worst when I gave this disc a spin. While I can't say it's a particularly good film, Staunton Hill is not as bad as some reviews had led me to expect. Perhaps expectations were unfairly high for this clearly low budget horror film thanks to the pedigree of the Romero name.


What struck me most about this movie is how derivative it is. Staunton Hill follows the backwoods slasher film formula to a tee. David Rountree's script envisions a good-looking sextet of teenagers / early-20-somethings headed to a political rally in 1969 (hey, at least the time period means there aren't any clichéd reasons why cell phones aren't working). The guy they hitchhike with has an unreliable truck which breaks down in the middle of nowhere in rural Virginia. Walking on foot, they seek shelter at a farmhouse occupied by a creepy "hillbilly" family that has sinister ulterior designs for them.


Yes, it's Texas Chainsaw Massacre and Wrong Turn all over again. To further this familiarity, stunt casting has Kathy Lamkin playing the family's matriarch - a too-similar role from the remake of Texas Chainsaw Massacre and its prequel sequel.


Moving past this point, though, Staunton Hill at least is competently made. I've certainly sat through more than my fair share of direct-to-video junk to appreciate this point. Romero does a nice job setting up the forbidding atmosphere of the isolated farmhouse and utilizes establishing shots of autumn-colored forests to add to the foreboding effectively. The cast of young actors have neither the wardrobe nor the hairstyles of the '60s, but at least they're competent in their performances. The script is weak, borrowing heavily from touchstone horror films of the past (and including an ill-advised reference to George Romero's Night of the Living Dead to boot). But, the second half offers up the gore that many contemporary horror film fans want - some of it convincing, some of it not.


Ultimately, I can't really recommend Staunton Hill, especially considering Anchor Bay's release is decidedly "bare bones." However, I do think it's worth a casual look for horror film fans curious about Cameron Romero. Rent it.


The DVD


Video:



Anchor Bay Entertainment gives Staunton Hill an anamorphic widescreen presentation with a 1.78:1 aspect ratio. The overall video quality is good. I thought colors could be stronger though, especially in outdoors scenes.


Sound:



The lone audio track is an English language Dolby Digital 5.1 affair. Dialogue was always clear, though the mix isn't particularly dynamic. Optional English subtitles for the deaf and hearing impaired are available.



Extras:



A trailer for Edges of Darkness precedes the main menu, and that's it for extras. It would have been nice to have had a commentary track from Cameron Romero, but oh well.



Final Thoughts:




Staunton Hill is a highly derivative backwoods horror movie from Cameron Romero, legendary horror filmmaker George Romero's son. It's competently made given its low budget and uninspired script, but horror fans would best treat this as a potential rental solely for the Romero curiosity factor.



---------
Sponsored Links
Sponsored Links