Fraggle Rock: The Complete Animated Series
Other // Unrated // January 19, 2010
List Price: $19.98 [Buy now and save at Amazon]
---
The creative force of Jim Henson spanned several decades before his untimely death in 1990, yet his dedicated colleagues (and their most memorable characters) have carried on the Henson legacy. Countless adults from America and abroad can undoubtedly admit to Henson's creations and characters being a large part of their formative years. From long-running productions like The Muppet Show and Sesame Street to one-off holiday specials like Emmett Otter's Jug-Band Christmas and The Christmas Toy, as well as full-length films like The Dark Crystal, Henson's Muppets were a perfect vehicle for his moral brand of character-driven humor. While the colorful characters managed to attract younger audiences, these creations could be watched guilt-free by the older crowd as well; after all, they were created, operated and voiced by adults, and viewers could always expect a careful balance of humor, fantasy and music. In some cases, his characters even taught us a thing or two while we were laughing.
Sesame Street may offer the best pure example of accessible, educational children's programming, but shows like Henson's Fraggle Rock (1983-87) weren't far behind. Originally airing on HBO---which kept it out of the homes of many young viewers, myself included---this colorful, collaborative creation managed to squeeze in lessons about friendship, acceptance and love while showing kids a great time. Though I did manage to catch Fraggle Rock occasionally at a friend's house (and during syndication, of course), it's unfortunate that I couldn't tune in regularly. That's all changed now that the complete series has been released on DVD, both as separate volumes and a massive boxed set---and even through adult eyes, it's painfully easy to see that the adventures of Wembley, Red, Gobo, Mokey, Boober and company were something truly special. The original series ran for four seasons and 96 episodes, leaving a lasting impact and influence on audiences of all ages---but after the series ended, it didn't take long for the Fraggles to reappear on TV screens nationwide. Less than six months, for those keeping score at home.
Fraggle Rock: The Animated Series (1987), originally airing as part of NBC's Saturday morning lineup, was a short-lived extension of the colorful Fraggle world that many kids grew up with---and in many ways, it was an equally strong effort. Of course, the new format warranted change: visuals had to be simplified and new stories had to be written, but at least the faces remained the same. At least one song was carried over, but this animated series was anything but a plain-wrap adaptation; for the most part, the original was used for foundation purposes only. Also returning was the series' moral, community-driven roots: this was still a show that taught good lessons without being too heavy-handed. The artwork was different and many of the voices had changed, but the transition was fairly seamless---and even though the party only lasted 13 episodes, it's great to finally have the entire batch on DVD, as most Fraggle fans' collections wouldn't be complete without it. Before we go any further, let's take a look at what's included here:
Complete Episode Listing
(13 Episodes on 2 single-sided discs, in original broadcast order)

Disc One

"No Fraggle is an Island" (Parts I and II)
"Big Trouble for a Little Fraggle / Necessity is the Fraggle of Invention"
"The Great Radish Round-Up / Lucky Fargy"
"A Fraggle for All Seasons / A Growing Relationship"
"The Best of the Best / Where No Fraggle Has Gone Before"
"Gobo's Song / Wembley and the Bemble"
"Ambassador Gorg / Homebody Matt"

Disc Two*

"The Great Fraggle Freeze" (Parts I and II)
"Laundry Never Lies / What Boober's Nose Knows"
"Mokey's Flood of Creativity / What the Doozers Did"
"Red's Drippy Dilemma / Fraggle Babble"
"The Radish Fairy / The Funniest Joke in the Universe"
"Fraggle Fool's Day / Wembley's Trip to Outer Space"

* - Includes additional Bonus Features (see below)




Like its slightly older brother, Fraggle Rock: The Animated Series hides larger social issues inside simple, kid-friendly stories. Unlike the original, though, many of these episodes (11 of 13, to be exact) include two short Fraggle-centric stories, rather than one long one. Doc and Sprocket are here as well, but they take slightly more of a backseat---and similar to the like-minded Muppet Babies, Doc's face is never revealed. It's also worth noting that the original run of these episodes included bookend scenes with Traveling Matt (Gobo's adventurous uncle) in live-action puppet form---but for one reason or another, these 21-minute episodes don't included the bookends. It's not a deal-breaker, but some die-hard fans may be disappointed.
As expected, these 13 episodes do a good job of maintaining the spirit of the original series without feeling overly familiar. The first episode (only one of two full-length stories), "No Fraggle is an Island", offers a swift departure when the Fraggles decide to move from the Rock to a new, larger area---but a Giant Slurp takes over their former home, so they decide to take it back. The next episode opens with "Big Trouble for a Little Fraggle", which continues the departure theme: after Wembley's dream of being bigger comes drastically true, he moves into the land of the Gorgs for some elbow room. Other highlights include "Lucky Fargy" (Boober finds a string of good luck, until Wembley unwittingly stops it), "Where No Fraggle Has Gone Before" (Gobo and Wembley set off for the edge of the universe!), "The Great Fraggle Freeze" (Doc's heat goes kaput, which means that Fraggle Rock gets an unexpected dose of winter weather), "The Funniest Joke in the Universe" (as told by Boober) and "Fraggle Fool's Day" (a prank by Red leads to serious consequences for a few friends). Honestly, though, there's not a clunker in the bunch.
These 21-minute episodes are given plenty of room to breathe on this two-disc set, which also includes a few helpful bonus features and a fairly satisfying technical presentation. Overall, fans of the original Fraggle Rock should have no trouble jumping right in---and for those already familiar with these animated adventures, the re-acquaintance should be just as enjoyable.
Video & Audio Quality
Presented in their original 1.33:1 format, it's no surprise that these episodes looks a little worn around the edges. These appear to be taken from a videotaped source, so don't expect pristine image detail and you won't be disappointed. Mild amounts of interlacing can also be spotted from start to finish, especially since there's an awful lot of fast movement during many sequences. As such, the visual rating may look a little low on paper, but this isn't a bad effort by any means. After all, how many short-lived animated series from the 1980s have been lucky enough to reach DVD at all?
The audio presentation is slightly more satisfying, as these 13 episodes are presented in their original Dolby Digital 2.0 Stereo mixes. Dialogue and musical numbers come through clean and clear, largely free of hiss, distortion and other such problems. Though no optional subtitles have been offered during the episodes, Closed Captions are supported; if nothing else, they may help fans decipher some of the more obscure character names and song lyrics.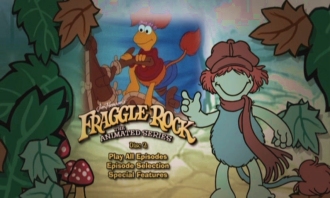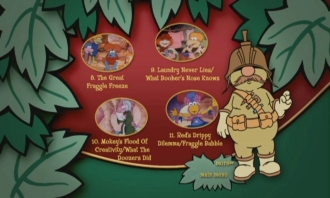 Menu Design, Presentation & Packaging

Seen above, the colorful menu designs offer simple, problem-free navigation. Each 21-minute episode is presented with roughly five chapter stops, while no obvious layer changes were detected during playback. This two-disc set is housed in an eco-friendly hinged keepcase, A matching slipcover is included---and though we don't get any booklets or inserts, episode titles are printed on each disc.

Bonus Features

Not much to dig through here (especially in comparison to the live-action season sets), but at least there's been some effort. First up is a relatively short Behind-the-Scenes Featurette (8:07) with co-producer and technical designer Michael Frith, who goes into modest detail about translating the successful show into a new format. Topics include the franchise's vast catalogue of characters, puppetry vs. animation, and more---and we're also treated to a few early conceptual sketches and drawings. Unfortunately, this featurette doesn't dig very deep, especially in regards to the show's quick cancellation, but fans should enjoy this little look back.

Also here is a collection of Character Galleries, which includes detailed notes about all five main Fraggles, Traveling Matt and the three Gorgs. These short bios are taken from the "Writer's Bible", which was created by the original Fraggle team and given to the writers of the animated series. It's a nice touch and certainly worth browsing through. Winding things down is a collection of Opening Scene Storyboards, which are quite detailed and remarkable faithful to the finished product.

All bonus features are presented in 1.33:1 and anamorphic widescreen format, though the featurette does not include Closed Captions. It's is an unfortunate oversight---but all things considered, this is a relatively satisfying little collection of extras.

Though not quite as memorable (or popular) as its earlier namesake, Fraggle Rock: The Animated Series is a faithful resurrection of Henson's colorful, charming original. The simple, clean artwork and solid voice acting makes the transition even more smooth---so if you're even a casual fan of Fraggle Rock, this is practically a no-brainer. Lionsgate's two-disc package is a pleasant surprise, offering a decent technical presentations, a few short but well-meaning bonus features and a rock-bottom retail price. Long story short: if you've already bought and enjoyed Fraggle Rock: The Complete Series (or any of the four separate volumes, of course), this satisfying little set will keep the party going for a few more hours. Firmly Recommended for the young and young-at-heart.
---
Randy Miller III is an affable office monkey based in Harrisburg, PA. He also does freelance graphic design projects and works in a local gallery. When he's not doing that, he enjoys slacking off, mocking passers-by and writing things in third person.
---

---
C O N T E N T

---
V I D E O

---
A U D I O

---
E X T R A S

---
R E P L A Y

---
A D V I C E
Recommended
---
E - M A I L
this review to a friend
Sponsored Links
Sponsored Links