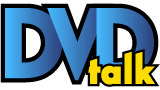 Cloudy with a Chance of Meatballs
List Price: $39.95 [Buy now and save at Amazon]
---
The Movie:
Based on the popular kids book by Judi and Ron Barnett, Cloudy With A Chance Of Meatballs was one of the better 'kids' films to come out in 2009, a year that was particularly strong in that area what with competition from the likes of Where The Wild Things Are, 9, and Up. While it certainly deviates from the aforementioned source material and in quite remarkable ways (while staying true to its spirit) at that, it's a wildly entertaining film that makes excellent use of a great cast of voice actors and which showcases some very impressive animation.
The, set on a small island off the coast of the Atlantic Ocean, film follows a man named Flint Lockwood (Bill Hader) who, since his childhood and much to the dismay of his fisherman father (James Caan), has longed to be an inventor. Some of his past experiments - spray on shoes, rat-birds and monkey thought translators - haven't worked so well but his latest creation works far better than it probably ever should have. While testing this new device, a machine that turns water into any kind of food you can imagine, he inadvertently wrecks Sardine Land, the new focal point of the town and the pride and joy of its mayor (Bruce Campbell). He also inadvertently gets the attention of weather channel intern cum reporter Sam Sparks (Anna Farris). His invention gets away from him, blasting off into the sky where it changes things - it starts raining food.
With the local sardine industry in the tank and a whole lot of attention being levied on the town and its new phenomena, much to the chagrin of former home town hero, Baby Brent (Andy Samberg), who was once baby model seen on the sardine cans that the local factory pumped out. The Flint Lockwood that was once looked upon as a local loser and had only a monkey named Steve (Neil Patrick Harris) to call a friend is now something of a local celebrity. He's wooed by the mayor to push that wacky machine up in the sky to the limit and he takes requests from locals like Officer Earl (Mr. T), the local police officer who wants it to rain ice cream on his son's birthday. All the while, the machine is getting more and more unpredictable until it gets to the point where the food that was bringing the town fame and making the town fun is proving to be its downfall...
Despite the fact that the film provides a somewhat logical take on the events that transpire and ignores the sense of mystery that permeates the book and despite the fact that animation style employed in the big screen adaptation looks nothing like the wonderful hatching-heavy illustrations that Ron Barnett provided, Cloudy With A Chance Of Meatballs works really well. Barnett's style is tossed out in favor of an ultra-colorful 'eye popping 3-D' style which, while nothing like the book that inspired it, fits the story that co-writers/co-directors Phil Lord and Chris Miller have concocted out of the seeds sewn by the book. While on one hand it'd have been nice to see the movie present a more literal adaptation of the source material, complete with 'bookends' where the grandfather tells his grandchildren the story and without the scientific aspect so that the story could have retained its sense of wonder (much in the way that the aforementioned Where The Wild Things Are did), what ultimately matters here is just how well done the whole package is.
Featuring a talented cast of actors behind the animated faces that make up the film, Cloudy With A Chance Of Meatballs may at times seem like it's going for a novelty casting approach particularly with the presence of Mr. T as the town cop, but it's never done so heavy handedly that the celebrity behind the voice overshadows their respective character. Hader and Faris in particular do very well here, providing the two leads with plenty of believable emotion and quirk leaving most of the comic relief to the rest of the cast (with Neil Patrick Harris' Steve the monkey providing more laughs than anyone else in the movie despite only having a few actual lines).
While it may be a very lose adaptation of the book, the end result is a wonderfully entertaining and imaginative film. It's quirky, it's incredibly colorful, it's beautifully animated and it's well acted. Older viewers should be able to enjoy it just as much as younger ones, while the film's message of being true to yourself and believing in yourself is honest enough to matter but presented in such a way that you never feel beaten over the head by it. Throw in a great score by none other than Mark Mothersbaugh of Devo fame and incredible use of sound design, and it couple it with the rest of the film's good qualities and you've got a film that's basically impossible not to enjoy.
The DVD

Video:


Cloudy With A Chance Of Meatballs debuts on Blu-ray in a nice 2.35.1 1080p AVC encoded widescreen presentation. Detail is excellent from start to finish and, as HD animation fans know, the format really brings out the best in movies like this. Colors are gorgeous, popping off the screen at times and really standing out while black levels are nice and rich and inky black without ever breaking up and showing any compression artifacts. The image is clean and strong and just beautifully rendered from start to finish and there's really not much to complain about here. The image has plenty of texture, you'll see it in the scenes where there's a lot of food on screen and also in the characters' clothing and hair. If maybe the animation style employed here isn't as detailed as other recent films, there's still a lot of subtle nuances to pick up on in terms of character and background design which this HD transfer really brings out in style. There's a little bit of banding here and there if you really want to look for it, but aside from that, this is pretty darn close to flawless as far as the visuals go. Unfortunately, and this is a surprisingly big omission, while the film played in 3-D in select theaters during its run, there's no 3-D option provided on the this release.
Sound:
Just as impressive is the English language DTS-HD 5.1 Master Audio track (with a DTS-HD 5.1 offering available in French and a standard definition Dolby Digital 5.1 track available in Spanish). Plenty of surround activity keeps this track interesting and involving and the perfectly balanced levels and truly succinct clarity ensure that yours ears will hear it all. Dialogue is crisp and clean and plenty easy to follow throughout the film while the sound effects are well placed and nicely worked into the mix so as not to overpower the voice actors but still provide plenty of punctuation when called for. Bass response is strong, tight and appropriately bouncy while the high end is clear and free of any shrillness or distortion. Rear channel activity is almost constant, you'll really notice this when the food tornado rips through the town, and this well mixed and really well presented track really goes a long way towards making the home viewing experience as immersive an involved as the theatrical viewing experience would have been. Optional subtitles are provided in English, English SDH, French and Spanish.
The Extras:
Sony/Columbia have stepped up to the plate with the extra on this release starting with a commentary track from Bill Hader who is joined by co-directors/co-writers Christopher Miller and Phil Lord. This is a fun track, done with a good sense of humor that provides quite a bit of good information about how they went about adapting the classic kids' book for the big screen and about the interesting animation style used to bring the story to life. It's a fun and interesting track that covers all the general bases that you'd expect it to and it's a solid addition to the release that offers up a good alternate way to enjoy the film. Another alternate way to enjoy the film is by using the 'Interactive Splat Button' while the film plays out. This allows you to basically throw food at the screen through your Blu-ray remote. This probably won't get much use with older viewers but kids will definitely get a kick out of it. An interactive Flint's Food Fight Game built in to the Blu-ray disc provides more food throwing highjinks to those who want it.
From there, check out the featurettes that have been included here starting with A Recipe For Success: The Making Of Cloudy With A Chance Of Meatballs, a fairly generic eleven minute segment that explains how the film started off as a kids story before being reborn in animated form. Key Ingredients: The Voices Of Cloudy With A Chance Of Meatballs is a thirteen minute featurette which gives us a look at the cast of voice actors recruited to give life to their animated counterparts in the film. We get a chance to see them in action and some interviews with them give us some insight into their work. Progression Reels, with an introduction from FX supervisor Rob Bredow, shows us what goes into making an animated feature by showing us the various stages of a few key scenes in the film - it's interesting to see them go from concept to finished form. The six minute Early Development Scenes section includes hand drawn versions of scenes that were animated by computers in the film, while the Extended Scenes section includes two excised gags - an unfinished elevator joke bit and the a spot with Flint and the Mayor in the lab. Rounding out the extras on the Blu-ray disc are HD trailers for a wealth of other kids and family films available from Sony/Columbia, a video for the song Raining Sunshine by Miranda Cosgrove (available with or without an interactive sing-a-long option and with its own brief behind the scenes featurette), some nice animated menus, and chapter selection. All of the extras on the Blu-ray disc are presented in high definition, which is a nice touch.
Also included with the Blu-ray release is a standard definition DVD version of the film which also includes a digital copy (though it's for PSP only, so iPod and Zune users are out of luck in that regard). The DVD includes fullframe and widescreen versions of the film, the Blu-ray version is widescreen only.
Overall:
One of the most enjoyable family films to come along in some time, Cloudy With A Chance Of Meatballs is one of those movies that kids and adults alike can enjoy and Sony has delivered it in fantastic quality and with a nice array of extra features. Highly recommended.
Ian lives in NYC with his wife where he writes for DVD Talk, runs Rock! Shock! Pop!. He likes NYC a lot, even if it is expensive and loud.
---
C O N T E N T

---
V I D E O

---
A U D I O

---
E X T R A S

---
R E P L A Y

---
A D V I C E
Highly Recommended
---
E - M A I L
this review to a friend
Sponsored Links
Sponsored Links