Evelyn Waugh Collection (Scoop and A Handful of Dust), The
List Price: $39.99 [Buy now and save at Amazon]
---
Acorn Media has released The Evelyn Waugh Collection, a slight but entertaining little box set of two adaptations of the noted English author's works: 1987 television version of Scoop, and 1988's theatrical release of A Handful of Dust. I must admit, prior to receiving this set in the mail, I anticipated a few more titles included here (only two films from so many of the available Waugh adaptations somehow doesn't seem to constitute a "collection"). However, both are well-done and offer pleasures of their own (even if you quibble about how faithful they are to the source material), and the set may spur you on to the local library in search of the original, better novels. Let's look briefly at each film.
SCOOP
On the mean streets of 1930s London, sensational headlines sell newspapers. And a promised revolution and war in the tiny, uncharted African nation of Ishmaelia could provide the fickle British public with just the kind of phony distraction their betters think they need. Certainly Lord Copper (Donald Pleasence) of the Daily Beast thinks so, but he's fired his most famous foreign war correspondent, Lord Hitchcock (John Harding), for printing the incorrect date of The Battle of Hastings. Luckily, imperious, oblivious socialite Julia Stitch (Nicola Pagett) bends Lord Copper's ear about sending eager, social-climbing writer John Boot (Nicholas Le Prevost) as the Beast's reporter, an idea to which Copper - who's never read a word of Boot's work - immediately agrees. Directing his obsequious foreign editor Mr. Salter (Denholm Elliott) to hire Boot no matter what, Salter (who's never heard of Boot, either) mistakenly summons staff writer William Boot (Michael Maloney), who writes an obscure monthly feature, "Lush Places," from his calcified, impoverished manor house in the country. With both sides totally unaware of the case of mistaken identity, Salter first offers Boot a fantastic sum to go to Ishmaelia (an offer the home-body Boot kindly turns down), and then threatens his column - a move that guarantees the weak-willed Boot accepts the invitation to be a war correspondent.
Armed with loads of suitcases and unnecessary items, such as a collapsible canoe, the woefully inexperienced Boot embarks for Ishmaelia, sharing his charted plane with the mysterious Mr. Baldwin (Herbert Lom), a vaguely sinister character who immediately clams up when he learns Boot is going to Ishmaelia. Once in the impoverished desert capital of Jacksonburg, the naïve, slightly dazed Boot discovers not only is there no war or revolution in Ishmaelia, but that the other anxious foreign correspondents there seem to outnumber the natives. He befriends the dense Corker (Jack Shepherd) of the Universal News Agency, who's desperate to discover what secrets the famed Hitchcock has discovered (he's there in Jacksonburg, but not visible - a sure sign to the jealous, herd-mentality journalists that Hitchcock is cultivating some earth-shaking scoop). But William learns early on from old schoolmate and now Ishmaelia's British Consul, Moke (Michael Parkhouse), that there really is no uprising: only a spat between President Jackson and his cabinet minister Smiles. Stuck in the god-forsaken Jacksonburg with all the other correspondents scrambling to find something, anything to send back to their agencies and newspapers, Boot strikes up a romance of sorts with the beautiful Katchen (Renee Soutendijk), who somehow lost her geologist husband, and who looks to Boot to provide her not so much with love, but cash to escape Ishmaelia.
SPOILERS WARNING!
A surprisingly lush, expensive-looking adaptation for television (the period décor and sets are terrific), this 1987 version of Scoop works best when focusing on the scenes in England, including Boot's impoverished family estate, the newspaper offices of Lord Copper and the Daily Beast, and the haughty machinations of Julia Stitch. Maintaining that delicate line that Waugh walked between viciously satirizing, and showing genuine if puzzled affection for, the societal conventions of his homeland, those particular scenes have a focus of intent that's specific and quite hilarious. While Pleasence gets the madness and menace of Lord Copper correct, he was never a particularly "amusing" actor, but the marvelous Denholm Elliott is simply superb as the equivocating Salter. Genuinely confused over the faux-appeal generated by his boss for Boot, he's equally flummoxed as to how, exactly, he can keep his job while trying to satisfy his boss's unreasonable demands. The film's funniest moments have to be Elliott's scenes, where he tries to "act country" with bewildered Boot at a pub, his scenes at his office, where he vainly tries to figure out exactly what's expected of him so he can keep his job, and at the end of the film when he treks across the countryside to convince Boot to come back for a celebratory dinner, given in his honor, as per Lord Copper's implacable directive (Elliott can get more out of a bemused/horrified grimace and a stumbled mumble than just about any actor I know). Those scenes, the Boot's Baldwin Manor sequences (I love Boot's insane family, especially Michael Hordern as loopy Uncle Theodore, singing about "change and decay" in the dusty hallways), and Julia Stitch's few short moments (her child gleefully kicking the other Boot is matched by her disregard for life and law when she drives her car on the sidewalk when a pesky traffic jam proves irritating), have a sharpness and purpose matched by their beautifully calm (but hysterically funny) tempo.
Out in the desert, though, Scoop becomes a bit more hazy (perhaps from necessary cutting of material to fit the run time?) and ironically, a bit more obvious. Certainly the farce elements of the journalists tearing off into the desert to find the city of Laku are amusing (only Boot and Hitchcock among the journalists seems to know "Laku" means "I don't know" in Ishmaelian; there is no city called Laku), but the director, Gavin Millar, drives them home with a heavy-handedness that screams, "Isn't this all just too ridiculous, these silly Western foreigners?" when we already know it is. The haziness comes from the slackness of the pacing in this large middle section, and the relative failure to find more subtle humor in supporting characters such as Katchen and the overblown Olafson (Sverre Anker Ousdal). Katchen in particular seems to disappear every time we try and get a bead on her (I suspect it's more the uncertain performance by . As for downplaying the satirical jibes against the African characters - which seem limited here to the shadowy, menacing Dr. Benito (Burt Caesar, who's barely in the film) - I can only guess that comes from the filmmakers' worries of the same undeserved cries of racism Waugh experienced when the book was published. Still, Scoop does work as an approximation of Waugh's waspish love/hate relationship with the idiosyncrasies of English nationality, and his general scorn for the hypocrites and outright liars that populate the journalism and government games (you only need look back at the last presidential election to see how topical Scoop remains).
---
A HANDFUL OF DUST
Amid the Victorian Gothic splendor/grotesqueness of Hetton Abbey, Lord Tony Last (James Wilby) worries about the bits of damp rot he spies as he unperturbedly moves through his reassuring, stilted daily routine: walking in the woods with his son, John Andrew (Jackson Kyle); going to church on Sundays, writing letters, and disapproving of his wife Brenda's (Kristin Scott Thomas) gossiping friends who come to stay for weekends in the country. But Brenda's boredom at this hermitic existence eventually manifests itself in an affair with the callow, parasitic John Beaver (Rupert Graves), the penniless, weaselly son of horrid social climber shop keeper, Mrs. Beaver (Judi Dench). Soon, Brenda has finagled a small apartment in London for her assignations (through the machinations of John's approving mother), while completely oblivious Tony frets and worries at Hetton...until Brenda reassures him that nothing is wrong. A freak riding accident that kills their young son, John Andrew, sets into motion a series of setbacks for the couple, with a deadly end results.
SPOILERS WARNING!
When I saw A Handful of Dust at the theaters in 1988, I hadn't read the original Waugh novel, so this version's tone and viewpoint stuck with me. Having since read the book, I can see where quite a few plot elements were left out (which is to be expected), while more importantly, a more romantic, tragic tone was adopted in place of Waugh's satirical, caustic view of the characters and their self-made situations. Strangely, there isn't much of anything in A Handful of Dust that is played for bitter laughs or satirical jibes; it's extremely solemn and sad and almost dreamy in a way (until the frightening ending), which is quite unlike Waugh's novel. While Waugh did indeed intend to present a story about a gentle, civilized (yet clueless) aristocrat besieged by the crass, callow middle class that will eventually wipe out the last remnants of the privileged, out-of-touch lifestyle he leads, Waugh didn't spare jabs at Lord Last and his fustiness, either. But A Handful of Dust seems to romanticize and pity Tony without explaining how he himself created his situation. As well, the film seems to soften and humanize the Brenda character, as well. While the film does leave in the scene where she says, "Thank god," when she realizes it's her child John who's been killed and not her lover, John (a truly sickening moment she tries to deny to witness and future husband, Jock Grant-Menzies, played with a cannily bored, seen-it-all deviousness by Pip Torrens), the director and co-screenwriter, Charles Sturridge (the TV miniseries version of Brideshead Revisited), and screenwriters Derek Granger and Tim Sullivan, allow many more compensating moments of Brenda being kind and thoughtful and sad (even during the beastly things she's doing to Tony during the divorce), that tilt the character into someone sympathetic - a creation I don't think Waugh would have agreed with (we even get a shot of poor Brenda, poor and penniless, crying on her pillow, for god's sake, over her newly reduced circumstances).
The final act of A Handful of Dust, at least concerning Tony, is straightforward enough, with director Sturridge expertly building on the audience's growing sense of dread as they realize the naïve Tony has exchanged one jungle - the ruthless, unfeeling world of modernized England, where wives and friends cheat and scheme without the slightest sense of compunction nor regard for the aristocracy's lost sense of decorum - for another jungle, a literal one, where ironically and tragically, Tony gets exactly what he had back at Hetton Abbey: an isolated spot, away from "civilization," with a crushing routine. Tony's death sentence - held prisoner in the jungle by Mr. Todd (Alec Guinness, in a frighteningly blank performance), doomed to read him Dickens until he dies - makes for a powerful climax to A Handful of Dust, but the scenes immediately following it are robbed of meaning. Back at Hetton Abbey, a monument has been erected to the lost "explorer" Lord Last, while Brenda contemplates some caged white vixens that are being held for breeding...with her husband, Jock Grant-Menzies. How did this marriage come about? What does it mean for her? How does that shed new light on the Jock character, who had quite a few scenes throughout the film? We simply don't know. We're told they're married, and the film ends. Is that marriage Brenda's eventual triumph, or her final defeat? We can't guess, because we're not given the context in which it happened. Very pretty to look at (despite the transfer here), with an exception level of period detail, as well as some interesting supporting turns here and there (Angelica Huston pops up as Jocko's aviatrix girlfriend; she's kind and strong with the grieving Tony, but again, context is missing for her appearance here), but this version of A Handful of Dust seems far too romantic, too sad, too...forgiving, if you will, than what Waugh perhaps intended.
The DVD:
The Video:
Both of the transfers for The Evelyn Waugh Collection are less-than-optimal, no doubt due to the original print materials. Scoop is presented in its correct 1.33:1 aspect ratio, and looks the best of the two films here. Colors aren't strong (a little washed out), and there are scratches and dirt visible throughout (although to minor effect, overall). Image is somewhat soft. A Handful of Dust, however, is presented in an inferior non-anamorphic 1.78:1 letterboxed image that falls apart on a big monitor. Colors are faded, the image is blurry at times, and shimmer is a problem. A disappointment here.
The Audio:
Both films in The Evelyn Waugh Collection utilize Dolby Digital English 2.0 stereo tracks. They're acceptable, but unexceptional. Left-to-right separation effects are minimal, while recording levels are on the low side. Hiss is noticeable, but not objectionable. English subtitles are included for both films.
The Extras:
There are not extras for either film in The Evelyn Waugh Collection, except for some text filmographies of the casts and a bio on Waugh.
Final Thoughts:
Not perfect adaptations (but then again, are there such things?), and perhaps, at least with A Handful of Dust, not in line with what Waugh was trying to say, but still entertaining in their own right. The Evelyn Waugh Collection would have received a much stronger recommendation had the transfers been improved. A rental would be best.
---
Paul Mavis is an internationally published film and television historian, a member of the Online Film Critics Society, and the author of The Espionage Filmography.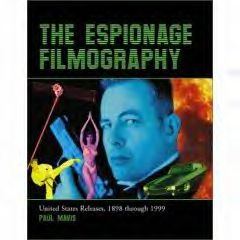 Sponsored Links
Sponsored Links