List Price: $34.97 [Buy now and save at Amazon]
---
More of the same...I think. Shout! Factory has released Adam-12: Season Four, and for hard-core Jack Webb fans, this is great news (um...when is someone going to get on the stick and release the rest of the color Dragnets?). Officers Pete Malloy and Jim Reed now power their bigger, badder 1971 Plymouth Satellite around the mean streets of North Hollywood (my granny had the exact same car. Exact!), following the book to the letter as they protect and serve. No extras for this release, and I believe these are complete episodes (more about that below), so saddle up for one the best of all police procedurals.
I wrote a pretty extensive review of Adam-12's aesthetics and structure for Season Two (you can read that here), but we didn't receive Season Three here at DVDTalk (you have the right to remain silent, Shout! Factory), so it's always difficult to judge where a series has been and where it's going when you miss a season. Fortunately, not much has changed in this 1971-1972 season, so a brief rundown of the series' set-up should suffice. Pete Malloy (Martin Milner), now "Senior Lead Officer" in charge of a 10 squad car unit, is an eight-year veteran of the world's most highly trained police force, the Los Angeles Police Department. His partner, clean-cut, married Officer Jim Reed (Kent McCord) is settling in nicely after his initial probationary period. Each episode shows the officers, usually assigned to a patrol car, policing their assigned area and encountering a wide range of situations that run from the mundane (your typical disturbing the peace calls) to the intense (a SWAT situation, this time down in the L.A. sewer system). Both officers, having benefited from the intense procedural training that comes with being a LAPD police officer, needed time to become adjusted to each other's working methods, but by this fourth year together as partners, they've achieved a good rapport - both at work and during off-duty hours, when they socialize together, as well. Older, life-long bachelor Malloy is still hinky about getting married, and Jim and his wife Jean (who apparently had a baby last season) are still trying to fix up the reluctant, contented officer. Malloy's and Reed's immediate superior, Sergeant MacDonald (William Boyett), is there to constantly remind the officers that even though they're human, and that they can't help but respond personally to some of the situations they find themselves in, they're police officers first. Be a pro, and follow the book.
SPOILERS ALERT!
Watching this fourth season of the hit show, Adam-12, I was again struck by the series' absolute adherence to the vision that cops are human, they make mistakes, but that they carry a bigger burden than most other civilian jobs. And since that burden involves the potential for life and death situations, established procedures have to evolve, be refined, and then rigidly followed. It's an idealized vision, to be sure. Of course in the real world, there are "bad" cops (although none portrayed on this show, unless it was in Season Three or an upcoming go-around), and of course, the concept of "justice" as meted out by a patrolman out on the beat, is far trickier in real life than perhaps illustrated here. But the cops I know don't seem all that different from Malloy and Reed as portrayed here: professionals doing the very best they can in circumstances that are incredibly stressful and often stacked against them. Duty and professionalism are still the key thematic elements of Adam-12 in this fourth year, and thanks to its rigid structure, there's a repeatable, blunt celebration of police routine that achieves an almost Hawksian intensity. In the terrific episode, The Search, Malloy is lost in the canyons along Mulholland Drive after a terrible car crash, with his partner Reed clearly upset. But Reed isn't coddled by his superior, Mac, nor is he encouraged to break from procedure to go off on his own search. Reed may explain, "We're close, Mac. You know? Real close," but Mac's advice is clear and unsentimental: "Hey, Reed - these things happen. Be a pro." You're just not going to hear a line like that in a TV show today unless that character is set up as an unfeeling martinet. That cool, diffident unsentimentality is bracing in Adam-12, particularly after watching decades of increasing moral shilly-shallying in similar types of network series. There's no room in Adam-12 for anyone to shirk their duty when it comes to fighting crime because therein lies the beginnings of the end of professionalism, of society, and of moral clarity. In The Radical, an old ex-cop buddy of Pete's, now working as a security guard, clues Pete in on some thievery going on at the warehouse he watches. Pete wants to help, and he needs specific information, but the old guy won't give it because he's afraid; he's been threatened and he's been looking the other way while the thefts continue. One would expect Pete to display some sympathy for his old friend, but he doesn't. None. In fact, Pete resents the old man's unburdening of the information without having the guts to follow through with specifics so the police can stop the illegal activity. His half-confession, given to alleviate his own guilty conscious, only compromises Pete's ability to do his job: stop crime. Old friendships, and fear of getting involved, don't trump that sacred oath.
Adam-12 is careful, though, to always put forth the view that cops have a duty, as well, to change with the times. An excellent example of this is The Dinosaur. Warren Stevens plays a hero cop who comes back after six years on disability to find that police work has changed drastically since 1965. His old-fashioned ways and take-charge attitude, such as ignoring his duty to Mirandize a suspect, are shown to be actually counter-productive in 1971's world (the episode revolves around a pre-stalker/domestic violence subplot that shows just how vulnerable women were before these laws were enacted). And importantly, his downfall comes not from civilian review boards or a lawsuit, but from his friend, Pete. Pete, who tried to give him a chance when other cops warned he wasn't making it, tells Stevens straight: don't blow what's left of your reputation. Quit while there are still good memories of you from the men and the police force, because you just can't cut it any more. Again, that adherence to duty and professionalism, regardless of emotion, permeates the Adam-12 episodes with a exacting resilience. Let's not forget that 1971 was the year of Dirty Harry, when liberal film critics (about 95% of all critics, then and now) were having a field day ignoring the dazzling pyrotechnics of director Don Siegel's masterpiece to focus on what they deemed the film's fascist agenda. Cops, likened more to gun-toting criminals than upholders of the peace, were routinely referred to as "pigs" in any given movie or TV show. Even a "hero" cop in the same year's smash hit The French Connection was shown to be as much a racist, brutal thug as he was an upholder of the law. Adam-12, the 9th-most popular show on television that 1971-1972 season (with viewer numbers that would make American Idol look anemic), went a long way towards balancing that unfair portrayal of police officers, even with its sometimes idealized, shorthand method of conveying the complexities of modern police work. Criminals give them pause, just as they do the public (in Million Dollar Buff, Pete mentions how habitual criminals scare him because they just don't care about blowing away a cop), and the results of crime affect them just as harshly as the victims (in Anniversary, after a fellow officer has been shot, Pete, knowing Reed is upset, says, "Don't let it get to you, Jim," to which Jim replies, "Things like this make me want to throw up." Pete responds, "That's a good sign; when they don't, you know you're in trouble.") Pete and Jim are cops, but also human beings (they look pretty vulnerable in those pre-flak jacket days of thin cotton police uniforms) who expect to be accorded the same courtesies as any citizen, even when they know society at large has an at-best uneasy relationship with their authority; in Citizens All, Pete mildly gripes that " 'I'm a citizen,' bit gets a little thick after awhile. They never seem to get it through their heads we're citizens, too."
Stand-out episodes this season include The Search, a tense actioner focusing on Pete's efforts to survive a horrible car crash in the Mulholland canyons; The Princess and the Pig (see, even Adam-12 called them "pigs"), where Reed goes undercover narco before he and Pete don their SWAT uniforms to prowl the L.A. sewers. Back-Up 1L-20 is an interesting mystery involving Mac's participation in a car accident, with Pete and Reed discovering why so many witnesses claimed Mac deliberately mowed down a pedestrian. Who Won? is an amusing smack-down for Adam-12's most annoying recurring character, Wells, played by the obnoxious Gary Crosby (he stalls his sweet ride during a drag race - the single most humiliating thing a man in California could do in 1972). Hitchhikers are kidnapped and forced to rob banks, lest their bomb-backpacks explode in The Wednesday Warrior (didn't someone do that in real life a few years back?). And Sub-Station is a great change of locale for the team (they're assigned to LAX). Jim and Pete ride little scooters around ("The Mild Ones"), while Frank Sinatra, Jr. has a hilarious cameo as a psycho out-of-work actor who kidnaps a stew, and like a ventriloquist, issues his demands sotto voice through the terrified girl. As the sub-station's captain says, "Every weirdo seems to wind up here one way or another." Amen.
Adam-12 reached its highest rating this fourth season - 9th for the year in the Nielsen's. Moving from its comfortable Saturday night slot, where it had eventually climbed to 12th place in front of the popular NBC Saturday Night Movie, Adam-12's switch to Wednesdays may have dropped the show back, had it not been the lead-in for soon-to-be-smash freshman series, The NBC Mystery Movie, featuring Columbo, McCloud, and McMillan and Wife. This proved to be a popular combination with audiences (the beloved big-star anthology would debut at 14th this first year, before hitting a series' high of 6th the following season), with Adam-12 decisively knocking out the fast-falling Bewitched in its final year, and helping the Mystery Movie pull down the socko medical drama, Medical Center (oh when is that classic going to come to DVD? I need some Chad Everett stat!).
Here are the 24, one-half hour episodes of the four-disc set, Adam-12 - Season Four, as described on the DVD slimcases:
DISC ONE

Extortion (9/15/1971)
Reed and Malloy search for a group of anti-Semitic criminals terrorizing neighborhood businesses.
Million Dollar Buff (9/22/1971)
A wealthy civilian believes he can do a better job than the police and attempt to fight crime.
The Grandmother ((9/29/1971)
Reed and Malloy answer armed robbery calls from a knickknack store and nab a drug dealer in the midst of a sale.
The Radical (10/6/1971)
While searching for thieves who use stolen trucks to move loot, Malloy and Reed find a rebel with a stash of guns.
The Search (10/20/1971)
With the car radio broken, Malloy loses contact with the squad after suffering injuries in an accident.
The Ferret (10/27/1971)
Reed and Malloy pursue a mysterious saboteur plaguing industrial manufacturers who he claims are causing air pollution.
DISC TWO

Truant (11/3/1971)
A rash of daytime burglaries leads Reed to discover a connection to truant students, and he comes up with a plan that upsets fellow officers.
Ambush (11/10/1971)
While transporting a prisoner, Reed and Malloy are fired on by assassins, and Reed is taken hostage.
Anniversary (11/17/1971)
Reed and Malloy answer calls from a bar, convenience store and a used car lot while searching for a gift for MacDonald's anniversary.
Day Watch (11/24/1971)
A hitchhiker extorts men, an armed robber mistakenly returns to the crime scene and runs from the police, and a drunk hallucinates.
Assassination (12/8/1971)
The officers are on guard when a sniper targets Reed.
The Dinosaur (12/15/1971)
A heroic officer returns to duty after eight years and finds it difficult to adjust to the changes.
DISC THREE

Pick-Up (12/29/1971)
Malloy and Reed search for a serial rapist, and a young hitchhiker is more than she seems.
Citizens All (1/5/1972)
Reed and Malloy arrest counterfeiters, interrupt a robbery in progress and settle a public disturbance.
The Princess and The Pig (1/12/1972)
Reed goes undercover as a folksinger's boyfriend to bring down a narcotics ring at a club.
The Tip (1/19/1972)
Malloy and Reed receive information that leads bandits to walk right into their stakeout.
The Parole Violator (1/26/1972)
Malloy attempts to keep a young parolee on his basketball team from using drugs.
Adoption (2/22/1972)
A reported kidnapping uncovers a bigger crime: a black market baby transaction.
DISC FOUR

Mary Hong Loves Tommy Chen (2/9/1972)
An undercover officer is shot while investigating gang activity in Chinatown.
Sub-Station (2/16/1972)
A frustrated actor kidnaps a stewardess in an effort to get news attention and an audition with a TV producer.
Back-Up 1L-20 (2/23/1972)
Four witnesses accuse MacDonald of reckless driving when he hits a pedestrian, although Malloy vouches for him.
Who Won? (3/1/1972)
Reed and Malloy try to get drag-racing teams off the streets. Reed and Wells settle their rivalry on the track.
Eyewitness (3/8/1972)
A police helicopter guides Malloy and Reed in a car chase with armed robbery suspects.
The Wednesday Warrior (3/15/1972)
Reed and Malloy worry for a reservist fresh out of the academy when his first partner is the unpleasant Wells.
The DVD:
The Video:
As with most of the Shout! Factory-leased Universal library titles I've seen, the picture quality is just this shy of being on a par with the look of major studio releases. The full-screen, 1.33:1 transfers, for the most part, look quite good, although some of the prints used can look slightly pink, or faded, or a tad muddy - with the expected grain and minor scratches. However, most of the prints used here look very, very good. However, I did notice some compression issues (some shimmering and some noticeable wavering at times), along with some edge enhancement that will be much more noticeable as you step up in monitor size (after the first disc, I stepped down to a more manageable 19 inch, which improved the look significantly). Please note: these episodes time out at a tad over 25 minutes. That's about right for shows from this time period...although the recent Mary Tyler Moore Show episodes I just watched from 1975 (four years after these Adam-12s) times out at a little over 26 minutes. I mention this because several times, I felt like the stories ended too abruptly here. Wasn't there a little 30 or 60 second coda to these episodes, after the last commercial break and before the end credits rolled? It sure feels like they were there...but they're not here now. Are these episodes missing some footage? I'll have to leave that to the bona fide Adam-12 experts.
The Audio:
The English mono audio tracks for Adam-12: Season Four accurately reflects the original broadcast presentation of the series - it's big and fat, with an agreeably strong recording level. All dialogue is cleanly heard, and close-captions are available, as well.
The Extras:
Unfortunately, no extras for Adam-12: Season Four.
Final Thoughts:
They mean business. There's a great moment this season where the men of patrol car Adam-12 stop a driver, eventually discovering he's a priest who has rather foolishly but bravely become involved in a drug buy. His actions greatly aid Malloy and Reed in a big drug bust, but when they're driving him back to his car, Reed stops and goes back to the priest, giving him a warning about that rolling stop for which they originally busted him. That's Adam-12: duty, professionalism, and the letter of the law upheld, no matter what. I'm still waiting to hear about those run times, but as it stands, this fourth season of the venerable cop show Adam-12 is highly, highly recommended.
---
Paul Mavis is an internationally published film and television historian, a member of the Online Film Critics Society, and the author of The Espionage Filmography.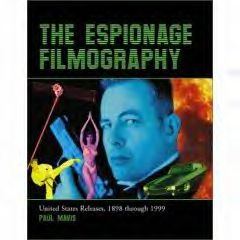 ---
C O N T E N T

---
V I D E O

---
A U D I O

---
E X T R A S

---
R E P L A Y

---
A D V I C E
Highly Recommended
---
E - M A I L
this review to a friend
Sponsored Links
Sponsored Links