Cranford: The Collection (Cranford, Return to Cranford)
List Price: $49.98 [Buy now and save at Amazon]
---
Author's Note: Since the three-disc set Cranford: The Collection contains the original DVD release of 2007's Cranford, as well as the 2009 Christmas special follow-up, labeled here Cranford: Return to Cranford, I've ported over my original review for Cranford, while adding some new thoughts on the sequel.
A delightful Easter gift for anyone who hasn't yet experienced the Cranford films. BBC Video has released the three-disc Cranford: The Collection, which includes the original five-part miniseries from 2007, as well as the 2009 two-part follow-up that broadcast as a Christmas special in the U.K.. Based on the works of Victorian novelist Elizabeth Gaskell, and featuring an incredible cast of British actors including Dame Judi Dench, Dame Eileen Atkins, Sir Michael Gambon, Francesca Annis, Philip Glenister, Julia McKenzie, Imelda Staunton, Julia Sawalha and Simon Woods, the Cranford films have all the trappings of conventional British TV period pieces - gorgeous, lush location filming, impeccable costuming and set design, and of course a roster of exemplary performers. However, those viewers sated with the sometimes staid, almost rote rhythms and tones of such U.K. period dramas will be delighted at producer Sue Birtwistle, writer Heidi Thomas, and director Simon Curtis' care in crafting two thoroughly beguiling period comedy/dramas that have a distinctively modern, fresh feel.
Cranford
I've never read any of Elizabeth Gaskell's work, so I can't vouch for the fidelity of this adaptation to either Gaskell's intent or tone. However, taken on its own, Cranford is a rather startlingly assured gambol through stock Victorian fictional conventions, achieving both a lightness of touch (its comedy scenes can either be charmingly low-key or low-brow) and a depth of emotion that's an exceedingly rare combination in this type of TV series. Adapted from three short works by Gaskell - the novellas My Lady Ludlow, Mr. Harrison's Confessions and the article The Last Generation of England - Thomas' and Birtwistle's screenplay evidently took Gaskell's stories (which are arranged more like scattershot anecdotes of small town life in Victorian England rather than complexly plotted novels) and combined and abridged them to create one seamless whole.
The plot, too multi-faceted to adequately describe here (nor would I want to spoil the fun for you), centers around the fictional town of Cranford, a rural enclave in the North West of England, supposedly about 12 miles outside of Manchester. It is 1842, and, unbeknownst to the town's real powers-that-be - the middle-class women who jealously guard and enforce convention and tradition - the rigidly structured and carefully monitored, genteel way of life orchestrated by the ladies of Cranford is about to be altered forever by the arrival of progress: the train. The town's chief purveyor of all that is correct in social intercourse, Miss Deborah Jenkyns (Eileen Atkins), is grimly dedicated to observing even the smallest of rules and strictures concerning the most mundane and prosaic of acts to maintain social order and calm (for example, even the eating of an orange has its do's and don'ts, with any transgression viewed as a serious breach of etiquette and indication of inadequate upbringing and breeding). Aiding Miss Deborah (and at times, smoothing over Miss Deborah's more harsh pronouncements) is Miss Matty Jenkyns (Judi Dench), a far more taciturn and forgiving presence in the Jenkyns house who nonetheless, defers in all matters to her stronger-willed sister.
Into the spinster Jenkyns' life comes Miss Mary Smith (Lisa Dillon), a distant relative who is unwelcome at her own home (an unloving step-mother is upset with Mary's refusal to be married off), and who hopes to recapture some of the fond memories she had as a child in Cranford. Perhaps at first startled by the rigid nature of life ordered by Miss Deborah, Mary soon settles down to the clock-like metronome of Cranford's existence, where gossip and the pursuit of arcane pleasures (purchasing just the right shade of cuffs for a dress; acquiring the finest tiny swatch of hand-made lace) provide an inordinate response of delight in the face of such brittle, demanding tradition and social observance.
No amount of lace or cuffs can match, however, the seismic arrival of Dr. Frank Harrison (Simon Woods) to sleepy Cranford. A young, highly eligible bachelor from London, Dr. Harrison has been brought to Cranford by Dr. Morgan (John Bowe), who hopes to ease Frank into the Cranford stream of life while he quietly retreats his practice into retirement. However, Dr. Harrison, even though he's exceedingly polite and deferential, brings new medical ideas and techniques that cause quite a stir with Dr. Morgan and the citizens of Cranford. Saving workman Jem Hearne's (Andrew Buchan) arm from a nasty greenstick fracture (Dr. Morgan advised the standard amputation, which the ladies of Cranford, eager for anything out of the ordinary, readily awaited), Dr. Harrison sets Cranford tongues wagging, while the various spinster ladies vie for his attentions. However, all that solicitude is politely ignored when Frank first spies Sophy Hutton (Kimberley Nixon), the daughter of the town's rector. Incomparably young and beautiful, the demure Sophy is light-years removed from the coarser, gossipy bunch back in town who endlessly joust to have Dr. Harrison notice them. How Dr. Harrison makes his feelings known to Sophy - and how he loses her to misunderstandings quite beyond his comprehension - will occupy the major subplot of Cranford.
Equally important to Cranford's plot is the story of young Harry Gregson (Alex Etel), who comes from a wretchedly poor family living in the woods on the outskirts of Cranford. Poaching game off the lands of Lady Ludlow (Francesca Annis), Harry is saved from jail by Edward Carter (Philip Glenister), Lady Ludlow's estate manager, who looks kindly upon the boy (underneath his stern countenance) and who tries to reach out to the promising youngster, hoping to teach him how to read and to better his lot in life. However, Lady Ludlow, still mired in the mindset of the French Revolution, despises the notion of the uneducated class raising themselves up through education; she wishes to keep the status quo, doling out menial jobs for the masses through a paternalistic (and demeaning) largesse. Her continued conflict with Carter over Harry - along with the fateful decision by Lord Charles Maulver (Greg Wise) to sell off adjacent land to allow the railroad to reach Cranford - will eventually have a devastating impact on all of their lives, along with the rest of the citizens of Cranford.
Add to these tectonic shifts in the established order of life in Cranford the return of Mr. Thomas Holbrook (Michael Gambon) to Miss Matty's life. A suitor from thirty years ago who wished to marry Matty (only to be turned down due to a family scandal that will be a pivotal event in the conclusion of Cranford), his reappearance causes untold memories to flood Miss Matty's mind, giving her a hope for an entirely different sort of life than the one she had resigned herself to, living out her spinster years observing the meaningless details of an artificially structured social scene. How Miss Matty deals with this rediscovered love - along with the resulting resolution of the aforementioned family scandal - will cap off the beginning of the end of life as it was known in Cranford, before the railroads came and changed everything.
SPOILERS ALERT!
What I found most refreshing about Cranford was the filmmakers' refusal to fundamentally belittle the gossiping ladies of Cranford, despite offering plenty of opportunities for us to laugh at their petty obsessions with social strictures and their love of frivolous rumor and fabricated scandal. It would be too easy to dismiss the ridiculous lengths to which the ladies go to order and control their lives, down to the smallest and most insignificant detail (Miss Deborah's rules for eating oranges is a highlight, as well as her final disappointed dictate when Miss Mary professes an enjoyment of eating them in an unacceptable manner: "We will repair to our rooms, and consume our fruit in solitude," she gravely intones). The filmmakers could very easily have made sport of such nonsense, while forgetting that their rules and crushing routines - humourous to modern viewers now - were hard-won out of a life that was far more cruel and random than today's. These women of Cranford - with no men to support them when such an arrangement was considered essential to survival - ultimately come off as incredibly strong, independent souls with iron wills forged by the strengths of their traditions. When neighbor Jessie Brown (Julia Sawalha) must face the death of her invalid sister alone (her father, Captain Brown, played by Jim Carter, is away on business), it is Miss Deborah who actually breaks the tradition that forbade women from attending funerals, so Jessie would not incur the wrath of the townswomen, starting a new tradition in the bargain. And when Miss Matty loses all her money in a bank failure, it is the silly, gossiping gaggle of geese women of Cranford who pony up what little money they have themselves, to help her - anonymously, of course, so as not to embarrass her.
This adherence to the strict rules of social intercourse, ameliorated by the innate kindness and Christian fellowship of the townswomen, is best exemplified by stern but giving Miss Deborah. Constantly warning the others to temper their gossip with facts (her motto seems to be, stated at a critical time in one of the story's subplots: "Speculation is the enemy of calm."), it is only when Cranford loses this de facto arbiter of taste, correctness and responsible gossip that the other ladies' speculation creates a dire situation that may have spelled the doom of young lovers Dr. Harrison and Sophy. A stalwart convention of the Victorian novel - a succession of romantic misunderstandings that separate two young lovers, innocent of the machinations that revolve around them - the ladies' gossip about Dr. Harrison (whom several women believe has given his go-ahead for matrimony to them) lacks the calming, controlling effects of Miss Deborah's prudence, creating at first a highly humorous series of events that quickly turns tragic when the town turns against Dr. Harrison, believing him to be an unscrupulous rake. The loss of Miss Deborah is perhaps the first concrete sign that life in Cranford as the ladies know it, will soon irretrievably change.
Certainly the theme of social change infuses the various story arcs - particularly the subplot involving Lady Ludlow and Mr. Carter. Evidently, author Gaskell wrote in the same social crusading vein as her friend and colleague Charles Dickens (who published her works in one of his weeklies), and her obvious concern for the lower strata of society is evident in Cranford. The relentless charge of progress, symbolized by the railroad tracks that make haste towards Cranford, is ever-present in all the relationships in Cranford, with the most obvious one being the ascension of young Harry from uneducated thief to a boy schooled in reading and writing, whose inherited fortune from kindly Mr. Carter enables him to financially bail out Lady Ludlow - the woman who originally wanted Harry to stay illiterate and poor.
Directed by Simon Curtis, Cranford assuredly works through its other standard Victorian set-ups (along with the ones above, the return of a long-lost brother, a doctor saving his loved-one in the nick of time, an industrial accident that provides a catalyst for dramatic change) with a surprising nimbleness. Not afraid to be low-brow at times with its Northern humor (the sequence with the cat that ate the lace, who is then given a laxative to recover the lace in a boot, may be about the funniest thing I've seen this year), the sanguine poise of Cranford in its transitions between its comedy and drama sequences is remarkable, considering the depth of some of these emotional dramatic scenes (cruel, unexpected death comes often to Cranford, and the series isn't afraid to tug heartstrings in showing these vagaries of life). Overall, Cranford could be termed "bittersweet" in the best sense of that word, mining both gentle, observant comedy and heartbreaking emotion from its episodic structure.
Aiding this goal no end is the superlative cast. Never a particular fan of Judi Dench (her run as "M" in the Bond series has helped to utterly neuter the superspy character), I stand corrected with her masterfully subtle turn as the demure yet hopeful Miss Matty. Dench has a scene in Cranford where she recounts a recurring dream of having a small child, that is absolutely mesmerizing in its quiet intensity. She's a marvel here. Matching her step for step is Eileen Atkins, who has the "easier" role of the stern but forgiving Miss Deborah. It's a flashier role, one that may have lent itself to overacting (and one that unfortunately bows out too soon in the film), but to her great credit, Atkins creates such a layered character that we feel the loss of her presence throughout the long running time. Francesca Annis is frostily deadened as the Lady Ludlow (aided greatly by the amazing cinematography of Ben Smithard, who shoots her in icy, ghostly blues and grays, as opposed to the Jenkyns sisters, who receive warm browns and oranges and yellows), while Philip Glenister is quietly authoritative with young Alex Etel. I enjoyed Simon Woods as the naive, handsome Victorian hero, Dr. Harrison (while his love interest, Kimberely Nixon, is the very picture of Victorian dewiness), and the various gossiping ladies of Cranford (Imelda Staunton, Selina Griffiths, Barbara Flynn, Deborah Findlay) are equally touching and hilarious as the slightly crazed spinsters. It's one of the best casts I've seen for this type of film, and they're critical to the overall success of Cranford.
Cranford: Return to Cranford
August, 1844 (about a year after the events in the first film). Miss Matty Jenkyns (Judi Dench) takes great delight in caring for young baby Tilly, as her mother Martha (Claudie Blakley), pregnant with another, works in Matty's kitchen (Miss Matty no longer runs her tea shop). Order apparently has been restored to Cranford, with the dreaded railway - perceived by the widowed women of Cranford as the modern agent of destruction to their calcified, tradition-bound culture - stopped five miles outside of town due the implacability of Lady Ludlow (Francesca Annis), who has steadfastly refused to sell her land to enable the railroad's access into Cranford. So, it's business as usual for Miss Matty, Miss Octavia Pole (Imelda Staunton), Miss Forrester (Julia McKenzie), and Miss Tomkinson (Deborah Findlay), who fret over the social minutia of their strictly regimented days - social duties that also include playing matchmakers, apparently. Determined to help the socially shy, retiring young Peggy Bell (Jodie Whittaker), the daughter of Mrs. Bell (Lesley Sharp), who still mourns her husband 14 months after his death, and the sister of snotty n'er-do-well, Edward (Matthew McNulty), the Cranford women suggest that Mrs. Bell organize a luncheon for returning businessman, Mr. Buxton (Jonathan Pryce). Buxton, a salt mine owner whose wife recently died, returns to Cranford with his well-spoken son William (Tom Hiddleston), and his energetic ward, Erminia Whyte (Michelle Dockery). As one would expect, William and Peggy's friendship grows into something more, a development not approved of by the stern but kind Buxton, who wishes a political career - and a more advantageous match - for his promising son.
Meanwhile, the averted threat of the railroad reaching time-bound Cranford is regaining momentum. Captain Brown (Jim Carter), unhappy that his duties for the rail line are ending because of its aborted course, finds new promise with the arrival of Lady Ludlow's indigent son, Septimus (Rory Kinnear), who plans on selling off the entire estate to the line in exchange for a quick pay-off so he can return to Italy. But not so fast: Septimus soon learns to his utter dismay that young Master Harry Gregson (Alex Etel), back from boarding school, may have some say in that matter (as well as Mr. Bruxton), a fact that enrages the dissolute Septimus. Of course, it will lie with the women of Cranford, specifically Miss Matty, to tie all the loose ribbons together, so that the town may thrive again under love's guidance.
SPOILER'S ALERT!
Not the equal of the first film, but still enjoyable and expertly produced, Cranford: Return to Cranford can't quite recapture the first film's perfectly balanced structure that effortlessly juggled romance, Victorian melodrama and sly social wit, in harmonious portions. The same creative team is back for this sequel, and the results are never less than entertaining, but an organic drive to the narrative seems to be missing (as it usually is for most sequels), while the central romance of William and Peggy can't compete with memories of the earlier film's duo of Sophy Hutton and Dr Harrison. In the first, longer Cranford, quite a bit of time was spent on the humorous rituals of the widowed women of Cranford, for the purpose of setting up the story's central conflict: the inescapable march of technological progress (the coming railway line), and its threat to the backward social order of Cranford. All throughout the first film, the Dickensonian layering of characters and intertwined subplots - some sad, some funny, others romantic - was amplified by that coming train. The town of Cranford, through the women who controlled its social order, was caught in a time capsule that the coming train would shatter. And when that coming train was halted outside of Cranford, it gave the viewer a wholly satisfying, bittersweet ending. Time had been stopped, the customs of Cranford would continue largely unaltered (serving the viewer's nostalgic pleasures of such a period piece), however...those customs, that way of life would, eventually, fall (creating the poignant flip-side of nostalgia: the certain knowledge that what we are watching and treasuring as a keepsake of its time, is but an ephemeral moment that no longer exists).
Cranford: Return to Cranford is less successful at recreating that driving, unsettling undercurrent to the narrative. The train is coming, yes, and even the women of Cranford gather the courage to actually ride one and best their fears, but we never feel it's a threat to their way of life, as we did in the first film. The train seems more of an inevitability here, made more concrete by the ladies' eventual embracement of the line. Once Matty realizes Cranford actually needs the train to come (an idea the viewer is way ahead of, since the film doesn't make a case for preserving the ladies' charmingly idiosyncratic social rituals), all the various subplots' hubbub seem like busywork. And the busywork here just doesn't match up with the first film. Certainly the central romance between shy Peggy and kindly William would seem to be a major hook for the film, but whether it's due more to poor casting or insufficient characterization in the script, the romance comes off as tepid, uninteresting and thoroughly familiar (Whittaker and Hiddleston generate zero sparks here). And that leaves a big hole in the film. There's only one other romance in the film, rushed through (Captain Brown and Lady Glenmire, played by Celia Imrie), while one that viewers may certainly have expected to happen, between Matty and Buxton, never materializes (perhaps that's coming in the inevitable third follow-up).
Still, it's hard to hold Cranford: Return to Cranford in the negative when so much of it still delights. The cast, including the regulars who come back to expand their characters once again, is largely without fault (Dench really is growing on me). I was also particularly impressed with the script's dexterity in wrapping up several plot threads with the climatic train wreck, including that old melodramatic trick of a character "dying" (to tug our heartstrings) and magically coming back to life to give us a happy ending. And there's no denying that the final sequence, where the Cranford citizens enjoy a magic show (Tim Curry pops up briefly, to good effect), is beautifully realized (who didn't sniff a bit when Matty found Tilly in the box?). Judging Cranford: Return to Cranford as slightly inferior to its original film is still high praise, indeed, when compared to the countless other period dramas that have come over the Pond from U.K. TV. It may not feel as original or as fresh or as intricately meshed as the first one, but it's still quite engaging.
The DVD:
The Video:
The anamorphically enhanced, 1.78:1 widescreen transfers for Cranford and Cranford: Return to Cranford do not show signs of PAL conversion issues. Both images are sharp, clean, and brightly colored. Contrast levels are excellent, and picture detail is abundant.
The Audio:
The Dolby Digital English 2.0 stereo audio mix for Cranford is quite good, with some effective left-right separation effects, and with all dialogue cleanly delineated. English subtitles are included.
The Extras:
A behind-the-scenes featurette on the Cranford disc, The Making of Cranford, runs 29:41, and includes the cast and crew discussing the film's production. It's beautifully produced (for this type of bonus feature), and provides plenty of insight on the making of the film. There's another featurette, Cranford in Detail, is included on the Cranford: Return to Cranford disc; it offers additional looks at the production not dissimilar to the previous featurette.
Final Thoughts:
Cranford creates a delightfully bittersweet Victorian world on the brink of change, overseen by the gossipy, kindhearted gatekeepers of social propriety: the Cranford spinster league. Stock Victorian story conventions are made fresh by a charmingly light, affectionate touch, and by the expertise of the exemplary British cast. Utter perfection. As for the sequel, Cranford: Return to Cranford, it doesn't hit the heights of its predecessor, and its structure is weakened by a poor central romance and a sense of déjà vu. But all in all, it still entertains. I highly recommend Cranford: The Collection.
---
Paul Mavis is an internationally published film and television historian, a member of the Online Film Critics Society, and the author of The Espionage Filmography.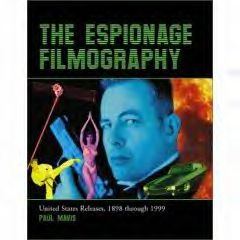 ---
C O N T E N T

---
V I D E O

---
A U D I O

---
E X T R A S

---
R E P L A Y

---
A D V I C E
Highly Recommended
---
E - M A I L
this review to a friend
Sponsored Links
Sponsored Links