[click on the thumbnail to enlarge]

Jennifer's Body is a perfect ten!

Wait, I forgot. The suspenders thing throws me off sometimes, but turns out that, no, I'm not Larry King after all. As nice as it would've been to have penned a schlockily marketable pull quote like that, there's kind of a reason not a single reviewer out there has grabbed it yet.

There's something kind of fascinating about nosing around movie message boards like DVD Talk and AV Maniacs, both of which have discussions about Jennifer's Body that ramble on for literally hundreds upon hundreds of posts...and yet there are maybe a dozen messages between 'em actually digging into the finished movie. Pretty much all of the rest alternate between bitching about Diablo Cody's hyperstylized dialogue from Juno or debating about how hot Megan Fox really is. It's a drag that Jennifer's Body -- Cody's sophomore stint as a screenwriter -- didn't get a fair shake. This isn't some just-add-water instant genre classic or anything, but if not for the lingering Juno backlash, I bet the response would've been a lot more positive.

Jennifer

(Megan Fox)

and Needy

(Amanda Seyfried)

have been bee-eff-effs since they were in pigtails. Even with as much as they've changed over the years -- Jennifer's the Maxim-cover-girl-cheerleader type, while Needy is kind of a frumpy, bespectacled dweeb -- they're still joined at the hip. It kinda works out for both of 'em: Jen likes having someone to boss around, and the half-crushing Needy doesn't mind following those marching orders to the letter. Jennifer has the hots for the frontman of a band that's trotting over to their sleepy little one-Starbucks-town

(Adam Brody)

, so she informs Needy that she's to blow off a date with her sweet, dull-edged boyfriend

(Johnny Simmons)

and tag along. The night doesn't go quite as planned, tho'. I mean, the guys in the band wind up being all douchey, the bar's a total dive, and...yeah, the place goes up in flames, a bunch of people die horrible, fiery deaths, and an immediately regretful Jennifer disappears with Low Shoulder in their sketchy looking van heading who-the-hell-knows-where. Needy pleads with Jen not to go, but...hey. Consenting adult. Consenting high schooler, at least. Nothing much else Needy could do but head back home and hope for the best.

...and it's in the wee hours that morning that Jennifer, sopping with blood, plows her way into Needy's kitchen, gnaws on Boston Market leftovers like some sort of feral animal, and spews a couple of gallons of brackish, CGI-spiky vomit all over the linoleum. Already a bad night? Now worse. 'Course, at school later in the A.M., Jenny's all bright-eyed and bushy-tailed, shrugging all that stuff off as no big deal. Y'know, business as usual...at least if the usual sort of business involves Jennifer being infested by a demon, luring hormone-fueled pork sword smugglers into the woods, ripping 'em apart, and chomping down on all the good stuff. She's a growing demon,
[click on the thumbnail to enlarge]

after all, and even demons've gotta eat their vittles if they wanna be big and strong. When Jennifer's had her fleshy fill, she is tough, too...inhumanly strong, can heal any wound in a couple seconds flat, and still has a few other superpowers squirreled away in her gunny sack. Needy's torn. On one hand, Jennifer is her

::sniffles!!::

best friend, and they even have matching lockets to prove it! On the other, there's...well, the whole escalating body count and stack of half-devoured corpses scattered around. BFFs become METTDs.

It kinda seems like no one the world over felt like leering at Jennifer's Body, scoring negative reviews pretty much straight across the board, a few hundred terabytes of catty Internet message board posts, and an anemic box office take. If you have your fists pumping ready for me to scribble down a bunch of faux-witty jabs at the flick, then...well, you're probably going to walk away disappointed. Maintaining against the grain, I liked Jennifer's Body. It doesn't redefine the face of horror or anything, but then again, the movie doesn't exactly set out to be visionary or challenging. It's Diablo Cody's take on an '80s splatter-flick, after all. Maybe it helps that I'm the same age as Cody and it sounds like we both grew up watching the same cacklingly campy horror movies on cable, but even with all of Jennifer's Body's flaws, I still see that same sense of blood-spattered fun. The Evil Dead movies are probably the most obvious point of reference, complete with that Sam Raimi-flavored exaggerated, swooping camera and geysers of goo being sloshed around. Then again, its sense of humor isn't nearly as pumped up as the Evil Dead sequels, playing the comedy straight rather than plowing headfirst into slapstick. The gags here alternate between Cody's trademark hyperstylized, post-modern-neo-Whedonesque banter and demented imagery like a deer nosing around the innards of a disemboweled football hero.

At the end of the day, Jennifer's Body gets caught up in the same trap as most horror-comedies -- it's not that funny, and it's not that scary -- although it fields both of those genres well enough to grab my attention. C'mon, and if you don't laugh at the most random, inept stab at seduction that Jennifer whips out to lure in a goth kid

(the always awesome Kyle Gallner)

, I'm not sure I want you on my Christmas card list anymore after all. Diablo Cody mentions in an interview elsewhere on this Blu-ray disc that earlier drafts were sopping with splatter, but that's been toned down extensively. There really is some great gore sloshed around in here -- courtesy of KNB FX, natch -- but the body count is pretty low, and most of the grue comes in the aftermath of the kills. Megan Fox does make for a credible threat when she's in faster-pussycat-kill-kill-mode, cementing that menace with her first unsettling, blood-caked smile in Needy's kitchen. I do like some of the flourishes Fox adds as Not-Eating-People Jennifer...her insecurities occasionally beaming through her swaggering confidence...but she doesn't do much for me when she's in her default Raging Bitch mode. It all just comes across as too artificial. Fox may be the marquee draw, but Amanda Seyfried is the real star of the flick, and I'd probably be writing a completely different review if anyone else had been cast as Needy. As impossibly gorgeous as Seyfried naturally is, she makes the transition to understated-nerd-cute pretty convincingly, she does every bit as stellar a job as a Buffy Come Lately, and especially in the extended cut of Jennifer's Body, Needy is easily the most fleshed-out character.

The core of the story is pretty conventional -- and I get the impression that's by design -- but I do like some of the added color that Cody splashes on, such as the motivation for...well, what exactly Low Shoulder does that winds up with a flesh-eating demon skulking around a sleepy Midwestern town. From the not-a-damsel-in-distress to virginity being a minus, Cody toys with the gender roles of a horror flick too. The high-five!-glib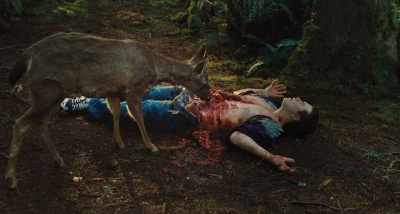 [click on the thumbnail to enlarge]

dialogue that wound up defining Juno definitely makes its way into this script as well, but the difference is that with that film, it only took me around ten minutes to ease into the rhythm and construction of that stylized dialogue. A few scattered lines after that made me cringe, sure, but I acclimated pretty quickly. There aren't nearly as many of those sorts of lines in Jennifer's Body, but they wind up sounding more consistently awkward, and Megan Fox in particular can't sell it the way Ellen Page could a couple years back. The actor who tears into those Diabloisms better than anyone is guylinered frontman Adam Brody, interestingly enough. It's a small part, but Brody's sleazy, self-absorbed, slightly Satanic famewhore steals every scene he's in. The movie's not so great with the flashbacks, and the friendship between Jennifer and Needy never feels genuine. Maybe that's the point, but it just seemed like I was being told over and over and over how they've been bestest pals forever and ever amen but I never actually felt it.

Jennifer's Body is okay, and to keep quoting NOFX, not great but pretty good. Love it or hate it, this definitely isn't some half-assedly-slapped together genre cash-in, and it's always nice to see an at-least-somewhat-original horror property swoop into theaters rather than yet another remake. It's a more heavily polished version of the sorts of '80s horror movies that inspired it in the first place, and even with all the bitching that's been aimed at Jennifer's Body online, it's really not all that more or less successful than most of them were. Nostalgia's really the only thing it's missing by comparison. It feels kind of like Jennifer's Body is aiming for Ginger Snaps-meets-Heathers. That's a pretty high bar to set, and Jennifer's Body doesn't actually clear it, but it's still putting forth a pretty decent effort. I'd definitely say it's a better flick than its dismal Metacritic rating would suggest, and even with all of its faults, Jennifer's Body suffered more from that still-smoldering Juno backlash rather than anything about the movie itself. I'll go against most of the crowd and lob out a mildly enthused thumbs-up. Recommended.

This Blu-ray disc dishes out both the R-rated theatrical version of Jennifer's Body as well as a new extended cut. This isn't just a matter of splicing in a couple of additional scenes and a handful of racy shots, though; there are numerous changes, including alterations as subtle as sticking with a different set of screams in the first on-screen kill, tossing on one last look of a character before he heads out to meet his maker, and adjusting how a tumbling piece of jewelry hits the ground. Movie-censorship.com has assembled a more extensive list of these changes than I could ever hope to churn out. No dice if you were hoping for any nudity or another scoop of splatter, though; these changes are mostly to add some additional depth to Needy as well as to heighten the contrast between the comedy and the horror. There's no real clear winner -- director Karyn Kusama repeatedly acknowledges throughout her audio commentary that both versions have their merits -- but I lean more towards the extended cut for whatever that's worth. It's appreciated that both have been included, of course.




Video
---
[click on the thumbnail to enlarge]

The short answer...? Reference quality.

Rail into Jennifer's Body as a movie all you want, but its presentation on Blu-ray is absolutely flawless. The 1.85:1 image consistently delivers a robust sense of depth and dimensionality, and it's bolstered further by deep, inky blacks and a strikingly vivid palette. 'Sdefinitely a welcomed change of pace from the let's-see-how-grey-we-can-make-this-sucker desaturated horror crowd. I kind of thought that after tearing into more than seven hundred high-def releases over the past few years that I'd be jaded to this sort of thing by now, but I was floored for nearly two hours straight by how startlingly crisp and detailed Jennifer's Body is. There's a very faint sheen of film grain -- too light to distract but just enough to lend the movie a nicely filmic texture. Although two versions of Jennifer's Body have been piled onto this dual-layer Blu-ray disc, Fox's use of seamless branching eliminates any duplicate content and ensures that the AVC encode has plenty of room to breathe. The only flaw of any sort I could spot was some aliasing in the Fox logo at the outset, and it's not as if anyone would chalk that up as a dealbreaker.

Jennifer's Body looks amazing -- go ahead and pretend that's a pun if you want -- and it easily ranks among the most exceptional live-action presentations on the format to date.




Audio
---
Its 24-bit, six-channel DTS-HD Master Audio soundtrack isn't lagging far behind either. From its thunderous waves of bass to the unrelenting use of the surrounds, Jennifer's Body is lugging around an extremely aggressive mix. The sound design is immersive from word one, with the clever imaging in the theatrical cut's opening sequence placing tinkling windchimes and a neighing horse in their own discrete channels. The multichannel mix does a spectacular job heightening the intensity of some of the standout sequences, particularly a seedy bar collapsing in flames and a crow or something skittering around as a red shirt trudges through an abandoned house. Kind of goes without saying that the more action-oriented scenes take advantage of all those speakers at their fingertips too. The colossal kick drum and electronic bass hits in the soundtrack pack a low-frequency wallop, and Jennifer's Body opts to use the subwoofer to better effect than just punctuating jump scares the way too many horror flicks do these days. Even with as devastating as this lossless soundtrack can be, Diablo Cody's stylized dialogue is never once drowned out in the mix.

('Course, some people might say that's not exactly a plus, but whatever.)



Also included are Dolby Digital 5.1 dubs in French, Spanish, and Portuguese. Subtitles are served up in English

(SDH)

, Spanish, Portuguese, Cantonese, Mandarin, and Thai.




Extras
---
Rounding out the extras are a few high-def trailers, although Jennifer's Body isn't marching along in that hit parade. The second disc in the set features a digital copy for use on iTunes and Windows Media-powered devices.




The Final Word
---
Think a darkly comedic '80s horror flick penned by someone who overdosed on Gilmore Girls and Buffy the Vampire Slayer, and you're somewhere in the ballpark. Ginger Snaps did a lot of this better, sure, but Jennifer's Body is still packing a hundred awfully fun minutes of sleaze and splatter, and sometimes that's all I need. This isn't some enduring genre classic in the making or whatever, no, but Jennifer's Body is hardly the trainwreck the lingering-Juno-backlash crowd would have you believe, and it's really not any better or worse than most of the twentysomething-year-old horror movies that inspired it in the first place. Oh well. I liked it well enough. Recommended.
Sponsored Links
DVD Blowouts
Sponsored Links