Eagles Over London (La Battaglia d'Inghilterra)
Severin // Unrated // August 11, 2009
List Price: $29.95 [Buy now and save at Amazon]
---
Disappointingly flat and surprisingly dull. No doubt dragged out of obscurity (at least here in the States) to benefit from some of that Tarantino Inglourious Basterds publicity, Enzo G. Castellari's biggest commercial hit, 1969's "macaroni combat" knock-off, Eagles Over London, comes to DVD by Severin in a nicely-formatted anamorphic widescreen transfer, with one or two extras to entice potential buyers. Known in Italy as La Battaglia d'Inghilterra, but also released variously as Battle Command and Battle Squadron, Eagles Over London's elevated reputation (at least, apparently, by newer reviewers out there looking at this DVD release) is baffling to me, considering the starchy presentation of this predictable mishmash by director Castellari and his miscast, misused stars Frederick Stafford and Van Johnson. Of minor interest for WWII film fans and Castellari completists, but that's about it.
Dunkirk, 1940. As British combat forces suffer a humiliating retreat across the channel to their native land, the German High Command utilizes this chaotic advance-to-the-rear movement to hide a suicide squad of Nazi commandos. Their mission? To infiltrate the various British units escaping back to England, regroup in London, and then launch an assault on the famed British RADAR installations, thereby grounding the small but deadly RAF so that German air and sea and land forces can invade England. Led by cold, deadly Major Krueger (Luigi Pistilli), the German spy unit comes across British Captain Paul Stevens' (Frederick Stafford) 1st Squad, and wipes them out, stealing their identity discs and paybooks. Assuming the identity of Lieutenant Martin Donovan (Francisco Rabal), Martin befriends Paul when Captain Stevens saves his life as they race across a bridge mined to explode by Stevens' rowdy second-in-command, Sergeant Donald Mulligan (Renzo Palmer).
But Stevens apparently doesn't put two and two together (discovering his wiped-out squad without their dog tags, and discovering new, weirdly suspicious, squinty-eyed best friend Martin, each within fifty yards of each other), so once he's back in England, Stevens' concerns about possible German infiltration initially fall on deaf ears. Only after he speaks to good friend (and romantic rival) Air Marshall George Taylor (Van Johnson), does it begin to sink in to British High Command that something is afoot. Meanwhile, the German spy team has reassembled in London with the help of undercover agent/tap puller Sheila (Teresa Gimpera). Discovering their cover is blown, the team must now go on a murderous rampage to keep acquiring new identities before they can successfully blow up their intended RADAR targets. Will Stevens be able to hunt down the German team before it's too late, and more importantly, change his one facial expression? Will Air Marshall Taylor single-handedly win the Battle of Britain in his cardboard Spitfire? Will someone please tell me what Ida Galli (billed here as Evelyn Stewart) is doing here as a distinctly disinterested romantic interest for Stafford and Johnson?
MAJOR SPOILERS ALERT!
Not knowing too much about this 1969 war "epic" other than the fact that it is apparently Castellari's most famous film in his native Italy, I was a little surprised at the enthusiastic reception it's received from contemporary reviewers who laud Eagles Over London's supposed taut script and colorful, plentiful action - two elements I found conspicuously missing when I watched this rather obvious, entirely unexceptional low-budget effort. I've enjoyed other films by Castellari (this past year, I reviewed his entertaining Hitchcock rip-off, Cold Eyes of Fear, the film he followed Eagles Over London with in 1971), but by no means do I think everything he's done is a neglected masterpiece just because some fanboy tells me so. Unfortunately, this kind of unrestrained and unexamined embrace of auteurism, exemplified by the peripatetic fanboyism of Castellari's biggest booster, Quentin Tarantino, seems to have taken hold with Castellari's reputation now, tainting many newer reviewers' takes on his works as they surface on DVD. I don't know if it's those reviewers' own uncritical regard for Tarantino and all he says about anything exploitation-related, or if they just haven't seen enough films from that period to get a good baseline for what makes for an action-filled WWII exploitation flick, but clearly something is off with Eagles Over London's new-found reputation.
Certainly there was a time back in the 50s and 60s when many mainstream American critics categorically rejected foreign exploitation imports as inferior merely because they were indeed, foreign. The prevailing feeling was Hollywood was the zenith of moviemaking, and all other pretenders to the throne were just that. Of course, this attitude quickly changed in the 60s, as the American public (and some reluctant critics) was exposed to more and more genre efforts from England, France, and Italy. Certainly the spaghetti westerns from Italy helped mature Hollywood's embrace of violence into its own western and action products, and soon, the genre was credited with surpassing and revitalizing the American version it had originally aped. The Italian exploitation film market was known for quickly jumping on the bandwagon and imitating popular trends from American films that could then be molded into uniquely Italian products for home audiences. And once big-scale American WWII action efforts like The Dirty Dozen and Where Eagles Dare started racking up huge international grosses with their increased firepower and gore, the Italian exploitation market was quick to develop its own "Macaroni Combat" line of product, of which Eagles Over London was one of its most successful examples.
But just as those contemporary 60s critics were wrong to generalize that all foreign exploitation films were automatically inferior to bigger-budgeted, better-produced Hollywood productions, fanboys like Tarantino are equally wrong today to assert that just because a movie is foreign, small-budgeted (in comparison to a comparable Hollywood production), obscure and an underdog in its intentions, it's automatically superior to formulaic Hollywood genre fare (too often, the taint of fuzzy politics informs these reviews, with the inherent liberal distaste for Hollywood commercialism frequently put forth...which is hilarious when you consider these Italian knock-offs were conceived in exactly the same vacuum of moral intentions: they were produced to make a buck, pure and simple). Because viewed in any context, Eagles Over London comes over as slow-moving and action-starved compared to its two most famous inspirations: The Dirty Dozen and Where Eagles Dare.
A typical "men on a mission" plot married to an inverted espionage framework (in this case, the Germans are the hunted, and the ones we're supposed to "root" for, even if we don't want them to succeed), there's nothing terribly original about this switch to British Intelligence frantically searching for German agents on London's home ground (for example, in director Ronald Neame's excellent 1956 The Man Who Never Was, counter-espionage British agents desperately search London for German operative Stephen Boyd). Even worse for this "men on a mission" plot, director Castellari and his squad of screenwriters (four more, plus himself) can't seem to create any semblance of a "team" for the audience to root for. We never get the feeling the German espionage unit is a group of individuals; we only become familiar with Krueger and Sheila, and we only really get to "know" Martin. The "team" never materializes, either through characterizations or even in the action. But the Germans aren't the only cardboard characters here. Stafford's Stevens is the epitome of the department store dummy hero (not helped by Stafford's 2x4-up-the-ass portrayal), while Van Johnson's inexplicably preening, campy Air Marshal character comes totally out of left field...and to zero advantage. Threads connecting these characters are brought up...only to be dropped or left unexplored (Stafford and Johnson are romantic rivals, but nothing is done with that subplot, nor the mirror one with Martin and Sheila, although those two are allowed the film's most visually interesting moment: the highly operatic shooting of Sheila as the camera swirls around them in a death spiral).
The story itself is amusingly large-scaled (not only an espionage plot but also an ambitious attempt to visual The Battle of Britain), but curiously lacking in any cohesiveness. Stevens has to be one of the dumbest intelligence officers ever depicted in one of these kinds of films (he really couldn't connect the slaughter of his squad, and the loss of the identities, with the sudden appearance of his newest, best-est friend, Martin, all within fifty yards of each other, until the end of the film?), while Van Johnson gets stuck offering lame romantic dialogue to Ida Galli inbetween boringly-staged conference room sequences, and laughably-mounted aerial attack sequences (Stafford also suffers the indignities of WWII romance/spy cliches, including an utterly tame love scene with Galli, complete with Freudian bombs going off in the background). None of these scenes coalesce into a cohesive narrative that has any drive of its own; they feel stock in origin, and randomly assembled.
So without a good story and characters, we should at least have the pleasures of some rough-and-tumble WWII battle heroics. Alas, we can't even count on that here in Eagles Over London. While Castellari has at his disposal one big-budgeted scene (the beach scene for the evacuation of Dunkirk), he doesn't seem to know what to do with it (a few airplane strafings, and it's over). Other action sequences, when they come (the film is surprisingly light on bullets and punches), such as the bombing of the bridge, are protracted to the point of frustration, while the RADAR station shootout isn't any more memorable than the other hundreds you've seen in countless other war films (Stevens and Martin do share a good fistfight, but the logic of it is lost when Martin just abandons Stevens after besting him). Nowhere does one see the visual ingenuity or heightened bloodshed that one might expect from the Italian exploitation market (after all, those were, along with an agreeably nihilistic viewpoint, the hallmarks of the spaghetti western, the most popular foreign re-imagining of a distinctly American genre). His two and three-panel "split screens," which seem to have impressed a few newer viewers of the film, are largely pointless here, utilized more as a delivery means to incorporate vintage newsreel battle footage rather than as a form for editorial expression (unlike spilt-screen sequences in The Boston Strangler or The Thomas Crown Affair, which Castellari mentions as inspirations for this technique, directorial commentary is largely absent from the random images badly matted into the arbitrary splits). Indeed, the long, slow, talky Eagles Over London looks and feels more like a bloodless Hollywood exercise like D-Day, The Sixth of June, rather than a lead-laden action feast like The Dirty Dozen, particularly when the actors keep talking and the combat operations are kept on the ground. Eagles Over London's airborne sequences, however, are even more lamentable, with truly pathetic low-budget attempts to simulate the Battle of Britain falling embarrassingly flat (one truly, remarkably bad shot shows the actual special effect table where the model work lies, with what look like flashlights shining from around the edges of the table, while a cockpit mock-up teeters over it). Trust me, I'm more than forgiving when it comes to allowing for sub-standard special effects when seen in context for films from this period (after all, how could anyone enjoy the Toho works without such a suspension of disbelief), but Eagles Over London's total lack of originality either in conception or execution negates that possible good will. Those lousy special effects are just a further indication that Eagles Over London was half-baked from the get-go...regardless of who says so today (or why they say so today).
The DVDs:
The Video:
The anamorphically enhanced, 2.35:1 widescreen transfer for Eagles Over London features a fairly decent print, with expected damage (scratches, slightly faded or reddish color), and a medium sharp, grainy image. Compression issues weren't noticeable.
The Audio:
Severin incorrectly lists a Dolby Digital English 5.1 Surround mix for this release -- it's actually a fairly unimpressive 2.0, with audible hiss and unremarkable left/right movement. Serviceable, but no 5.1.
The Extras:
Original trailers for Castellari's Eagles Over London and The Inglorious Bastards are included, along with a short deleted scene from the feature that doesn't add a thing to the film proper. In addition, running a little over 14 minutes, the second part of A Conversation with Enzo Castellari and Quentin Tarantino (held over from The Inglorious Bastards DVD release) is included. How anyone could spend more than five minutes face-to-face with Tarantino is beyond me, but hats off to the bemused Castellari, who knows a good thing when he sees it for his career (Tarantino makes Tom Arnold at the absolute height of his coke addiction, look heavily sedated). Further Tarantino nightmares are induced with Eagles Over Los Angeles, where Tarantino spastically utters a lot of cool swear words in his enthusiasm for the Los Angeles premiere of the film. Again, Castellari is no dope; he puts up with these embarrassing shenanigans while mentally counting the dough in his head.
Final Thoughts:
Simply not memorable in either script, performances, or action. Eagles Over London may have the full force of Quentin Tarantino's enthusiasm behind it (which just might be the first indication that something is seriously wrong with the film), but anyone with even a modicum of background in the big-budget WWII films Eagles Over London tries to ape, will wonder where the action is, where the sex is, where the story is, and where the hell those flashlights are coming from, from beneath that special effects table. A rental only for hard-core Enzo G. Castellari fans - everyone else, including WWII action film fans, won't have to bother. Skip it.
---
Paul Mavis is an internationally published film and television historian, a member of the Online Film Critics Society, and the author of The Espionage Filmography.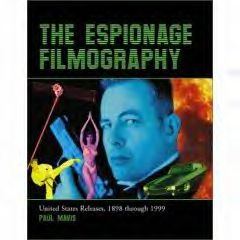 Sponsored Links
Sponsored Links