List Price: $39.99 [Buy now and save at Amazon]
---
Engrossing and fairly suspenseful...when it sticks to the spying. Acorn Media has released Wish Me Luck: Series 1, the first round of episodes from the 1987 ITV television series that looked at the celebrated exploits of the civilian female spies of Britain's SOE (Special Operations Executive), Prime Minister Churchill's secret organization devoted to overseas espionage and sabotage during WWII. Starring a fine cast of British actors including leads Kate Buffery (the excellent Trial & Retribution) and Suzanna Hamilton (1985's big-screen version of 1984), along with Julian Glover, Jane Asher, Michael J. Jackson, Shelagh McLeod, Jeremy Northam, and Warren Clarke, Wish Me Luck: Series 1 manages to stay involving by focusing predominantly on the nervy covert activities of the main characters. However, when those characters veer off into bromides and placards about gender and politics, the episodes can slow down a tad and become a bit obvious. No extras of any substance here, unfortunately.
With France occupied by the Germans, providing the Nazis with a perfect launching area for their inevitable invasion of England, SOE Colonel James "Cad" Cadogan (Julian Glover) is desperate to reinforce his string of espionage operatives working across the Channel for the vital information they provide about the enemy's activities...to the point where he'll gladly send civilian women into the field if need be. Assisted by no-nonsense Faith Ashley (Jane Asher), Cadogan's recruitment efforts include two promising agents: upper-class housewife and mother Liz Grainger (Kate Buffery), and half-Jewish, half-French factory worker Matty Firman (Suzanna Hamilton). Although they come from entirely different backgrounds and social classes, Liz and Matty become friends, and discover together that they have a hunger for dangerous war-time work--a situation their relatives can't understand. Liz's mother can't comprehend how a mother could leave her small child behind to go off to war, particularly when the young girl's other parent, Laurence Grainger (Nigel Le Vaillant) is already doing his family's bit for the war effort in Cairo. Matty's working class grandfather, Albert Firman (Arthur Whybrow) is suspicious of Matty's new activities (he soon susses out exactly what she's doing...and resents the toffee-nosed upperclass officers that are using her in their schemes), while her mother, Aimee Firman (Marianne Borgo), is still traumatized by her terrifying experiences as a Jew in occupied France. Matty initially washes out of the training program (too reckless, too careless), but when push comes to shove, Colonel Cadogan goes to the mat for her and she's soon dropped, along with Liz, behind enemy lines in occupied France. There, Liz meets up with the head of her section, Kit Vanston (Michael J. Jackson), an old university chum of her dead brother (a pilot shot down over Germany), as well as the refined, sexy Claudine de Valois (Shelagh McLeod), a schoolgirl friend of Liz's who now keeps a friendly/tense "working" relationship with her Nazi occupiers, including the new tough area commander, Colonel Werner Krieger (Warren Clarke). With the threat of capture, torture and death weighing on them every day, will Liz and Matty survive their assignments?
SPOILERS WARNING!
Wish Me Luck: Series 1 works best when it concentrates cleanly and simply on the suspense sequences (and there are many) that involve our leads trying to stay alive behind enemy lines. When a deepening of character motivation is attempted through gender and class politics, the obviousness of the messages tends to bog down the proceedings. The fascinating exploits of the real-life SOE during WWII have provided material (many of it largely fictionalized) for dozens of big-screen spy and war films (The Heroes of Telemark, The Bridge on the River Kwai, Carve Her Name With Pride, to mention just a few), and reportedly, Wish Me Luck: Series 1 is based, at least in part, on the real-life adventures of Nancy Wake, who earned a phenomenal number of medals and citations for her acts of bravery and derring-do during the Second World War. Admittedly, although I've heard and read her name before, I wasn't familiar with her biography or her actions during WWII, but as I've written in countless reviews already, I'm not a fanatic when it comes to fidelity between movies and source material (from the brief outline of her activities that I researched, I didn't see a lot of similarities between her and Liz, the character reportedly based on her, anyway). Ultimately, whether or not Wish Me Luck: Series 1 is successful as a piece of entertainment won't have a lot to do with if it's an accurate portrait of a specific person.
So taken, then, as a fiction piece with an underpinning of truth to its structure, Wish Me Luck: Series 1 succeeds as a suspenseful spy nail-biter because it stays (mostly) on the two leads' efforts to send messages back to England while avoiding the Germans who are almost immediately suspicious of them and their actions. During these sequences, there's a tension to Wish Me Luck: Series 1 that's quite well done. The series isn't afraid to be graphic (if not explicit) for 1987 television standards (Matty's torture at the hands of the German colonel is strikingly shot), while the basic framework of crosscutting between an agent executing his clandestine duties and the enemy getting closer and closer to exposing the agent, is surefire for generating suspense (even if the first few episodes are a bit clunky with their flashforwards within flashbacks). That simple set-up works every time, putting the viewer in the classic, vicarious, nervous position of asking, "What would I do in her shoes?" and, "Will she make it?" which are the desired goals of any suspense outing.
However, when the series overcompensates for these tense sequences by trying to "teach" us about women and their role in WWII spying, it falters. Certainly the issues explored aren't irrelevant; on the contrary, I find them fascinating--and there certainly has been a dearth of such exploration of women spies in films and TV series (at least female spies that go beyond operating largely as sex objects for other friendly or enemy spies). But it's difficult to buy at least one of Wish Me Luck: Series 1's central character's motivations because they just aren't fleshed out enough. Matty's character I get. As written, she's more than willing to avenge the way her French Jewish mother was treated by the Nazis before she escaped France, stating she feels the same desire to do her part as if the Germans were "stomping" all over England, too. And the screenwriters, co-creator Jill Hyem, Colin Shindler, and Kevin Clarke--with the obvious aid of an intriguing performance by Hamilton--keep us off-balance with Matty's actions, particularly when they clash with our preconceived expectations for how this kind of woman acts in this kind of show (I like how Matty unapologetically picks up a soldier for tension-releasing sex, prior to departing for her mission...just like all those male spies do in the movies). It's a character whose actions are informed from racial, religious, gender, and class motivations, motivations which are clearly understood by the viewer as they're revealed throughout the story (I also love the grandfather character, who doesn't give a toss for Matty's posh superiors).
Liz, however, is another matter. Wish Me Luck: Series 1 never makes us truly understand what the hell she is doing out there in the field in the first place. She states flatly at one point she didn't want to be "left behind" as she sees every one going off to do their part for the war (a pretty broad, general statement), but that's about it when it comes to understanding her decision to risk her life. It's going to be difficult, as well, for many viewers to sympathize with Liz's choice when it's predicated on needlessly (and rather callously) abandoning her young child (made worse by the screenwriters again failing to make Liz's decision at least coherent, if not admirable). Now before you email out of righteous indignation concerning what you may perceive to be a caveman patriarchal attitude of "a woman's place is in the home" on my part, nothing could be further from the truth. As I alluded to above, I found Matty's character all the more attractive because she's tough and independent and sexual--and all without apologies as to how she's supposed to act according to gender expectations at that time. However, since much is made of Liz's attachment to her daughter, in conjunction with Liz's husband already serving overseas (as well as her brother being shot down over Germany), her decision to deliberately put herself in harm's way--thereby taking the risk that her child could grow up an orphan--seems selfish and capricious when she could have qualified for any number of other equally important jobs for the government or the military right in London (which could be just as dangerous a place to be, with the nightly bombing raids, as rural France). It's a tough sell for the viewer, not helped by the screenwriters' avoidance of this sticky moral dilemma (apparently they thought it would go over better if Liz's since-returned husband was revealed to be a blubbering, controlling twit who weeps and begs her to stay in England and not return to France to save imprisoned Matty, thereby making Liz's second departure seem not only heroic, but necessary just from a digestive standpoint). If you want Liz to abandon her young daughter, you had better adequately explain that decision, or risk losing the sympathy of the viewer.
Still, with those reservations, and more for some of the blatantly soap-operatic plot developments (as if we didn't know that Liz and Kit, and Matty and Colin wouldn't hook up), Wish Me Luck: Series 1 can be forgiven those trespasses because the episodes, moving along at a rapid clip, ultimately accomplish what they set out to do: entertain us with anxious suspense. When these episodes stay focused on the mechanics of the spy genre, they're difficult to resist (what is resistible is that horrible music track that puts bumptious, totally inappropriate Big Band and jazz cues--complete with "woo-woo" choruses--over deadly moments of seriousness, such as physical and psychological torture. Who's brilliant idea was that?).
The DVD:
The Video:
The full-screen, 1.33:1 video transfer for Wish Me Luck: Series 1 is on-par with similar releases of British TV shows from that time period. Colors tend to be muted; the cinematography can be a little burned out during the video-shot interior scenes, and the picture is slightly soft. If you're used to this from other vintage British TV series on DVD, you won't have any trouble.
The Audio:
Unfortunately, the Dolby Digital English mono audio track is quite squelchy--no doubt due to the state of the original materials used for the transfer. Hiss is present, too. Not a good presentation, but close-captions or subtitles would have helped...pity they're not on this release.
The Extras:
Other than a brief, generalized text summary of the SOE, along with a photo gallery, no extras to be found here.
Final Thoughts:
Never mind the politics; let's get to the cloak-and-dagger stuff. When Wish Me Luck: Series 1 keeps its focus on the mechanics of the espionage activities of these daring female spies in WWII, it's a suspenseful, well-wrought outing. Explaining some of the characters' actions, though, is another matter (with the tough, sexy Matty character coming off best here). Spy enthusiasts and Brit-TV watchers will no doubt enjoy this; I'm recommending Wish Me Luck: Series 1.
---
Paul Mavis is an internationally published film and television historian, a member of the Online Film Critics Society, and the author of The Espionage Filmography.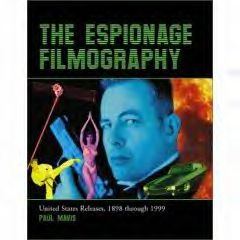 ---
C O N T E N T

---
V I D E O

---
A U D I O

---
E X T R A S

---
R E P L A Y

---
A D V I C E
Recommended
---
E - M A I L
this review to a friend
Sponsored Links
Sponsored Links