List Price: $14.98 [Buy now and save at Amazon]
---
I don't remember all the yakking. E1 Entertainment has released In Praise of Older Women, the "sensual coming of age classic" from Canada (yes, you read that correctly: Canada) from 1979, starring Tom Berenger, Karen Black, Susan Strasberg, Helen Shaver, Alexandra Stewart, and a host of Canadian actors you've never heard of before. Based on the supposedly controversial novel by Stephen Vizinczey, In Praise of Older Women was a premium cable standard when I was a teen, but after many years of the most ungodly hard-core porn imaginable available to anyone who can work a keyboard and mouse, the film's nudity and simulated sex look ridiculously tame today...and that leaves the viewer concentrating on the script, the directing and the performances - and that's not to the film's advantage. A newly-shot featurette on the making of the film has been included for hard-core fans of this soft-core bore.
Narrated in flashback by middle-aged Hungarian refugee and now Canadian Andras Vayda (voice of Henry Ramer), In Praise of Older Women begins in Hungary during WWII. Young boy Andras (Ian Tracey, of Da Vinci's Inquest), a pint-sized pimp who whores out the middle-aged "Countess" (Monique Lepage) to grateful G.I.s, receives his sexual initiation from her when she's touched by his sticky-fingered offer of nylons and chocolate bars. With the allure of older women now firmly implanted in his libido (calling Dr. Freud), teenager Andras (Tom Berenger) continually strikes out with girls his own age who want nothing to do with the awkward bookworm. Intellectually repressed by the restrictions of Communist Budapest, and emotionally stifled from living with his mother (Mignon Elkins), young Andras finds solace in the arms of sophisticated, older neighbor Maya (Karen Black), a frustrated romantic married to a Commie Party hack who cheats on her. Lending the love-sick puppy some of her books, it's only a matter of time before the 24-hour-a-day boner-sporting Andras shares her bed...and her love. Naturally, this relationship can not stand - particularly when Maya's friend, the bitchy Klari (Marilyn Lightstone), wants a taste of stud Andras for herself. Armed with his newly acquired lovemaking skills, poor Andras now looks for mature love in the arms of Hungarian intellectual Bobbie (Susan Stasberg), lousy non-lay (and worse singer) Mitzi (Alberta Watson), frigid French journalist Paula (Alexandra Stewart), and Canadian sexual yo-yo Anne MacDonald (Helen Shaver).
MAJOR SPOILERS ALERT!
In the pre-internet America of the late 70s, premium cable TV or one of your old man's Playboys were about the only readily available sources of vicarious soft-core sexual thrills. So a film like In Praise of Older Women, with its copious nudity (even some brief flashes of full-frontal) and simulated sex, was considered whisper-worthy stuff to your school friends on Monday morning if you caught it on Showtime at 3:00am (that's how I remember watching In Praise of Older Women when I was 13). Of course now, all of that has drastically changed (try and visualize the public reaction to something like "teen sexting" in a 1978 societal context, to get a good baseline of how far things have deteriorated in this America of today), so a film like In Praise of Older Women, which was designed specifically to titillate, can only do so now if its sex scenes are indeed erotic, or at least imaginatively staged; it can't compete with the sheer sexual audacity of even mainstream projects today. Unfortunately, In Praise of Older Women's sex scenes weren't particularly erotic even back in 1978, nor, if you'll forgive me, are they excitingly mounted (although the film does get credit for at least having its story and thus those scenes, rooted in an atmosphere of romanticism). Which leaves us with the story at hand...and it's thoroughly familiar and worst, woefully undernourished here.
Let's be clear: there's nothing wrong with seeing attractive-looking, sexy actresses like Karen Black (had a thing for her ever since seeing her in all her cross-eyed glory in Airport '75) or Susan Strasberg or Helen Shaver partially naked, simulating sex. Karen Black actually looks uncomfortable in the sexual situations here, but she makes up for that by giving the film's best performance, one that hints at a lot more intelligence and eroticism than the director George Kaczender seems capable of pulling out of the film's screenplay. For Strasberg...just the opposite. Her sex scene with Berenger is the most satisfying here (thank god for the Method...or a closed set, perhaps), but her straight drama scenes are done with much less conviction. Shaver looks terrific naked, but her character is designed to be sexually incompatible with Berenger, so no luck there (the same with Stewart's character, who has an unconvincing sexual breakthrough when Berenger pleasures her orally). And certainly preternaturally handsome young Tom Berenger, still remarkably Paul Newman-like here at the beginning of his career (before eventually becoming beefy and sinister), isn't ashamed to show everything for no-doubt appreciative female audiences (he has to work on those sex scene line readings, though...). If you're only curious in seeing these actors disrobed and pantomiming sex, In Praise of Older Women should be fine for you. But, even if you've only seen a handful of movie sex scenes, I don't think you'll find anything startlingly new or erotic or sexy here (and certainly not enjoyably "dirty").
Which leaves us, then, unfortunately, with the rest of the movie. For a sexual coming-of-age picaresque like In Praise of Older Women, it would seem essential to have a central character we could root for inbetween the sex. But through a combination of poor characterization in both the script and Berenger's performance, Andras appears not as a three dimensional person, but merely a prop in the various sex scenes. Considering the potentially rich background for the story, Andras should be fascinating. A boy who acted as a pimp, initiated into sex by his older prostitute. A restless adolescent under the thumb of Commie dictators, finding intellectual and sexual release through a beautiful older neighbor. An intellectual fighting against Soviet repression, finding equal passion in bed with another freedom fighter. A Hungarian living in Canada, coming up against the stifling provincialness of late 50s Montreal. The filmmakers and Berenger couldn't come up with something with that material? Berenger doesn't even attempt an accent, nor is anything in his manner indicative of "Hungarian" or even "European." That may seem nitpicky, but if the inevitable clash between the Hungarian Lothario and the various women of different nationalities he sleeps with is the central dramatic conflict of the story, shouldn't he appear to be culturally "different?" We never believe Andras is a real character with an arc to his development. The events in his early life unfold like a comic book, with the second half of the film abandoning any attempt at bringing the story's various subtexts to life, instead providing one bedroom scene after another, with little variation. Berenger doesn't help, either, with his inexperienced line readings (I get it that he's a stumbling kid at first, but what's the excuse when he's a man?).
He and the other cast members aren't exactly helped by the often-times poor dialogue, either. Lines such as, "Oh, God - you're a tigress!", or "He's after my breast, the little devil!" or this exchange: "You up already?" "Isn't he always?" only reinforce the feeling that In Praise of Older Women is just another tacky little sex comedy with not much on its mind except sniggering titillation. And when the film tries to be serious, it succeeds where those lame double entendres failed: it becomes even funnier. At the end of the film, the self-serious narrator Andras intones, "Sometimes, love is like going to the supermarket and coming home with everything you don't want. Other times, it's coming home with something you've been looking for for a long time." Oh, yeah? Well sometimes it's double coupon day - a fact that's about as meaningful and interesting as the above facile cliche. Scenes come and go without much rhyme or reason (there's a scene where some unnamed student keeps shouting, "Pussy! Pussy!" in a classroom that is never explained) until Berenger starts knocking off women with regularity...and then those scenes just run together without respite. Tech credits are as suspect as the script, with frequent poor lighting (we can't even see Berenger's first clinch with Black) and a god-awful plink-plinky, inappropriate music score competing with the inexpressive direction and editing to deliver a hesitant, unconvincing little tale. In Praise of Older Women may be one of the most financially successful Canadian films ever made (according to the producer), but it's difficult today to see exactly how that happened.
The DVD:
The Video:
The anamorphically enhanced, 1.78:1 widescreen video transfer for In Praise of Older Women looks fairly dark and grainy here, with expected screen anomalies (quite a few scratches and dirt) also present. Compression issues are minor (some jaggies). Relatively soft image, too. Not impressive.
The Audio:
The Dolby Digital English 2.0 stereo track is adequate, with little directionality from right to left and back. Dialogue is heard fairly cleanly, but hiss is present.
The Extras:
There's a fairly substantial "Making Of" featurette for In Praise of Older Women, running 38 minutes, featuring producer Robert Lantos, editor Peter Wintonick, and screenwriter Paul Gotlieb in new interviews, discussing the inception and reception of the film, including a fascinating story about how the uncensored film was smuggled into the first Toronto Film Festival on opening night. It's pretty sad when the "Making Of" featurette is more interesting than the main feature.
Final Thoughts:
Hunky, horny Hungarian hijinks...only the sex isn't that horny, and the lead performance isn't from Hungary, but from hunger. In Praise of Older Women may have been suitable for some sniggers from provincial Ontario audiences and hormonal teens surfing all twelve cable channels back in 1978, but today, it plays quite dull, with unconvincing sex scenes and little else in its dramatics to recommend it. A miss, unless you want to see those actresses and Berenger naked. Skip In Praise of Older Women.
---
Paul Mavis is an internationally published film and television historian, a member of the Online Film Critics Society, and the author of The Espionage Filmography.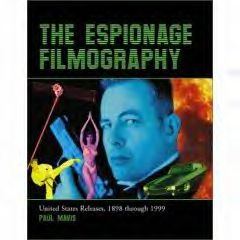 Sponsored Links
Sponsored Links