No Time for Sergeants (1958)
List Price: $19.98 [Buy now and save at Amazon]
---
"Why do they send all the bums and idiots to my barracks?"
Thank you, Warners...now can Universal please release Griffith's big-screen feature, Angel in My Pocket (and while we're at it: anyone who has control over Griffith TV titles Pray For the Wildcats, Winter Kill, Savages, and Murder in Texas, too)? Warner Bros. has released a crisp widescreen transfer of venerable service comedy No Time For Sergeants, the smash 1958 film version of the equally popular Broadway hit, starring Andy Griffith, the sublime Myron McCormick, Nick Adams, Murray Hamilton, and very briefly, Don Knotts (in his feature film debut). With a too-longish script, and (as expected), somewhat plodding direction by stick-in-the-mud Mervyn LeRoy, No Time For Sergeants still works thanks to Griffith's and McCormick's brilliant byplay. No extras (not even a trailer), but Andy Griffith fans obviously will want this for their collection.
Peacetime America, 1958. Georgia backwoods hillbilly Will Stockdale (Andy Griffith) isn't adverse a'tall at joinin' up with this here You-nighted States of America Air Force...had he even known he was being sought for the draft in the first place. But his sentimental, crusty old Pa (William Fawcett) doesn't want his son to suffer the humiliations waiting a country bumpkin outside their slumbering, timeless holler, so he's torn up all of Will's induction letters sent by Callville, Georgia's local draft board. Not so fast, though. Ornery draft board head Mr. McKinney (Dub Taylor) finally tracks down Will on the day of Will's scheduled departure, and brings him, in handcuffs, to the out-of-town bus...even though Will willingly wants to join up with his Uncle Sam. This entrance immediately captures the attention of smartass bully Irvin S. Blanchard (Murray Hamilton), who's going to make harassing Will his hobby in the service, while Will takes an immediate shine to underdog Ben Whitledge (Nick Adams), a bespectacled little ball of pride who hates the Air Force and wants an immediate transfer to the Infantry, where six previous generations of Whitledges served with distinction.
Once at boot camp, nothing can prepare Will's D.I., Sergeant Orville C. King (Myron McCormick) for Stockdale's completely sincere disposition of utter cluelessness as to how the modern world works. Sergeant King, a world-weary vet of 18 years in the service, just wants to ride out the rest of his career in peace - with no waves for the brass as his number one priority - and it's apparent that Stockdale could seriously jeopardize not only his nervous constitution, but also his pension. So King hides away the amiable Stockdale in the latrine (due to Stockdale's extra-ordinary cleaning abilities) in the hopes, one assumes (the script never makes this clear), that he can eventually kick Stockdale out of his outfit. But Stockdale's sunny disposition, and total obliviousness as to how things work in the service, doom King's plan to spectacular failure...over and over again.
SPOILERS ALERT!
The "service comedy" was a reliable subgenre during America's draft years, when older vets could laugh at the inflated (and romanticized) on-screen indignities that they survived during their own hitches with Uncle Sam, while younger, soon-to-be-drafted kids could leave their theaters reassured that maybe military service wouldn't be so bad if the likes of Jack Lemmon, Martin & Lewis, Cary Grant, Ricky Nelson, Glenn Ford, Steve McQueen, and Jim Hutton were having so much fun yukking it up in the U.S. military. It was a subgenre that offered a "safe" way of poking fun at the Army, Navy, Air Force, and Marines during those more patriotic times, plugging in various stereotypical American comedic types (the fast-talking hustler, the rebellious non-conformist) into the rigid structure of the military for a sure-fire mechanism to create on-screen laughs. One of the biggest hits of that subgenre during the 1950s was Warners' smash adaptation of the Broadway success, No Time For Sergeants. Writer Mac Hyman, a WWII veteran and self-proclaimed "country boy" from Georgia, first published No Time For Sergeants in 1954, after working on the story for years following his mustering out. The comic novel became a best-seller, with writer Ira Levin (The Stepford Wives, Rosemary's Baby) eventually crafting a stage version which first appeared on the March 15th, 1955 episode of the highly-acclaimed television anthology, The United States Steel Hour. The success of this live television performance led to a Broadway try-out in October of 1955 (courtesy of producer/actor Maurice Evans, of Planet of the Apes and Bewitched fame), where the story of hillbilly Will Stockdale destroying Sergeant King's peace-of-mind proved irresistible to Great White Way audiences, with the play running for almost two years and 800 performances. Naturally, during this time in Hollywood when successful Broadway plays were irresistible bait for proven film properties, No Time For Sergeants was optioned by Warners and producer/director Mervyn LeRoy (Warner's go-to director for important play adaptations), with the original cast of Andy Griffith and Myron McCormick (with Don Knotts reprising his one scene) retained (a television series was attempted in 1964, in an effort to play off Griffith's popularity with his same-named TV series...to disastrous ratings).
It's been years since I last watched No Time For Sergeants (it was a staple of afternoon "Big Shows" and the "Late, Late Movie" when I was a kid), and I was frankly worried about how it would hold up, considering how director LeRoy's later play-to-film efforts seem so stagy and calcified (The Bad Seed, Gypsy). And sure enough, the direction for No Time For Sergeants is vintage late-career stage-adaptation LeRoy: square framing, 1-2-3 editing, and the static camera pulled back and locked down to capture all the action. And there are certainly problems with the script (more about that later), but fortunately, the basic comedy material is sound and still works, while the performances are as fresh and funny as they must have seemed in 1958. Playing on the stereotype of the American hillbilly as a variation of the "noble savage," possessed of supernatural strength and constitution, of an innocence towards not only technology but sociology that is totally out-of-kilter with the supposedly "modern world," and a morality and set of ethics that are equally at odds with the cynical world outside their insulated, so-called "backward" world, Will's willingness to embrace military life comes in the face of almost everyone else's refusal to see him capable of any kind of "proper fit" within the modern-day service. And that's where the laughs come in.
The opening sequence immediately sets-up not only Will's educational and social awkwardness, but also his kindness and open tenderness with his crotchety old Pa - a ploy that immediately gets the viewer on Will's side, regardless of the bone-head plays he later makes in the film. Certainly in a mainstream 1958 Hollywood service comedy, patriotism would be taken for granted, so the script is careful to highlight that Will wanted to enlist prior to being mistakenly tracked down as a draft-dodger. But in telling that story of almost enlisting, he reveals how he couldn't because of his father's illness (Griffith the dramatic actor is quite good here, as composer Ray Heindorf's jokey hillbilly music turns sweet), a sentimental moment that is amplified by Pa's concern for his boy's feelings should the world make fun of his son's so-called "shortcomings." Indeed, the key element to the film's comedy - Will's overreaching politeness in the face of others' either incomprehension or outright anger at his naivete, and the subsequent misdirection laughs from Will not comprehending their reactions - is established right off the bat here in this surprisingly well-crafted opener.
Almost all of the good jokes in No Time For Sergeants follow this formula, with Will's eternal sunniness and optimism taken as a direct challenge to grumps and gripers who can't understand what this yokel is so happy about, considering how dumb he appears to be. At first we're encouraged to laugh at Will's obtuse grasp on the simplest interactions or facts of modern life, but then we're caught up short by his humanity. A good example in the film (and one of my favorites) is a quiet moment after Will has screwed up; he looks wistfully out his barracks window, hearing "Taps," and states with wonder, "Somebody brought their trumpet." It's funny because he doesn't know it's "Taps" and we all do (we snort smugly), but Griffith's wistful face at experiencing not only something new, but also the suggestion he's wondering what his place is in this strange new environment, changes the scene and our reaction. We feel for Will. And his continued insistence on not changing his outlook, his optimistic disposition (he specifically tells his father to "be Christian" to the threatening draft board officer Mr. McKinney), regardless of everyone's efforts to get this "stupid plowboy" to conform and get up to speed with today's world, allows us to root for Will to screw up, again and again, and feel good about it...even if it is to the detriment of the respected U.S. military.
Griffith, who for my money gave a performance in Elia Kazan's A Face in the Crowd equal to anything the more noteworthy "Method" actors like Brando and Dean gave for the director, switches gears entirely here and gives a full-bodied comedic performance that frankly would have been beyond the reach of his better-known Kazan alumni. There's an innocence to Griffith's playing here, a delicacy, along with a steady, watchful, confident gaze, that's quite remarkable for this kind of "broad" role. As written and conceived, the Will Stockdale character could have come out as the grossest of "hillbilly" caricatures in less subtle hands, played for yoks and corn instead of layered laughs. Thankfully, Griffith is skilled in both drama and comedy, and always grounds the character's broadest moments in solid, believable motivation (and of course, hilariously funny line readings - you can't "teach" funny, and Griffith is effortlessly amusing here with that wide, easy grin, and that booming voice). Matching him all the way is a performance by Myron McCormick that I would rate as one of the best of any comedy from the 1950s. Creating the most unlikely drill instructor you'll ever see in American pop culture, McCormick's D.I. is the anti-Jack Webb: sloppy, unprofessional, devious, cheating, and so not "by-the-book" that you could barely consider him a serviceman. One of the highlights of any military film that involves inductees meeting their D.I.'s is the first "confrontation" scene (think of The D.I., or Full Metal Jacket or The Boys in Company C), and the barely controlled rage and anger that spews out from the drill instructors as they begin to tear down individuals to make them into soldiers. Nothing like that happens in No Time For Sergeants; indeed, we never even see Sergeant King train any of the men. When Will proves himself to be a nuisance to the Sergeant, he doesn't scream. He doesn't yell. He just rolls his eyes and tries to make the whole thing go away. When suck-up Irving stands at attention, King looks him up and down and states, "You keep standing like that and you'll pull a muscle." And when Irving offers to talk to the Captain, King lets out a tomb-like, "Oh, nooooooooooooo," shaking his head, explaining how complaints are like waves on a lake, rocking the canoes. There isn't a thing King hasn't seen in this man's Air Force (except Will, of course), and it's home to him (he has a picture of his mother, along with a needlepoint "Mother" sign in his office). He wants peace and quiet, and he'll do anything to get Will out of his hair. McCormick, employing this paralyzingly funny sing-songy weariness to his voice, coming out of that hang-dog, melting, haggard face (for some odd reason, he reminds me of Harry Langdon), absolutely kills with every line he's given, funny or not (he's good with the physical stuff, too, using this scattered little jump anytime Will smashes on his door). Considering he laid down one of my favorite dramatic supporting turns in any American film (for 1961's classic, The Hustler), McCormick's brilliant comedic performance here is just further proof that he's one of film's great unsung actors.
Other smaller roles are filled expertly, as well. Fawcett is both funny and rather touching as Pa, who doesn't want his boy hurt the way he was when he first ventured out into the world. Dub Taylor is amusing, as usual, with that insane, high-pitched laugh of his. Murray Hamilton doesn't get any laughs, but he's appropriately slimy as bully Irving. Don Knotts, in his first film role, kills with his soon-to-be-iconic "nervous" shtick, sounding first like some kind of squealing Morse Code as he drones out Will's instructions for the manual dexterity test, and then whining and crying about how his metal rings got bent. Even better is one of my other favorite comedic actors, the genuinely gifted James Millhollin as psychiatrist Major Royal Demming. Whining and stamping his feet when he doesn't get to talk about what he wants to talk about, Demming is absolutely delicious with his double-takes and incomparable slow burns (I miss actors like Millhollin). He's a standout in a cast of heavily-talented pros. No amount of assured performances, though, can paste over problems with No Time For Sergeants's script. The first 90 minutes of the film work perfectly - even though there's a major plot hole that's never adequately explained: what's Sergeant King's plan, keeping Will the "P.L.O." ("Permanent Latrine Orderly"), and keeping him away from his qualifying exams? We can assume he's going to use his tricks to bump Will out of the service, based on Irving's false charge that Will is dangerous (Will pulls the handle he's handcuffed to off a gas pump, and threatens Irving with it in a funny earlier scene). We assume that, but we never hear anything about what King is actually planning. How was he going to get Will out without either qualifying him, or booting him out? It's a small but pivotal point in the story that badly needed just one scene to clarify it. But that's piddling compared to the final 30 long minutes where the film goes on and on with a drawn-out subplot concerning Will and Ben involved in a misguided, not-so-comical flight over an A-bomb test, and the subsequent snafus occurring when various vain, goof-ball colonels start trying to cover their assess from the potential fall-out. None of this is necessary when the story should have ended with a resolution back in camp to the triangle created by Will and Ben and King (that part of the film was beautifully self-contained, with a 90-minute running time that fit nicely within comedy conventions), and worse yet, it's awkwardly staged, with director LeRoy substituting lame swipes at military bureaucratic incompetence and lots of running around, and shouting, and slamming doors, for anything resembling comedic timing and invention (the final scene and fade-out is amazingly anti-climatic, putting a damper on all the previous fun). Luckily, No Time For Sergeants's earlier laughs and performances are strong enough to quickly help us forget this misguided final act.
The DVDs
The Video
The back of the DVD hardcase for No Time For Sergeants claims this widescreen transfer has been digitally remastered from original elements. It looks quite good, with Hal Rosson's creamy black & white cinematography coming over sharp and clear here (grain is apparent at times, but not distracting, while some scenes show signs of varying print quality - but again, nothing too serious). Contrast is acceptable, and blacks hold. The aspect ratio has been matted off at 1.85 (enhanced for 16x9 televisions), and I thought it often looked tight, but god forbid I get into some bitchy cat fight on a pretentious blog going any further with that thought, so I'll just say, "Nice job, Warners," and get off the stage.
The Audio
The Dolby Digital English 1.0 mono audio track is crystal-clear, with a nice, fat recording level. English subtitles are available.
The Extras
Zip.
Final Thoughts
The film falters at the end, with a long, long third act, but we remember enough of Andy Griffith's and Myron McCormick's brilliant performances to quickly put that out of mind. The presentation is bare-bones here, but their turns are reason enough to highly recommend No Time For Sergeants.
---
Paul Mavis is an internationally published film and television historian, a member of the Online Film Critics Society, and the author of The Espionage Filmography.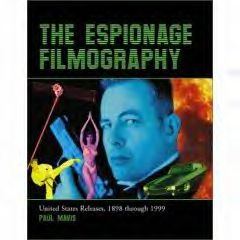 ---
C O N T E N T

---
V I D E O

---
A U D I O

---
E X T R A S

---
R E P L A Y

---
A D V I C E
Highly Recommended
---
E - M A I L
this review to a friend
Sponsored Links
Sponsored Links