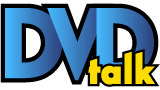 List Price: $39.95 [Buy now and save at Amazon]
---
Bigger Than Life (1956) tries to be several films at once. Partly it's a classy, high profile vehicle for its producer-star, actor James Mason, and director, Nicholas Ray. It's also a timely, cautionary tale about prescription drug abuse, one in a trend of postwar films that can be traced back to The Lost Weekend (1945), and a psychological thriller in the Hitchcock mold. And partly it's an ahead-of-its-time critical examination of a rudderless middle-class postwar America. It's this last facet that's attracted film critics and theorists in the decades since its release, who applaud its alleged indictment of the conformist '50s. Though not a commercial success (it cost around $1 million but returned less than that in rentals) today it's "recognized as one of the great American films of the 1950s," so says Criterion's packaging.



In truth the film is something of a mixed bag, definitely worthwhile for Mason's performance, and for its contemporaneous perspective on '50s issues, including touching upon the idea that the high cost of medical care could drive an already maxed-out middle-class family to the brink of financial collapse. First-time viewers are likely to find the climax genuinely shocking and impressively suspenseful all these years later; it has an authenticity rare in '50s American cinema. But the social criticisms so lauded in some circles mostly play forced, overdone, and artificial. Just as Mason's alcoholic Hollywood has-been in A Star Is Born (1954) is his superior characterization of an addict, other Hollywood films of the '50s have tackled singularly '50s issues more pointedly.*



Criterion licensed Bigger Than Life from 20th Century-Fox, a hopeful sign that more titles either never released to DVD or likely never to come to Blu-ray will find a home here. The transfer is excellent, though the absence of a four-track stereophonic mix is puzzling and disappointing; more on this below. Criterion's typically fascinating extra features accompany the feature.






Ed Avery (Mason) is an underpaid schoolteacher also moonlighting as a taxi dispatcher, a part-time job he keeps secret from his gently demanding wife, Lou (Barbara Rush) and son, Richie (Christopher Olson). He's also hiding sudden attacks of excruciating pain, but when one evening he collapses at home, his family along with best friend, gym teacher Wally Gibbs (Walter Matthau**), take Ed to the hospital.


He's diagnosed with a rare, fatal inflammation of the arteries - a condition that Dr Norton (Robert F. Simon) and Dr. Ruric (Roland Winters) tell him can be cured and its accompanying pain controlled with high doses of the steroid hormone Cortisone. The Cortisone is like a miracle drug (and it promised much when discovered around 1949), but the pressures of missed work, expensive medication, and a big tab at the hospital leads Ed to begin taking more than his four-times-a-day prescription, and this in turn causes gradual but disturbing psychological side effects, the severity of which increase each day. Ed becomes both paranoid and controlling while developing delusions of grandeur. Can domestic violence be just around the corner?


Bigger Than Life is an odd little film, reflective of the timing of its star and director, their careers at that moment, and the ambitions of Fox and the trend for personal, social problem pictures. For Mason the film provided a showcase for a wide range (to say the least) of emotions and a film where he's at the center of things, instead of being somewhat overshadowed by the likes of Judy Garland, Lucille Ball, or a Giant Squid. It fits in with director Ray's interests in the American middle-class and their problems and was a fairly inexpensive yet prestigious high-profile release for Fox.


Psychological problems and even common severe illnesses like cancer were hidden behind closed doors in 1950s Middle America, so Ed's increasingly psychotic behavior, particularly given the film's early scenes establishing him as a gentle family man, really must have shocked 1956 audiences. Much more clinical, graphic depictions of drug abuse have, of course, become commonplace in film and even mainstream television, and this undeniably has lessened Bigger Than Life's impact. Where Mason's alcoholic in A Star Is Born was emotionally raw and real and thus timeless, he takes a more intellectual approach here, and the results are sometimes a bit off the mark. Instead of empathically suffering along with Mason as in George Cukor's film, here the audience is more the passive observer, studying Ed and trying to understand his increasingly screwy logic. When he starts babbling about Abraham's sacrifice of Isaac, up go the red flags and the film kicks into high gear.


As a treatise on the Eisenhower-era nuclear family, Bigger Than Life is less successful. The film is subtle in some ways but obvious in others, like Ed studying himself in a cracked medicine cabinet mirror, or in his psychotic state going on a mad spending spree with his family, American consumerism gone berserk. (They go to a fancy dress shop and spend - Good Lord! - $159 on clothes for Lou.) The family, for instance, decorates their house with travel posters from places like the Grand Canyon and Venice but are firmly entrenched and domesticated in a middle-class ideal they can barely maintain. Ed and Lou play bridge with neighbors and co-workers but afterwards he complains no one ever says anything worth talking about. At a parent-teacher meeting schoolteacher Ed, high as a kite, goes on and on that his students are nothing but a pack of intellectual midgets, morons that liberal teaching methods aren't preparing for the realities of a doomed Cold War society. The parents of course are all shocked by this, save for a typically '50s Commie type, who laps it up and cheers Ed on.


Video & Audio


Bigger Than Life is presented in its original 2.55:1 pre-theatrical aspect ratio. (To the best of my knowledge, by 1956 all CinemaScope prints included optical tracks in addition to the magnetic stereo ones, reducing theatrical aspect ratios to around 2.35:1.) Fox's earliest Bausch & Lomb-lensed CinemaScope titles tend to look pretty awful, with much distortion, high-grain, and unsteady color, but this looks very good, much better than one would have anticipated, comparable to such Blu-ray titles as The Robe and The Black Shield of Falworth. The added clarity of high-definition pays off in interesting ways, particularly in terms of textures: the wallpaper in Ed's house, his gray flannel suits, etc. Reds also benefit, such as a barium/X-ray scene and a brief moment near the end of the picture.


Bigger Than Life almost certainly was released in four-track magnetic stereo, which makes the 1.0 mono only audio a big disappointment. It's possible the stereo mix doesn't survive, but nothing in Criterion's booklet about the transfer mentions anything about a stereophonic version. Any authoritative information about this would be welcome.


Extra Features


Supplements, all in high-definition, include on-camera video interview with Susan Ray, the director's articulate widow; and novelist Jonathan Lethem, a proponent of the subversive-'50s portrait view of the film. His examples are sometimes compelling while others I frankly found pretty ridiculous and unconvincing. Critic and Ray scholar Geoff Andrew's audio commentary is more measured and his high regard for the film better supported, as is B. Kite's booklet essay.


An amusing trailer, also in high-definition, sells the difficult subject matter in the manner common to the period: the star, backstage, addresses the audience directly, with Mason promising something special, unusual, different. Meanwhile, a narrator plays Bad Cop, luridly describing Cortisone as, "A handful of hope that became a fistful of Hell!"


Profile of Nicholas Ray is a 30-minute video interview from 1977, with the director, post-massive heart attack but still chain-smoking madly between hacking coughs, interviewed by a somewhat fawning and pretentious Cliff Jahr, who calls Ray "Nick" and James Dean "Jimmy" but oddly calls Humphrey Bogart "Bogart." Unfortunately almost the entire discussion is about Rebel without a Cause and Bigger Than Life is barely mentioned.


Parting Thoughts


Though overrated, Bigger Than Life is still a near-great film for the palpable unease it generates by the end, for James Mason's performance, and for the spot-on direction by Nicholas Ray. Criterion's Blu-ray disc disappoints for its lack of four-track stereo audio, assuming that it still survives, but otherwise this is a very handsome presentation with good extra features. Highly Recommended.




* A personal favorite is in All That Heaven Allows, when lonely widow Jane Wyman, having been denied a love relationship with a younger man by her selfish children, is given a television set to provide some comfort. It's a moment both funny and horrifying at the same time.


** Though Matthau spent most of the '50s and early '60s playing villains, his role in this is surprisingly close to his familiar later screen persona, one that wouldn't reappear in movies for another dozen or so years






Stuart Galbraith IV's latest audio commentary, for AnimEigo's Musashi Miyamoto DVD boxed set, is on sale now.
---
C O N T E N T

---
V I D E O

---
A U D I O

---
E X T R A S

---
R E P L A Y

---
A D V I C E
Highly Recommended
---
E - M A I L
this review to a friend
Sponsored Links
Sponsored Links