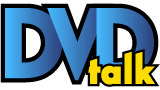 Fox // PG-13 // December 22, 2009
List Price: $29.98 [Buy now and save at Amazon]
---
THE FILM


Comparing "(500) Days of Summer" to Woody Allen's "Annie Hall" might be marvelous shorthand to describe the acidic romantic comedy intentions of this film, but quality wise, the pictures are miles apart. Using the tenets of alternative hipsterdom to blanket screen clichés of all shapes and sizes, "Days" aims to be a carefree, collar-unbuttoned pass on love and other disasters. Mostly the picture grates with its faux-indie-film affectations and unimaginative craftsmanship. It grazes on the fields of Gen-Y trends and '80's nostalgia to fatten itself to such a degree, it would be impossible to notice the material is only a few menopausal jokes away from your average Nora Ephron film.


Tom (Joseph Gordon-Levitt, angular and ill-fitted for tenderness) is man who believes in love. Employed at a greeting card company, Tom meets Summer (Zooey Deschanel, pushing her gooey-eyed routine to its natural conclusion), and the two quickly bond over a fondness for the music of The Smiths. While Summer makes it clear she's not interested in commitment, Tom hounds her anyway, convinced their love will topple her defenses. Growing close, nearing the steep precipice of commitment, Summer pulls away, leaving Tom depressed, alone, and forced to ponder his time with a woman who thoroughly rocked his world.


Music video director Marc Webb deserves some credit for shaking "Days" vigorously with a full armada of visual tweaks and whimsy. It's an unforgiving filmmaking challenge, assigned to chisel something vaguely human out of a screenplay (written by Scott Neustadter and Michael H. Weber, "Pink Panther 2") that's flash-frozen with concrete layers of formula and only the faintest flecks of sincerity. Webb desires to lift Tom's interior monologue off the ground, using animation, montages, a Hall and Oates musical number (communicating the ecstasy of sleeping with Summer), and a tree house mix tape of college radio hits to express the character's rattled state of mind. Webb remains in a holding pen of cutesy self-awareness for most of the feature. He huddles close to the warmth of artifice and quirky comedy, building a sturdy bridge over the complicated textures of the central relationship, and Tom's eventual emotional dam.


Indeed, "Days" get so caught up in cleverness it forgets to treat the lovers as a fractured reality. Instead of face time with Summer and Tom as they mold their habits and connections, "Days" wants to waste film on Tom's two beer-swilling best friends (Matthew Gray Gubler and Geoffrey Arend), who dispense crude, sitcom advice while facing their own romantic indecision. Tom also has a wisecracking little sister (Chloe Moretz), who offers her own take on her brother's romantic future, delivering BS-free therapy with the obnoxious scripted confidence of a 57-year-old mother of twelve. "Days" positions itself to communicate the complexity of the wounded heart, but covers its tracks with excessive fantasy every chance it gets. Webb and the writers don't take the conflict seriously, even while they aggressively reach out to the audience for empathy. It's a confused, overtly winky approach that torpedoes the picture right from the start.


THE DVD


Visual:


The anamorphic widescreen (2.40:1 aspect ratio) presentation for "Days" is surprisingly inferior, with the image drained of color to an excessive degree (even Deschanel's famous blue eyes feel dead). Everything appears coated in a sickly amber glaze that seems beyond simple cinematographic intent. Skintones are unnatural and distracting, while locations are stripped of life and vibrancy. EE issues are sometimes apparent, and general detail is lacking.


Audio:


The 5.1 Dolby Digital sound mix is great with soundtrack cuts, which provide a smooth sonic feel to the picture without swallowing the dialogue. Scoring cues are full, bright, and available. City life feeds into the surrounds nicely, creating a proper mood of reflection for the movie. It's a thin mix due to the film's delicate nature, but it's convincing. Spanish and French tracks are included, along with a DVS mix.


Subtitles:


English SDH and Spanish subtitles are offered.


Extras:


The feature-length audio commentary with director Marc Webb, actor Joseph Gordon-Levitt, and writers Michael H. Weber and Scott Neustadter is a chummy affair, and these gregarious guys are ready and willing to pat themselves on the back for their cinematic efforts. Most of the track is devoted to pointing out frame minutiae, technical achievements, and character motivation (the participants go on and on about the supposed "reality" of the film), with Webb doing a solid job keeping the conversation moving along with some speed. The boys are playfully hostile here, falling into little arguments along the way, but the track seems more ideal for fans rather than students.


"Lost Days of Summer" (14:22) is a collection of deleted and extended scenes, most just unnecessarily extending the characterizations. Of special interest is a "bizzaro" dance sequence showcasing Tom's worst morning ever.


A Theatrical Trailer has not been included.


FINAL THOUGHTS


Greeting card employment? Ingmar Bergman and "Knight Rider" references? Modern art mockery? Multiple sequences of drunken warbling set inside a karaoke bar? These are not fresh ingredients to make a movie with, especially not one that's defiantly avoiding the traditional love story path. Webb only allows for true grit in the final reel, where Tom must come to terms with his misery, lest he be tormented for the rest of his life. It's a bitter approach pattern to the climax that finally reveals emotional weight, the lone piece of psychological business that mirrors the real world. It's disappointingly fleeting, and while I didn't expect Tom to end up sucking on the business end of a revolver during the end credits, Webb aims to close "(500) Days of Summer" with a big, bright sunny day. It's an inappropriate, formulaic statement of confidence regenerated, though in keeping with the rest of the dismal familiarity.
---
For further online adventure, please visit brianorndorf.com
---
Sponsored Links
Sponsored Links