Real Housewives of New Jersey: Season One, The
List Price: $29.95 [Buy now and save at Amazon]
---
"New Jersey housewives have nothing better to do than get in your business."
"There's a fine line between tasteful and tacky."
Garbage TV at its most crass, calculating, depressing best. Bravo Media has released The Real Housewives of New Jersey: Season 1, a 3-disc set featuring the fourth installment of the Real Housewives franchise which premiered back in the summer of 2009. Aficionados of this kind of excrement understood back in '09 that The Real Housewives of New Jersey took the popular reality series to its most logical conclusion...and lowest point, featuring a cast of Joisey hausfraus who loudly flaunted their breast implants, wretched parenting skills, conspicuous consumer consumption/gluttony, control-freak issues, questionable decorating skills, insular family suspicions/paranoia, big hair/nails, and possible connections to Columbian drug cartels, kidnapping/extortion plots, and prostitution. In other words: everything TV should be. Tons of extras for the Housewives fanatics, but watch out for technical problems with the discs menus.
Following the successful launch of The Real Housewives of Orange County (can you believe poor Tamara and what a controlling dick Simon is?), Bravo (the real Gay Channel) commissioned more installments in the series, branching out to Real Housewives of New York ("You dumb drag queen" says it all, Bethany), Atlanta (couldn't watch it: too much sturm und not enough drang), and then New Jersey. The premise of the various series is simple: a "reality TV" producer finds several well-to-do (in this case: filthy nouveau riche) women in a community (Franklin Lakes, New Jersey here), and films their lives for everyone to see (while offering alcohol and helpful hints from time to time on how to stir up a sh*tstorm for the cameras). Interview snippets by the women explaining their actions while calling everyone else a bitch, are woven into the faux-cinema verite material as a structuring device. In The Real Housewives of New Jersey, we're introduced to sisters Caroline and Dina Manzo. Caroline, the "mama bear" of her large Italian-American family, is fiercely loyal to her sister Dina, and ferociously protective of her children and husband...while also being just a tad paranoid and combative about any strangers coming into her sphere of influence. She runs a few businesses herself, while her husband Albert co-owns The Brownstone, which Caroline informs the viewers is "the premiere upscale catering facility in New Jersey." Her motto? "My family is as thick as thieves" (perhaps not the best word choice after ten years of The Sopranos reruns). Caroline's younger sister Dina is married to Albert's brother, Tommy, making the sisters sisters-in-law, as well. Dina, an interior decorator (uh...did you see her house?), spends much of her time at home with her teen daughter Lexi (from a previous marriage), while she struggles with the guilt many parents have over pursuing a career versus the time spent away from their children. When working on her various charities, "Bitch Mode" Dina comes out (as everyone, including herself, laughingly refers to it as), showing a control freak who must have everything done precisely to her specifications...or else.
Close family friend of Caroline and Dina, Teresa Giudice, is a full-time stage mother devoted to promoting her young daughter Gia into a modeling/acting career in New York. Described as a "living Barbie Doll" by her friend Caroline, Teresa is all about the clothes, the hair, the nails, and the outrageously expensive, expansive lifestyle she leads, thanks to the efforts of her husband Joe, who owns a construction company. Next to Teresa's promotion of Gia, her "bubbie" implants and her efforts to move the family into their brand new, ridiculously large home (after three years of construction) take up most of her time this season. Jacqueline Laurita is directly connected to the Manzo family; she's married to Caroline's and Dina's brother, Chris. Raised in Las Vegas (by very sound parents considering her singularly model behavior among the rest of the housewives), Jacqueline is relatively new to the Joisey scene...and entirely ambivalent about it. Caught in the high-pressure sell of the Manzo family (which seems to demand: love us, be with us, and trust no one else), Jacqueline is having just as much difficulty in keeping her ungrateful daughter Ashley (from a previous marriage) in line, who's flunking out in school. But none of that turmoil compares to the problems caused by Jacqueline's friendship with divorcee Danielle Staub. Franklin Lakes' resident cougar, Danielle seems to bring tension and strife with her wherever she goes. Covering up a scandalous past (see first paragraph), Danielle befriends Jacqueline, but alarm bells immediately sound with suspicious sister-in-law Caroline, particularly after Danielle seems to take undo pain/pleasure out of obsessing over Dina (at one point, Dina wonders aloud if Danielle wants to wear her skin). As well, Danielle has two daughters, both of whom seem more clued into reality about their mother's relationship with boyfriend Steve, than Danielle.
SPOILERS ALERT!
At its most fundamental level, the appeal of a typical "reality" television series is that of a circus freak show. I would hope that most viewers out their would demur from having a camera crew film their lives, so reality show producers must seek out and cast participants who don't mind behaving like screeching monkeys in a zoo cage for the amusement of those throwing peanuts at them (in this case, the peanuts are a few years of fleeting public notoriety and any money that can be skimmed off that unsavory fame). A reality show is cast just like a drama, but since the shows aren't scripted (ha), and since professional actors aren't used (saturation media has turned this entire nation into drama-queen actors), a resemblance to reality is assumed by the viewer. Of course, the "reality" in reality TV shows is largely created in the editing room, so what we're seeing in a show like The Real Housewives of New Jersey is skewed not only to create a storyline for viewers to follow, but also shaped to make recognizable stereotypes out of the characters the series is creating: the protective "mama bear" Christine; the ditzy stage mother Theresa; the control-freak mother Dina who worries about time spent away from her child; the man-eating sh*t-stirrer Danielle; and the innocent fawn Jacqueline, caught in the middle of all the drama. Reality TV may like to think it's cutting edge (when actually, its just base enough to show real people acting like asses on the airwaves), but its goals are as old as the hills, and its conventions numbingly familiar and rote.
Still, you can talk about editorial choices and manipulation all you want (I always love it when reality "stars" bitch about the editing), but events as they unfold on the camera are those events: they are what they are. If inappropriate behavior happens, that's down to the participants, ultimately. If Danielle wants to lie in front of the whole country, that's her choice. And if Teresa wants to absolutely flip out at said Danielle, turning over a banquet table while screaming obscenities, hey...own it. You're responsible for your own actions. Don't ask for first anonymity and then pity when you flagrantly flaunt your shortcomings on the screen, and don't ask for meaningful interpretations of your life and your behavior inbetween the dog food commercials and feminine deodorant ads. Television was never meant to be an in-depth medium.
And with those editing choices used to create stereotypes and recognizable villains and heroes comes...the judging. Naturally, the most delicious irony in watching a reality series is indulging in judging the participants...who are constantly on screen, demanding no one judge them for their poor behavior. There's really nothing more satisfying than holding court over someone who demands that you don't, is there (it may not be admirable, but we all do it)? And with reality TV, we can do it in the comfort of our own homes - which may have just as many, if not more, problems than the ones depicted on the screen - without fear of reprisals or the intimacy of actually becoming involved in someone's nightmare of a life. However, willingly agreeing to put your life, your problems, your foibles on the screen for millions to watch, in exchange for some paltry, fleeting fame (or better: infamy), pretty much eliminates any right you may have to ask for consideration or a non-judgmental attitude from viewers. And that's where the sick fun lies: these naïve or calculating people put themselves out there for our amusement, and then demand respect while acting in the most atrocious manner possible. Hilarity. That's why it continually amuses me when I read critics and writers who profess an inability to understand why reality TV continues to thrive (they usually lay in a pompous, elitist sniffiness about the whole thing while they're supposedly searching for an answer). Why wouldn't it thrive? Its structure is primal storytelling at its most vulgar, while at the same time, it provides a patina of "reality" by using "real-life" participants, not actors. It's the Christians and the lions wrapped up in a Roman farce, and when it's over, we just change the channel.
Which brings us back to these Joisey girls. I'm a fan of the Orange County and New York versions of the Real Housewives series, but I didn't catch New Jersey last summer (who watches TV in the summer?). Watching it now (DVD or one of Bravo's frequent marathons are really the only way to watch these shows), what little contextual drama there was (no real class warfare - they're all rich; no vast differences in cultural upbringing, except for perhaps Jacqueline), was made up for by the absolute foul atmosphere that the series captures from the very first episode. With the exception of Jacqueline, I can't imagine wanting to live next door to any of these women. The editors (who should win an Emmy or whatever they give out for cable) are relentless in contrasting the platitudes the housewives lay down, followed immediately by clips that show them acting 180° different. Teresa seems to be the favorite target for this kind of cheap but funny laugh. Whether she's stating, "I'm not fake," followed up by a desire for breast implants (seriously, what the hell is up with that infantile "bubbies" term?), or her emphatically declaring, "I feel you can't push your kids," followed immediately by a shot of her harping, "Stand up straight, Gia," during one of the little child's stage performances, this kind of eye-poking by the makers of The Real Housewives of New Jersey is frequently hilarious. Don't the participants get it? They're making fun of you, so we at home can laugh at you, too.
Those are relatively innocent transgressions, but on the whole, it's a mean, snarky, bile-ridden season, fueled in no small part by the fractious, aggressive attitude of "mama bear" Caroline. Always quick to self-deprecation while asserting she's "just" a housewife, in reality, she's just as poisonous as Danielle, stating flatly to any and all comers into her world, "Before I like you, I don't like you," while giving this grudging assessment of a new friend of her sister Dina's, "She gave me no reason to dislike her." Talk about coming from the negative; it's extremely off-putting to see that kind of overbearing, controlling love so proudly brandished. Her sister Dina isn't much better, stating right up front: "If you think I'm a bitch, then bring it on. But if you don't know me, you should keep your mouth shut." Gosh, when's the next church potluck...and can Dina come? Danielle, painted as the true villain of the piece (and quite willingly, it appears) comes across as extremely shady and unstable - something her own kids seem to pick up on. Her smart daughter Christine knows exactly what's going on with her delusional, needy mother's relationship with her boy-toy, and it rightly creeps her out (although not as much as her mother showing the girls nude pictures of herself - thanks, Mrs. Cleaver!). Who is this spiteful, grasping, seriously damaged person, and why is she trying to be famous? One can only watch and wonder.
You can laugh at the inane pretensions that Teresa throws out there (comparing her garish mausoleum of a home to a French château was the highlight of the dollar tour), but ultimately, this "silly" character in the show becomes its most unhinged member when she freaks out at the final provocation by Danielle (it's a long story, but at a "family meal," Danielle brings out a book by her ex-husband that's the source of all the gossip about the divorcee, and then starts verbally attacking everyone). Flipping up tables and yelling curse words (in what has now become one of the most famous scenes in reality TV history), momentarily insane Teresa has to be restrained by her husband, while all the little kids watch (even sympathetic, even-tempered, level-headed Jacqueline starts screaming, such is the pull of the dark, unsettling energy these women together seem to conjure up). It's fascinating to watch - like a car accident, you don't feel good about staring, but you still do. But ultimately, the fun is dampened in this final outré moment of the series, because you keep seeing a kid or two in the shots, either watching solemnly, or worse, just milling around like this kind of unhinged yelling and screaming is par for the course. And that makes you start to think back on all the other scenes with the kids, where Mom and Dad talk inappropriately about getting "bubbie" implants (to top that, they ask the waiter, too - classy), or the kids screaming like maniacs in a store, running wild, knowing all the while they go shopping like this almost every day ("divas like mommy," the housewife smiles), or the smart little girl who came off brighter than Mom, coming home with a T-shirt that says, "Shore Whore" to big laughs (not condemnation) from Mom (there's some bonding). Imagining being one of these kids, years from now, watching this show and seeing your parents putting their worst qualities forward for posterity. It's depressing. But it's "real," too, even if the show is fake. People are really willing to do this to themselves and their kids, just for a moment or two of "fame." That, then, makes The Real Housewives of New Jersey a valuable, sickly funny, and sometimes sad document.
The DVDs
The Video
The full-frame, 1.33:1 video transfer for The Real Housewives of New Jersey looks quite good, despite some interlacing, with solid video color and a sharpish image.
The Audio
The Dolby Digital English 2.0 stereo audio track is recorded at solid levels with nothing much in the way of separation. Adequate. Close-captions is available.
The Extras
Disc 3 includes a "director's cut" of "The Last Supper," which includes about twenty replays of Teresa flipping out and flipping over the table (they even show it in reverse). That's milking it. More commentary by the participants, including Dina, who at least has the decency to say, "Don't be like any of us - myself included," after reflecting on the dinner debacle. Both parts of the reunion show are included here, with lots of excuses and justifications for bad behavoir, and more angry words are exchanged, of course...but very little of it wasn't already in the show. "Lost" footage is also included, and the same thing applies: seen it.
Final Thoughts
Deplorable and irresistible. The Real Housewives of New Jersey is necessary viewing for anyone who doesn't understand the appeal of the reality TV genre: it's base, vulgar, and depressing in equal doses. If you're going to wallow, here's the pigpen to do it in. I highly recommend The Real Housewives of New Jersey.
---
Paul Mavis is an internationally published film and television historian, a member of the Online Film Critics Society, and the author of The Espionage Filmography.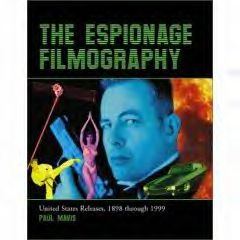 ---
C O N T E N T

---
V I D E O

---
A U D I O

---
E X T R A S

---
R E P L A Y

---
A D V I C E
Highly Recommended
---
E - M A I L
this review to a friend
Sponsored Links
Sponsored Links