List Price: $29.99 [Buy now and save at Wbshop]
---
From one of the best, trashiest, most consistently entertaining miniseries of the 1980s comes...one of the lamest. Warner Bros., through their direct mail-order service, the Archive Collection, has released Lace II, the 1985 follow-up to Lace (read my review here) that reunites most of the cast and crew from that superior mini, only to drop them in the middle of boring, plush daydream that celebrates none of its originator's excesses. Criminally, star Phoebe Cates, who delivered a powerhouse, hilarious performance as avenging angel/porn queen Lili, comes off meek and mild here - a good approximation of the entire mini.
Lili (Phoebe Cates), porn queen turned international movie star, is ready to unveil her latest film. And as icing on the cake, she's ready to reveal to the world the identity of her mother: Judy Hale (Deborah Raffin, sitting in for Bess Armstrong). Trying to achieve some normality in her life while reconnecting with her roots, Lili agrees to go with Judy to visit her grandparents (Bruce Boa and Richenda Carey). At the old homestead, Judy gives a precious gift to Lili: her first book - The Adventures of Lucinda Lace, a thinly-veiled account of Judy's early life with her friends Pagan (Brooke Adams) and Maxine (Arielle Dombasle). Reading through the book, Lili remembers some of the events she already learned about Judy and her friends when she first began her search for her mother...along with some new stories, such as the time Judy tried to abort Lili. Due back in Hollywood to shoot her new film, journalist and Lace magazine owner Judy begs off accompanying her daughter so she can fly to Southeast Asia and interview General Zedd (Walter Gotell), a famous rebel leader.
Once there, however, she learns from the General's English mercenary/agent advisor, Raleigh (Christopher Cazenove), has orchestrated not an interview, but a kidnaping: hers. Lili gets the message when Asian hitmen assault her in her Hollywood hotel, telling her she had better come up with a cool million, or Mommy buys the farm. However, Lili doesn't have a million dollars, and none of her former sugar daddies, including Jo Stiarkoz (Terence Rigby), think she's worth the loan. So...maybe Daddy can help out. But who, exactly, is her daddy? The clue lies in Judy's The Adventures of Lucinda Lace, where Judy has written three different accounts of how she was raped by the possible father. All Lili and Pagan and Maxine have to do is break the code that Judy used in the roman a clef to determine the men's names, and then go and confront each man until she finds out if father really does know best.
SPOILERS ALERT!
I knew Lace had to be one of a kind. It doesn't matter that the same cast (minus Bess Armstrong) is brought back here, along with the same writer and director - you don't hit that kind of lightening twice. It's difficult to know where to begin finding fault with Lace II because so much of it is so wrong, it's hard to believe it has any connection with its originator. Certainly the central premise is nowhere near as intriguing as the one in Lace. In that mini, Lili's vengeful search for the mother that abandoned her allowed the character to fume and scheme, plotting the destruction of all three schoolgirl friends in an effort to assuage her feelings of bitter betrayal. But here...who really cares who her father is? That paternal search doesn't hold nearly the same psychological weight as the previous film, particularly since Lili isn't looking for her father to establish a relationship here (as she did with her mother), but rather just to hit him up for some cash. As well, once we learn that Judy was raped, we have zero sympathy for the father...which should lead, naturally, to a vengeful Lili looking to put a hurting on him. Revenge fueled the first film - why abandon that tried and true character motivation of melodrama now?
But that doesn't happen in Lace II. Instead, we're presented with a neutered Lili who isn't particularly concerned with revealing who her father is, once she finds out, nor in persecuting him with her fame and money. Why is the character so tame and scared here? What happened to the ballsy and profane Lili who would tracked down and tormented her "fathers" until she blackmailed the real daddy for the dough? It's as if the first Lili never existed (it's amazing to see the difference in Cate's two performances...and very sad). And it's never believably established that Lili is suddenly poorer and less influential than she was in the first film, so we wonder why she can't get more headway in tracking down the kidnapped Judy. Apparently, discovering her mother was originally from Kansas has instantly stripped her of any personality she previously possessed. Eurotrash vixen Lili has devolved into standard-issue miniseries heroine, complete with tears and fluttering hands, and exclamations of not knowing what to do. Even worse, once she does discover the father, and we're primed for a final scene where Lili destroys him in front of the world, she becomes...noble (yeeck) and spares him public humiliation. Whatever for? Lace II is not the kind of film where I want to see noble characters. I'm looking for blood. I got it in Lace, but here....
Equally distressing is the choice to spend so much time with the new Judy and her adventures in Southeast Asia. I can't say I've seen too many Deborah Raffin performances, so I don't have a baseline to go by, but she's a pretty cold fish here. Bess Armstrong was no Sarah Bernhardt in the first film, but at least she has some goofy energy from time to time during the early schooldays scenes. Raffin, however, stares blankly when called upon to show a variety of emotions, with the result being the viewer couldn't care less about her plight once she's kidnapped. It doesn't help, either, that she has zero chemistry with her romantic lead, Cazenove (they look like they can't stand each other), nor that her subplot is so predictable and formless (the Rambo-like scenes are hilariously staged). As for Lili's and the girls' search for the fathers, with the three flashback sequences playing like some Reader's Digest version of Rashomon, it plays more like bowling pins getting systematically knocked over than an integrated melodrama (the editing is atrocious here). We watch and wait for the next flashback sequence as Raffin is abused by the potential fathers, and then dutifully wait for the next one, hoping that the film has something interesting up its sleeve to break the monotony. Alas, nothing of interest comes, and we're stuck re-dos of scenes from the first movie along with genuinely odd scenes like Judy's attempt to abort Lili, played for laughs, or a supposedly French crowd cheering on an American astronaut (why is this even in the film?), or Asian hitmen threatening Lili, but not too vigorously lest their obviously fake eyelids come off. And where is that strange, cool adherence to the melodramatic conventions and romance novel iconography that so informed the first film's aesthetic structure? Gone, apparently, with a slipshod approach to the script structure and framing that suggests someone wanted to cash in quick on the first ratings bonanza, and forget elevating trash into art. Instead, we're left with a cast that looks bored to tears plodding through the uninteresting, predictable set-ups, while some odd little cameos pop up, making you wonder what the criteria was for the casting of this film (how sad to see the great Kenneth Nelson of The Boys in the Band fame turn up for two seconds as a TV reporter - what a waste). But then again, what did they expect...that is, if they read that awful script first.
The DVD:
The Video:
Considering the age of the original materials (or at least the sourced materials used for this full-screen, 1.33:1 transfer), Lace II didn't look too bad. Colors are true, if a bit faded, and the image is relatively sharp. Edge enhancement is minimal.
The Audio:
The Dolby Digital English mono accurately reflects how most people probably heard this mini over their tiny TV speakers back in '85. The recording level at times seemed a tad low (as it does with many of these Archive Collection burns, but all dialogue was heard well enough. No close-captions or subtitles, as per Archive Collection standards, are available.
The Extras:
No extras for this Warner Bros. Archive Collection release.
Final Thoughts:
A huge disappointment. Lace was a genuinely surprising work of low-art; however, Lace II doesn't come close to achieving a coherent aesthetic vision, settling instead for stock situations, unconvincing dialogue, and shaky performances (what happened, Phoebe?). No need to complete your Lace experience with this sequel. Skip Lace II.
---
Paul Mavis is an internationally published film and television historian, a member of the Online Film Critics Society, and the author of The Espionage Filmography.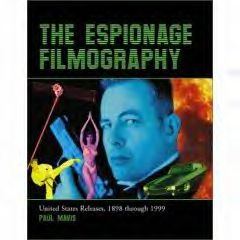 Sponsored Links
Sponsored Links