List Price: $29.99 [Buy now and save at Amazon]
---
"Woman, have you no scruples?"
"Not a one."
A good yarn, but a relatively timid approach. Warner Bros., achieving high marks in my book for releasing quite a few excellent TV movies and miniseries through their direct mail-order service, the Archive Collection, has made available one of the early television blockbusters in the high-gloss romance novel adaptations: 1980's Scruples. Based on the monster-selling first book by Judith Krantz and starring TV-favorite Lindsay Wagner, along with Barry Bostwick, Marie-France Pisier, an early Kim Cattrall, Gavin McLeod, Connie Stevens, and legend Gene Tierney, Scruples always maintains interest with its clever plotting, but anyone used to the later 80s sex-soaked, back-stabbing minis might find Scruples a tad too prim-and-proper.
It sure doesn't start off that way, though. Leaving her fabulous Malibu mansion via a Rolls Royce, wealthy, beautiful Wilhelmina "Billie" Ikehorn (Lindsay Wagner) hoists the urn carrying her dead husband's ashes into her company helicopter, dumps him into the ocean, and then takes her pilot to a motel for lovemaking, before stopping off at her exclusive, high-end Beverly Hills boutique, Scruples. Money, power, sex, and capitalism: all wrapped up in the first five minutes of the mini. But then the flashbacks begin. Billie certainly didn't start out rich; she's a "poor relation" Winthrope, of the fabulously wealthy Winthropes, a situation her wealthy aunt (Anna Lee) sees as a challenge. Shipping Wilhelmina off to Paris to stay with friend Lilianne de Vertdulac (Genevieve), frumpy, shy Wilhelmina is in need of some serious European polishing, and she gets it in the form of handsome playboy, Edouard (as Francois-Marie Benard). But once she learns that Edouard has, naturally, a European sensibility about their impending marriage (um...he wants her money), she drops the bomb on the slimy gigolo: she doesn't have "Winthrope" money - just a few bucks from her Aunt to tide her over in Paris. End of engagement, and sadder-but-wiser Wilhelmina, dubbed "Billie" by Edouard, heads for work in New York.
Meanwhile, talented-but-poor fashion photographer Spider Elliott (Barry Bostwick) is caught between two lovely dilemmas. Across the hall, newly-arrived French fashion designer Valentine O'Neill (Marie-France Pisier), who is also talented-but-poor, is giving the good-natured horndog Spider some pissy French attitude when he puts the moves on her, but it's clear she's becoming a good friend. But weirdo model Melanie Adams (Kim Cattrall) isn't making any bones about wanting to share Spider's bed, particularly if he'll treat her like a baby - that's what she likes best (trust me, it sounds way dirtier than it is). Fashion maven Harriet Toppingham (Gene Tierney) isn't sure about Spider's potential, but she definitely sees something in Melanie, so she begins to push for her protégé's career in Hollywood. At the same time, Billie, snaring a good job as an executive secretary for powerful businessman Ellis Ikehorn (Efrem Zimbalist Jr.), soon makes herself indispensable to the older, suave businessman, and they're soon married. A move to the West Coast follows, but a debilitating stroke leaves the kindly Ellis...incapacitated, apparently, so Billie burns up her energy running the high-end Rodeo Drive boutique, Scruples, which just happens to need its own fashion designer and photographer: cue Spider and Valentine. But trouble isn't far off for Billie, when Ellis' male nurse Jake Cassidy (Gary Graham) starts causing trouble, and when she meets mercurial film director Vito Orsini (Nick Mancuso).
SPOILERS ALERT!
Since I've never read any of Krantz' novels (I've seen all the TV adaptations, though), it's difficult for me to say whether the film version of Scruples plays it coy because that's how the novel was originally written, or because of still relatively prudish network standards back in 1980 (I suspect the TV censors). The storyline, broken up into two main sections (Billie's transformation from frump to jet-setter with her marriage to Ellis, and her widower Hollywood adventures with director Vito Orsini), may employ stock romance novel/melodrama conventions as old as the hills, but Krantz (and specifically, screenwriter James Lee), know how to keep the viewer's interest by carefully building one coincidence after another, intertwining the characters' lives with each other, while highlighting the inevitable clash between personal desires and the underlying cruelty that emerges when the rich and famous rub shoulders with the up-and-comers.
It's just too bad that Scruples seems so sedate and measured, pulling its punches when the storyline is so ripe with possibilities. The opening of the miniseries certainly seems to promise a slutty, rutting good time, with Wagner dumping her husband's ashes and taking a lover all in the span of five minutes (Wagner has a sexy little move where she pulls the pilot by his belt buckle towards her). But as the mini then flashes back, and eventually catches up its timeline with this opening scene, we realize that motel room encounter doesn't make much sense on close inspection. Nothing in any of the scenes with Wagner and wheelchair-bound Zimbalist, Jr. indicates that Wagner would imperiously take one of her employees as a lover the minute that her husband dies. In fact, she's almost piously boring during his long illness, never once expressing any frustration - sexual or otherwise - with his condition. Her character is never shown as being particularly preoccupied with sex, either. So why the afternoon assignation with the helicopter pilot (who's never shown again)? I would suspect it was just an audience grabber for that opening episode. And it's not like Wagner, who's usually fairly even-keeled in her on-screen persona, strikes too many sparks with the equally low-key Zimbalist, Jr.. Even their first love scene together cuts away from the action, rooting itself in love rather than raw sexuality (Wagner, looking quite promising in her undies, comes to Zimbalist's room and offers herself as his mistress...but not before she says she loves him, and only after he offers to marry her. Booorrrr-rrrriiiing.). Where's the fire with this first half of Scruples?
Other relationships in Scruples are equally mild in temperament...and downright vague at times, giving further evidence that Scruples the novel may have been significantly watered down for 1980 television audiences. The teleplay has no problem identifying Michael Callan's character as gay (he plays a fashion manufacturer who hires Valentine; their "romance" obviously doesn't work), but you have to look real fast to see a two-second exchange of looks between Gene Tierney and Kim Cattrall that suggests there might be some tit-for-tat (if you'll pardon me) in Tierney's efforts on behalf of Cattrall's Hollywood career. Apparently, even the hint that Cattrall may have to submit sexually to lesbian Tierney, was too much for the networks. For that matter, we're never really sure what's going on with Cattrall's damaged character, homosexual or heterosexual, aside from her wish for Bostwick to make love to her on a couple of occasions ("Pretend I'm your little baby, that's what I like best...kiss your baby."). As good as that might sound, as with all the love scenes in Scruples, the camera demurely cuts away just when things get interesting (that's just the way network TV was back in 1980).
Scruples certainly picks up in its second half, though, when the film focuses on the ins and outs of a big-budget Hollywood film production. Nick Mancuso, taking his role way too seriously (that's always the problem with this good actor) at least offers some hard bark for Wagner to claw against (perhaps she's just too...placid for this kind of role?), while the inside jokes about filmmaking are quite amusing. Gavin McLeod gets in a few funny asides as a scheming, pragmatic studio head who's out to protect his position when he finds out Wagner is essentially his boss (he's amusing when he tells his aide to charge a congratulatory cable for Vito to the picture's budget), while Connie Stevens is unintentionally funny as a TV gossip maven, perhaps based on Rona Barrett, her character seemingly living in the Scruples dressing rooms (we never really get how or why she's there all the time). Too-curly-headed Robert Reed drops in to unconvincingly woo Pisier (he shows her his trains and she falls instantly in love with him?). And nothing can compare to Cattrall's ludicrous screen test, where she emotes to a...mop head (after she's finished and the crew miraculously applauds, someone asks McLeod, "Is she stoned? She's in another world," to which McLeod states with a hilariously straight face, "Who cares. She's magic!"). None of this is any better or more original, really, than the first half of Scruples, but at least it's handled with a sense of humor compared with the glacial first half. Still, a page-turner is a page-turner, and enough of Scruples works on that simplified level to recommend it.
The DVD:
The Video:
As with the other Archive Collection miniseries I've reviewed in the past few weeks, the full-frame, 1.33:1 transfer for Scruples is entirely acceptable. No restoration, obviously, has been performed, but the colors are generally good, the image sharpness fair, and no compression issues to speak of over the two discs. Some screen anomalies (dirt, scratches), but not bad overall.
The Audio:
The Dolby Digital English mono audio track is a little on the low end of recording levels, but it's acceptable, like the video. No close captions or subtitles are available.
The Extras:
There are no extras for Scruples.
Final Thoughts:
You'll keep wanting to know what happens next, but too often, one wishes there had been a bit more juice to the scripting and the performances. Judith Krantz' Scruples is fairly tame miniseries fare, but it's a key entry in the genre, and it gets funnier as it goes along. I recommend Scruples for miniseries aficionados.
---
Paul Mavis is an internationally published film and television historian, a member of the Online Film Critics Society, and the author of The Espionage Filmography.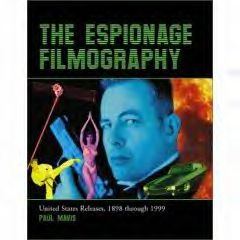 ---
C O N T E N T

---
V I D E O

---
A U D I O

---
E X T R A S

---
R E P L A Y

---
A D V I C E
Recommended
---
E - M A I L
this review to a friend
Sponsored Links
Sponsored Links