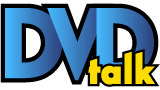 Image // R // March 9, 2010
List Price: $27.98 [Buy now and save at Amazon]
---
The Tagline:
EVERY TEN MINUTES ONE MUST DIE.


The Movie:



Wow. You've got to hand it to the Saw franchise. That 2004 shocker has arguably become the most influential horror film of the last decade - or, at least, the most imitated. Not only has it spawned five sequels (with a sixth on its way this year), but numerous reiterations have proliferated on home video. There's an audience out there for the cruel life-and-death games that Saw popularized, and their relative cheap production needs seem to ensure that a steady stream of Saw-like rehashes pop up on DVD.


This brings us to Nine Dead, a low budget shocker (whose premise borrows more than a little from Saw) that has made its way to DVD this month courtesy of Image Entertainment. Nine Dead's cover art is an interesting little image sporting nine bodies lined up to form the number 9, vaguely reminiscent of the striking promotional art for the terrific fright flick The Descent a few years back that featured the spelunking adventurers twisting their bodies to form a human skull (itself a take on a classic art photograph).


Nine Dead, however, is not one of those cases where the cover art is the best thing about the movie. The film, written by Patrick Wehe Mahoney and directed by Chris Shadley, is surprisingly engaging. It might suffer a bit from a lacking budget, but the story presents a complex puzzle that will keep viewers guessing. It's fairly well acted and has a creepy masked killer. It's too bad that the movie completely falls apart about 30 seconds before the end credits - but more on this in a bit.


In this flick, a seemingly disparate group of nine people are kidnapped in the Los Angeles area by a masked and hooded man. He locks them in a dungy room and handcuffs each one to a separate pole. The rules of his "game" are simple: he's brought them together for a reason, and they have to figure out why he's targeted them. If they put together how they're all related, he'll let them live and turn himself over to the police. To encourage the victims to work together, he threatens to kill one of them every 10 minutes.


What follows is a tense exercise as the characters work out how they're all interrelated, not an easy task considering several are rather unsavory criminals, one cannot speak a word of English, and many have something to hide, including the main character, a venomous lawyer played by Melissa Joan Hart (of Sabrina: The Teenage Witch fame). As the minutes tick by and the body count rises, an elaborate revenge story slowly emerges. Mahoney crafts a motive for the killer that does pull in these disparate protagonists together successfully and satisfactorily; although, at the end of the film when the killer is unmasked, it is a bit of a stretch to believe that the killer himself could have linked the nine characters together. But, the movie was tense and fairly well-acted, so I was willing to forgive this point.


However, Nine Dead goes for one too many endings here - and without spoiling anything, let's just say that the last twist ending and its aftermath are so horrendously unnecessary and ill-executed that it derails the entire production. I haven't been this disgusted with a bad ending to a reasonably good film since Frank Darabont chose to slap Stephen King fans in the face with his ridiculously overwrought tagged-on ending to The Mist.


Ugh. So what to do? I liked all but about 30 seconds of what I saw here, but I suspect I'm not the only one who'll watch this film and feel let down by the silly and incomplete final ending to this movie. Eh. I'll give it a mild recommendation - and encourage everyone to just press "stop" on their DVD players after the killer unmasks himself and reveals the final pieces of the puzzle. This is where the movie should have ended.


The DVD


Video:



Image Entertainment provides Nine Dead an anamorphic widescreen presentation with a 2.35:1 aspect ratio. The image quality was fine - as an ensemble piece largely contained within a dungy room, one doesn't really need the pinnacle of visual acuity, but details were sharp and colors were strong.


Sound:



The lone audio track was an English language Dolby Digital 5.1 Surround affair. As this film was largely dialogue-driven, the mix didn't seem particularly dynamic, but it didn't need to be. Optional subtitles are available in Spanish and English for the Hearing Impaired.



Extras:



The lone extra is a trailer for Nine Dead.



Final Thoughts:




Nine Dead offers an interesting and gripping take on the Saw series. It emphasizes plot over gore - and has some fairly good acting and a creepy masked killer. Unfortunately, it goes for one too many twist endings and the final 30 seconds before the end credits will inevitably frustrate a lot of viewers. Still, it's worth a look for fright flick fans and warrants a mild recommendation.



---------
---
C O N T E N T

---
V I D E O

---
A U D I O

---
E X T R A S

---
R E P L A Y

---
A D V I C E
Recommended
---
E - M A I L
this review to a friend
Sponsored Links
Sponsored Links