Bob Hope: Thanks for the Memories Collection (The Ghost Breakers, Road to Morocco, The Cat and the Canary, The Paleface, more)
List Price: $39.98 [Buy now and save at Amazon]
---
Perfect summer fare. Universal has released Bob Hope: Thanks for the Memories Collection, a nicely-priced six film gathering of some of Old Ski Nose's best-remembered movies. Titles include 1938's Thanks for the Memory, 1939's The Cat and the Canary, 1940's The Ghost Breakers, 1941's Nothing But the Truth, 1942's Road to Morocco, and 1948's The Paleface. Bonuses are included (the same ones from earlier DVD releases), and for the most part, the transfers are excellent. Let's look very briefly at each movie.
Thanks for the Memory
New York City electrical appliance salesman Steve Merrick has acquired quite a collection of eccentric, well-to-do friends...with not a little help from his charming newlywed wife, Anne (Shirley Ross), a former top fashion model. The witty, sophisticated couple may be perennially short of dough for such things as the rent for landlord Mr. Flanahan (Edward Gargan) or for their laundry, washed by the building's janitor, Eddie "Rochester" Anderson, but they always manage to have enough money for liquor in the house, and that keeps their quirky, fun-loving friends coming back for more. In his spare time, budding author Steve works on his first novel, but it's Anne's efforts--on the sly--that get Steve's first ten chapters into the hands of successful publisher Gil Morrell (Otto Kruger), who pronounces the chapters promising. This rankles Steve, because Morrell also happens to be a former flame of Anne's...and he's never made a secret of still desiring her. However, Anne urges Steve to take Gil's advice and quit his job to write full-time, while she goes back to work to support him...a move that has disastrous consequences for the couple.
SPOILERS ALERT!
Titled Thanks for the Memory to capitalize on Hope's and Ross' memorable duet of the same-named song in their earlier Paramount hit, The Big Broadcast of 1938, this breezy, inconsequential little romantic comedy/drama somehow plays better than it should, considering it doesn't have much of a plot, with gags that are mostly underdeveloped. Written by Lynn Starling (based on the play, Up Pops the Devil by Frances Goodrich and Albert Hackett), and directed by George Archainbaud, Thanks for the Memory agreeably floats along from one loose set-up to the next with plenty of time set aside for low-key banter and jokes, before it meanders to its predictable conclusion. By all rights, it shouldn't be as pleasant as it comes off (that short run times helps enormously), but the very carelessness (or perhaps better, "carefreeness") of its structure, combined with the shimmering gloss of Paramount's house style, creates an amiable contradiction that's soufflé-light and just as tasty. What few plot points there are in Thanks for the Memory seem jumbled and random, including the arbitrary appearances of their quirky friends (Charles Butterworth and funny Hedda Hopper make a great Depression-era couple who prize drinking and smart rejoinders over responsibility), while Otto Kruger as the assumed rival for Anne's affections comes on for one or two scenes and then disappears when he makes it clear he's not going to challenge Steve. As well, it's tough to see the point of the sexy Luella character, well-played by Patricia Wilder, as anything other than a haphazard plot device to spur Anne's jealousy over Steve...and that's only utilized in the final act. Anyone looking for an actual story among the one-off scenes will be disappointed; Thanks for the Memory's central theme--Steve feeling emasculated because he has to stay at home, a move that affects his writing--is treated as almost an afterthought, an inconvenience that needs to hurriedly explained away before the final dust-up and subsequent lovers' clinch.
As for the leads, Hope does...okay with his smarty urban house-husband, and he has one or two good bits of physical comedy where he works out some funny double takes (Hope trying to bake a cake is the best one). However, it's probably a good thing he latched on to his "wisecrackin' craven coward" persona (the beginnings of which can be found in the next two films in the Bob Hope: Thanks for the Memories Collection: The Cat and the Canary and The Ghost Breakers), or he might not have risen so high and lasted so long in the ranks of great movie comedians. Here, it's apparent that he's not handsome or suave enough to be a witty, sophisticated Cary Grant or Robert Montgomery type, nor is he a good-enough actor, aside from his superior comedic skills, to pull off the dramatic scenes (he's often hesitant or reserved in those moments). Nor is his penchant for rapid-fire ad-libs used to best effect within the stricter confines of a "straight" romantic comedy (his 4th wall-breaking humor always worked best within parodies or spoofs of genres like westerns, spy films, or adventure tales like the Road comedies). He's certainly pleasant to watch in Thanks for the Memory, but nothing about his performance in it would suggest a future comedic icon.
Ross, though, comes through Thanks for the Memory as if her performance was delivered yesterday, not 72 years ago. There's an indescribable "moderness" to her laid-back, easy performance that seems out-of-time with what we think the typical Hollywood performance was like back in 1938. Physically quite sexy (there's a marvelous shot of her at the film's beginning, all dewy and moist, as she steam-irons her husband's shirt), Ross' knowing banter plays perfectly in-synch with Hope's (no small feat), creating that devastating combo in a woman of sexy and smart. And of course, she's quite dishy singing her Two Sleepy People duet with Hope out on their fun NYC apartment balcony--probably the only scene that most people remember from this film (that particular clip was referenced quite often in news stories when Hope died in 2003). It's just a shame Ross' film career didn't reach the front ranks; she has a Carole Lombard quality here that's very attractive in this slight but charming little film.
---
The Cat and the Canary
Down in the dark, mysterious swamps of the Louisiana bayous, a moldering, crumbling mansion sits, waiting for its new owner to be named. Its previous owner, millionaire Cyrus Norman, has been dead for ten years, but the house has been looked after by his shadowy Creole housekeeper/mistress (?) Miss Lu (Gale Sondergaard). Now, a decade later as prescribed in his last wishes, his remaining relatives have gathered at the mansion to hear the reading of the will by his attorney, Mr. Crosby (George Zucco). Distant cousins "Aunt" Susan Tilbury (Elizabeth Patterson), Cicily (Nydia Westman), Fred Blythe (John Beal), Charlie Wilder (Douglass Montgomery) arrive before art illustrator Joyce Norman (Paulette Goddard) and hambone radio actor Wally Campbell (Bob Hope). Tensions are high among the squabbling relatives, but the real anxiety kicks in once everyone learns the contents of Cyrus's last will and testament: Joyce is to receive the mansion and all monies...but someone else named in a second, sealed document will inherit everything should Joyce either become insane or...die within the next thirty days. And that second sealed envelope has been tampered with. Soon, people are bumping into each other in darkened hallways and swampy grounds, wondering who might be ready to kill, before the night's terror is ratcheted-up with the arrival of "The Cat," an escaped mental patient and homicidal murderer who tears his victims to shreds.
SPOILERS ALERT!
Probably the best known of the five film adaptations of John Willard's 1922 play (although with the advent of DVD, the celebrated 1927 silent adaptation by director Paul Leni is receiving its renewed due for its seminal influence on Universal's horror genre), 1939's The Cat and the Canary still manages to scare up some laughs and thrills, even though its format and techniques have been subsequently copied to death in innumerable horror and suspense outings. A "scare comedy" perfectly suited to Bob Hope's evolving 'fraidy-cat persona (he isn't an out-right chicken here, but he certainly isn't a brave, crusading hero, either), The Cat and the Canary shows Hope, still early in his movie career, taking a big leap in on-screen confidence over his performance in the previous Thanks for the Memory, exuding a sureness of approach that indicates he's finally finding his métier in films. Introduced to the audience apart from the other performers (in his canoe ride to the creepy mansion), Hope starts wisecracking immediately, with director Elliott Nugent giving him a funny sight gag (an alligator catches his thrown cigar) that immediately places The Cat and the Canary firmly on the side of comedy first, and horror second. Once inside with the rest of the suspicious characters, Hope need only throw out a joke a minute ("Don't big, empty houses scare you?" "Not me--I used to be in vaudeville."), react with fear to loud noises, and woo the gorgeous Goddard, to effortlessly stay the center of attention here. Paulette "The Body" Goddard, fresh off the disappointment of her career when she narrowly lost out on the Scarlett O'Hara role in Gone With the Wind, is a fairly plucky heroine for this type of horror film, staying good-natured and spunky whenever Hope's around (keep an eye on her when Hope's clowning; she's always laughing right along with the viewer), and delivering believable fright when menaced by "The Cat." This was the first of three films the attractive, sexy Goddard made with Hope (all three are featured in this collection), and she's a good romantic foil for the jittery Hope, with that underlying hardness of hers a fun contrast to the marshmallowy Bob.
As for The Cat and the Canary's horror credentials, it's almost impossible for an adult who has seen his or her fair share of horror films, from any decade, to be taken aback by anything in this thriller--not so much because the chills are tame but rather because they've been Xeroxed so many times by hundreds of other films: the creeping hand coming out of the paneled wall; the menacing shadows on the floor; the creaking doors and sighing winds through the crumbling shutters. However, nostalgia does have its pleasures, too. As I often do with films like The Cat and the Canary, I try and grab a few of my younger kids to watch along, to see if these older efforts still work with kids who, conventional wisdom suggests with their more violent TV, movies and video games, shouldn't be scared at the basic horror chills here, either. Wrong. During the final sequence of The Cat and the Canary where "The Cat" tries to kill Goddard, my two youngest were hunched down behind a pillow, hiding their eyes at every loud noise. With remarkably evocative cinematography by Charles B. Lang, and equally impressive art direction by Hans Dreir and Robert Usher, The Cat and the Canary's bayou mansion (supposedly the inspiration for Walt Disney's Haunted Mansion attraction) is a palpably spooky apparition, while the final sequence of "The Cat" attempting to kill his prey is genuinely scary under Lang's chiaroscuro lighting and director Nugent's violent staging. Spooking a couple of semi-jaded kids in 2010, while delivering seemingly still-topical jokes from the vaults ("Do you believe in reincarnation? Dead people coming back to life?" "You mean like Republicans?"), would seem high praise, indeed, for a 71-year-old film.
---
The Ghost Breakers
A violent thunderstorm knocks out all the lights along Manhattan's storied skyline, including Mary Carter's (Paulette Goddard) hotel room. A knock on the door reveals Mr. Parada (Paul Lukas), a Cuban solicitor who officially hands over to Mary the deed to Black Island's Castillo Madito, built by her great great grandfather...after which he immediately offers her 50 large to purchase the island. Mary can't understand why he would offer so much, but Mr. Havez (Pedro de Cordoba) of the Havana consulate explains: no one in the last twenty years has survived the night at the castle. That disturbing fact isn't going to stop Mary from sailing for Cuba, though, but what she doesn't count on is meeting radio personality Larry Lawrence (Bob Hope). Ticking off the wrong mobster with some on-air gossip, Larry is summoned to gangster Frenchy Duval's (Paul Fix) digs for a heart-to-heart...which just happens to be located in the same hotel as Mary's. Armed with a pistol owned by his manservant Alex (Willie Best), Larry witnesses shady Cuban operator Ramon Mederes (Anthony Quinn) outside of Parada's room, and somehow convinces himself that he's shot Mederes, when it was Parada all along. Time to find a hiding place for the scared Larry, and what place better than Mary's trunk. Soon both are on their way to Cuba and Black Island, but ghosts, zombies and flesh-and-blood killers await them in the shadows of the imposing mansion.
SPOILERS ALERT!
I would imagine that most viewers of my age better remember The Ghost Breakers' remake, 1951's Scared Stiff, with Martin and Lewis, if only because it was more TV-friendly in syndication with the pesky racial stereotyping of Willie Best's character replaced by Jerry Lewis' moronic mugging (far more insulting to whites, some may joke, than Best's portrayal to blacks). It also seems to be remembered, perhaps mistakenly, as some kind of direct inspiration for Ghostbusters, even though the Hope character here only jokes about breaking spooks for a living (the original trailer, interestingly enough, does seem like it could have sparked the idea for the 1984 smash hit). Whatever its future permutations and influences in cinema pop culture, The Ghost Breakers, back in 1940, at least, continued a successful run at the box office between Hope and the comedic spooks genre (and his re-teaming with Goddard, as well), and as seen today, it holds up fairly well. Speedy in length, but slightly protracted in its buildup (the genuine scares don't even come until the third act when the participants visit Black Island), The Ghost Breakers moves assuredly through the invisible direction of George Marshall (who would also helm the Martin and Lewis' remake), creating a subtly menacing atmosphere amid the clowning (helped enormously by the effective score by Ernst Toch).
Hope here is in the first full flower of his shaky coward persona, and he's quite amusing alternating cowardice with bravery brought on by lust for Goddard (not surprising when one of the first images you see of her is the sultry actress stripping down to her underwear). The one-liners that will come to dominate later Hope vehicles are becoming more prominent here ("It's worse than horrible because a zombie has no will of his own. You see them sometimes walking around blindly, with dead eyes, following orders, not knowing what they're doing, not caring." "You mean like Democrats?"), while his timing with other performers is razor-sharp (the film's best joke may be when the caretaker zombie screams and runs out of the room, with Bob deadpanning after her, "Upstairs, down at the end of the hall.") Acting against the undervalued Willie Best (whom Hope famously said was one of the best comedic actors he had ever encountered), Hope's delivery is alternately brash and craven--which may best sum up his approach to many of his subsequent roles. As for Best, it's difficult to discuss his performance without referencing the obvious stereotyping that goes into the role, but it's important to note that he has almost as much screen time as Hope once the action starts, along with some stand-out comedy moments (calling for Hope among the trunks on the pier is a notable scene), all of which he executes flawlessly (when he asks the locked-up zombie, "Is you there, Zom?" with the zombie growling an answer back, and Best deadpanning, "Okay," it's certainly the funniest exchange in the whole picture). And Goddard again shows that she's a worthy bounce-back for Hope's banter; it's a shame she didn't do more comedy in her up-and-down career. Once horror takes over for the comedy, director Marshall has no difficulty coming up with several unsettling moments (the shot of the zombie son, played by Noble Johnson, turning to look at Hope through his window, is worthy of any moment in the more celebrated "classical monsters" period over at Universal), bringing The Ghost Breakers to a satisfying funny/chilling conclusion.
---
Nothing But the Truth
Brokerage firm owner T.R. Ralston (Edward Arnold) has a problem: he's trying to avoid his niece, Gwen Saunders (Paulette Goddard), because in a moment of weakness, he promised to double whatever investment she could bring to his firm. Having just hired failed broker Steve Bennett (Bob Hope), who provided his boss with some phony numbers about what he made in commissions the previous year, T.R. figures he can fob Gwen off on Steve. What Steve doesn't know is that the $10,000 that Gwen brings to him is charity money she's collected...and never returned to Mr. Bishop (Grant Mitchell). She wants the money doubled by Steve, who in turn has no idea what to do with that wad of cash. That is...until he makes a rash bet with his boss, the boss' philandering son-in-law Dick Donnelly (Glenn Anders), and fellow broker Van Dusen (Leif Erickson), who's in love with Gwen. The bet? Steve has to tell the absolute truth for 24 hours, regardless of whom he may offend in his business affairs, or hurt in his private life. Soon everybody is on a big, fat yacht, with bedroom doors slamming open and shut, while Steve dodges intrusive co-workers and chorus girls and an increasingly interested Gwen, while trying to keep his mouth shut lest he blow Gwen's money.
SPOILERS ALERT!
Am I right in assuming this was at least in part the inspiration for Jim Carrey's Liar Liar? Written by Ken Englund and Don Hartman, based on Frederic S. Isham's novel, and directed by The Cat and the Canary's Elliott Nugent, Nothing But the Truth was a pleasant surprise for me (I had never caught it before), showcasing Hope in a performance that steers clear of his coward act, casting him instead in the guise of a moral, youthful truth-teller battling his cynical boss while trying to woo knockout Paulette Goddard. Taken on its own, the screwball mechanics of Nothing But the Truth are quite sound, with the screenplay expertly building to its bedroom-farce third act where all sorts of misunderstandings--both ethical and sexual--take place in the cabins of the yacht, Flamingo (as Mrs. Van Dusen, played by Catherine Doucet states, people just seem to lose their inhibitions aboard the boat). There are countless clever moments of mistaken intentions and missed signals among the cast of expert farceurs, along with a predilection for everyone to question Hope's sexuality as a reoccurring comedic motif, that gives Nothing But the Truth a tartness in the dialogue (and a surprisingly cynical undertone to the film's message) that compliments the sometimes knock-about physical gags.
I was most impressed by Hope, however, who didn't perform in the role at all the way I expected him to; nowhere was he the ineffectual braggart or vain faux-Casanova...until, of course, the end, when he learns to lie in order to save the feelings of everyone involved. Instead, he's really quite sweet and almost shy here, insisting to his disbelieving, cawing boss and co-workers that a man can always be honest and not suffer for it personally. It's quite a departure for Hope (at least a departure from the Hope persona well-established by this point in his career), and one that shows a possible path he could have taken in his film career had he not stuck to the lecherous coward bit that served him so well through decades of projects. Goddard is given much more to do here than in the previous Hope films, fitting herself nicely into the screwball mode with her daffy niece character who doesn't seem to ever really get it that she actually stole that charity money. She's agreeably quirky and appealing here, and it's understandable that Hope would break his back to tell the truth just for the chance of winning her (where was the Hayes office when they screened that shot of beautiful, lithe, obviously braless Goddard walking through Ralston's offices?). A stealth screwball charmer that seems to come out of nowhere (did it ever play much on TV?), with satisfying, skillful performances by Hope and Goddard.
---
Road to Morocco
Shipwrecked stowaways Orville "Turkey" Jackson (Bob Hope) and Jeff Peters (Bing Crosby) contemplate cannibalism before sighting the coast of Africa. Riding a camel to Morocco, the hungry con artists scheme to get some scratch up for their eats, before Jeff lights on the bright idea of selling Orville into slavery. Conscious-stricken after a dream-visit from his deceased Aunt Lucy (Hope in drag), Jeff goes in search of Orville, eventually coming across a note from his friend, begging Jeff to leave him to his torturous fate. Fat chance. Jeff discovers that Orville's idea of torture is everyone else's idea of heaven, what with the fine clothes, the jewels, and a fiancé, Princess Shalmar (Dorothy Lamour), who wishes to marry Orville...even though she's betrothed to violent sheik Mullay Kasim (Anthony Quinn) and attracted to the crooning Jeff. What possible reason could the gorgeous princess have for wanting to marry Orville?
SPOILERS ALERT!
I suppose for young TV viewers just prior to the Saturday Night Live era, they got their first doses of genuine American smartass humor from the great film comedians like Fields, the Marx Brothers, and Hope and Crosby, whose movies played constantly on afternoon "Big Shows" and the "Late, Late Movie" (before all was lost to Oprah, Judge Judy, and endless cable news). It's difficult now to assess the influence these Road pictures had on American film comedy because their elements have been so thoroughly re-worked and assimilated into hundreds of different permutations and variations from the comedians who came after them. I remember watching the Road pictures as a kid and thinking them hilarious and quite modern-sounding, even compared to then-current sitcom offerings and film comedies that toed a more convention, conservative line of humor. Anything could happen in a Road picture, from Hope turning into a monkey, to Crosby crooning to Lamour, to a talking camel. And with Hope and Crosby's legendary ease and rhythm with their comedic timing, aided no doubt by their musical training (they seem to be ad-libbing all the time), their way with the funny dialogue felt as fresh as the comedians on Saturday Night Live riffing on the latest political scandal or TV commercial (you want some SNL drug humor? Hope makes a "reefer" joke here). They may have specifically broke the fourth wall with their comments about Paramount and movie contracts and the audience's possible reaction to their gags, but just in their loose, jazzy delivery alone they were breaking away from almost all the comedians that had come before them...and most after, too (their Paramount successors, Martin and Lewis, may have had, by all reports, that same energy and vibe in their live performances, but in the movies, it didn't approach the same kinetic feeling Crosby and Hope had in their films).
Road to Morocco is often cited as the best Road picture, and that's probably a good argument to make. All of the elements work perfectly here (that can't be said for the other Road pictures), from the sight gags, to the one-liners, to the ad-libs, to the songs (Crosby's Moonlight Becomes You, as well as the duo's title song, may as well be official themes of the series), to the romancing. Each star seems at their peak, with Lamour never looking that lovely before or after in the films. And most importantly, the combination of surrealism and downright nasty humor makes Road to Morocco still as fresh today. Most kids would probably point to the more outrageous gags as the film's most memorable moments, including Hope's wild, jumping transformation into a monkey, or Hope in drag, or the mixed-up voices during the trio's version of Moonlight Becomes You, or the talking camels (Elaine May and Warren Beatty didn't have the guts to go with one of those in Ishtar; they settled instead for a blind one). But watching Road to Morocco today, I was struck by how mean-spirited (and thus, hilarious) it all was, from starving Crosby seriously contemplating eating Hope, to Hope imitating someone mentally handicapped, only to have the store owner he's trying to score free food off of, speak the same way (a gag that would be at home in any Farrelly brothers film), to selling Hope into slavery without the slightest concern as to what will happen to him, to Hope commanding Crosby be thrown to the crocodiles when he fears he'll horn in on Lamour. Obviously, this is all played for laughs, but the underlying nastiness is still there, and it provides a surprisingly modern feel (or should I say "American" feel) to the comedy that may help account for the continued appeal of this series. Never tied down by logic in its breezy, happenstance plot and its heavy doses of fantasy, Road to Morocco comes off like a whipsmart, violent Looney Tunes cartoon, with smooth, cool hep cat Crosby as Bugs Bunny and hapless dope Hope as Daffy Duck...and it holds up just as well as those animated classics, seven decades later.
---
The Paleface
In the middle of a dark, stormy night, notorious outlaw Calamity Jane (Jane Russell) is busted out of jail by unknown men. Taken to Governor Johnson's (Charles Trowbridge) office, Jane is offered a deal: work as an undercover agent for the State tracking down the renegades that are supplying arms to the Indians, and she'll receive a pardon for her ten-year prison sentence. The only stipulation? Snag a man as cover and pretend she's married when she rides the wagon train west. Enter "Painless" Peter Potter (Bob Hope), Eastern seaboard dude and now frontier dentist. As cowardly as he is inept with the drill and pliers, Potter is floored when beautiful Jane basically shanghais him into an engagement. That's nothing, however, when compared with his incredulity when he seemingly wipes out 15 Indians during a war party attack on a group of settlers from the wagon train. What cocky Potter doesn't know is that it was Jane who killed those braves, and without her help, increasingly belligerent Potter might soon be pushing up the daisies when he takes on the renegade gang.
SPOILERS ALERT!
The Paleface was a big success for Hope back in 1948, its popularity even translating into a hit single for the comedian/singer with his rendition of the Western standard Buttons and Bows. As kids, if we had to choose, we probably would have preferred watching its remake, The Shakiest Gun in the West, with Don Knotts, but The Paleface was always good for a laugh whenever it showed up on the afternoon "Big Show." Seen today, most of its gags still work (the screenplay was co-written by Frank Tashlin, of The Girl Can't Help It and Jerry Lewis fame), and Hope is certainly amusing in full-blown coward mode. However, there's no denying that subsequent Western spoofs have somewhat dulled what once seemed fresh (for instance, it can't hold a candle to either Cat Ballou or Blazing Saddles). Don't get me wrong; the gags that still work are quite amusing, from Russell slapping Hope in the face to wake him up (funny, exaggerated sound effects), to the stealthy Indian on laughing gas who can't stop his giggling, to Hope's admittedly hilarious approximation of a tough gunslinger swagger when he bellies up to the bar (I also love the Tashlin-looking gag of the dummy-as-Hope being catapulted over the forest trees). And I was again taken with the underrated Russell; she's gorgeous and tough (she doesn't blink when she fires those pistols...even the Duke blinked on occasion), and she's quite funny wearing the pants in her relationship with the craven Hope. Still, there's a...pokiness to The Paleface that surprised me (quite a few fans rate it Hope's best). It's beautiful to look at in its saturated Technicolor®, and it's polished and assured like any A-picture from a top-flight studio like Paramount. But that manic, anything-can-happen quality of the Road pictures is sadly missing here (as it increasingly would be from more and more of Hope's later pictures), limiting The Paleface to pleasant but uninspired Western comedy fare.
The DVDs:
The Video:
The full-screen, 1.33:1 video transfers for the Bob Hope: Thanks for the Memories Collection are for the most part, quite good. Only The Ghost Breakers seemed to be in less-than-optimal shape, exhibiting grainy, scratched original source materials that clashed with the cleaner, sharper transfers of the other titles. The rest of the films here looked very nice, with The Paleface's Technicolor® in register, and the remaining black and white films well balanced with their gray scales and contrast. No compression issues for any of the titles (the six short films are well spread-out over three discs).
The Audio:
The Dolby Digital English 2.0 split mono audio tracks are adequate for the job, recorded at a decent level, and relatively clean with minimal hiss. English subtitles are available.
The Extras:
Every film in the Bob Hope: Thanks for the Memories Collection has their original trailers included. As well, there are additional bonus features on The Ghost Breakers, Road to Morocco, and The Paleface, all of which look to be the exact same ones that were included on the previous DVD releases of these titles. On The Ghost Breakers, Entertaining the Troops: Bob Hope and the U.S.O., running 6:08, author Richard Grudens eloquently discusses Hope's military variety shows. From the Army-Navy Screen Magazine series, #20, a segment of Command Performance from 1944 is included, showing chopped-up, brief appearances by Judy Garland, Betty Hutton, and dewy, sexy Lana Turner frying up a Porterhouse steak (that's what the boys were all fighting for). It runs 6:30. And short subject Hollywood Victory Caravan tells the story of a young girl unable to visit her injured brother at Walter Reed Hospital in Washington, D.C. because there is no civilian transportation. She goes to Hollywood to have Bing Crosby help her out. Humphrey Bogart (kinda stiff), Alan Ladd, Barbara Stanwyck, Betty Hutton, and of course Bob Hope, make appearances. There's also a photo gallery of lobby cards and stills from the film. For Road to Morocco, Bob Hope and the Road to Success, running 14:06, looks at the inception of the Road series, while the Road to Morocco Sing-Along lets you do just that, at 2:10. A photo gallery also comes with this title. And finally for The Paleface, there's another Command Performance from the Army-Navy Screen Magazine (#48), that runs a short 5:04. There's also a Buttons and Bows Sing-Along, and a photo gallery.
Final Thoughts:
Just right for cool summer nights when you need something light and fun. Universal's Bob Hope: Thanks for the Memories Collection gives Hope fans six solid titles to choose from, and at the right price. Transfers are quite good, and there are some tasty bonus features, as well. Can't miss fun. I highly recommend Bob Hope: Thanks for the Memories Collection.
---
Paul Mavis is an internationally published film and television historian, a member of the Online Film Critics Society, and the author of The Espionage Filmography .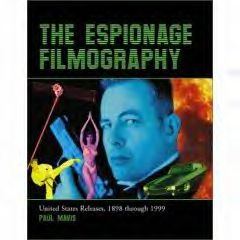 ---
C O N T E N T

---
V I D E O

---
A U D I O

---
E X T R A S

---
R E P L A Y

---
A D V I C E
Highly Recommended
---
E - M A I L
this review to a friend
Sponsored Links
Sponsored Links