Bit of a Do - Complete Collection, A
List Price: $59.99 [Buy now and save at Amazon]
---
A bit of a don't, actually. Acorn Media has released A Bit of a Do - Complete Collection, the 1989 13-episode comedy/drama series from ITV starring England's favorite TV actor, David Jason. Created by veteran British comedy writer David Nobbs (The Fall and Rise of Reginald Perrin), A Bit of a Do uncomfortably mixes clichéd bromides about British class consciousness with hoary observations on marriages and adultery, and delivers them through a numbingly repetitive series of gatherings and events--each episode is one extended "do" (hence the title) or party (...but not for the viewer, unfortunately). A few extras are included, but they won't make much difference in a purchase decision.
There are far too many subplots to detail in the 11 hours of A Bit of a Do, so just a very brief rundown of the series' major story arc and characters will suffice here. Doltish Paul Simcock (David Thewlis) has put one up the spout of nitwit liberal vegan Jenny Rodenhurst (Sarah-Jane Holm), so a marriage is hastily arranged for the two lovebirds. Marriage in England, however (and certainly in Yorkshire), between a working-class trade family like the Simcocks and an upper-middle class professional family like the Rodenhursts, is almost guaranteed to create sparks of class envy and snobbery, and these nuptials are no different. Head-of-the-family and all-around berk Ted Simcock (David Jason) runs a crummy metals foundry and has aspirations of rising to the heights of his local society and politics...within his class, of course. Married to simp Rita (Gwen Taylor), who has very little to offer in social situations other than provincial, stilted chit-chat, Ted is a serial adulterer, which sees him in good stead at his son's wedding and reception, when the bride's mother, Liz (Nicola Pagett), not only makes her intentions towards him obvious, but takes him to bed while the other guests drink downstairs at the "do." Liz's contempt for her husband, good-looking but dispassionate, deadly dull dentist Laurence Rodenhurst (Paul Chapman), is revealed in almost every biting, snappish conversation she suffers through with her equally-pained husband, while he's as aware of his wife's infidelities as is Rita of Ted's. Funny thing, though...what might have been passed off as a drunken one-off turns into a full-blown love affair, with Ted knocking up his new girlfriend Liz, while leaving Rita and his family (as does Liz). This destructive act against two marriages, two families, will have dramatic/comedic/bathos ripple effects throughout the various storylines of A Bit of a Do, with an ending that comes full-circle for the fractious, endlessly squawking participants.
I had never heard of A Bit of a Do (if it played on our PBS, I missed it), but I had high expectations for it, considering the talent involved. Certainly series creator and sole writer David Nobbs brings cache to the project (his brilliant The Fall and Rise of Reginald Perrin--read my review here--is one of my favorite British comedies), while I've always enjoyed David Jason. So I was floored at the remarkably flat, pedestrian (and at times aggressively obnoxious) feel of A Bit of a Do. Working from a framework that becomes annoyingly gimmicky right off the bat, each episode of the series opens with a character begging off a new invitation over the phone, explaining they have a previous "bit of a do" to attend that night, with the episode then beginning at a party or social function. Obviously, that setting then provides the perfect mechanism to create dramatic tension: people put on a façade at a party, so let's watch our characters break down and blow their cool in various embarrassing social situations. Which is fine...for the first episode or two. But when writer Nobbs plugs these characters into this same device, over and over again with unrelenting similarity, the effect is maddening. Surely he must have been aware of this effect (he even has one of the characters comment that the same thing is happening at each function), but Nobbs badly misjudged the viewers' patience with watching unattractive-acting characters recycled endlessly into the same comedic/dramatic situation.
And what a lot those characters have to say within these wordy, gabby 11 episodes. I don't care that these characters sound patently phony; it's a comedy/drama, after all, and a certain theatricality to the dialogue is to be expected (and enjoyed, if everything else in the show is kosher). But Nobbs cookie-cutters the pattern repeatedly with characters delivering reams and reams of acidic rejoinders and obvious soliloquies that eventually the whole endeavor becomes mind-numbingly familiar. The characters arrive at a do; they try and put on a public face while hiding their true feelings and emotions; a situation arises where they can't hold their tongue any longer (either through drinking alcohol or being offered sex or hearing a particularly snotty put-down from someone else); they blow up at someone, spouting flowery angst about their situation while they inadvertently, through their passion, reveal their grotty little secrets; everyone is aghast; and then the offenders apologize and admit they're horrible and we're done with another episode...only to have this set-up be repeated again and again, with no variation, for anther 10 episodes. It's not that the set-up is terrible (although it's certainly not original nor terribly well put-over), it's the repetition that beats this dead horse into the ground.
It also doesn't help that the characters are inherently unsympathetic. I wouldn't want to spend ten minutes with any of them (well...maybe the funny, professional Eric the bartender, perhaps, played by Coronation Street's Malcolm Hebden. Or delightfully screwy hambone actor "Uncle" Harvey Wedgewood, played to absolute perfection by Frank Middlemass. Or that other Corrie alumnus, Tracy Brabin, who plays sweet, loyal Sandra. They're actually tolerable, and more importantly, funny). And don't tell me these nattering nabobs are just like you and me. I don't watch television to see "you and me." I can see that looking out my window or in the mirror. Characters in a drama, even ostensibly "ordinary" ones, have to be compelling for some reason, but this mob of self-involved, whining, bickering, peevish malcontents wear out their welcome well before hour number two is over--by the eleventh episode, I wanted to put my head through a cement wall. It's the same problems, episode after episode, with the same laments, the same disappointments, the same shortcomings of character, and the same frankly lame attempts at gallows humor at the ugliness of it all. Christ, even the blocking is the same from scene to scene, episode to episode, with characters fidgeting and exclaiming and standing stock-still while they speechify and accuse and bloviate and dodge, before they eventually repent with shifty, guilty eyes, and see the light.
One might excuse even these major failings of content had the direction and performances elevated the material, but the pace is excruciatingly slow at times, and some of the key performances look particularly weak against the stronger vets (the entire younger set of characters were a write-off in their unfunny, uninteresting dialogue and performances). It's difficult ever to dislike Jason, and he's terrific at the beginning of the series as he jitters about with his nervous neck-pulling and anxiety-ridden seduction skills, but as the series grinds on, his character is increasingly humiliated rather than lampooned, with a decidedly nasty edge to the degradation, to the point where we wonder if Nobbs even liked the Ted Simcock character to begin with (and if he doesn't like him, how can we the viewers be expected to?). Rita Simcock, on the other hand, is truly insufferable as played by Gwen Taylor. When she isn't whinging on and on at the beginning that she's not being appreciated, she's later forever lecturing someone else over their moral failings with a smug, self-satisfied smirk as she revels in her new-found emancipation (I remember columnist Sidney J. Harris said people who pride themselves on being brutally honest, really just want to be brutal). There's a pompous ridiculousness to the writing of her character (epitomized by the gall of having her attack Ted and others at a Christmas party before she's given the chance to angelically sing, Hark, the Herald Angels Sing, fercrissakes) that unfortunately ties in with the not-so-stealth messages Nobbs throws in about lefty politics and vegetarianism and the Third World and whatnot, making her more a mouthpiece for the author's interests rather than a fully dimensional character. And through all this, the episodes keep coming and coming, grinding on in the same manner over and over again (it's like Groundhog Day, only without the laughs--rather shocking, coming from Nobbs), until the viewer makes an illogical pact with the show: just stop and wind something up in the story, and I'll forget I spent over eleven hours with these wretched people.
Too late.
The DVDs:
The Video:
The full-screen, 1.33:1 video transfer for A Bit of a Do - Complete Collection looks about on-par with similar offerings from that time period for shot-on-video British television programs. Colors are slightly faded and muddy (they probably looked that way right from the start), while video noise is minimal with a mildly sharp image. No compression issues or PAL conversion defects.
The Audio:
The Dolby Digital English 2.0 stereo audio track is recorded at a comfortable level, but directionality is limited if not outright eliminated. Hiss is apparent but not distracting. Unfortunately, there are no subtitles or close-captions available.
The Extras:
Two brief snippets of interviews with actress Nicola Pagett (5:53) and series writer David Nobbs (5:15) are included here. They're not dated, nor are any of the credits included to identify from what British chat shows these interviews originated, but they appear to be from around the time of the series' original broadcast date (1989). Due to the time limits of the interviews, they're not terribly informative. There are also text filmographies available for the cast.
Final Thoughts:
Tickety-boo boo, I should think. A Bit of a Do - Complete Collection was a huge letdown for me, considering the track record of the people involved in its production. Endless repetition of dramatic and comedic situations bleed the premise dry almost immediately, so we're stuck with the performances...and they're constantly recycled, as well. Maybe a rental for the extremely adventurous Brit-com-dram fan, but everyone else can safely avoid A Bit of a Do - Complete Collection. It's a bit of a doo-doo.
---
Paul Mavis is an internationally published film and television historian, a member of the Online Film Critics Society, and the author of The Espionage Filmography .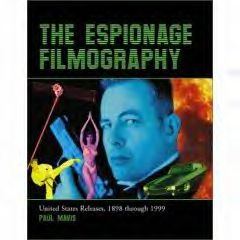 Sponsored Links
Sponsored Links