Van Der Valk Mysteries: Set 2
List Price: $39.99 [Buy now and save at Amazon]
---
"I don't think anything...yet."
"He [the poet Baudelaire] suggests that often there's a weakness among respectable people. Only the villains are convinced they'll succeed, and so of course, they do."
More determined Dutch detective work...courtesy of British Thames Television, in Van der Valk Mysteries: Set 2, Acorn Media's two-disc set that gives fans of the 1973 detective show the second "series" of the Barry Foster-starring mystery. Not much has changed from the previous season--well, maybe a bit more location work in Amsterdam--with intense, wooly-headed Foster carrying most of the interest here in these low-key, nostalgic entries from early 70s British TV. Extras are basically non-existent, but you would expect that for this Region 1 release where the show isn't well-known. If you liked the first set, there's no reason not to pick up this continuation.
Cigar-smoking, beer-and-wine swilling, black bikini (low rise) briefs-wearing Commissaris Piet van der Valk (Barry Foster) can't sit still for a minute. He may have plans to hang out with his hot French wife, Arlette (Susan Travers), or go boating with his only once-glimpsed young boys Mark and Paul, but invariably, as soon as he's settled in for some much-needed relaxation, the phone rings, and it's time to solve another baffling case for the Amsterdam police department. Supposedly now off routine assignments and answering to a new boss, Halsbeek (Sydney Tafler), van der Valk still finds himself mixing with the high and low elements of Amsterdam in the pursuit of his messy duties, duties that often involve unresolved crimes he can't necessarily nail down, at least not with any solid evidence that would hold up in court. His sidekick and dogsbody, easy-going, slightly dim Inspecteur Johnny Kroon (Michael Latimer), isn't much help out in the field or in the office, but someone has to be a sounding board for van der Valk's capricious deductions, so he's often in tow out on the mean, ancient streets of Amsterdam, where politicians, hookers, businessmen and illegal immigrants all vie for the same guilders.
SPOILERS ALERT!
It's been several months since I watched the first set of Van der Valk Mysteries, as Acorn Media labels them (you can read that review here), and while my largely take-it-or-leave-it review of that first "series" (season) gives most of the credit to Foster for maintaining my interest in the show--while acknowledging the show itself wasn't any great shakes--I have to say I enjoyed these seven episodes on exactly the same level. That's consistency for you...although I don't know if it's exactly the right kind of consistency if you're looking at the series coldly and objectively. As anyone who has read even a few of my reviews for vintage British TV series knows, I never discount the nostalgia factor as an element in whether or not a particular show or series plays well today. Just because Van der Valk, taken out of that context, isn't a particularly noteworthy or exciting example of a television policer in and of itself, doesn't mean that it doesn't have appeal within that context. Just the fact that it was produced during that time period, with all the dramatic, narrative and production conventions we've come to expect from a show made in Britain in 1973, gives it a nostalgic cache that helps overcome failings that may have been more prominently debated back during its original run. If you love the look and the feel and the sound of British TV from that time period, as I do, it doesn't really matter in the end that Van der Valk could have been a sharper, meaner, more satisfying excursion into television crime. The show as experienced today provides extra layers of viewer expectation and perception, mostly based on nostalgia (a dodgy conceit, to be sure) that can help smooth over deficiencies that might not be so easily forgiven without that patina of reminiscence.
Still...one can't help but wish Van der Valk had just a bit more verve, a bit more action, and a more thorough exploration of its main character and supporting players (that actually sounds like quite more to wish for than "just a bit" more, come to think of it). The series' set-up is virtually unchanged in this second "series." van der Valk doesn't seem to particularly like his job (he even tells Arletta in one episode that he's this close to resigning); he resents the time spent away from her and his kids, as well as bemoaning the stress that the job puts him under (anytime van der Valk is shown enjoying a meal or a drink or a cuddle at home, that's the cue for the phone to ring). And it's no wonder he hates being a policeman. Not only is he exposed to the worst traits in human nature as he uncovers the sordid reasons for the crimes he solves, he's constantly getting pressure from upstairs over his police activities--pressures that come from well-heeled, influential members of society who look down on the "lowly" Commissaris...who just happens to be extremely well-read, cultured, and usually much more intelligent that the smart-asses who think they're outsmarting him. And yet...every time the phone rings, he goes off on another case.
It's a good, if determinedly unoriginal, set-up, but we never really get an understanding as to why van der Valk continues on with his job--and that's a big failing of the show. He must be dedicated to being a cop, if he's neglecting his gorgeous wife (she complains they don't even have time for sex anymore, and later he forgets her birthday entirely) and his two rapidly growing boys. But why is he so dedicated? We simply aren't told or shown. And without that character-driven subtext, Van der Valk usually reduces itself to a standard, by-the-numbers policer, with little weight outside of its relatively facile commentaries on social inequities within the strata of Amsterdam's diverse community, and the various levels of human frailties that van der Valk witnesses during the course of his duties. The series is careful to give van der Valk insecurities and failings, as well, including mistakes in judgment concerning his investigations (A Rose From Mr. Reinhart), as well as his inability to translate the correctness of his deductions into a legal solution for a particular case: van der Valk knows the criminal did it, and the criminal knows van der Valk knows he did it, but van der Valk can't scrounge up enough courtroom-worthy evidence to close the deal (A Death By the Sea). And again, as in Series 1, he's willing to let somebody off for a criminal violation if he feels they've suffered in other ways (A Man of No Importance), showing he's not just an automaton following the law book and nothing else. But all of this plays as familiar window-dressing ("cop as tortured enforcer of meaningless laws") when we don't know who or "what" van der Valk truly is, or what makes him tick. Others get short-shrift here, as well, including poor Latimer as useless Inspecteur Kroon (it's almost laughable how underutilized he is here), and lovely Travers (who should have had more substantial scenes with the excellent Foster). Luckily, along with an increase in location shooting in Amsterdam (that's a big help right there over the cramped, videotaped feeling of the studio-bound first series), Foster has plenty of opportunities to flex his quirky charm, furrowing his brow and squinting his intense eyes at a hapless suspect, creating a memorably intense character that single-handedly keeps the series afloat. That, and the nostalgia for these kinds of shows from that time period, help keep Van der Valk Mysteries: Set 2 recommended.
Here are the seven episodes of Van der Valk Mysteries: Set 2, as described on the individual episodes' on-screen menus:
DISC ONE
A Death by the Sea
A romantic midnight swim leaves a man unconscious and his wife missing, presumed drowned. Van de Valk suspects that more than amorous intentions were at play that night, and he sets out to prove it.
A Man of No Importance
When a dead man turns up on the deck of a canal barge, everyone is ready to dismiss him as a nonentity. The Commissaris disagrees. Before Van der Valk can find out what happened to the man, though, he first must discover his identity.
A Rose From Mr. Reinhart
Arlette's intuition proves truer than her husband's after a young woman is threatened in the park. Van der Valk tries to atone for his mistake by hounding a prominent Amsterdam businessman, but his personal feelings might be clouding his judgment.
A Dangerous Point of View
While working on a case, a private detective is stabbed to death in a seedy apartment. Who was he watching for two weeks in the building opposite? And how did it lead to his death?
DISC TWO
Season for Love
A rich, middle-aged American flies into Amsterdam to meet her young lover, only to learn that he has disappeared. While she worries about the safety of the missing man, Van der Valk fears that she is in danger herself.
Rich Man, Poor Man
An explosion almost kills a worker at a tractor factory, and a poor immigrant barber is bludgeoned to death in a luxury apartment that shouldn't have been able to afford. Van der Valk looks for a link between the two apparently unrelated crimes.
The Rainbow Ends Here
Van der Valk searches for a teenage girl abducted on her way to a clandestine rendezvous with a married man. The man is ready to help in any way he can, but the Commissaris finds her hotel-tycoon brother more willing to cooperate with the kidnappers than the police.
The DVDs:
The Video:
As with the first set of Van der Valk Mysteries, Acorn has their standard disclaimer on the back of the Van der Valk Mysteries: Set 2 slipcase, warning the consumer that due to the age and the recording technology of the original materials (and the superior resolution properties of DVD), flaws may be present that were beyond post-production correction. Which, in a nutshell, means crappy pictures and sound. The full-frame, 1.33:1 transfer looks about on par with most of these U.K. series shot at this time: the video is murky and noisy, and the 16mm footage soft and grainy. Still, all in all, it doesn't look any worse (and indeed, probably much better) than when first viewed on some snowy black and white TV back in 1973, and the transfer itself shows no sign of compression issues or PAL conversion problems. Just don't expect DVD perfection, and you'll be fine with it.
The Audio:
Same for the audio, particularly in this second collection, where the sound really goes in and out (from the original recorded materials, no doubt, not from the transfer). However, there is something Acorn could do to help with the muddy sound: provide subtitles or close-captions. Acorn has been better about doing this with some of their offerings, and yes, I realize it costs more money to produce, but with a vintage show like Van der Valk Mysteries: Set 1, it can only help the viewer smooth over the rough technical spots.
The Extras:
In addition to the same slight text bio of author Nicholas Freeling, the author of the van der Valk mystery novels, that was included in the first set, a text bio of Barry Foster is included, as well. Very slight bonus.
Final Thoughts:
It may not be one of the more memorable British TV crime/mystery/detective series from the early 1970s...but it is a British TV crime/mystery/detective series from the early 1970s. And that's something in my book. Add to that Barry Foster's forceful interpretation of the admittedly slightly drawn Commissaris van der Valk, and that's enough to keep Van der Valk Mysteries: Set 2 recommended for buyers of the first series, along with aficionados of vintage British television.
---
Paul Mavis is an internationally published film and television historian, a member of the Online Film Critics Society, and the author of The Espionage Filmography .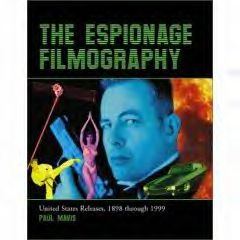 ---
C O N T E N T

---
V I D E O

---
A U D I O

---
E X T R A S

---
R E P L A Y

---
A D V I C E
Recommended
---
E - M A I L
this review to a friend
Sponsored Links
Sponsored Links