Jennie: Lady Randolph Churchill
List Price: $49.99 [Buy now and save at Amazon]
---
An entertaining introduction to a fascinating historical figure. Acorn Media has released Jennie: Lady Randolph Churchill, a two-disc set of the award-winning 1974 Thames Television miniseries that found critical acclaim here in the States, as well, when it appeared on PBS' Great Performances (I originally attributed this to Masterpiece Theater, but I received a rather...insistent email from a reader pointing out my error). Starring Lee Remick as the beautiful, influential American mother of Prime Minister Winston Churchill, Jennie: Lady Randolph Churchill is a good example of 1970s British TV historical drama, with a skillful script by playwright Julian Mitchell, and superior performances by the large British cast. No extras to speak of, but enthusiasts of this type of genre will want to add it to their collections.
Spread out over seven episodes (for a six-hour runtime), Jennie: Lady Randolph Churchill covers too much ground in the life of Lady Randolph to be properly summarized in this brief review synopsis, so just a few major highlights will have to suffice. Beginning in Paris in 1873, we're introduced to American Jennie Jerome (Lee Remick), aged 19, the headstrong daughter of businessman Leonard Jerome (Dan O'Herlihy). Brighter and more aware of the ways of the world than either of her two sisters, Leonie (Barbara Parkins) and Clara (Linda Liles), Jennie understands all too well her father's expansive views because she, too, shares his desire to live her life on a broader scale than is expected of her (she's well aware of his dangerous business speculations and romantic infidelities...and doesn't seem to care). However, her father warns her that she is exactly like her mother (Helen Horton) in one crucial aspect: she was not born to love "lightly," so whomever she falls in love with, will be critical to her happiness. That edict certainly comes under fire when she finds herself falling for Lord Randolph Churchill (Ronald Pickup), the third son of the Duke of Marlborough (Cyril Luckham), and an ambitious political novice. With the marriage opposed by both families (thus guaranteeing its consummation), the adventurous Jennie finds herself bored to tears with her life at stuffy, calcified Blenheim Palace, the Churchill ancestral home, yet a willing partner in helping Lord Randolph win over votes for his Conservative party elections.
Rising through the ranks of his party, Lord Randolph seems to be on the verge of becoming Prime Minister, when a disastrous miscalculation of his worth to the party (as well as a misreading of the enmity that he engendered with his rabble-rousing attacks on his fellow Conservatives), sees him resign from the government. This blow is further worsened by the debilitating effects of syphilis which render the once-loquacious politician a shambling wreck. Not helping matters is the emotional distance he maintains from his wife...nor her open flirting and lovemaking with many men within the highest political and social strata of England. The death of Lord Randolph in 1895 would seemingly open the door for Lady Randolph to finally marry her lover, Count Kinsky (Jeremy Brett). However, Jennie's continual putting-off of the Count's entreaties, along with her numerous infidelities against him, convince the Count to move on to another marriage. By 1900, Lady Randolph found another potential husband in young lover George Cornwallis-West (Christopher Cazenove), whom she eventually marries...and then divorces 14 years later when he proves to be a disappointment at building a career. By her words "still in need of a man" at the age of 64, and having dropped down into depression over her aging and the loss of her fame, influence and stature in society and the government (despite having a famous son, Winston, played by Warren Clarke, in the headlines), the arrival of brash, wealthy Montague Phippen Porch (Charles Kay) is like a tonic to Lady Randolph, particularly with Montie three years younger than her son, Winston. However, their marriage doesn't last long; in 1921, Lady Randolph contracts gangrene when she breaks her ankle, and eventually dies from a ruptured artery.
A few scenes of Jennie: Lady Randolph Churchill looked very familiar to me, so I would imagine I caught parts of it when I was a kid, back in the 70s when PBS series like Masterpiece Theater and Great Performances were weekend must-viewing for my Anglophile family. It seems I've been reviewing quite a few vintage British TV shows lately (...because I always request them), and I never hide the fact that I'm predisposed to at least looking forward to viewing them, due in part, no doubt, to so many of those enjoyable Sunday nights from my childhood. I'm recommending Jennie: Lady Randolph Churchill right up front because it fulfills many of the requirements fans of the genre demand in these vintage British TV minis: a sweeping, historical scope to the story, carefully-crafted dialogue (often quite biting and witty, as a bonus), and superlative supporting work by a gaggle of British pros. It's not a perfect work, by any means, but it's quite entertaining just from a storytelling angle alone, and that's more than enough to recommend it. Lady Randolph apparently led a hell of a life, to put it coarsely, and as the screenplay bounces from decade to decade, from one husband to the next lover, it's easy for the viewer to get swept along by the fast pace and the almost melodramatic tone of the piece. And on that level of miniseries melodrama, Jennie: Lady Randolph Churchill is a success.
Add to that the frequently amusing dialogue written by playwright Julian Mitchell and the turns by the supporting players--almost uniformly good--and it becomes difficult to pinpoint just exactly why it is one feels vaguely (just vaguely) dissatisfied when Jennie: Lady Randolph Churchill concludes. Part of the problem may lie with Remick's portrayal of Lady Randolph (although I'm probably alone in that questioning, considering she won a Golden Globe and a BAFTA for her work here...if you hold stock in those kinds of awards). By all accounts, Lady Randolph Churchill was a mesmerizing beauty who had no difficulty charming not only many rich, powerful, and influential men into her bed, but also charming these men's wives at political and social functions and parties (where she was quite in demand), while becoming a beloved figure among the "commoners" who admired her dash and beauty--quite an accomplishment for an American woman among the British royalty and populace at that time. Does Remick create such a character here? Does she make us believe her Lady Randolph could bowl over these powerful men just by the sheer force of her sexuality, her looks, and her intelligence? Hmmm...maybe not so much. Remick certainly was capable of that kind of performance in her career; just check out Anatomy of a Murder for one of the sexiest little vixens ever put on screen (it's a smart, complex performance, as well; it doesn't just trade off her obvious erotic appeal). But in Jennie: Lady Randolph Churchill, she seems tied down by the restrictive costumes, the perfunctory staging of director James Cellan Jones, and the skillful but brittle dialogue that substitutes rather roundabout declarations of romantic intent for what could have been subtle intimations of smoldering eroticism. We're constantly told that Lady Randolph is irresistible, but whether by design or Remick's inability, we never see it, or at least feel it. And obviously, Lady Randolph's sexuality was key to her life and how it turned out; if we don't understand that in the film, it's difficult to get a handle on the character.
One also wishes that the screenplay could have delved just a bit deeper into the possible psychological motivations that spurred on this fascinating character. Lady Randolph as portrayed here seems to be breaking social taboos left and right, and we get the highlights of her active, varied life in well-designed, neatly-structured (perhaps too neatly) sequences that move along at a smart pace. But as those sequences accumulate, one can't help but wonder (particularly in the later stages of her life, where events rapidly unfold, as if the screenwriter was running out of episodes) what drove her to do what she did, beyond the film's insistence on stately flatly (and rather one-dimensionally) that she "did it her way" and that's that. Was that really her motivation--to live a "fuller" life--and that's all? Was there more to why she lived her life the way that she did? I would suspect so, but it's hard to find such questioning here. Perhaps it's because, in the end, the film seems to...respectful towards her biography. I'm not in any way suggesting that the script should have trashed her (I'm certainly no historian on Lady Randolph). However, when it refuses to explore the whys of her infidelity, not only from a standpoint of how it affected her first husband's career (it helped), but also its effects on her "significant other" lover, the Count (it devastated him), you get the feeling that the mini is making allowances, making excuses for her behavior...or just plain avoiding the difficulty of offering interpretations as to her motivation. And if Jennie: Lady Randolph Churchill is willing to fudge the details as to who Jennie was or what she might have been, the film has to stand then on just the costumes, and the performances, and the natural appeal of the highlights of her active life. If that approach can be entertaining (and it is here), that's fine. But it keeps Jennie: Lady Randolph Churchill just shy of being something much more.
The DVDs:
The Video:
The full-screen, 1.33:1 video transfer for Jennie: Lady Randolph Churchill is on par for this type of videotaped TV mini from 1970s England. As per Acorn Media's now-standard disclaimer on the back of the DVD slipcover, due to the age of the original materials used in the transfer (and I would add the technical deficiencies of the original materials that were built-in in 1974), the video won't look as clear or sharp to you if you've only been weaned on the digital clarity of high-def. Fans of vintage British taped television (interestingly, all of Jennie: Lady Randolph Churchill is videotaped--even the outdoor work--with no 16mm elements for the location shots) will find what they expected: faded, washed-out color, flaring, ghosting from time to time, and a softish image. All in all, though, it's perfectly acceptable viewed within that context.
The Audio:
The Dolby Digital English mono audio track is adequate for the job (the recording level is decent), while available subtitles help with any muddiness inherent in the original materials (which wasn't uncommon with Brit-TV work back then).
The Extras:
The only extras are text-formatted and brief: a Lee Remick bio, cast filmographies, and a history of Churchill's ancestral home, Blenheim Palace.
Final Thoughts:
An entertaining miniseries on the life of Lady Randolph Churchill, the American mother of Winston Churchill. Her life story is varied and active enough for three miniseries, so Jennie: Lady Randolph Churchill is never boring. But Remick's performance doesn't grab you the way that Lady Randolph apparently galvanized every man in sight, while the screenplay avoids any strenuous effort to explain exactly who was Lady Randolph. Jennie: Lady Randolph Churchill is recommended for fans of vintage British TV historical dramas.
---
Paul Mavis is an internationally published film and television historian, a member of the Online Film Critics Society, and the author of The Espionage Filmography .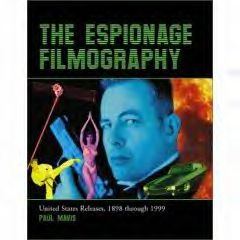 ---
C O N T E N T

---
V I D E O

---
A U D I O

---
E X T R A S

---
R E P L A Y

---
A D V I C E
Recommended
---
E - M A I L
this review to a friend
Sponsored Links
Sponsored Links