"It won't last forever. Nothing is forever. Take it while we can. Live it. Fight it. Laugh at it."
"What, Ross, what?"
"Take whatever life gives and call it ours. What anger. What chance. What love. What happiness."
Swashbuckling, romantic historical fiction. Acorn Media has released Poldark: Series 1, the 16-part epic BBC television drama that captivated audiences worldwide back in 1975. Based on the beginning novels in the Poldark series by noted British author Winston Graham, Poldark: Series 1 makes for addictive viewing as the series entertainingly moves from cliffhanger to cliffhanger as our dashing, aristocratic hero Ross Poldark navigates the class inequities of late 18th century Cornwall in his efforts to secure his family fortunes, while struggling with an even greater obstacle: the memory of an old love that won't fade, even in the light of a passionate new romance with a fiery, loyal commoner. DVD viewers used to faded video copies of these British TV shows from the 70s won't mind Poldark: Series 1's less-than-optimal transfer, but a few more extras would have been nice for the series' loyal fans.
Considering the length of Poldark (over 13 and ½ hours), its many subplots and storylines, and most importantly not wishing to spoil any of the fun, I'll just jot down a very brief synopsis of the opening episodes, setting the characters in their places. Brooding aristocrat Ross Poldark (Robin Ellis), an officer with the British forces which just lost the War of Independence with America, returns to his native Cornwall, not realizing that everyone at home believes he was killed in the war (Ross left for America under a cloud, having killed a man in a duel). Arriving at Nampara, the Poldark family estate, Ross is shocked to find it almost a ruin, with lazy drunkard servants Jud Paynter (Paul Curran) and his common law wife Prudie (Mary Wimbush) living like hogs amid the wallow. Even more distressing is the news from delightfully fuzzy lawyer Nathaniel Pearce (John Baskcomb) that Ross' uncle, Charles Poldark (Frank Middlemass), believing he's the heir to Ross' estate, has initiated a sale of one of the two Poldark copper mines ("Wheal Leisure") to arch enemy Nicholas Warleggan (Nicholas Selby), a grasping, power-hungry climber from the emerging mercantile class who is rapidly buying up all of local Cornwall land. The sale was initiated because Ross' father borrowed against the mine, with the note now past due, and with Charles viewing the sale to the Warleggans as more of an appeasement to the powerful banking clan.
But Ross is having none of that. He orchestrates a loan to pay off the note, and angers not only Charles but his even more-ruthless son, George (Ralph Bates), setting off a feud that will last years. Equally troubling is Ross' discovery that his fiancé, Elizabeth Chynoweth (Jill Townsend), believing Ross dead, has fallen in love with Ross' cousin (and Charles' son), Francis Poldark (Clive Francis), a weak-willed drunkard who resents not only Ross' drive and ambition but his past with Elizabeth. Ross vows to win the haughty Elizabeth back, but his pursuit is complicated by the appearance of 13-year-old ragamuffin Demelza (Angharad Rees), a petty thief and commoner that Ross rescues one day and brings home to work as his servant. Proximity, and the realization that Demelza is maturing into a kind-hearted, loyal (if still rough-around-the-edges) woman, brings the unlikely pair together, but at what cost? Love comes no easier for Francis' sister Verity Poldark (Norma Streader), a spinster who finds herself in love with the shadowy Captain Blamey (Jonathan Newth), who hides a terrible secret from the local citizens, nor for newcomer Dr. Dwight Enys (Richard Morant), a young physician befriended by Ross. More interested in helping the local miners than in making a fortune for himself with the wealthy in London, Dr. Enys becomes involved with married miner's wife Keren Daniel (Sheila White), a scandalous relationship that ends tragically, before falling for pretty heiress Caroline Penvenen (Judy Geeson) - a relationship that proves equally challenging. Add to this potboiler set of circumstances personal and family fortunes won and lost, the eternal struggle between the working class and the rich, smuggling, deadly duels, illicit affairs, and love that spans decades, and you start to get a fair approximation of the scope and depth of Poldark: Series 1.
MAJOR SPOILERS ALERT!
As with any miniseries or film based on a popular work of fiction I review, I like to be upfront about whether or not I've read the source material...even though I'm equally convinced that it's apples-and-oranges to compare the two as if one is somehow intrinsically, artistically beholden to the other. It's fun to complain if a particular book you cherished is turned into a mediocre film that misses or leaves out the heart of the novel (I used to love Vincent Minnelli's Some Came Running...until I read James Jones' novel several times), but in the grand scheme of things, it's a pretty pointless affair. The filmmakers are allowed to do what the want with the source material (they bought it, after all), with the two products remaining entirely different aesthetic experiences once digested. That being said, I've never read any of Winston Graham's Poldark novels, so I can't claim any first-hand knowledge on whether or not Poldark: Series 1 is "faithful" to Graham's intent. I've read other works by Graham, including Marnie (filmed infamously by Hitchcock) and The Walking Stick (filmed into an unsung little gem in 1970 with a rather remarkable performance by the incomparable Samantha Eggar) and I find him to be an exciting, exacting craftsman.
I mention that because although I found Poldark: Series 1 perfectly acceptable and entertaining within its own right, I had to wonder while watching it if the exploration of Graham's political themes, as well as character development in general, were sharper and more successful in the novels (I would expect so). Events come fast and furious in Poldark: Series 1, so much so that it's fairly easy to get caught up in the romance, the action, and the beautiful Cornwall scenery, while forgetting that at times, the motivations for those characters and their actions can seem a little hazy. It isn't that Poldark: Series 1 doesn't try and give historical and political context to its characters' actions - it does. It's just that at times that context seems either superficial or strangely vague, owing no doubt to the necessity of cutting out material from the novels to fit the TV miniseries format (Even though Poldark: Series 1 is over 13 hours long, it's based on four separate books). Throughout the series, Ross is shown to be at odds with his own class as well as with "civilization," if you will. Our first introduction to the character comes with his supportive remarks about the American Indians, and how they're more "Christian" than their Christian colonialist neighbors - and better off without those neighbors' influence. Ross also shows his contempt for the hypocrisies of England's superior jurisprudence system that condemn a young husband and father like commoner Jim Carter (Stuart Doughty) to a filthy hell-hole prison for the petty crime of poaching to feed his hungry family.
All of that plays well on the surface, ennobling the character and giving him a transformative edge that fits in well with the historical context of the story. But once a viewer starts asking questions such as, "If Ross feels sympathy for the 'noble savages' of the Colonies, where does he get off treating his own servants and the local populace of miners with such paternalistic haughtiness?" the effect is considerably lessened. Ross makes a particular point of disliking the Warleggans' "owning too much," putting others at "a disadvantage through no fault of their own." (boy, would he be a hit in Washington today with that blather). But what about Ross' leg-up on the world, with his own social class buying him the confidence and sense of entitlement that allows him to persevere through harsh times, while his family estate and two copper mines - let alone the goodwill and influence of his many rich friends - help keep him afloat? The film never addresses these seeming contradictions, let alone allowing Ross to feel any sense of hypocrisy over them (peasants, though, are shown up for their hypocritical views, such as Demelza's father, drunkard Tom Carne, played by Tom Henderson, who turns into a phony pious Puritan). Character motivations outside class and social distinctions can also get muddled, without real follow-up later on in the story. What are we to make of Ross' instant forgiveness of miner Mark Daniel (Martin Fisk) when he strangles his poor wife Keren, aiding him as far as risking his own life to help him leave the country - with no subsequent scorn or judgment for his friend Dwight's participation in the affair (the victim seems to be utterly forgotten here)? Even more troubling is Ross' sleeping with Elizabeth, which is shot (perhaps ineptly?) to almost look as though he's raping her. Where did that come from? Other characters at times suffer equally sketchy developments which become more noticeable as the miniseries grinds on, and we settle into the story as the characters become more familiar (cipher Elizabeth, whether from poor casting or just poor scripting, makes no impression as a haughty lady of means who supposedly makes Ross' blood boil).
Where Poldark: Series 1 works the best is when its furiously shuffling its various melodramatic, comedic and romantic elements in its fast-moving storylines - elements that probably lend themselves better to the episodic TV miniseries format, anyway. Certainly Poldark: Series 1's strongest suit is the mixing of the love triangle between Ross, Elizabeth and Demelza (made a bit unsteady by the Elizabeth character's poor development, particularly in contrast to the strong writing for Demelza character), and the constant melodramatic tribulations of Ross' efforts to secure a fortune while changing the coal mining future of Cornwall. I would imagine this is the element of Poldark: Series 1 that most viewers responded to, then and now (apparently, when originally broadcast in the U.K. and America, it set viewing records for the BBC and for PBS' Masterpiece Theater). Taken at this level of unpretentious historical romance fiction, Poldark: Series 1 succeeds quite admirably, with the requisite number of romantic misunderstandings, coincidences, and hardships for any ten melodramas. Comedic elements are sprinkled throughout the production (the rowdy lampooning of the 18th century law courts is matched by the wild, out-of-place final ball, which seems to come, delightfully, from some other film entirely), while the financial backstabbings concerning Ross' mining efforts, and George's desire to crush them, are expertly doled out through the run of the film. While the direction is fairly pedestrian (only the weird, dreamlike strangulation of Keren seems to have fired up the director's imagination), the performances are, as a rule with these British TV productions, superior, with Ellis and Rees making a memorable romantic couple. Viewed on this level alone, Poldark: Series 1 is compulsive, enjoyable TV viewing.
Here are the 16 episodes from the four-disc collection, Poldark: Series 1, as described on their slimcases:
DISC 1
Part 1
Limping and scarred, Ross Poldark returns from the American war to Cornwall after a daring escape from a French prison camp. He finds his debt-ridden father dead, his estate in shambles, and his beloved Elizabeth engaged to his cousin Francis.
Part 2
Ross tries to drink away thoughts of Elizabeth but eventually returns to work restoring his estate. A chance meeting at the market brings Demelza Carne, an ill-bred urchin girl, into his household. Meanwhile, his cousin Verity comes to him for help after falling for a man with a dark past.
Part 3
Ross supports Verity's romance, leading to tragic consequences, while his opposition to the wealthy George Warleggan makes him enemies with the most powerful man in Cornwall. His relationship with Demelza deepens but is complicated by the class divide.
Part 4
While Demelza remains in misery at her father's home, the Poldark family is struck by bad fortune and a series of tragedies. Elizabeth flees her unhappy marriage and runs to Ross to rekindle their romance, but Demelza's secret threatens to come between them.
DISC 2
Part 5
Ross and Demelza grow closer with their marriage and the birth of their daughter. However, both their families disapprove of the union, and Elizabeth can barely hide her contempt. Ross considers a risky new business venture, and Demelza plays matchmaker for Verity.
Part 6
Ross' business plans attracts the attention - and the ire - of the Warleggans. Later, he makes matters worse with a daring rescue mission to free his unjustly jailed tenant from certain death. Tensions run high at the Warleggan's charity ball, where Ross exacerbates the grudge.
Part 7
The whole family feels the repercussions of Francis' betrayal, although Ross is distracted by a murder that casts suspicion on one of his employees. The crime sends the usually honorable Dr. Dwight Enys into a tailspin of doubt and self-loathing and sets Ross on a course that may ruin the Poldarks.
Part 8
Demelza tries to make peace with Elizabeth and Francis, but her goodwill has grim results. Mad with grief, Ross finds himself entangled in yet another scandal after his attempt at aiding a wrecked ship devolves into chaos and violence.
DISC 3
Part 9
Arrested for his role in the shipwreck riot, Ross seems doomed to an unfair trial. Francis seeks to make amends with Demelza, but his guilt over his part in her husband's fall from grace threatens to push him over the edge.
Part 10
Demelza does everything in her power to stop Ross from being unjustly convicted, but the odds are stacked against him. The key to the trial lies in the hands of former servant Jud Paynter - a tipsy layabout easily swayed by drink and coin.
Part 11
Furious over Ross' continued success, the Warleggans hatch a plan to financially devastate the Poldarks. At the same time, Ross and Francis agree to settle their quarrel and begin again as partners. Jud, too, has a business proposal for Ross, but it comes with many risks.
Part 12
After an irate Warleggan and his henchman punish Jud for his loyalty to the Poldarks, Ross' simmering dislike for George boils over into violence. Demelza has some surprising news, but her husband's reaction is even more shocking.
DISC 4
Part 13
Trying to improve their financial situation, Demelza puts herself in mortal danger. A newly optimistic Francis pays a high price for his partnership with Ross, and the family seems to be on the brink of ruin once again - until an anonymous benefactor steps in.
Part 14
Ross and Demelza are overjoyed by the birth of their son and their change in fortune. Life appears to be going well for the Poldarks, until a villager's treachery puts Ross in danger and separates Dr. Enys from his betrothed.
Part 15
Ross escapes the fracas unscathed, but the villagers are not so lucky. Robbed of their land and livelihoods by George Warleggan's greed, they whisper about revolt. Desperate to leave Cornwall, Elizabeth makes an unforgivable decision, and Ross risks everything to change her mind.
Part 16
After her husband's deception, Demelza looks for revenge from some unlikely sources. Tensions run high at home and abroad: the villagers are in open rebellion and war with France lies on the horizon. The discovery of tin at the family mine give the Poldarks financial stability, but their marriage threatens to collapse.
The DVD:
The Video:
As I wrote above, if you're used to these kinds of transfers from British TV series and shows from the 70s, you won't mind the look of this full-screen, 1.33:1 transfer. I would imagine the elements used for this transfer came from a video dupe; if not, the original masters are fading fast, with blown-out contrast and dull-as-dishwater colors (part of that might also be the inferior production values of British television at that time, with crappy video-shot interiors and fuzzy 16mm fidelity for the location work, compromising the overall look of the movie). No compression issues to speak of, though.
The Audio:
The Dolby Digital English mono audio track is just acceptable, although recording levels are all over the place. English subtitles do help, though, with the Northern accents.
The Extras:
Other than some text bonuses concerning the history of Cornwall and some cast filmographies, no extras for Poldark: Series 1.
Final Thoughts:
A long, entertaining historical fiction, with plenty of romantic, melodramatic (and comedic) moments to keep you coming back after each cliffhanger. Poldark: Series 1 may not always make its points (vague as they may be to begin with) within the political and societal context it sometimes strives to achieve, but it's well-intentioned and more importantly, sure-footed with its action-and-kisses-filled plot. And sometimes that's enough. I highly recommend Poldark: Series 1.
---
Paul Mavis is an internationally published film and television historian, a member of the Online Film Critics Society, and the author of The Espionage Filmography.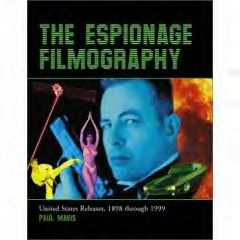 ---