Patty Duke Show: The Complete Third Season, The
List Price: $39.97 [Buy now and save at Amazon]
---
I must be growing up,
I'd like to run and hide.
There's something going on,
I'm all mixed up inside.
Tonight, he held my hand,
And when our fingers touched,
I felt butterflies.
Funny little butterflies.
I wonder if it shows,
This strange new way I feel.
This strange new feeling
That I simply can't conceal.
Tonight, he held me tight,
And all the while we danced,
I felt butterflies.
Funny little butterflies.
I'm still a little scared,
It happens much too fast.
I'm still a little lost
Between what's coming,
And what's past.
I know it's not a dream,
It's lasted much too long.
Each time I close my eyes,
The feeling's still so strong.
Tonight, I found it nice,
Just to be a girl.
I feel butterflies.
Funny little butterflies,
Inside.
(Those funny butterflies)
(Those funny butterflies)...
Twins no more...both literally and figuratively. Shout! Factory (the Navy SEALs of rescued studio library titles) has released The Patty Duke Show: The Complete Third Season, in a six-disc, 32-episode collection that ends the iconic boomer sitcom on a sustained high note. The "identical cousins" bit is largely dropped this 1965-1966 go-around as changes galore make The Patty Duke Show feel kinda different from its two previous outings. No commentaries tracks, unfortunately, from Duke (I was hoping...), but completists will love Shout! for including the 1999 CBS reunion movie, Still Rockin' In Brooklyn Heights, which features the entire original cast assembled for one last time. Required viewing for all vintage TV sitcom lovers, to be sure.
I wrote extensive reviews of the first two seasons of The Patty Duke Show that looked at the show's background and its place within the context of network sitcoms of the early to mid-sixties, so I won't backtrack on a lot of that information (you can click here for those two reviews, for background). For those who haven't seen the series (seriously?), the set-up is quite fun. In the upper-middle class borough of Brooklyn Heights, New York, there's double trouble every day at the Lane household. Typical boy-crazy American teenager Patty Lane (Patty Duke) can't sit still for a minute: she's either on the phone talking to her pals, or rustling up something to eat, or slobbing around in her messy bedroom, or hanging out with her boyfriend, goofball Richard Harrison (Eddie Applegate), or orchestrating some kind of project that eventually becomes spectacularly unwound. Keeping a watchful eye over her enthusiastic antics are her strict but humorous mother, Natalie (Jean Byron), and her understanding, loving father Martin (William Schallert), who's a big-wheel editor for The New York Daily Chronicle. Younger brother/pest Ross (Paul O'Keefe) is a formidable foe to Patty's sanity around the house, particularly when he has a ready dry wisecrack available at the drop of a hat - at Patty's expense, of course. However, one additional element is added to this utterly conventional TV-nuclear family which turns it on its ear: the arrival of Patty's identical cousin, Cathy (Patty Duke again, of course). Identical because their fathers are identical twins, Cathy comes from Scotland to live with her uncle and his family so she can learn about America as her foreign correspondent father travels the globe. Naturally, sometimes-scheming, slightly-crazy Patty sees the advantages of having an identical cousin (fooling dates, for one), but demur, intellectual, stable Cathy often steers Patty back on the right track, acting almost like Patty's conscience whenever one of her schemes backfires.
In my review of Season Two of The Patty Duke Show, I discussed 60s network series and the tendency for them to stay the same in format and formula from season to season, ensuring a reliably repeatable product. However, for regular viewers of The Patty Duke Show, Season Three's changes are noticeable. Of immediate note (and not of little insignificance), that insanely catchy theme song has been rearranged, featuring a distinctive Beatles guitar twang that lets everyone know this is America, post-British Invasion. High-schoolers Patty and Cathy are getting older, and naturally their tastes in music would gravitate to the latest crazes--just like the young viewers at home, and although not a steady theme or motif by any means, The Beatles and James Bond are referenced several times here (Richard is incredulous that Patty would willingly skip a Bond movie), giving this season a bit of a then-contemporary pop culture bounce (adding to the obvious targeting of the teen audience, appearances by Frankie Avalon, Troy Donahue--who's terrible here--and Shindig's house band, The Shindogs, open the first three episodes of the season). As well, with the producers finally unable to mask Patty Duke's obvious maturation, Duke is allowed to look her age (or at least an approximation), with more flattering, grown-up hairstyles and make-up (apparently, many histories of the show don't realize that Duke's managers lobbed off two years from her age; she was already 19 when she began filming this season, turning 20 halfway through).
Certainly the biggest physical change for this third season are the settings, both interior and exterior. Now, I could be completely wrong here, but don't those exterior shots of Patty's "new" home look right out of Southern California? The show is still ostensibly anchored in Brooklyn Heights, New York...but that house and street don't look like any street I've seen in Brooklyn (again...I'm no expert). The series doesn't mention any of these changes, but Patty has gone from living in that quaint, Georgian brownstone at the end of a waterfront street (with a distinctive New York skyline across the water), to what almost looks like Wayne Manor, complete with huge boulevards and shade trees, and bright California sunshine. Most histories on the show recount that the series, shot in New York to take advantage of longer working hours for minors, moved to Hollywood for the last few episodes of Season Three, with the belief that the show would continue there for a fourth round of episodes. ABC, as the story goes, anxious to get the production closer to home base, pressured the just-turned 18-year-old Duke to go along with the move, which she acquiesced to at the last minute. But seeing as how Duke was already 19 at the halfway point of Season Three (and thus emancipated from not only her managers, but also the restrictions of child labor laws), wouldn't the move to California occur sooner, at the end of Season Three? It sure looks that way with the location work here (which is present from the very first episode--so how did they do that, unless they were shooting second unit in California all along?), as well as with the completely new interior sets, and the noticeably "different," more California-sunny sitcom feel of the cinematography and lighting (see my first review for more background on that). There's no break in the seamless visual look of the show, either...and that's tough to do, shooting in one facility on the East Coast, and then another on the West Coast. Again, this is all speculation; for all I know, that street and that house are in the heart of Brooklyn Heights and I'm dead wrong.
I mention all of this because this third season of The Patty Duke Show has a noticeably bouncier, traditionally Hollywood sitcomy atmosphere to it. Looking at it, it just feels like something out of Hollywood at the time, unlike the New York-shot first and second seasons, which have an unmistakably more sedate, enclosed, "darker," more sealed-off feel. The entire production design is more light, more expansive. Here, Richard no longer lives next door; he has to drive from wherever he now lives, opening up the show's plot lines for more movement of the characters (speaking of the "teens" on the show getting older, Paul O'Keefe looks like he grew a foot during hiatus, and Richard's Eddie Applegate looks every bit the 30-year-old he was at this time). Farcical story constructs and broad slapstick keep the show really ticking along this time around as Duke noticeably seems to strain even more against her teen image (and that only adds to the energy level of the episodes). Curiously, after Cathy's bumped-up presence from Season One to Season Two, she's largely relegated to the shadows again in this final go-around. One or two times we get the classic "switch" plot that has Patty masquerading as Cathy or vice versa, usually to catch Richard up in some scheme of jealous payback (Patty and the Eternal Triangle), or perhaps we might even see a rare Cathy-centric plot (Cathy Leaves Home--But Not Really). But even then, it's half-hearted and not particularly believable (by this point Cathy still isn't secure about her place in the Lane family?). Most of the time, she's absent from the stories, without explanation (Patty casually mentions she's in Paris at one point, while we scratch our heads), until one gets the feeling that the producers, perhaps invigorated by LaLa-Land's assembly-line sitcom factory, just hoped to jettison the whole cumbersome, played-out "identical cousins all the way" framework, and settle down into a conventional teenage-focused comedy--with one teenager: Patty, the irrepressible, energetic one, since the Cathy character always seemed rather blah by comparison. Nobody even seems all that concerned with hiding the obvious double used for the twins (check out Too Young and Foolish to Go Steady, and see double Rita McLaughlin, full-face and clearly visible in the mirror, as Duke nonchalantly talks to her).
That aside, this third season of The Patty Duke Show still generates a sizeable amount of accomplished episodes. The season opener, A Foggy Day in Brooklyn Heights, is an amusingly constructed little farce of exits and entrances, with Frankie Avalon acquitting himself nicely, as usual (too bad he was stuck at AIP with terrible writers and directors). The same can't be said for insincere Troy Donahue, who's just awful in the otherwise funny Operation: Tonsils. In addition to his stilted, unfunny turn here, he looks oddly roughed up, as if someone clocked him one on the side of the head--he must have known his career was in the toilet, doing this guest spot (and to add insult to injury 45 years later, Shout! doesn't even list him as a special guest star in their episode guide--pretty sad for the once-famous heartthrob). The Guest is a standard "American teenage boy/clod eating/annoying host parents out of house and home" plot, with Applegate again effortlessly droll as the slightly dim Richard. The Girl From N.E.P.H.E.W. is a fun take-off on the Bond and Man From U.N.C.L.E. craze sweeping the world at the time, while Sick in Bed gives the world its first peek at the Neelie O'Hara prototype as selfish, bed-ridden Patty drives her family nuts. Anywhere I Hang My Horn Is Home features a nice turn by one of my favorites, Dick Gautier, who gets some laughs as he turns his stereotyped freeloader musician character into a charming, on-the-level bohemian. Do You Trust Your Daughter? is an interesting experiment with the format--it's played as straight drama, with an absent laugh-track until the final minutes of the episode, while Fiancée For a Day features a hilarious dream sequence where Duke, costumed suspiciously like a cartoon version of Helen Keller, gets some broad laughs. Certainly for me, the season's best episode is Partying Is Such Sweet Sorrow, not because of any particular overwhelming merit in the screenplay, but because we're treated to Duke's rendition of her B-side hit from her film, Billie (a little cross promotion), Funny Little Butterflies. Backed up by The Shindogs (although I didn't see any of those strings I hear in the song...), and with her delighted family looking on, Duke trembles her way through that addictive, touching little love song (with a hook like crack cocaine), and for me, that's the living end, man. That's what this kind of expertly-produced TV fluff is all about: pure, honest emotion calculated, synthesized, and over-dubbed into polished perfection. I can't think of a better moment that sums up this charming series.
Here are the 32 episodes of The Patty Duke Show: The Complete Third Season, as described in Shout! Factory's colorful little photo-filled episode guide:
DISC ONE
A Foggy Day in Brooklyn Heights (9/15/1965)
Frankie Avalon stops by the Lane house to make a phone call, but his quick stay is prolonged by a fogged-in flight.
Operation: Tonsils (9/22/1965)
A misunderstanding leads Patty to believe an attractive young doctor has feelings for her.
Partying Is Such Sweet Sorrow (9/29/1965)
Patty decides to throw a party in retaliation for Richard going to a party without her on the same night.
The Guest (10/6/1965)
When Richard's parents go out of town, his stay as the Lanes' houseguest is bittersweet.
Our Daughter The Artist (10/13/1965)
When Patty decides to become a pop artist, no one can bear to tell her the truth about her artwork.Patty's Private Pygmalion (10/20/1965)
A shy classmate is given a quick lesson in self-confidence by the master herself--none other than Patty Lane!
DISC TWO
The Girl From N.E.P.H.E.W. (10/27/1965)
When a friend of Martin's--who also happens to be an INTERPOL agent--visits the Lane household, Patty soon finds herself in the spy business.
I'll Be Suing You (11/3/1965)
Patty becomes a reluctant witness in a traffic accident case involving Richard.
Patty And the Eternal Triangle (11/10/1965)
Richard's commitment to Patty is put to the ultimate test when Patty decides to pose as Cathy.
Sick In Bed (11/17/1965)
With too much on her plate, Patty is held against her will from school after she comes down with a temperature.
Ross, The Peacemaker (11/24/1965)
Ross finds himself playing diplomat when Patty refuses to talk to Richard.
Patty, The Candy Striper (12/1/1965)
Patty gets a job at the hospital, which is bad news for Martin, who's recently become a patient.
DISC THREE
Patty Meets The Great Outdoors (12/8/1965)
To prepare for their upcoming family vacation, the Lanes decide to camp out in the backyard.
Cathy Leaves Home--But Not Really (12/15/1965)
Cathy becomes disappointed when the family doesn't try to talk her out of applying to be a foreign exchange student.
The History Paper Caper (12/22/1965)
Patty recruits the "help" of a new student for assistance with her history paper.
A Very Phon-y Situation (12/29/1965)
Martin lays down the law by finally placing restrictive limits on Patty, Cathy and Ross' phone calls.
Ross Runs Away--But Not Far (1/5/1966)
While Martin and Natalie take a trip out of town for the weekend, Patty attempts to prove that she can handle being in charge.
Poppo's Birthday (1/12/1966)
A misunderstanding leads Patty and the family to buy Martin the wrong present for his birthday.
DISC FOUR
Anywhere I Hang My Horn Is Home (1/19/1966)
An out-of-work trumpet player is given a temporary place to live until he can find a job, but after a taste of the Lanes' hospitality, it looks like he may not want to find that job for a while.
The Greatest Speaker In The Whole Wide World (1/26/1966)
Only after Patty volunteers her father as a guest speaker to her creative writing class does she realize she should've asked him first.
Big Sister Is Watching (2/2/1966)
With Richard's aid, Cathy takes on the role of Ross' protector against a bully at school.
Patty Leads A Dog's Life (2/9/1966)
To earn extra money, Patty takes care of a dog that has an extensive list of odd requirements.
Too Young And Foolish To Go Steady (2/16/1966)
Patty creates a fictional new boyfriend after she's tricked into breaking up with Richard.
Patty, The Diplomat (2/23/1966)
Patty finds herself in the middle of the Cold War after she receives a response to the letter she sent to the Soviet Union as a class project.
DISC FIVE
Do You Trust Your Daughter? (3/2/1966)
When Martin mistakenly thinks Patty's stayed out with an "older man" past her curfew, Patty begins to think her father no longer trusts her.
A Visit From Uncle Jed (3/9/1966)
When Uncle Jed arrives, he puts a serious damper on Patty's first grown-up dinner party.
Don't Bank On It (3/23/1966)
Patty lets Martin down again by forgetting to make a bank deposit for him, inspiring Martin to teach Patty a valuable lesson.
Three Little Kittens (4/6/1966)
Patty and Ross buy three kittens from the neighbors hoping to sell them at a profit, but their plans are interrupted when the kittens get lost and are found by Cathy, Natalie, and Martin.
Fiancée For a Day (4/13/1966)
After watching their friends do it, Patty and Richard make the decision to get married after graduation.
The Invisible Boy (4/20/1966)
Patty convinces Ross to do some chores for the cute new boy in town in order to get a date with him.
DISC SIX
Do A Brother A Favor (4/27/1966)
Despite her real feelings for the president of the basketball club, Patty agrees to go on a date with him in order to give Ross a shot at getting into the club.
Patty, The Psychic (5/4/1966)
Cathy encourages the family to play a prank on Patty, convincing her se has psychic abilities.
The DVD:
The Video:
The full-screen, 1.33:1 transfers for The Patty Duke Show: The Complete Third Season look on par with previous releases, with a sharpish image, blacks that hold reasonably well, and minor screen anomalies, such as dirt, scratches and splices.
The Audio:
Again, as with the previous season's release, the English mono audio tracks for The Patty Duke Show: The Complete Third Season are another matter. Levels are all over the place, with the sound frequently coming in muddy or even muffled in a few episodes (The Greatest Speaker In The Whole Wide World is particularly bad). Not on a par with the video. Close-captions are available.
The Extras:
A big bonus for fans is the 1999 made-for-TV reunion movie, Still Rockin' In Brooklyn Heights, which gathers together the entire cast for one last time (Jean Byron has since passed on). It's fairly typical example of these decades-later reunion movies that were so popular in the 80s when boomer series were finding new ratings power on cable. Nostalgia takes over for sharp writing, and the movie becomes more of an excuse to see how everyone looks, rather than as a real continuation or celebration of the original series (low point: Byron's joke about Viagra®). Still...it's fun to see the cast together again, even if Duke dominates the screen time while her film family has almost nothing to do (O'Keefe and Byron in particular are given short-shrift). As well, a few PSAs from 2010 featuring the remaining cast talking about Social Security are included (they're pretty tentative).
Final Thoughts:
Much lighter and faster, for the most part, in this final season. Patty Duke still charms you (please sing Funny Little Butterflies again!), and the writing stays funny and tight. A witty, sweet (and maybe heartbreaking) time capsule from a period and place that will never come again to American television. I highly, highly recommend The Patty Duke Show: The Complete Third Season.
---
Paul Mavis is an internationally published film and television historian, a member of the Online Film Critics Society, and the author of The Espionage Filmography.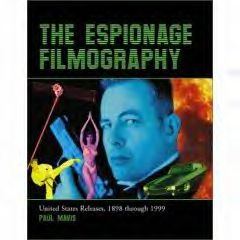 ---
C O N T E N T

---
V I D E O

---
A U D I O

---
E X T R A S

---
R E P L A Y

---
A D V I C E
Highly Recommended
---
E - M A I L
this review to a friend
Sponsored Links
Sponsored Links