Monarchy with David Starkey: The Complete Series
Athena // Unrated // August 3, 2010
List Price: $79.99 [Buy now and save at Amazon]
---
Author's Note: When Monarchy with David Starkey was first released on separate disc sets several years ago, I had the pleasure of reviewing one of them. With this release of Monarchy with David Starkey: The Complete Series (and after enjoying the entire series again these past few weeks), I'm going to retrofit that older review with a few new comments and observations, since it seems to sum up nicely my feelings about the show.
Quick, muscular, bold history in a fashion that very probably would have pleased the decisive (and brutal) subjects Dr. Starkey covers here. Acorn Media and 4 International have released Monarchy with David Starkey: The Complete Series, a five-disc, 16-episode collection that does restore the five UK episodes that were missing from the previous release of Set 1 (thanks to a reader for that heads-up!)...although Starkey's 2007 extended episode, The Windsors, which brought the series up to the modern day, is still M.I.A.. Dr. David Starkey, noted historian, author and British TV host (and the man The Daily Mail once labeled the "rudest man in Britain," to Starkey's delight, no doubt) examines the lineage of the British kings and queens through the 1,500 year-long tradition of monarchy in England, providing a terrifically entertaining history lesson that looks at the most stable continuation of governance in European history, an evolved form of government that led to the first truly modern nation-state.
If you remember taking European history in college, you may have had the same experience I had when learning the hundreds of years worth of British monarchy succession: I fell asleep. After the first two or three kings and queens - thanks to pedantic profs who could be barely roused to the occasion of lecturing - I blanked out and hoped I could fake it through the final. It wasn't that the stories or the characters involved were boring (far from it)--it all just seemed too confusing and complex and layered to make much sense of on a hung-over Monday morning (and being a film major didn't help, either, relying on the confused memories of jumbled-up film portrayals, wondering if I was referring to the guy Richard Burton played, or Robert Shaw, or Peter O'Toole as I furiously scribbled away in my Blue Book). But Dr. Starkey effortlessly holds one's attention--but not through any artificially flashy delivery or efforts to be viewer-friendly. On the contrary, Dr. Starkey's owlish, peering intensity creates a humorless focus that's infectious and demanding (I love how he thrusts his head forward, in an indifferent defiance of your possible confusion, as he confidently informs you of a particular king or queen's crafty political maneuver). He's the opposite of the usual TV host fodder, at least here in the States (slight, middle-aged, unprepossessing in looks), but the barely concealed contempt he shows for his assumed acknowledgment of your ignorance is amusing in the extreme.
Don't think, however, by that description of Dr. Starkey that he or Monarchy with David Starkey: The Complete Series is a dull, dreary affair. Using copious amounts of location footage of various palaces, battlefields, government buildings and gorgeous estates, with Dr. Starkey present at many of them, Monarchy with David Starkey: The Complete Series is stunning to look at; it can be enjoyed as travelogue on that level alone. The use of paintings and illustrations, some of them visually processed to give them a fun, 3D Viewmaster® effect, as well as many statues and other works of art, decorate Monarchy with David Starkey: The Complete Series, providing a frequently breathtaking look at the "living" history of Britain. As for our host, Dr. Starkey, in that marvelously dry, arch British manner, he is quite funny (without the slightest trace of a smile), saying things that you'd never hear your college prof say. Describing the libidinous Charles II (who fathered 17 illegitimate children), Dr. Starkey intones with a straight face: "The only thing rigid about Charles II was his male member." Hilarious. And his treatment of the history itself is quite exhilarating, keeping the intertwining stories and complex alignments of religious and political philosophies within easily understandable contexts--no mean feat when you're covering so much ground in so relatively short time. My discussing specifically the kings and political events from a 16-hour series that covers 1,500 years of history would be outside the purpose of this review, but just by way of a small example, the opening episodes in this series finally cemented for me the creation of Anglo-Saxon culture and tradition, with its eventual melding into Norman society. Does that sound right to you? Well, it didn't to me prior to watching Monarchy with David Starkey: The Complete Series. Of course I knew the terms, and could place them roughly in a crude outline, but in no way could I explain--after years of college, history books and countless adventure films where someone, possibly a Norman, was calling someone else a "Saxon dog"--who exactly they were, and how and why they mattered. Now I can. This is history interpreted and told as exciting political thriller, with a brevity and directness that doesn't indicate superficiality, but confidence and clarity.
Most importantly--and what I found the most bracing about Monarchy with David Starkey: The Complete Series--it's history as told from one point of view (which is backed up by decades-long scholarship from innumerable sources). I was reading an overseas review of one of Dr. Starkey's programs, a review which was critical of the show for its perceived lack of "context," which is code, I assume, for today's wishy-washy insistence on getting as many opinions as possible on an historical subject, and then throwing them out at the viewer or reader and non-judgmentally saying, "You decide." The title of the show is Monarchy with David Starkey: The Complete Series. "With" David Starkey. Not With David Starkey and a Lot of Other People Who Want to Throw Their Contrary Two Cents-Worth In to Thoroughly Confuse You and More Importantly, Allow Us the Documentary Makers Not to Take an Intellectual Stand For Fear of Having to Back Up Our Assertions With Actual Scholarship or Worse, Potentially Offending Someone. This is his program, so it's his ball. Of course he's going to run with it. You feel dissatisfied that you're not getting the "whole story?" You don't agree with his take on events, or his theories? Go read a book, then (which is probably exactly what Starkey wants you to do...preferably one of his own). He's a lecturer, after all--it's supposed to be his interpretation of the events. There's an increasing distrust and outright antagonism directed at "authorities" and "experts" in our faux-egalitarian age (dubiously spurred on, in large part, by the so-called democracy of the internet), but what it often translates into, particularly when addressing pop culture and historical issues, is, "Don't voice your opinion if it's strong and insistent, and especially if it doesn't toe the party line of historical revisionism and soft-backed consensus." I love that Dr. Starkey doesn't give a bollocks to that way of presenting an historical documentary.
Here are the 16 episodes included in the five-disc boxed set, Monarchy with David Starkey: The Complete Series, as described on their slimcases (an improvement in space-saving over the old releases' hardshell carriers):
A Nation State
The unique idea of a monarch who is answerable to the people has its roots in early Anglo-Saxon kings such as Alfred the Great, the intellectual warrior who united England.
Ængla Land
After decades of pounding by Danish invaders intent on "shock and awe," England survives and thrives--but faces a true crisis after Edward the Confessor's death.
Conquest
With a mere 7,000 soldiers, William of Normandy conquers and brutally subjugates a nation of two million, changing England's culture, social structure, and politics forever.
Dynasty
Charismatic and hot-tempered, Henry II restores order to his realm by law and by the sword. Later in his line, the Magna Carta curbs and codifies royal power.A United Kingdom
During "the century of Edwards," the Hammer of the Scots boldly extends his rule over neighboring kingdoms, Edward II loses he crown as a captive of his passions, and Edward III styles himself as a new King Arthur.
Death of a Dynasty
In a kingly conflict dramatized and embellished by Shakespeare, Richard III and his cousin, Henry Bolingbroke, vie for the throne and begin a decades-long struggle that threatens the very basis of the English monarchy.
The Crown Imperial
Although Edward IV's coronation seems to end the War of the Roses, sibling ambitions within the House of York eventually throw the monarchy into turmoil. Henry Tudor forces a dynastic showdown at Bosworth Field and ushers in a new kind of monarchy.
King and Emperor
In his unquenchable thirst for celebrity and torturous quest for a male heir, Henry VIII takes the English monarchy to new heights, asserting power over the souls of his subjects as well as their bodies.
The Shadow of the King
After six marriages ending in two divorces, two executions, and one bereavement, Henry leaves three children with a clear succession plan for the throne. But Edward, Mary and Elizabeth soon face their father's real legacy: a volatile fusion of politics and religion.
The Stuart Succession
James I takes the throne as the first "king of Great Britain," ruling not only England, but also Scotland and Ireland. But the Stuart reign soon turns from heady triumph to failure and civil war.
Cromwell-The King Killer
Under the charismatic Oliver Cromwell, Parliament commits a previously unthinkable act: it executes a reigning king. Eventually, the fledgling republic discovers that it needs a monarch after all.
Return of the King
In 1660, King Charles II returned from exile and restored the English monarchy. Could the new king, who famously fathered at least 17 bastard children, turn his fertile mind to healing the wounds of a divided England? Could he secure the Stuart dynasty? What about the succession? This opening program tells the remarkable story of a kind who, through his cunning and savvy, restores the authority of the English crown and lays the foundation for the world's first modern state.
The Glorious Revolution
When the Catholic James II succeeds his brother on the throne, old wounds reopen. James' mishandled attempts to promote toleration for Catholics leads to fears of rule by royal tyranny once again. Outraged, Parliament invites James' daughter Mary and her Dutch husband, William of Orange, to invade and claim the throne. They restore parliamentary rights to Britain and thus the Glorious Revolution of 1688 is born.
Rule Britannia
Transformed from an insignificant minor state to the greatest power in Europe, England assumes a new name to match its swelling status: Great Britain. The brilliant reigns of William and Mary and Queen Anne help form the foundation of modern Britain, changing the relationship between Crown and Parliament and laying the groundwork for Britain's unparalleled financial prosperity.
Empire
Able to speak only a few words of broken English, a 54-year-old obscure German prince becomes King George I. Nevertheless, he and his two namesakes, George II and George III, develop relationships with parliamentary leaders, creating a dynamic that survives in British governance today. This episode also chronicles the rebellion in the colonies that leads to the American War of Independence as well as the extraordinary bouts of madness that bring George III to the brink of abdication.
Survival
The French Revolution creates an anti-royalist storm felt all the way across the Channel. Would the British monarchy succumb to the populist fervor sweeping the continent? Would Great Britain withstand the military might of Napoleon? By the mid-19th century, the future of the British crown rests in the hands of an untested 19-year-old girl. Queen Victoria, along with her husband Albert, reinvents the monarchy yet again, reconciling medieval and modern elements into a stable yet progressive reign.
The DVD:
The Video:
The anamorphically enhanced, 1.78:1 widescreen video image for Monarchy with David Starkey: The Complete Series is sharp, clear, and brightly hued, with no compression issues.
The Audio:
The Dolby Digital English 2.0 stereo audio mix is perfectly suited to his largely dialogue-driven documentary. Close-captions are available.
The Extras:
Extras for Monarchy with David Starkey: The Complete Series include a small-sized 16-page booklet containing some additional background on the British monarchy, including a timeline of the reigns, information on Westminster Abbey, and Royal Trivia. There are also text extras, including a biography on Starkey, a gallery of royal places, and bios for some of the monarchs.
Final Thoughts:
Sumptuous settings, decorative works of art, a locomotive-fast narrative that makes the history of England's kings and queens sound like a modern political thriller, and an owlish, obstinately humorless host who still cracks you up, make Monarchy with David Starkey: The Complete Series a fascinating history lesson that buffs and novices alike will no doubt enjoy. I highly, highly recommend Monarchy with David Starkey: The Complete Series.
---
Paul Mavis is an internationally published film and television historian, a member of the Online Film Critics Society, and the author of The Espionage Filmography.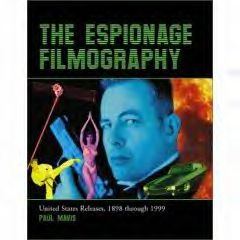 ---
C O N T E N T

---
V I D E O

---
A U D I O

---
E X T R A S

---
R E P L A Y

---
A D V I C E
Highly Recommended
---
E - M A I L
this review to a friend
Sponsored Links
Sponsored Links