List Price: $24.95 [Buy now and save at Amazon]
---
"A pawn broker who trusts his customers is out of business real quick."
"People buy dumb sh*t like this all the time."

One of my favorite reality series on cable today...pity it's so "packaged" and sanitized. History has released Pawn Stars: Season Two, a four-disc, 32-episode set of the smash-hit reality series' sophomore 2009-2010 season. If you and your granny liked Antiques Roadshow on PBS ("Oh, look! I had that same darling teacup when I was a little girl! Paul? Paul? Are you sleeping again?"), but you're looking for something with a little more edge now--with the delicious taint of venal, huckstering capitalism to make it truly palatable--than Pawn Stars should be just the ticket for you. Some revelatory bonus material is included here...too bad the show doesn't adopt the grittier tone of this frankly more interesting footage.
The premise of the show is pretty simple. Over the course of the last 21 years, the Gold & Silver Pawn Shop in Las Vegas, Nevada, has become world-renown for it unusual collection of antiques, memorabilia and odd historical items--in addition to the standard pawn shop collections of wedding rings, camera equipment, musical instruments and anything else anyone can think of pawning for a fast couple of bucks. Co-owners Richard Benjamin Harrison (known exclusively as "the Old Man" by everyone on the show) and his son, Rick, oversee 30 employees who take in over 300 items a day, on pawn or for sale, 24 hours a day, 365 days a year (at any one time, they may have 3,000 to 4,000 pawned items in their inventory). The store's day-to-day operational manager is Corey (known sometimes as "Big Hoss"), Rick's son, who often pals around with boyhood friend and general screw-up (at least that's how he's portrayed here), Austin Russell, better known as "Chumlee." Each episode consists of several customers coming into the store with unusual items they'd like to sell or pawn, with one of the staff members first authenticating the item, then haggling over the price. If it's a bogus piece, the customer is politely sent on his or her way, while we get little lessons in various historical subjects, including art, sports, consumer goods, and mechanical inventions, to name just a few, from either the knowledgeable staff or the experts and appraisers that are called in to help verify trickier items. Eventually, though, each segment in each show boils down to only one point of interest over and above any appreciation history-loving Rick or the other employees may have for a particular item: at the end of the day, can the Gold & Silver Pawn Shop make a profit out of the deal?
SPOILERS ALERT!
I got hooked on Pawn Stars last year when my 11-year-old told me there was this cool show on cable where Las Vegas gangsters were running a pawn shop. Intrigued, I tuned in and immediately realized--to my slight disappointment--that the Harrisons were decidedly not gangsters (the opening credits must have stumped the kid), just sharp businessmen involved in a fairly cut-throat business. The personal stories of the customers employed to help sell their items, regardless of their worth or level of sentimentality, don't mean anything in the end to a pawn broker (see the quote above). It's all about the piece brought in, and whether or not Rick and the gang can snag it for a profit. That sounds a bit harsh, and certainly Pawn Stars plays up the "snuggle factor" of the guys (too much so for me) to cushion audiences' reception of the gang, further softened by the educational aspect of the little lessons we get in appraising any number of goods. But one has to acknowledge that the main appeal of the show is whether or not the Harrisons make out over the customer. It's not that the Harrisons are ripping off people (quite the contrary; they go out of their way to be honest and fair with the customers), but they're in this, after all, to make a buck, as the Old Man says, so the show's tension largely derives from whether or not they made the right decision, profit-wise, when they bought an item.
And I love that aspect of the show. You don't get much more "American" than a show about smart businessmen trying to rub two nickels together to make a quarter. Sure, Pawn Stars is "educational" the same way American Pickers and similar shows are in giving 60-second sound bites on the backgrounds of various historical items. Throughout the show, I was continually surprised at the range of history buff Rick's expertise, while the other appraisers, authorities and restoration artists that were brought in were equally informative (particularly appealing was laid-back Rick Dale, of Rick's Restorations--that talented, personable guy should have his own show after the amazing transformations he accomplishes here to a broken barber chair, a juke box and a little Coke® sampler cooler, to name a few). And the fact that they all seem to be friends with Rick and the other Harrisons adds to the "family" feel of the show...regardless of whether or not that's exactly true in real life.
All of that is fine...but you know the devil, so to speak, is in the deal. Pawn Stars always makes sure to keep a camera right on the face of the customers when that moment comes when Rick or the Old Man tells them straight up whether their family heirloom is a fake or worth beaucoup dollars--both of which spell "jackpot" for keeping the TV viewer's interest. It may be cruel, but can anything compare to watching the crushing disappointment on the face of a customer when he or she asks for 15 thousand dollars for their gimcrack tchotchke...and Rick gives his standard head-down laugh and says, "That's not going to happen."? That kind of reality check, heartless though it may be in extreme close-up, makes for compelling TV, and the producers know it. I'm sure all of us have some heirloom at home that we think is worth thousands...but that we suspect wouldn't bring us two plugged nickels from sharpies like the Harrisons. So we get it when these hopefuls come in and see their dreams of fortune shattered like so many rhinestones and fool's gold on the floor. The producers, though, are canny; they know this kind of crestfallen dream-killing has to be balanced by feel-good perfidies of Fate moving its huge hand (as William Conrad might say), lest we start to see the Harrisons in a different light (it's interesting--and telling--that we never hear what their interest rate is for pawning an item). So we get plenty of instances of people coming in with some potentially bogus piece that is indeed judged real, only for us to see the dollar signs ka-ching in their eyes as that slow smile of greed lights up their faces. And why shouldn't it? We'd all do the exact same thing. Naturally, this is immediately followed by Rick looking like he's been pole-axed because now he's going to have to give the customer some serious money if he wants that beautiful piece in his store...and he does want it in his store. I love it when Rick, in genuine frustration, says, "God I hate it when people know what they got," because an offer of a quick hundred isn't going to do it anymore, and he sees his profit margin dwindling by the second. It's a nice balancer for most of the times when Rick comes out way ahead of the customers who are looking for the convenience of a fast buck and no hassles--even though they know they could probably chance selling the item at auction or on-line for a bigger return.
I wish Pawn Stars could spend a little more time on some of those customers that come in; their brief little 15-second spots out in the parking lot where they alternately bitch about or praise their treatment in the store often left me wanting more. Some of the customers are real hoots, including Rafael who starts to lose it when he can't wrap his mind around the fact that he never looked too closely at his "original" Emile-Louis Picault Perseus and Pegasus statue...especially right where it's stamped "Made in the U.S.A." (hee hee!). Or the guy who questions nothing less than the existential make-up of the entire universe when he's informed that his five mint-condition Pete Rose baseball cards are obvious fakes (I love his breakdown afterwards, questioning the reality of everything with a plaintive, "You know...what's real, then?"). Jeff the peripatetic New York knife guy alternately scared me and made me laugh out loud when, informed about the Geneva Convention outlawing three-sided knife blades, incredulously exclaims, "Isn't stabbing stabbing? C'mon!" But the topper had to be the gentleman wanting to unload his totally cool Pez® collection to a supremely indifferent Corey, with the guy later exclaiming outside, "That's an insult to the Pez® community!" with righteous indignation. Priceless.
Instead, Pawn Stars spends all of its off-sales counter time with the Harrisons in an effort to manufacture some feel-good, old-timey family fun...with at best, mixed results. There's no denying that the Harrisons are a TV-friendly bunch. They're smart; they have personality (the Old Man is genuinely funny, with an absurdist edge to his crusty humor that consistently cracked me up), and they obviously care about each other, despite the heavy-handed ribbing that infuses all of the conversations. They fit right in with TV as it's conceived today, and according to script, their jokes never vary. If something antique comes in, someone claims the Old Man used it in his youth. The Old Man frequently questions Rick's baldness and business sense ("That's Ricky: often wrong and never in doubt."), and they both gang up on Corey's nascent business acumen. But precisely because the producers of Pawn Stars insist on showing only those kinds of encounters--many of which feel blatantly staged--do we begin to feel that the Harrisons on the screen probably don't resemble too much the Harrisons off TV. If you don't know by now, 99.9% of reality TV is staged to a certain extent and degree, whether wholly (100% synthetic The Hills, or in part (all those friendly "suggestions" by producers of The Bachelor for the participants to have a drink and "unwind"), and so too, is Pawn Stars. I don't really need to see Rick go to his doctor for stress-related issues; frankly, who cares...particularly when it's only used as a set-up for some fake bitching about the guys' performance at the shop? Corey and Chumlee's little adventures are the most egregious examples of the series' outright fakery, including their "accidental" destruction of a kite, a potty chair (horribly, ineptly staged), and a glass case via a ball and chain, are all cringingly bad and obviously faked, along with a blatant product placement for Subway®, where Corey even helpfully announces the name of the sub they're eating. None of this is either successful or remotely interesting, particularly since we feel like dolts being pandered to when we see them. It's condescending treatment, and it doesn't exactly reflect back on the "pawn stars" too well, either.
With all that over-producing and over-tinkering of the series, making sure it's middle-of-the-road and palatable and safe, it's a pity that Pawn Stars couldn't have been a little funkier, a little looser. Watch the "pawn stars" in their interviews on the bonus material, where they're just talking to someone off camera. They're so much more relaxed and natural than they appear to be when filming in the store. Even Chumlee comes off as being far brighter than he appears in the episodes proper (I hardly think they'd keep him around if he was that much of a disaster in real life). They're also much more serious about their business, giving thoughtful answers to what it's like to run a pawn shop, that one wishes Pawn Stars was closer to Cops than American Pickers. These guys seem like real pawn brokers. We also get one or two fleeting glimpses of the more unpleasant aspects of running such an establishment (Antoine the security guard bluntly telling a drunk to get out of the store), which made me realize that during all of the 32 episodes of this second season, I didn't see one really "out there" customer. Where are, to paraphrase Tony Soprano, all the degenerate gambling f*cks who are desperately pawning their wives' wedding rings to call a bet on a sure-fire inside straight? I mean, this is Vegas, ferchrissakes. Where are the bums and losers and beaten-down here? Where are the guys that warrant a call to the cops? You know they show up at this place, and yet they've been eliminated from this sanitized version of the truth of running a pawn shop (and don't give me any stuff about release forms--that doesn't stop other shows like Cops from showing people at their worst). I think it's great and cute and sweet to see someone bring in an ancient diving helmet and have it authenticated as real, but after hundreds of such slightly bizarre and ironic transactions, I wanted to see a little authentic desperation here in Pawn Stars, but the producers aren't having any of that. Too bad. I'll bet the "real" Gold & Silver Pawn Shop is far more fascinating than the version I'm getting from History.
The DVD:
The Video:
Seriously, I just don't get History. Another non-anamorphic letterboxed release? In this day and age of DVD? It's clean-enough, I suppose, but how annoying. At this point, it's almost as if History is wearing its backward technology as a perverse badge of honor. And while we're at it, could someone in the DVD department hire a professional graphic artist to spruce up their typically lame-looking covers a bit? They're the DVD equivalent of those white and black generic food packaging.
The Audio:
The Dolby Digital English 2.0 stereo audio track is hefty enough to get the job done, with minimal separation effects and no hiss. English close-captions are available.
The Extras:
Over 32 minutes of bonus material, most of it more compelling than the episodes themselves. See above.
Final Thoughts:
I really enjoy Pawn Stars...I just wish it were a little edgier, a little funkier. Just ask yourself: how "real" is it if a reality show about a pawn shop in Las Vegas is suitable for the entire family? Think about it. That carping aside, what is here, in spite of the sanitizing, is quite entertaining (aside from the staged events with Corey and Chumlee). I'm recommending Pawn Stars: Season Two.
---
Paul Mavis is an internationally published film and television historian, a member of the Online Film Critics Society, and the author of The Espionage Filmography.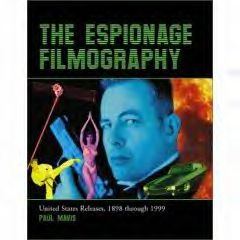 ---
C O N T E N T

---
V I D E O

---
A U D I O

---
E X T R A S

---
R E P L A Y

---
A D V I C E
Recommended
---
E - M A I L
this review to a friend
Sponsored Links
Sponsored Links