List Price: $39.99 [Buy now and save at Amazon]
---
Less cooking this time around, and more cops and robbers. Acorn Media has released Pie in the Sky: Series 3, a two-disc, six-episode collection representing the culinary detective show's third "series" (season) that originally ran in the U.K. from December, 1995 to February, 1996. Those in the mood for some gastronomically-challenged mysteries might be surprised at how often star Richard Griffiths steers clear of the kitchen in favor of pounding the pavement, but I must say that the mystery angle has been nicely beefed-up in comparison to the second series I reviewed last year. No extras for this set, but I suspect fans of this low-key show won't mind.
Horizontally-challenged 25-year veteran Detective Inspector Henry Crabbe (Richard Griffiths) is the best investigator on the Middleton police force. And that' s a pity, because he doesn't want to be a copper anymore; he'd much rather spend his early retirement as head chef of Pie in the Sky, the quaint little restaurant purchased by his wife, Margaret (Maggie Steed), who's not only a savvy accountant but also oblivious to Henry's culinary wizardry (she'd as soon eat a packet of crisps as one of his delicacies). But an unusual "arrangement" with his superior, Assistant Chief Constable Freddy Fisher (Malcolm Sinclair) keeps Henry, unofficially, on the call sheets: it's called 'blackmail.' Apparently, Henry botched an investigation in the previous season's opening episode, and Fisher has used this rare screw-up on Henry's part to keep him from taking early retirement. With Henry on suspension, he can't quit (because he'll forfeit his pension) and he can't retire early (or Freddy will reopen the investigation, whereby Henry might lose his pension). So now Henry is at the mercy of Fisher's whims when it comes to tough investigations―or sticky political situations he'd rather not deal with personally―investigations, mind you, that Fisher likes to take credit for when Henry solves them. Working with Henry during his police duties is Detective Sergeant Sophia Cambridge (Bella Enahoro), and working with Henry at Pie in the Sky are his wife, Margaret, ex-con and recovering alcoholic chef Gary Palmer (Nicholas Lamont), looker waitress Nicola (Samantha Janus), and squirrelly vegetable supplier and sometimes washer-up, Leon Henderson (Leon Raggett).
PLOT SPOILERS ALERT!
Reading back over my review for series 2 of this pokey-but-genial U.K. mystery series, I'm having a difficult time remembering why I picked up this third season for review in the first place. It's not that the review vilifies the series, but it may damn it with faint praise. Maybe I just needed a little seasoning with the characters and the series' tone and pace to appreciate it a bit more, because I had a better time with Pie in the Sky this go-around. Starting off with the season opener, Money Talks, some interesting roadblocks in chef Henry's pursuit of a quiet life running the cozy, comfy Pie in the Sky restaurant are thrown up to good effect. First off, Steve and John are now gone from the cast, and new face Nicholas Lamont as Gary Palmer―an equally troubled young chef with a criminal record and a drinking problem―throws the loyal viewer off a bit. As for Henry, his two careers are equally troubled. Wife and bookkeeper Margaret is shocked to learn that Henry's been hiding dunning letters from the bank, owing to Pie being in debt to the bank for the astronomical sum of 30,000£. Doing the unthinkable, Margaret closes Pie and dismisses the staff, a humiliation that dogs Henry. At his "real" job, trouble follows him, including a threat by Fisher to pull the plug on all of Henry's current investigations unless he comes up with results fast. Missing meetings and a general air of insubordination aren't exactly helping the sour police detective with his officious, uncaring superiors, either. I rather liked those twin-front problems thrown out at the sometimes too-placid Henry character, and for this first episode, it created an appropriate level of tension that only helped the show.
As well, the writers come up with a neat trick of clearing Henry of the original shady investigation that has held him bound to Fisher all these years, who is blackmailing Henry to stay on the force. Killing off the Michael Kitchen criminal (wasted here in what amounts to little more than a walk-on) technically gets Henry off the hook for any re-opening of Kitchen's case―and without the case, Fisher's blackmail means nothing. However, Henry does such a good job at nailing the episode's suspect in an energetic car chase, he blows his chance to retire from the force on full disability (due to a previous wound). He has to stay on the force to eventually collect a full pension. That's a clever working out of the series' backstory. However, these interesting conflicts are more or less dropped from the remaining episodes, which operate as stand-alone, competent, but perhaps less-than-thrilling mystery/police procedurals, when the writers should have created a central story arc involving Henry's on-going money and police troubles.
That being said, the remaining five episodes here are acceptable Sunday afternoon TV fare, when you want to put up your feet and escape for a little bit into the English TV criminal world where even the most heinous acts seem just a tad more genteel, more cozy, if you will. Game Pie is a perfect example of this. Playing off the beloved "English village" mystery framework, Game Pie takes the traditional weekend shoot in the country and inserts Henry (who's catering the event to replace a week's misplaced takings from Pie) and Fisher, who, in trying to impress his new boss, is a suspect in an accidental hunting death. A solid country mystery with plenty of red herrings and potential suspects, it's just too bad that the producers didn't bring back Henry's new superintendent Braithwaite; he seems like a natural-yet-likable foil with plenty of potential for conflict with Fisher and Henry. Irish Stew gives us a too-brief-but-tantalizing insight into Margaret's past life as a Mod living and working on the famed Carnaby Street in 1960s London, amid the standard assumed identity plot that shouldn't be too hard to figure out for dedicated mystery fans. Doggett's Coat and Badge, however, is an excellent little mystery with some grit to it, as Henry dodges some shady Scotland Yard investigators and a notorious gangland criminal in search of a rare bottle of wine (a good twist ending here ties in the food element that is sometimes―and sometimes inexplicably―missing from so many Pie episodes).
This Other Eden has an intriguing set-up: not just garden furniture or garden sculptures, but entire gardens, plants and all, are being stolen, and Henry has to track down the culprits. I must admit that I was disappointed that the writers didn't give us more background (and spoofing) of the "National Horticultural Division" cops that show up on the scene (only in England...); however, it's a frequently amusing entry in the series, with another chance to see Henry get jealous over Margaret's rather flirty demeanor. And finally, Coddled Eggs is an energetic romp with Henry out doing dog's work: repossessing stolen cars bought by unsuspecting citizens. An entertaining supporting character―an abrasive female investigator who strong-arms suspects to get what she wants...even if that includes dropping false charges against Henry to come out on top of the investigation―adds some spice here as copper Henry continues to stay out on the streets, rather than in the kitchen of Pie in the Sky.
The DVD:
The Video:
Like the second series I reviewed, Pie in the Sky: Series 3 doesn't sport a crystalline digital picture...but loyal U.K. television lovers wouldn't want that anyway. The full-screen, 1.33:1 transfers are a bit on the faded, muddy side, with somewhat washed-out color and a medium-sharp picture.
The Audio:
The Dolby Digital English 2.0 stereo audio track is serviceable, but not impressive. Recording levels are consistent, with hiss barely noticeable. English subtitles are included.
The Extras:
Other than text bios and filmographies on the stars, there are no extras for Pie in the Sky: Series 3.
Final Thoughts:
A little bit more sprightly this go-around. Pie in the Sky: Series 3 may not be the most exciting U.K. mystery/police procedural you'll see, but it does remain determinedly slow and methodical and quiet, and after awhile, you can only feel affectionate towards this deliberate tone. I'm recommending Pie in the Sky: Series 3.
---
Paul Mavis is an internationally published film and television historian, a member of the Online Film Critics Society, and the author of The Espionage Filmography.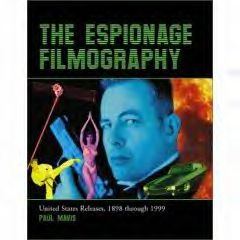 ---
C O N T E N T

---
V I D E O

---
A U D I O

---
E X T R A S

---
R E P L A Y

---
A D V I C E
Recommended
---
E - M A I L
this review to a friend
Sponsored Links
Sponsored Links