Marcus Welby, M.D. Season Two
List Price: $49.97 [Buy now and save at Amazon]
---
"Diagnosis is a lot more than running down a long checklist of symptoms. We use every scientific device we can get. But sometimes, we have to use something more. A look on the face. The texture of voice. A faint odor on the breath. And sometimes, something you can't even identify. Call it 'experience,' 'instinct,' 'hunch.' Whatever it is, a doctor has to use it, because he's treating people. And people happen to not have the predictability of molecules."
Bewitched came close one year, but this is the series that finally did it for the perennially last-placed network: ABC's first number one show for the year in the Nielsen's-and it's just as thoughtful and well-produced as the first season. Shout! Factory keeps the good stuff coming with Marcus Welby, M.D.: Season Two, the 6-disc, 24-episode collection from the series' sophomore session, which ran during the 1970-1971 television year. Tensions between older sawbones Dr. Marcus and studly G.P. Dr. Steven have cooled considerably, but there's still a world of hurt out there for these two white lab-coated gods of the hypo and sticking plaster to heal, to soothe, and to comfort (an almost fantastical array of ailments for your average G.P., if you stop to think about it...). Zero extras, and the presentation isn't mind-blowing, but the content is strong for lovers of vintage TV.
Beautiful Santa Monica, California, circa 1969. Suburban G.P. (that's "General Practitioner" to most of you who have grown up with "specialists" all your life) Dr. Marcus Welby (Robert Young), having suffered a mild myocardial infarction last year due to his harried, stressful workload, is adapting well to the arrival of young, brash, arrogant Dr. Steven Kiley (James Brolin), a promising neurosurgery resident who initially wanted nothing to do with a "horse and buggy" G.P. career. Initially often battling each other over the course of action to take in dealing with not only a patient's immediate medical condition but also their troubled personal lives, conflict between the two caring physicians has cooled considerably this year as they settle into their joint suburban practice. And aiding that transition is the bright, lively, and faintly smart-assed presence of Consuelo Lopez (Elena Verdugo), Marc's loyal nurse and office manager.
SPOILERS ALERT!
After watching and reviewing the first season of Marcus Welby, M.D., I was curious to see if anybody even remembered this once-popular show, and I was rather surprised (and frankly delighted), that I received so many emails from readers expressing their own fondness for this winner. As I mentioned above, this second season of the series went through the ratings' roof, becoming the most popular show on television during 1970-1971, but it's interesting that it did so by largely eschewing the "hook" I wrote about in my first review: the ironic conflict between older Welby (who's really the rebel), and younger Dr. Kiley (who's really the staid conservative when it comes to treating patients). That was a novel twist to the traditional Dr. Kildare model for network medical shows back in 1969, reflecting the "New Television" approach that was emerging that combined traditional, conventional dramatic frameworks skinned over with then-current political and sociological subject matter.
Most of that seems to be gone, though, here in Marcus Welby, M.D.'s second season. Welby and Kiley rarely, if at all, "battle" each other over a patient's treatment now. Indeed, the worst friction that crops up between the two happens in False Spring, where Welby cautions Kiley about falling in love with one of his patients-not exactly a stunningly new departure from traditional medical drama plotlines. It's not that this second season of Marcus Welby, M.D. isn't socially and politically aware-it most certainly is. We get stories with timely subject matters including venereal disease, suicide, mentally challenged children, the clash between Western medicine and other cultures, the then-"shame" of epilepsy, the plight of the American Indian, and alcoholism-all "timely" because Marcus Welby, M.D. deals with them in a relatively frank manner (at least by 1970 network TV standards). However, that initial subtext of switching the expected roles of Welby and Kiley, with Welby the outspoken rebel and Kiley the slightly stodgy standard-bearer, has all but disappeared. Living at Marc's cozy combination house/office, Kiley has apparently settled in not only in Marc's personal life, but his professional one, as well. Both doctors are almost always in accord on how a patient should be treated, and they almost never seriously argue over the various issues that come to light through the treatment of their diverse patients. The notion of Welby "teaching" the young upstart Kiley, has been largely dropped, too. They're equals, more or less, an entirely different dynamic from the first season, one that results in less interest, frankly, for our lead characters, but one that results in shifting our attentions more to the patients and their stories, which perhaps was inevitable for this weekly anthology masquerading as a medical drama.
Still guided by the "New Television" effort to bring forth once-forbidden subject matter to audiences now ready for change, Marcus Welby, M.D.'s plots this season were pretty heady stuff back in 1970...even if they seem relatively tame now. The season opener, A Very Special Sailfish, is a good example, and one that I would imagine helped propel Marcus Welby, M.D. into the number one slot that year due to its controversial nature. "Good girl" high-schooler Lee Purcell has lost quite a bit of weight due to Dr. Welby's diet program (Welby laughs along with Purcell at a pre-diet picture of Purcell in these less uptight, P.C.-free days), and the resulting attention she receives is too much for her, revealing uncomfortable truths about her mother, Cloris Leachman (who encourages her daughter's reckless behavior), before Purcell's first sexual encounter leads to promiscuity and venereal disease. Structured and shot not at all "sensationally," A Very Special Sailfish illustrates the "Welby approach," if you will, of taking a sensitive subject like V.D., and treating it in a humanized, careful manner. Welby doesn't shy away from lecturing a high school class on the dangers of premarital sex (saying it's "unwise"), but the caring doctor also doesn't judge his patient's behavior, admitting that kids' weren't any different back in his day, and that he likes Purcell and thinks she's a good person-a departure from the still-commonly held attitude in 1970 that contracting V.D. was as much an indication of a person's low moral fiber as it was their questionable position in society. That compassionate stance marks every Marcus Welby, M.D. episode this season, that willingness on Marc's and Steven's part to not only treat their patients, but also to understand their emotional plights, as well (often within a sociological context), and to try and offer not only medicine, but solace-not judgment.
Other stand-out episodes this season include Warn the World About Mike, where Barry Brown plays Kiley's smart-assed, brilliant brother Mike who, suffering from what he thinks is Hodgkin's, tries to reach out to his brother while still recoiling in denial and fear from his condition. At the end of the episode, Consuelo, having inadvertently discovered Mike's secret, gets angry with Mike's dispassionate refusal to fight the disease; his attitude is an "insult to life," she argues-a reoccurring theme in many Marcus Welby, M.D. episodes. Epidemic features a strong performance by Michele Lee as a hypochondriac who endangers Marcus' life during a flu outbreak. Screenwriter Charles A. McDaniel comes up with truly beautiful, hopeful writing in To Get Through the Night, as psychiatrist Larry Hagman (in a nicely understated turn) reaches out to suicide Barbara Anderson, even as he deals with his own fatal ALS condition. In Daisy in the Shadows, Marc admits there's no way he can force a patient to accept either his medical treatment, or his advice-a nod to the series' best efforts to keep the Welby character from becoming a superman doctor-but an admission that's funny in relation to Kiley's jibe about Marc spending all his free time helping his patients (the level of Marc's intrusion on his patients' private lives can be quite funny, and delightfully, very "TV."). John Considine is quite good as a harried teacher-turned-insurance salesman who must endure not only the debilitating effects of epilepsy, but also the social stigma attached to his frequent seizures (his initial seizure scene is quite shocking by 1970 TV standards). Sounding Brass has Marc telling a patient not to worry about his fees (another common subtext in the series), as he comments on the explosive political situation out in 1970 America (Marc states today's world mixes up "hostility for individuality"). There's also a funny/sad self-reflexive moment where a sweet, kind young mother tries to reach out to her angry, uneducated husband, telling him she wants to talk to him like they do on TV, "where a man and his Mrs. talk things out, with all that music playing somewhere" (the bittersweet, impossible lament of all true TV fanatics).
To Carry The Sun In A Golden Cup (marvelous title) allows Marc another chance to prove he's not judgmental (even though he doesn't approve of her actions), when a mother must admit her husband isn't the father of her sick child, a move that Welby admires for the courage it took to admit it (his simple, "I understand," isn't really all that differnt from the many times he said the same thing on the vastly underrated, misunderstood Father Knows Best). Scripter Max Hodge comes up with a sweet, funny, and touching episode, All The Golden Dandelions Are Gone (another terrific title), featuring Richard Thomas giving a quite different interpretation of his "John-Boy" southern youth character, and pretty Belinda Montgomery showing a sweet tenderness as she takes her first steps into personal independence. Another Buckle For Wesley Hill suggests shades of Route 66 with Glenn Corbett's fine interpretation of a rodeo rancher felled by kidney failure (the supremely entertaining Chill Wills is along for the ride, too, and he's characteristically excellent). Again, scripter Robert Collins gives voice to that common Marcus Welby, M.D. theme of perseverance in life: "Pain? Life is pain. The first sound a child makes in this world is a wail of anger and fright. But he persists. Life is persistence in the certainty of pain. And it's good." The Passing of Torches features an uncommonly good turn by Peter Duel as a troubled Indian physician torn between two cultures-a dilemma Marc admits he can't solve (Walter Pidgeon shows up for a few scenes, and he effortlessly steals them both). In Cynthia, Marc is sued for the first time in 25 years of doctoring for malpractice...and loses (take that, Perry Mason), with a relatively frank look at the process (Marc is fair to attorneys, offering that many doctors may hate them because they're the only people who dare to challenge doctors' god-like authority). Don't Kid a Kidder has two terrific turns by the wonderful Kaye Medford and Robert Pratt (what happened to this good actor?) in a sensitive story of a homely young man transformed-not for the better-by plastic surgery. And although The House of Alquist features a perfectly respectable story of parental obsession and control over a child, the real appeal comes from a typically excellent portrait of controlled hysteria by one of the best actresses of the 1970s, Jessica Walter, who only ups the "wow" factor by charging around at one point in a black bikini here (I'm feeling faint...).
As I've written numerous times in my TV reviews, it's tough to go back 30 or 40 years and divine the reasons why an audience liked or disliked a show, just based on Nielsen ratings, so one may wonder why Marcus Welby, M.D. was such an enormous hit with the public, particularly this season, when the show rocketed to number one-a first for ABC. There's no doubt that the continued popularity of Robert Young, an icon from Father Knows Best that was still running in syndication at the time, helped, while certainly the "comfort level" offered by his presence, married to the "New Television" thematic edginess of Marcus Welby, M.D., engaged viewers. Also important-perhaps even more important considering viewer habits back then, when many tended to stay on one channel the whole night-was Marcus Welby, M.D.'s killer lead-ins. Snug in its regular 10:00pm Tuesday night time slot, Marcus Welby, M.D. benefitted from ABC's youth-oriented hit, The Mod Squad at 7:30pm, getting the jump on the competition (11th for the season, its highest series ranking), followed at 8:30pm by ABC's now-legendary Movie of the Week, which ranked an astounding 6th for the year-a tribute to the level of quality of those made-for-TV films (when is someone going to get on the ball, and start releasing all of those titles???). CBS actually had a hit on its schedule that night-Hee Haw at 8:30pm, which managed to actually rise in the ratings from its first season rankings to 16th for the year-but it was unceremoniously canceled with other rural comedies on the network when the suits demanded younger demographics (one-time mighty ratings' winners The Beverley Hillbillies and Green Acres, opening this CBS Tuesday night, had fallen out of the Nielsen Top Thirty in this their final year). And over on NBC, no competition was offered to ABC's killer line-up with the ill-advised comedy/variety show, The Don Knotts Show at 7:30pm, the last season of once-popular Julia, and the underperforming The NBC Tuesday Night Movie). Marcus Welby, M.D. would only occupy the top spot this one season, but it was enough to cement the show in the public's imagination, guaranteeing an additional five seasons of episodes.
Here are the 24 episodes of the 6-disc set, Marcus Welby, M.D.: Season Two, as described on the set's enclosed episode guide booklet:
DISC ONE
A Very Special Sailfish (9/22/70)
A teenager gets caught in the swinging set, leading to a sexually transmitted disease.
The Worth Of A Man (9/29/70)
Even after Welby tells him he has a terminal disease, an attorney refuses to step down from a case.
Warn The World About Mike (10/6/70)
Dr. Kiley's brother believes he's dying and refuses to seek help.
Epidemic (10/13/70)
The efforts of Welby and Kiley to battle a flu epidemic are complicated by a rich hypochondriac.
DISC TWO
To Get Through the Night (10/20/70)
A psychiatrist discovers he is the victim of a fatal form of sclerosis.
Daisy In This Shadows (10/27/70)
The mother of a mentally handicapped child is forced to realize that she must allow the child to live with foster parents.
The Labyrinth (11/10/70)
Dr. Welby tries to help a scientist who appears to be suffering from drug-induced symptoms so serious he fears he will die or become completely incapacitated.
The Girl From Rainbow Beach (11/17/70)
Just before her marriage, a young woman discovers she is a victim of a form of leprosy.
DISC THREE
Aura To A New Tomorrow (11/24/70)
A young epileptic's effort to hide his affliction endangers his life.
Sounding Brass (12/1/70)
A proud young father refuses to bring his supposedly mentally challenged son to a free clinic for treatment.
To Carry The Sun In A Golden Cup (12/8/70)
Dr. Welby suspects a young nurse is suffering from a hereditary muscular disease.
All The Golden Dandelions Are Gone (12/15/70)
A father with mononucleosis endangers his life by not following Welby's advice.
DISC FOUR
Brave On A Mountain Top (12/22/70)
Dr. Welby urges a young American Indian with emphysema to return to the clean air of the reservation.
Another Buckle For Wesley Hill (1/5/71)
A young rancher lapses in despondency when he becomes dependent on a kidney machine.
False Spring (1/19/71)
Dr. Kiley begins to fall in love with a TB patient after her husband shows disgust at her condition.
The Passing of Torches (1/26/71)
A former teacher who is dying and a confused medical student complicate efforts to honor an educator.
DISC FIVE
A Woman's Place (2/2/71)
Dr. Welby tries to help an alcoholic orthopedic surgeon.
A Spanish Saying I Made Up (2/16/71)
Dr. Welby's nurse Consuelo falls in love with a rich man with old-fashioned principles.
Cynthia (2/23/71)
Welby and Kiley are sued for malpractice by a patient who blames them for her paralysis.
Don't Kid a Kidder (3/2/71)
Problems occur after Dr. Welby helps a blind woman arrange plastic surgery for her big-eared son.
DISC SIX
Elegy For A Mad Dog (3/9/71)
Dr. Welby is bitten by a rabid dog that belongs to his mentally challenged patient.
The Contract (3/16/71)
Dr. Welby becomes involved in a strained marriage when he assists the wife of a musician who becomes ill on a flight to Los Angeles.
The Windfall (3/23/71)
A young girl develops an ulcer because she feels her rich parents don't love her.
The House of Alquist (3/30/70)
Dr. Welby urges a young woman to break with her despotic father and marry the man she loves.
The DVDs
The Video
As with the first season, the full-screen, 1.33:1 transfers for Marcus Welby, M.D.: Season Two are acceptable, but certainly not in a league with say a Paramount vintage TV release. Colors are muted (I remember those titles as being bright yellow), while the picture is often soft and somewhat fuzzy. Grain is apparent from time to time, along with expected screen anomalies, such as scratches and dirt. It's an...okay picture, but that's all (and ABC's house style back then was a knock-out; so this doesn't come close to that original feature film-like, eye-popping look).
The Audio
The Dolby Digital English 1.0 mono audio track varies quite a bit from episode to episode (and scene to scene, frankly), with hiss noticeable at times, as well as fluctuating recording levels and an overall muddy tone (in Brave On A Mountain Top, the sound goes almost out, with the audio track sounding like it was coming from a drive-in speaker for a scene or two). A bit of a disappointment not to hear that beautiful, mellow Leonard Rosenman theme in a stronger presentation. No subtitles or close-captions, either.
The Extras
No extras, other than the episode guide (which is nicely designed, compared to other ones I've seen: good color pictures and a fun layout-I love where the "Credits" are located on the anatomical chart).
Final Thoughts
The tension between old rebel and young opportunist seems to have dissipated already in this sophomore session, but that leaves more time for the finely-drawn stories about the troubled people who cross Dr. Marcus Welby's well-worn office threshold. Always interesting, frequently quite moving, and never sensationalistic, Marcus Welby, M.D.: Season Two is another knock-out season for this fine, telling drama. I'm highly, highly recommending Marcus Welby, M.D.: Season Two.
---
Paul Mavis is an internationally published film and television historian, a member of the Online Film Critics Society, and the author of The Espionage Filmography.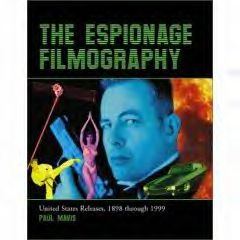 ---
C O N T E N T

---
V I D E O

---
A U D I O

---
E X T R A S

---
R E P L A Y

---
A D V I C E
Highly Recommended
---
E - M A I L
this review to a friend
Sponsored Links
Sponsored Links