Where Love Has Gone (1964)
List Price: $24.95 [Buy now and save at Amazon]
---
High-gloss junk that delivers the goods. Olive Films, which has been putting out some cool Paramount library titles recently, has released a pair of big-screen sudsy melodramas: Jacqueline Susann's Once is Not Enough (read that here) and 1964's Harold Robbins adaptation, Where Love Has Gone, the companion piece-of-sorts to producer Joseph E. Levine's other high-profile release from that same year: the smash-hit The Carpetbaggers, based on, what else, another Harold Robbins novel. While that George Peppard-starrer is the better known of the two (I urge you to see it; it's delicious), Where Love Has Gone, sporting two icons of melodramatic trash--Susan Hayward and Bette Davis--is equally entertaining...as long as you accept its obvious limitations (and revel in them). It should certainly be of interest to fans of the actors, as well as to aficionados of this kind of overripe garbage...and I love overripe garbage.
A brutal stabbing set the story in motion. Wealthy sculptress Valerie Hayden (Susan Hayward), of the influential San Francisco Haydens, witnesses her hysterical 15-year-old daughter, Danny (Joey Heatherton), slash Valerie's live-in lover to death. Ellis (George Macready), the cold, grim lawyer for the equally imperious Hayden matriarch, Mrs. Gerald Hayden (Bette Davis), calls Danny's father, builder Luke Miller (Mike Connors), who lives and works in Arizona, to come quickly to Frisco. Suffering no illusions, Luke is told by Ellis that his presence is needed strictly for show, as a performer so to speak, to give the illusion of a unified family as the courts begin the process of deciding Danny's fate. Divorced from Valerie, Luke detests his ex-mother-in-law almost as much as she hates her once-alcoholic ex-son-in-law, but he loves his daughter (with whom he's had no contact), so he'll play along with the charade.
Flashback to the Second World War. Down-to-earth, born-poor Major Luke Miller, a Congressional Medal of Honor recipient, sparks with feisty, rich, avant-garde sculptress Valerie Hayden, who can't help but be intrigued by Miller's disdain for her work. Agreeing to a dinner date arranged by her mother, Valerie would much rather spend time with cynical grouch art critic Sam Corwin (DeForest Kelley), who knows all about rich bohemian Valerie's rather aggressive sexual history. At the Hayden mansion, dinner conversation is stilted, at best, and Valerie beats a hasty retreat to spend the rest of the evening with Sam, but Mrs. Hayden has a proposition for trophy-worthy Mike: marry her daughter and enjoy a fabulous dowry. Mike throws the disgusting proposition back in the meddling dowager's face...only to fall right into the arms of the newly turned-on Valerie, who heard the whole showdown and admires Luke for slapping down her interfering mother. Marriage and a baby follow, but so does alcohol and betrayal and divorce...and murder from a crazy, mixed-up teen.
SPOILERS WARNING!
I haven't read the Harold Robbins book that Where Love Has Gone is based on, but if it's anything like his other novels, serious literary criticism is beside the point: fast-moving plots laden with gratuitous sex, manipulated through a roman á clef framework to give the reader a jolt of "reality" now and then, are the only considerations (in this film adaptation, the infamous Lana Turner/Johnny Stompanato murder is fictionalized in the film's bracketing sections). On that level, they work just fine, and so does Where Love Has Gone. You can take it seriously, and rip it apart as a not-particularly "good" film, due to its screenplay excesses, its clunky construction, its anonymous direction and over-the-top performances, which the critics of 1964 certainly did, unencumbered by thoughts of nostalgia for these types of films, and uninterested in the film's "camp" elements (god, I hate that word...but it's the easiest one we have to sum up the appeal of a film like this). But then, you'd be missing the point of the film: it's deliberately wallowing in its own excesses and faults; it's highlighting them for our enjoyment. Everyone involved with the making of Where Love Has Gone were grown-ups and artists in their own rights. Director Edward Dmytryk had been a director of note prior to his blacklisting, turning out fast-paced, visually interesting titles like Hitler's Children, Murder, My Sweet, Cornered, and Crossfire, before bigger, heavier Hollywood productions like Where Love Has Gone seemed to sap his energy. And screenwriter John Michael Hayes, among many distinguished productions, wrote four of Hitchcock's best movies (Rear Window, To Catch a Thief, The Trouble with Harry, and The Man Who Knew Too Much), before moving on to superior melodramas like Peyton Place and Butterfield 8. So they were well-aware of what they were reaching for when they created Where Love Has Gone; they knew the form (what used to be called a "woman's picture"), what its audience expectations were, and most importantly, what would sell tickets. One can stand back 46 years later and snigger over the film's perceived incompetence, but Where Love Has Gone appears to know exactly what it's doing.
One could be forgiven for mistaking Where Love Has Gone as a product of producer Ross Hunter, once the opening credits roll showing absolutely stunning widescreen vistas of San Francisco (courtesy of pro cinematographer Joe Macdonald), as singer Jack Jones, in his best late-career Sinatra mode, warbles the lugubrious theme song. However, schlockmeister promoter/eclectic producer Joseph E. Levine vigorously asserts his own vision of how a movie should grab a viewer's attention when we're treated to the Psycho-like slashing murder of sculptress Hayward's lover, via a sharp chisel. After that, even though Where Love Has Gone sports the smooth, hyper-gloss look of a Hunter production, the crudity of Levine's exploitation vision comes through the patina. Now, fair warning: younger viewers expecting "exploitation thrills" along the lines of today's movies will be sorely disappointed by Where Love Has Gone's tame fireworks. Where Love Has Gone occupies that twilight time frame of the mid-60s where Hollywood filmmakers knew the Production Code was a goner, giving it death jabs with salacious scenes and lines of dialogue that never would have made it in mainstream films a few years prior...but right before truly explicit material was welcomed on the screen. So context is everything here.
That said, lovers of overblown weepers from this time period will appreciate all the signifiers of the genre. Hayward, still gorgeous, still sexy as hell, has a memorable opening shot from Dmytryk: in bed (where she should always be), trucked-in on slowly, the camera catches a flash of her fiery red mane before she groans and whimpers in confused eroticism. That's a director who understands the appeal of his star. Of course, Hayward is utterly ridiculous here as a socialite sculptress; watching her take an ineffectual swipe at a stone statue while her hair and makeup remain exquisitely intact, is the first indication of the fun to come. Hayward doesn't have to be believable here; she just has to emote, to suffer for our enjoyment, as she goes from bohemian slut, to married, successful artist, to jaded, jilted slut again. That's what we expect from the genre, and by this point, from Hayward's film persona. Why in the world would we ever want to believe she's a sculptress? The credibility of her character is of no more importance to us than our believing that Bette Davis, for god's sake, is her mother. We just want to see where the story goes--the unreality of the characters and their situations only heightens our gratification.
And that genre fulfillment is in large part measured by all the suitably salacious lines of dialogue in Where Love Has Gone that are thrown out by the overheated actors. Hayward gets most of the juicy ones, including her defense of Connors to her former lover, Kelley: "I've finally found a man--if you can understand what that means. A man!" When Davis questions her sordid past, she defends herself with this classic: "When you're dying of thirst, you'll drink from a mud hole." Hee hee! And when Connors interrupts Hayward during sex with her lover, in her home studio, she lustily yells after the man, "You don't have to go--he doesn't care!" to which Connors responds, "You're not a woman--you're a disease!" Hear, hear. Connors (forever a favorite of mine for Mannix) has the least interesting character here (he's the "man," after all, in this woman's picture), so he can be forgiven for looking slightly ill-at-ease amid the histrionics; he handles his drunk scene well, but he seems grouchy for most of the rest of his time on screen. Kelley fails miserably to bring off his confusingly-drawn, almost inscrutable character (is he gay? Impotent? A satyr? Maybe it's clearer in the book...), trying to rasp his way through faux-decadent, Bertrand Russell/cracker barrel witticisms like, "What's a honeymoon? Two weeks of people telling each other lies that they can't live up to." It's difficult, however, to imagine him as a participant in Hayward's bed-hopping games when he sports the sex appeal of an insurance adjuster. Far more successful--and I'm sure wholly unintentionally--is sex kitten Joey Heatherton, who had me laughing right out loud with about every petulant line reading she gave. Speaking in a constant whine, she's a scream when all she can muster when going off to jail is, "Daddy? Daddy! I've lost my sweater!" (even Connors looks at her as if she--and I mean Heatherton--is deranged). And in one of the poutiest, most adorable sneers I've ever seen on the big screen (why didn't she ever make a movie with Elvis?), she tosses off an absolutely hysterical, "They're such children," in response to social worker Jane Greer's questions about her school chums. You may hate the word "camp" like I do...but jesus, Heatherton's performance is the very epitome of that concept...and I loved it.
Of course, Where Love Has Gone isn't perfect; just because it wallows in its own tame filth doesn't make it totally impervious to criticism. Bette Davis is the biggest disappointment here. Newly minted as a viable late-generation star after career-reigniters Whatever Happened to Baby Jane? and Hush, Hush, Sweet Charlotte, Davis plays the glam matron here well...but that's all. No histrionics. No fireworks. Just calm, placid iciness, which may have worked in a truly serious piece of drama, but which comes over as "underdone" here in this fetid, heated mess (film noir icon Jane Greer, looking positively grim and hollowed-eye and frankly, nauseated, is even more poorly served; she has nothing to do here). I wasn't "disappointed" by Dmytryk's direction for Where Love Has Gone--I fully expected it to be anonymous and without much brio, having seen his other big-budget '60s offerings. Calcified beyond all recognition, something happened to Dmytryk's command of the camera once he got a big budget, reducing him to locking down the camera and letting the actors anchor both sides of the vast widescreen frame. He shows almost no appreciation for what widescreen can achieve here, with meaningless, empty mise-en-scene (not helped by the gaudy, tacky, ill-dressed barns that pass for sets here), and static editing rhythms further slowing things down. As much fun as Where Love Has Gone is with Hayward's and Heatherton's heady emoting, and Hayes' fruity script, imagine the heights of melodramatic tripe it could have achieved with a director who really let himself go with the material.
The DVD:
The Video:
There is minor damage to the anamorphically-enhanced, 2.35:1 widescreen image here, with scratches and dirt present (more noticeable at reel changes), and colors that seem slightly muddy (I'm sure they popped off the screen in '64; that was the Hollywood "look," then). Image is reasonably sharp. Not bad for a neglected library title.
The Audio:
The English 2.0 stereo audio mix is unexceptional; recording levels are decent, but range and separation is limited. No close-captions or subtitles.
The Extras:
There are no extras for Where Love Has Gone, not even a trailer--that's something Olive Films needs to address. At the barest minimum, an original trailer is expected with a library title release.
Final Thoughts:
Utter trash, thank god. Where Love Has Gone gives you what you want, girls: sex, mendacity, sex, duplicity, sex, violence, sex, degradation, sex, and icky moral redemption. And sex. Susan Hayward and Joey Heatherton give gloriously inappropriate performances, and the script is overripe with howlers. I love this kind of melodramatic swill. I highly, highly recommend Where Love Has Gone.
---
Paul Mavis is an internationally published film and television historian, a member of the Online Film Critics Society, and the author of The Espionage Filmography.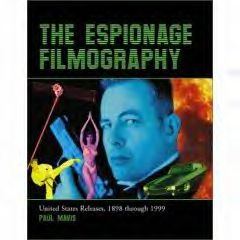 ---
C O N T E N T

---
V I D E O

---
A U D I O

---
E X T R A S

---
R E P L A Y

---
A D V I C E
Highly Recommended
---
E - M A I L
this review to a friend
Sponsored Links
Sponsored Links