Jacqueline Susann's Once Is Not Enough
List Price: $24.95 [Buy now and save at Amazon]
---
Once is more than enough, thank you very much (I'm sure someone else made that joke back in '75). Olive Films, a newcomer in the releasing biz that's been handling some cool Paramount library titles, has released two big-screen best-seller adaptations: Harold Robbins' Where Love Has Gone (read my review here of that delightful crap-fest), and Jacqueline Susann's Once is Not Enough, a deadly dull affair from 1975 starring a big group of faded stars and up-and-coming nobodies like Kirk Douglas, Alexis Smith, David Janssen, George Hamilton (hee hee!), Melina Mercouri, Brenda Vaccaro and Deborah Raffin "as January," as the credits helpfully point out. Now, my melodrama-lovin', overblown soap opera-obssessin' credentials have been well established over the course of countless reviews here at DVDTalk--everyone knows I love garbage like this. So if I tell you that Jacqueline Susann's Once is Not Enough is a strangely turgid, bizarrely uneventful snooze-fest--you better believe it. No extras from Olive...and that doesn't help, either.
In the Freudian nightmare world that is Jacqueline Susann's Once is Not Enough, Hollywood film producer Mike Wayne (Kirk Douglas) and his beloved, pampered daughter, January (Deborah Raffin), dance around a complicated dynamic of attraction and sublimation. Mike, in the tough show biz vernacular of dog-eat-dog Hollywood, is yesterday's news. A three-time Oscar winner, the veteran producer's latest script project nets him only a meager $7500 payoff as he's aced-off the production for a younger man. This comes at a particularly bad time, because his daughter, winsome, slightly dimwitted virgin January, is enduring her last in a series of operations in Switzerland, where she's been recuperating from a devastating motorcycle accident. Worried that he can't possibly bring home January in the style to which she's become accustomed, he hatches a plan while over in Europe: an arranged marriage with Deidre Milford Granger (Alexis Smith), the fifth-most wealthy woman in the world...and four-times divorced. Shrewdly calculating her own interests in this business arrangement (sex with Mike, but more importantly: an attractive, articulate guest at her endless dinner parties), she agrees, and January has a new step-mother. Only January feels strangely uneasy about someone else sleeping with her father. Hmmmm..........
Enter "the biggest stud in New York," as he's described: David Milford (George Hamilton, hee hee!). For some reason (the film never really makes it clear...just like all its other fuzzy little subplots), Deidre feels January would benefit from immediately hooking up with her nephew David, with a marriage announcement and ceremony to coincide with her spring party schedule. The big romance turns out to be a bust for both, though, when David blanches at deflowering a virgin (or at least I think he bails on her--the movie is maddeningly vague on these apparently "unimportant" plot details). January's new boss, former schoolmate Linda Riggs (Brenda Vaccaro), an editor at Gloss Magazine, is shocked by January's reticence to jump into the sack with anything in pants...probably because Linda makes it known to everyone that she'll jump into the sack with anything in pants to 1): forward her career, and 2): to forget how ugly she was before plastic surgery. Enter older Pulitzer Prize-winning novelist and accomplished barroom brawler Tom Colt (David Janssen), an oddly...standoffish suitor to January who has a violent history with her father, thus proving himself strangely...attractive to January ("Paging Dr. Freud! Dr. Howard! Dr. Freud!").
SPOILERS WARNING!
I'm not going to get into a big song-and-dance about Jacqueline Susann and her various film adaptations; suffice it to say: the original Valley of the Dolls is one of my top five favorite films in any genre (I have my reasons)...so anything having a similar pedigree is naturally going to be of interest to me. I didn't see Jacqueline Susann's Once is Not Enough when it came out in the summer of Jaws (I was a weird little ten-year-old but not that weird), and I don't remember it being much of a presence on cable growing up. So imagine my anticipation when Olive Films' bare-bones disc arrived in the mail. However, after the first five minutes...my delight turned into a growing realization that this film was a hideous bore--the gravest sin a crappy melodrama can commit: thou shalt not put the viewer to sleep.
You wouldn't know it, though, looking at Jacqueline Susann's Once is Not Enough's opening credits. At least at first glance, that is. Ace cinematographer John Alonzo provides the lush look of the film. Film great Henry Mancini composed the sweeping, full orchestra score. Julius J. Epstein, of Casablanca fame, wrote the adapted screenplay, and Guy Green (The Mark, A Patch of Blue) directed the cast of big names like Kirk Douglas, Alexis Smith, David Janssen, and Melina Mercouri. But once you start thinking about those credits, and start actually watching Jacqueline Susann's Once is Not Enough, you realize it's all a bill of goods. Alonzo's palette is chilly and antiseptic; Mancini's score is overblown and syrupy in the worst tradition of the typical "woman's picture" music; Epstein and Green are ill-suited for what should have been a fast-moving, vulgar, sordid little tale of sexual peccadilloes among the rich and famous, and that cast is well-past its sell-by date, with only Brenda Vaccaro in on the joke (we'll discuss her later).
If there's a project less suited to a 61-year-old British director of glacially calm (and often-times either indifferent or flat-out wrong-headed dramas), it's a Jacqueline Susann novel. Green, who helmed such films as Light in the Piazza, Diamond Head, A Matter of Innocence, The Magus, and A Walk in the Spring Rain (the last two unintentionally ludicrous), doesn't seem like a good fit for source material that's little more than the most base exploitation fare. Susann's technique is crude and visceral, and that's precisely what Guy Green is lacking in this enragingly sedate, polite adaptation. Whatever was Green thinking, treating this rude novel with such boring "good" taste? And the same goes for the screenwriter. 65-year-old Julius Epstein might have been a legend for being part of the writing team on Casablanca back in 1943, but by 1974, his record was spotty, his last two films being the unsuccessful Return from the Ashes in 1965 and Pete 'n' Tillie in 1972. Bizarrely, Epstein treats Susann's source material as if it's serious drama. As Vidal supposedly said about Susann, "she's not a writer, she's a typist." She puts all her excesses and overwrought melodramatics out there in ballsy, boldface type. So why in the world wouldn't the producer, veteran Howard W. Koch, hire a team who took the material at face value, and truly respected it for what it was: soap opera garbage with an honest, primal pull to it? Stuffy, straight-faced Epstein and Green actually do a disservice to the novel by taking it so seriously.
The worst part of Jacqueline Susann's Once is Not Enough is that you can see the parts are all there to assemble a prime package of trash. The story's central arc of January's and Mike's very strange, close relationship could have been exploited for maximum effect, instead of being kept at arms' distance (when she meets him at the airport, she calls him, "gorgeous," and hopes everyone there will mistake them for lovers), while the one story element that I remember getting some press at the time--the lesbian affair between Mercouri and Smith, which some say is based on heiress Barbara Hutton and Greta Garbo--is fobbed off with a few tentative kisses, with no context provided in the story for its appearance (it's difficult to feel titillated by it when, in the scene preceding it, Mercouri stuffed her face in a most unappealing way). Janssen's thinly-veiled take on Norman Mailer starts off hilariously, with his first line being, "Hello, you sonvabitch," but as the film progresses, the screenplay and direction are so tentative and unnecessarily cryptic, that you don't know what the hell is wrong with Tom's refusal to make love to January...until we learn the ho-hum truth (as Vaccaro succinctly puts it: "You mean his dingle is like spaghetti."). And how did they manage to squander the opportunity of having the King of Camp, George Hamilton, play a stud-on-the-make in the film? Exuding existential inertia, Hamilton is powdered and shellacked to a high-buff shine, but he has nothing to do here except utter a few lame lines like, "Frankly, I'd love to sleep with you," none of which score either in the drama or laughs department (we're not even sure if he really does deflower January, and then poof, he disappears). As for Raffin, the less said the better. Her acting choices, if they even can be called that, are mind-bogglingly inexplicable.
The film's howlers are liberally sprinkled throughout the film, with the choicest cuts including: "You just cut my balls off in front of my daughter!", "Silicone tits and a computerized brain," "Also...I happen to like screwing," "What the hell--it works for sheep" (Tom's explanation for his siring a child through artificial insemination), "I've worked for your father for 12 years, and it was just one long parade of poontang," and probably the film's most notorious line, from Vaccaro, "He said I have ten fingers like a mouth, and a mouth like ten fingers." But with the exception of the delicious Vaccaro, these gems of gutter swill fall distressingly flat from the mouths of actors who seem enervated by the production. The most embarrassing example of this lethargy is the film's nominal star, Kirk Douglas. Baring his chest for the umpteenth time in films (by this point in '74, seemingly to prove he's still viable as a youthful leading man), it's embarrassing for an audience to watch an iconic star they've loved for almost three decades enact a Hollywood character who can't get a good job in films...in a film that indicates the real star can't get a good job in films. No wonder he looks mortified here. Only Brenda Vaccaro seems to understand what this kind of movie needs (she scored a well-deserved Oscar® nomination for Best Supporting Actress here). Barely containing her glee at playing an impish prankster who pops up every ten minutes to say something outrageous, Vaccaro never looked more attractive (and don't get me started on that ultra-sexy, husky voice...), and that confidence shines blindingly through the other morose neurasthenics that inhabit the frame with her. She knows this is garbage, and she plays to the stalls, and in the process, walks away with the entire film. It's a delightfully brassy, open performance, and thank god it's there, but perversely, since the rest of Jacqueline Susann's Once is Not Enough is so funereal and backward, it's a turn that seems to be operating in an entirely different movie. At the end of the film, clueless Raffin is dumped by growling, hairy, sweaty Janssen (seriously...doesn't he look like he stinks?), who lays one of the greatest kiss-off lines of all time on her ("I hate to end our little talk on a note of slight but unquestionable vulgarity, but I do have to pee."). Walking around New York in a daze, remembering her two lovers, I mean her two daddies, I mean her two lovers, with the Mancini Singers® warbling over the soundtrack in a sequence that I can only take as a homage to the final scene with Barbara Parkins in Susann's Valley of the Dolls, all I could think about was how great Jacqueline Susann's Once is Not Enough would have been...if Vaccaro and her character were the stars of the show.
The DVD:
The Video:
The original source materials for the anamorphically-enhanced, 2.35:1 widescreen transfer of Jacqueline Susann's Once is Not Enough does show signs of damage, including noticeable scratches and dirt, and fluctuating color now and again. The film seems a tad dark, but that may have been the intent of the original look. Image is relatively sharp.
The Audio:
The English 2.0 stereo mix is acceptable, as well, with a solid recording level and minimal hiss. No close-captions or subtitles.
The Extras:
No extras for this Olive Films release--at the very least, vintage film buyers want an original trailer included. That's as basic as having a case to put the disc in.
Final Thoughts:
Miscalculated all the way down the line. The wrong director and scriptwriter treat Jacqueline Susann's novel, Once is Not Enough as if it was serious literature, trying to make a silk purse drama out of a sow's ear book. Only Brenda Vaccaro knows Jacqueline Susann's Once is Not Enough is utter junk, and she has a ball stealing the show away from all the fumbling squares. Poor sad, disgruntled, disheartened Kirk Douglas...and could someone please get a cold compress for Deborah Raffin "as January;" the poor dear seems to be off her rocker. A solid rental for fans of this type of movie--you'll be glad you didn't buy it, though.
---
Paul Mavis is an internationally published film and television historian, a member of the Online Film Critics Society, and the author of The Espionage Filmography.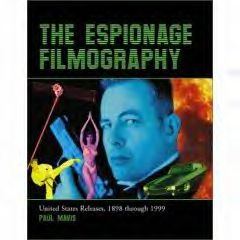 Sponsored Links
Sponsored Links